IN-DEPTH: The Piaget Altiplano Automatic 40mm with meteorite dial 
Felix Scholz
The story in a second: Ultra thin and out of this world, we have to be talking about the Piaget Altiplano Automatic 40mm with meteorite dial.
Piaget's Altiplano is a staple in the world of ultra-thin watches, with an elegance that matches its slenderness. This limited edition version dials (if you'll pardon the pun) the elegance up to 11, with a unique meteorite dial that adds a level of flash and panache that's hard for a 'normal' dial to match. We had the chance to have a closer look at our recent Piaget event, and these are our thoughts … 
The case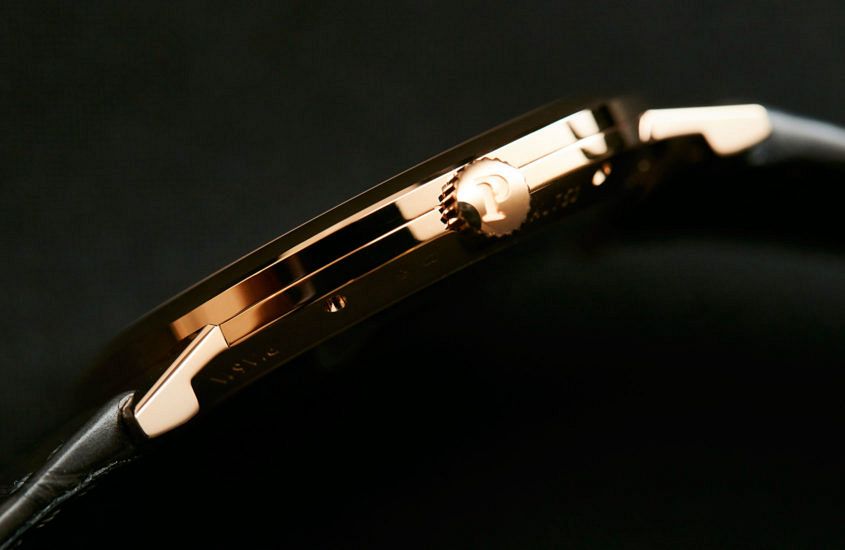 This should come as no surprise — this watch is thin. How thin, I hear you all ask, simultaneously? Well, how does 6.5mm sound? I don't know about you, but it certainly sounds slender to me. This degree of thinness is largely down to the fact that the dial and movement don't take up much space — more on that later — but the design of the 40mm rose gold case is simple, with straight lines and a broad polished bezel that only goes to accentuate the lack of height. 
The dial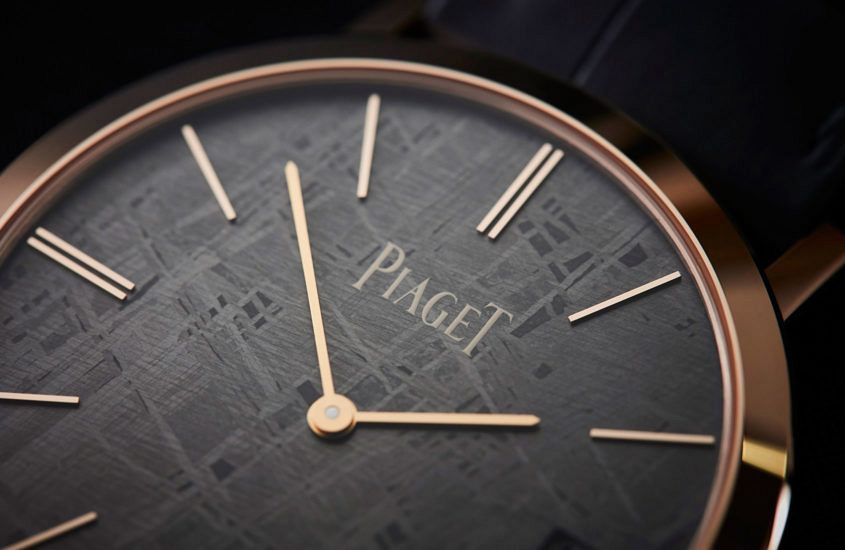 The simple case also serves to accentuate the dial, which is, to be blunt, incredible. Rather than the coated brass or gold blank that makes up most watch dials, the dial here is an almost impossibly thin sliver of meteorite. Of course, all hardstone dials are difficult to execute — after all, slicing brittle stone is a process fraught with risk. Add to the fact that this particular dial needs to be extra thin, and that meteorite is packing a lot of iron and nickel, which makes it trickier than normal to work with. The benefits, as you can see, are worth it. The heavy metal makeup of this rock, and the fact that it was formed in the cold depths of space give rise to distinctive, geometric crystalline Widmanstätten patterns (named for the chap who discovered them), which has been treated with a nitric acid to emphasise the pattern. 
The movement
If the case is thin at 6.5mm, the movement — the 1230P — is even thinner at a mere 3mm. But while it's small, it's still a looker. Looking through the caseback you can clearly see the economic gear train and the hefty platinum micro-rotor boldly emblazoned with Piaget's crest. This rotor pulls its weight too — powering the movement for up to 44 hours. 
On the wrist
Wearing a thin watch is always something of an interesting experience, as they can often end up feeling slight on the wrist — which is a double-edged sword. On the one hand there's something wonderful about that barely there experience, but on the other we're deeply ingrained to associate luxury with weight. Piaget's Altiplano offsets its wafer-like design with the gold case construction, adding some gram-based gravitas to the technical virtuosity. 
The verdict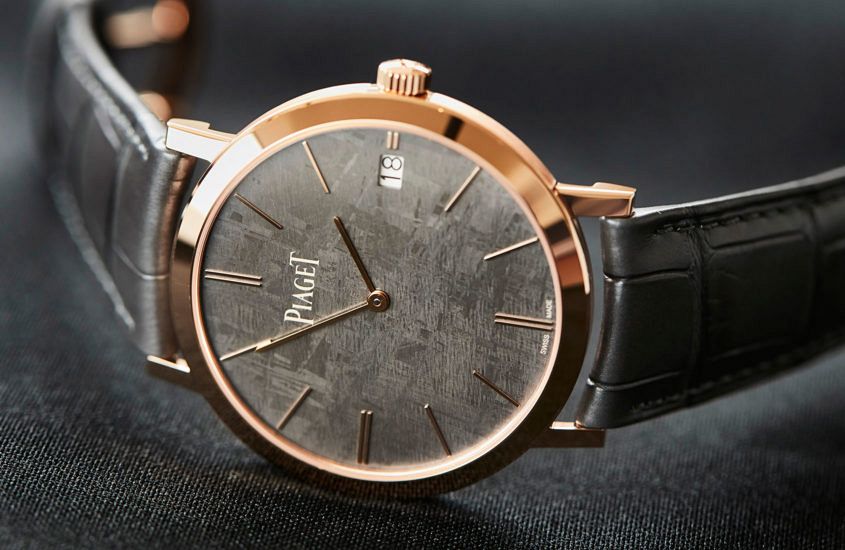 I've worn a few Altiplanos in my time (albeit briefly), and I have to say that this version, with its entrancing and unique dial, adds some serious visual impact to the slender watch. To my mind that's a winning combo. 
Who's it for? Out of this world romantics with a need to dress up on a fairly frequent basis. 
What would we change? It's useful, but that dial is gorgeous enough not to need a date. 
Piaget Altiplano Automatic 40mm meteorite dial price and availability
Piaget Altiplano Automatic 40mm, with grey meteorite dial, limited to 300 pieces, $41,600. Available from Piaget's Melbourne boutique.