Phillips' Geneva Watch Auction XI is just around the corner, and we must say – it is so refreshing to see something in the watch world that's actually going to happen. No cancellation, no postponement, this auction is going ahead … and it's got the potential to be quite interesting. Given the precarious state the industry is in, it's going to be very illuminating to see whether or not the vintage, pre-owned and auction markets have been negatively impacted by the COVID-19 pandemic. With the auction launching at 2pm CET today, we've selected our top seven favourite watches from a range .
See? This isn't going to break the bank. In fact, this Rolex "Bubbleback" could well sell for less than an OP39 … and we know what we'd rather have. Just look at how utterly beautiful this timepiece is! Have you ever seen another Rolex like it? Look at the dial … and the handset … and original Oyster bracelet with straight end links. What. A. Thing. OK, sure, its stainless steel case is only 32mm, but with looks this good, do you really care?
Deputy Editor Nick Kenyon could, and, in fact, already has waxed lyrical about just how important this watch is, but for those of you who need reminding, the historical significance of this timepiece cannot be understated. This is the first serially produced timepiece in existence with Dr George Daniels' Co-Axial Escapement. It's solid platinum and just 99 examples were produced. If this sells for anywhere near its estimate, it's a no-brainer. Want to know what a future collectible looks like? Look no further.
This UG White Shadow, signed on its dial with both the Iraqi crest and the signature of the former dictator, Saddam Hussein, is a curious relic of history. It also appears to be in magnificent vintage condition. Watches with signed and specialty dials are a rarity in their own right, but to see one that's not from the stalwarts of the watchmaking industry, like Patek, AP or Rolex, is quite rare.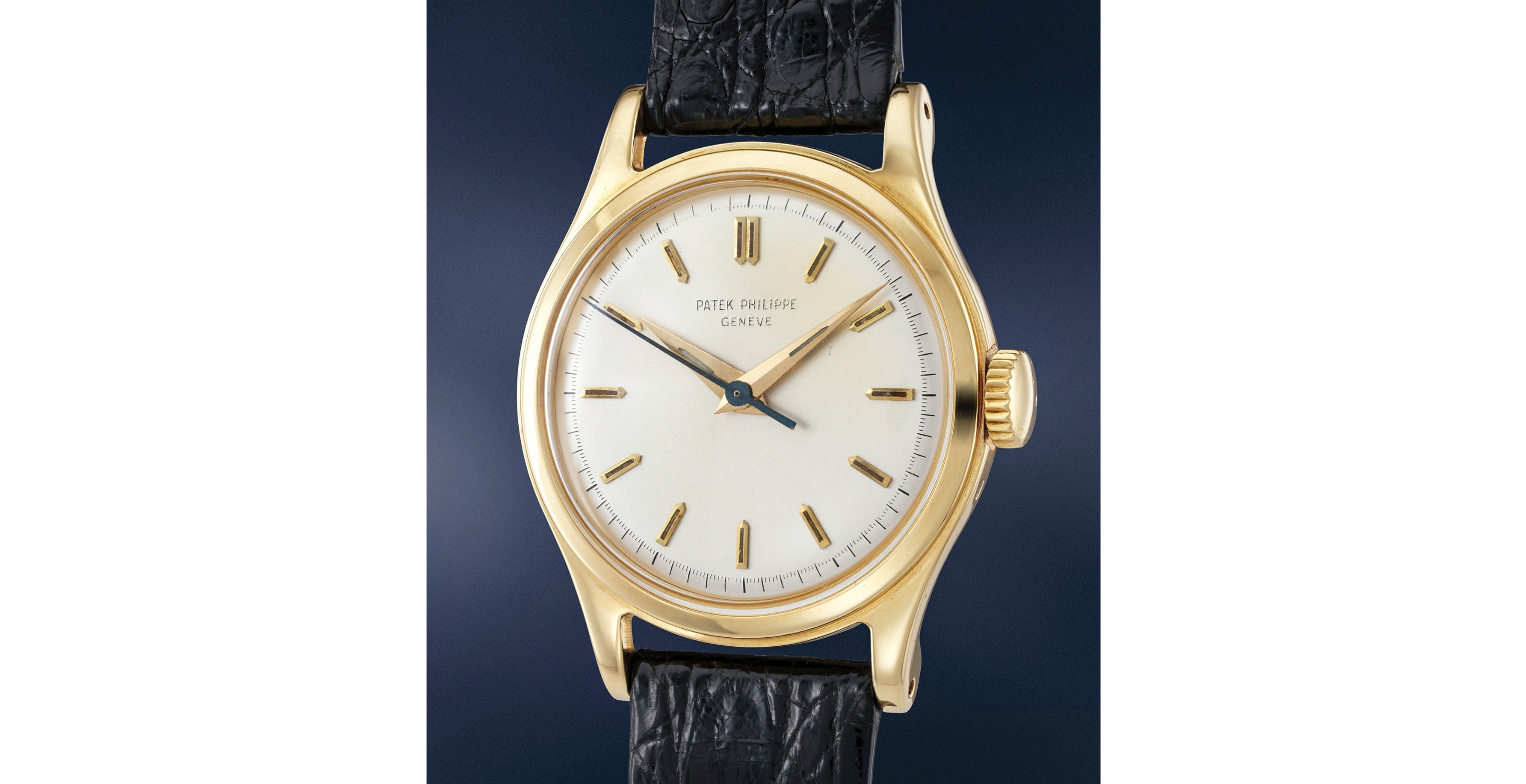 This Patek may well have been created in 1953, but the solid 18k yellow gold stunner was way ahead of its time thanks to a large 35.5mm case. This watch just runs a clinic in proportionality and clarity of design. There isn't a single thing out of place, dated or antiquated – it's timeless, and it would look just as good on your wrist today as it would've looked on the original owners more than six decades ago. Yum.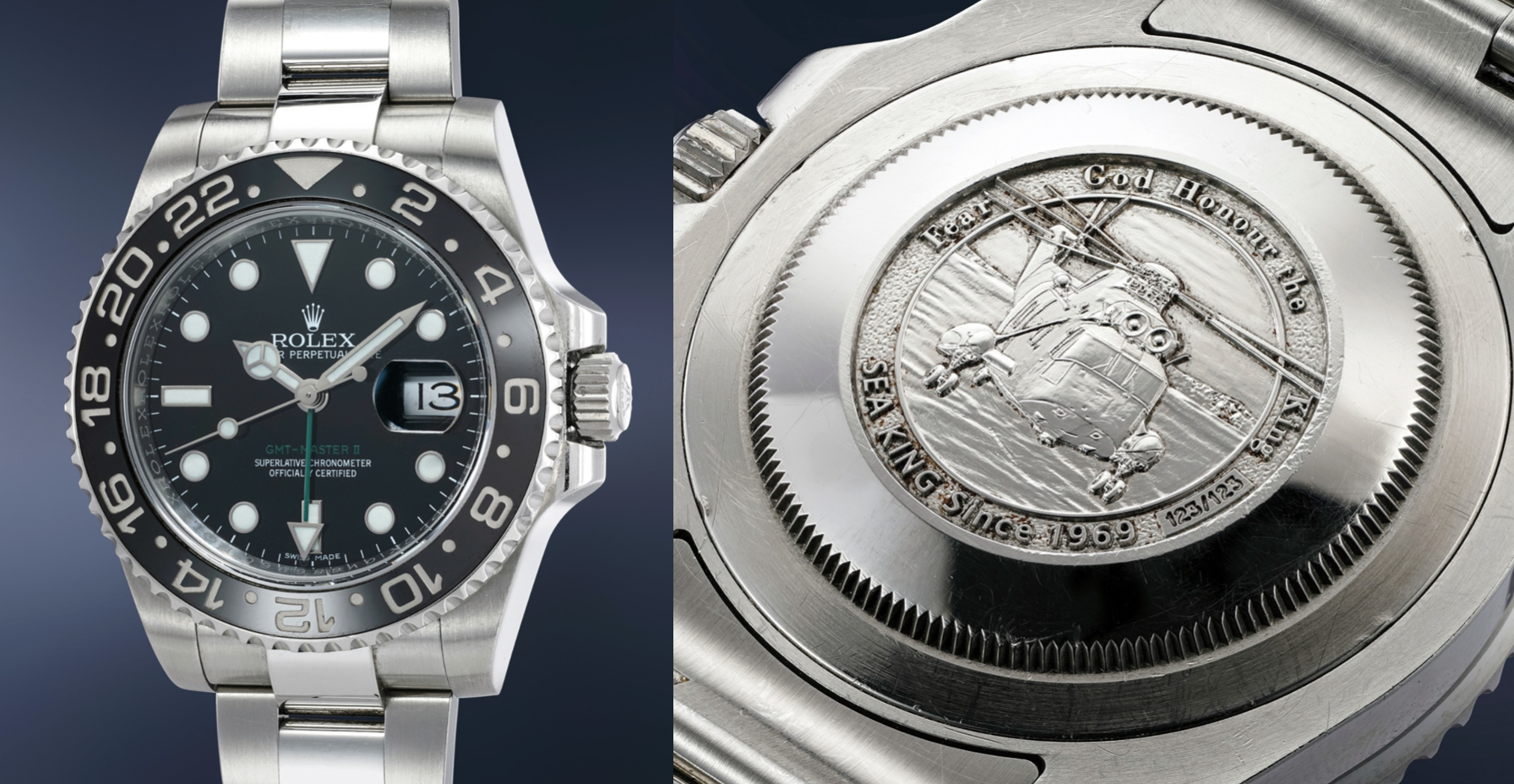 Outwardly, Rolex will tell you point-blank that they don't make special/limited edition timepieces; whether they're commissioned by individuals or institutions, it doesn't matter, the Big Crown say that they don't do that kind of thing anymore. And then something like this GMT-Master II surfaces with a factory-engraved caseback that honours the British Ministry of Defence's Sea King helicopter. Just 123 examples exist, and they were never offered to the general public for sale. This has got to be one of the coolest Rolex watches of the modern age, and it will no doubt become a fabled collector's item in years to come … if it isn't already.
Yes, it does look like a Blancpain Fifty Fathoms. Would you like to know why? Because it is. Kind of. Back in the day, Blancpain wanted to sell their eponymous dive watch to the US Navy, but due to the "Buy American Act", they couldn't. So, the watchmaker hatched a scheme with a New York-based diamond dealer by the name of Allen Tornek to import the Fifty Fathoms into the US, which would then undergo a number of manufacturing processes that would make it compliant with the act. The resulting timepiece was the watch you see before you. It's a very cool story, and to say this timepiece is collectible is an understatement larger than its estimated sale price.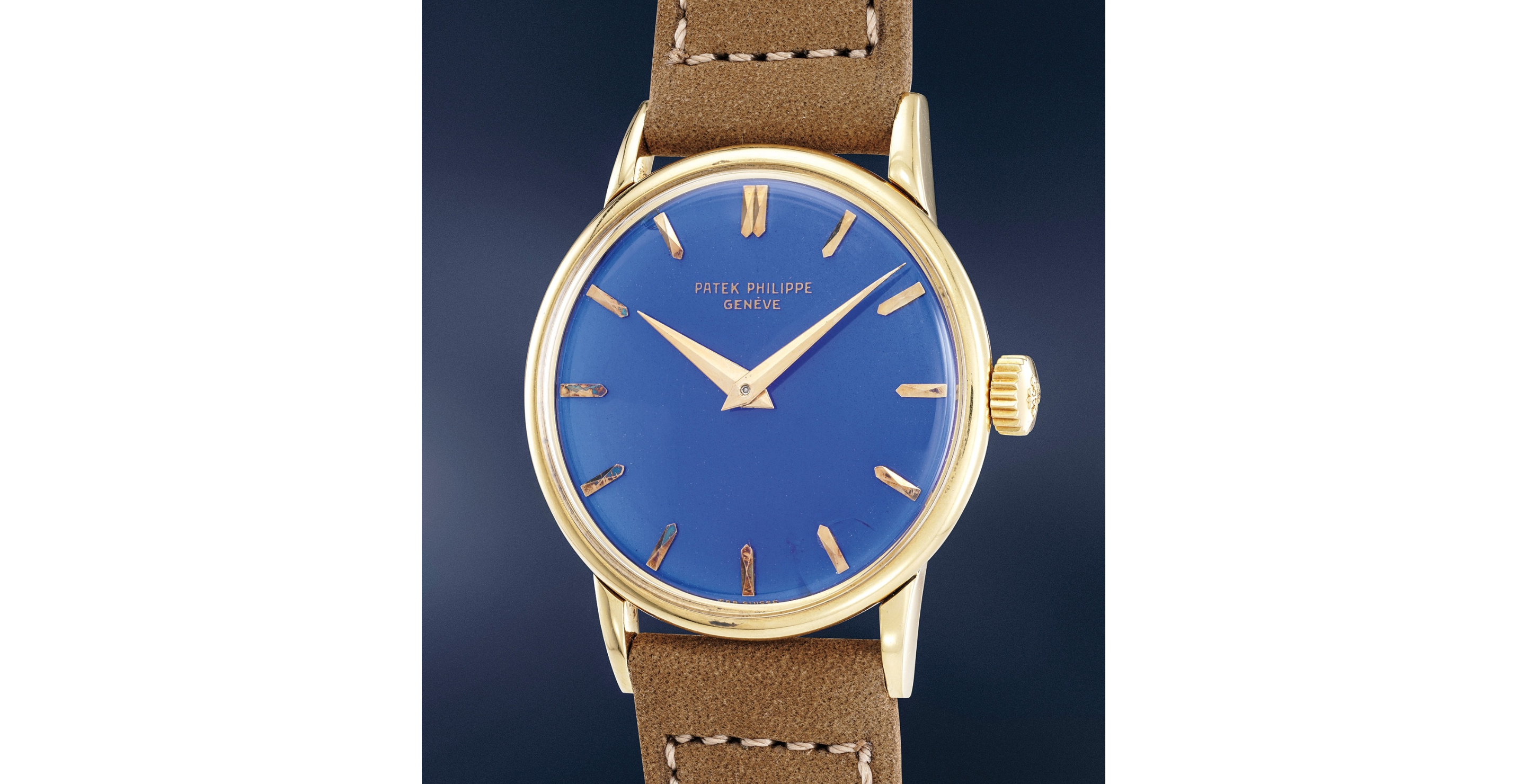 Last and certainly not least, Phillips reckons this stunning Patek Philippe with blue enamel dial could be one of a kind. If that's true, this is a very special timepiece indeed. However, regardless of its uniqueness, the gorgeous royal blue of the enamel, in contrast with the solid gold dauphine handset and applied baton indices, makes this one of the nicer-looking Pateks on offer at this auction. Its estimate suggests it's worth around about a one-bedroom apartment, and that sounds fair enough to us.
The watches that we've mentioned are merely scratching the surface of the talent on offer at this auction. Other watches worth a shout-out are the Subby Ref.6200 "Big Crown" with Explorer dial and the simply insane Patek Philippe Ref.1518 with salmon dial. Really, though, the smart thing to do is hit this link and check out all the lots … you won't be disappointed.