The shark attack victim, who has become a Seiko ambassador, relives that fateful day in Sydney Harbour when he lost two limbs…
Andrew McUtchen
Editor's note: If I had to list my most motivational interview of the year, it would be easy. It would be Paul de Gelder. Paul is a former navy clearance diver, turned TV show host and now Seiko ambassador. Paul is an Aussie based in L.A – and his claims to fame are more than just being the last shark attack victim in Sydney Harbour. He has also taught Mike Tyson how to dive. And he is the creator of a COVID-19 lockdown in-house fitness routine involving a broom, shopping bags and lots of canned goods. If you're looking for a non-standard watch-related video to watch today, you have found it. We hope you enjoy the video, and also this first-person minute-by-minute recap of the day that changed his career, and changed his life.
That morning, it was February 11, 2009, 6 in the morning. Overcast, and the water in Sydney Harbour is quite murky, which always makes it a bit nerve-racking. I was swimming near HMAS Kuttabul, which is where we've spent thousands of hours working on the warships. I had sharks on the brain. I always have sharks on the brain! I was in the water doing what we call finning. I was on the surface in my black wetsuit and black fins, just on the surface, on my back, kicking my legs. 
I was thinking, if a shark attacked me, where should I have my arms? They train you to put your arms across your chest, but I like to feel the water. I put my hands by my side, and bam! Attacked by a shark. 
It felt like pressure, because the teeth are so sharp, they just slice through your flesh. It scared the crap out of me. I turned around and came face to face with a massive shark. I went into panic mode. I went into panic mode. I didn't even know what to do. I'd never even seen a big dangerous shark. The shark was just staring at me as well. It was awkward. We were both thinking, what do we do here?
I thought, I've seen shark movies, I'll jab it in the eyeball! But I had my arm pinned, so I couldn't do that. I tried to push it off by the nose, but that just pushed the teeth deeper into my leg. I didn't feel an immense amount of pain until it started to shake me and the teeth just started sawing through the flesh in my leg. They're just so incredibly sharp. You can watch the whole thing on YouTube.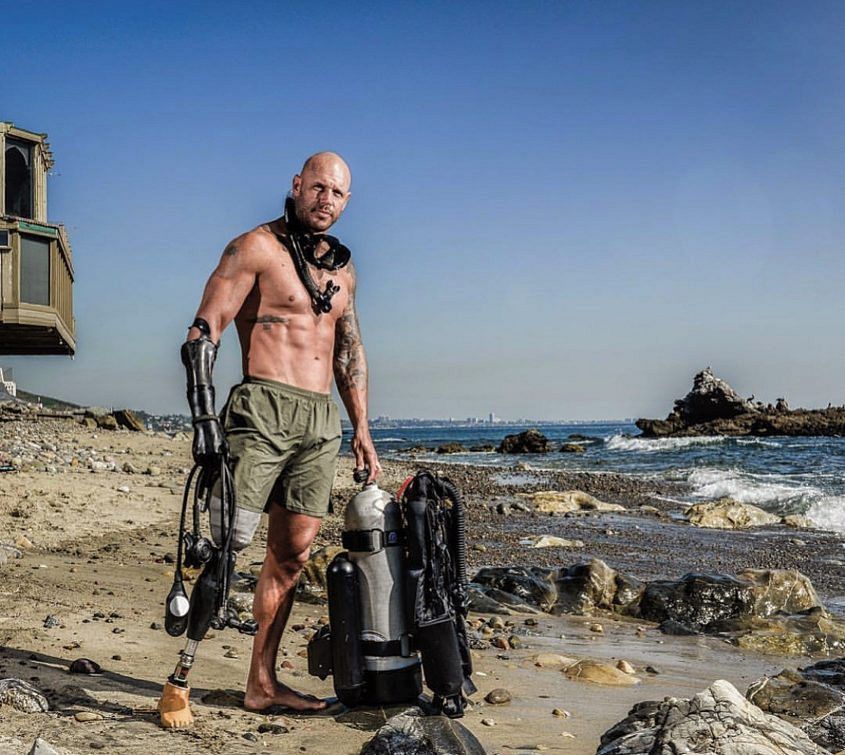 It dragged me underwater. I'm in absolute agony. I can't even explain how excruciating it is to have two rows of razor-sharp teeth sawing through your hand and your leg, while you're drowning. Most of my hand was gone, I think I had a pointer finger, and my thumb was inside out and all the tendons from my hand were dangling out … 68 people have passed out at my talks! 
And somehow, I've ended up a watch ambassador! It's lucky it left me my left hand because I can wear a watch and I've got my ring finger there if I ever decide to get married!