Editor's note: A summer watch can be many different things, however, there is one prerequisite – it needs to be water resistant. I'm not talking about a mere 3-ATM either … a timepiece to wear December through February has got to be able to hang poolside or 100 metres below the deep blue. Panerai's Submersible BMG-Tech is more than capable of these requirements, and it also shows off the Italian marque's innovative new material "BMG-Tech". Late last year, we went hands-on with the avant-garde amphibious timepiece, and these were our initial impressions.
At first glance, you could be forgiven for thinking that this is a 47mm Submersible much like any other. On second, or perhaps third glance, the truth becomes more apparent. This is a Panerai unlike any other, and that difference is thanks to the case, the BMG in BMG-Tech.
BMG is short for Bulk Metallic Glass, and it's what the case is made out of. When I learned this, it took a while to get my head around it. Glass is in the name, but this case is far from fragile. BMG is a glass-like alloy of zirconium, copper, aluminium, titanium and nickel. These components are formed at high pressure and high temperature and then rapidly cooled to prevent crystallisation, meaning that the atoms are randomly aligned, which ensures the material is very strong and durable. What this wizardry/metallurgy means is that Bulk Metallic Glass is lighter than steel, harder, corrosion resistant and antimagnetic. On a purpose-built dive watch of this size, these are pretty great attributes to have.
But the case isn't the only winsome charm this Submersible possesses. The dial is a rich, vivid blue, which moves from navy to a near-azure hue, depending on the light. It's a good-looking dial. Especially when you add it to the classic layout, with a few popping electric blue highlights.
The final piece of the puzzle is the movement, the automatic calibre P.9010, nestled safely inside the 300m rated case, and good for 3 days of power reserve, all hidden behind a solid caseback.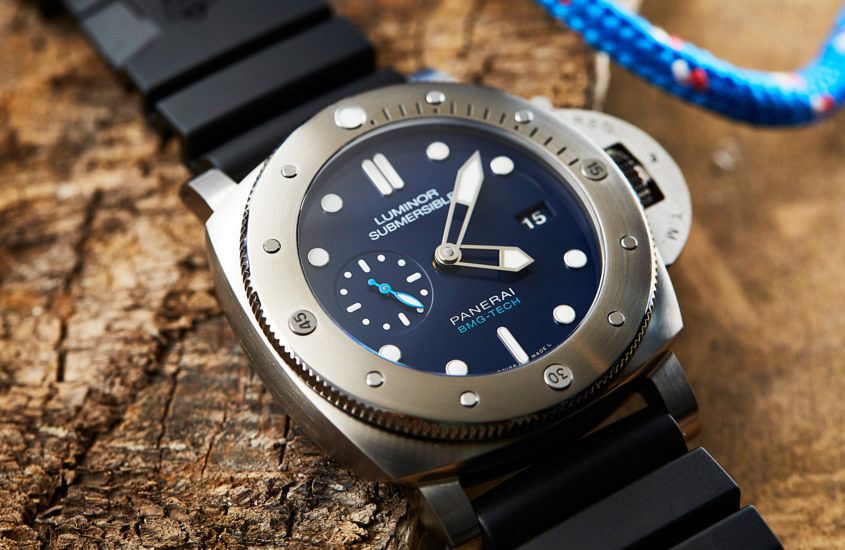 If you're into that classic Panerai look, but with a cutting-edge twist, have a look at the Submersible BMG-Tech.
Panerai Submersible BMG-Tech (PAM00692) Australian pricing
Panerai Submersible BMG-Tech PAM00692, $18,000