Editor's note: Panerai has been riding the winds of change recently, and one of the tell-tale signs is the advent of smaller sizes. Now, while it's easy to pigeonhole these offerings as women's watches, Felix and Sandra discuss the matter and decide these more petite Luminor Due models look the part on lads and lasses alike.
Ever since we first saw them at SIHH, the collective Time+Tide team has been crushing hard on the new Luminor Due models, particularly the 38 and 42mm offerings. Now, obviously these are watches with strong cross-gender appeal, so we thought it'd be a smart idea to get two takes on these models, courtesy of slender-wristed Sandra and Felix (and his mighty wrists).
First thoughts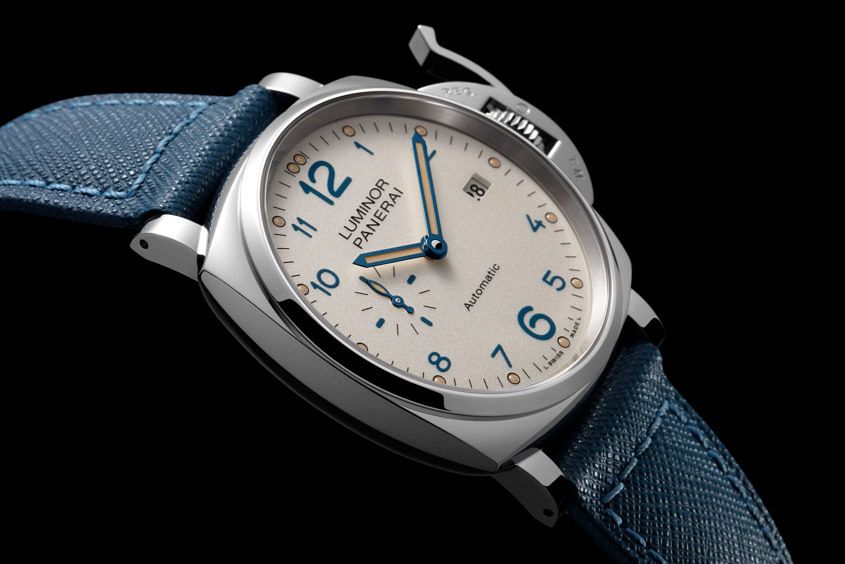 Sandra Lane: Shock, horror! Panerai have made a "small" watch. Some are calling it a watch for women (or – God forbid – even a 'girly' watch) but really it's not. It is simply a watch for those who prefer not to wear a saucer-sized monster on their wrist … for reasons of aesthetics, comfort, fit … whatever.
Felix Scholz: Yeah, that did seem to be the initial reaction in some quarters. I think the more prevalent attitude (in the halls of SIHH at least) was — finally! I know so many people who love the PAM look but can't handle the case size. And you're absolutely right re the gender split, Sandra, I can easily wear a big, 45mm-plus watch, but would happily strap that 42mm model on any day of the week.
The case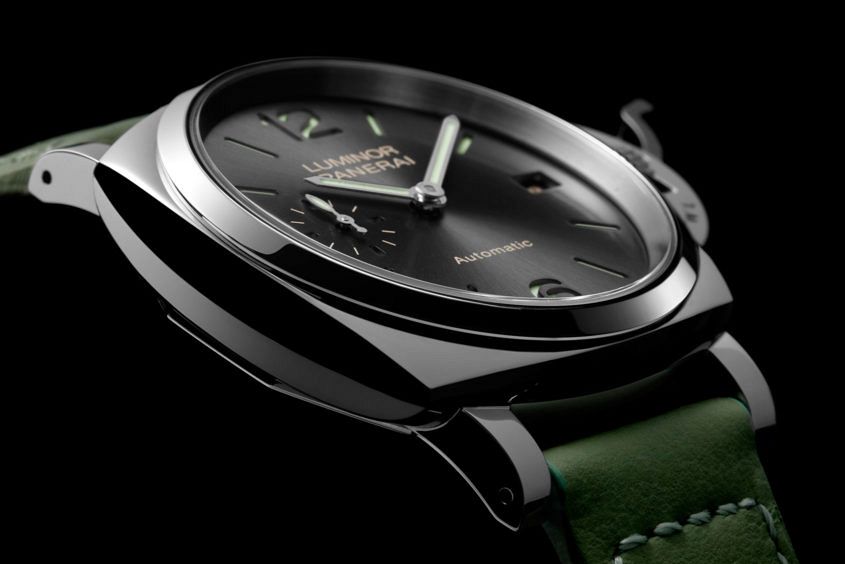 SL: Given my small wrist, a 38mm Panerai seemed promising in principle. But before we go there, let me first say that I've always been on the fence regarding the Luminor Due collection. Partly on principle: Luminor is a chunky tool watch of strong design and great proportions – and should be true to itself. (Following the same logic, it's why you'll never find low-fat cheese or low-sugar anything in my kitchen; give me the real thing or none at all, thanks.) Also, from a pure design standpoint, it's a question of proportion: the case looks to me as if the designers simply removed a horizontal slice and said, "There you go, slim watch!" And the bigger the model, the more 'off' the diameter-to-case-height looks.
Conversely, put a 42mm Luminor 1950 on my wrist. Sure, it's heavy and thick. But the weight feels really well balanced and the proportions look great – not only height-to-diameter of the case itself but the entire watch in relation to my wrist. I would gladly wear, say, a PAM00523 (Marina 1950 3 Days Automatic) or PAM00535 (the GMT version) as an everyday piece, even though it's big for me. But a 42mm Luminor Due? Nope, I just didn't feel it on my wrist.
So, back to the new 38mm Luminor Due: I strapped it on and – as with a 42mm Luminor 1950 – it just felt right. Diameter, weight, height all in balance. The height, for the record, is 11.20mm. Prejudice against Luminor Due gone in a flash (for the 38mm version that is).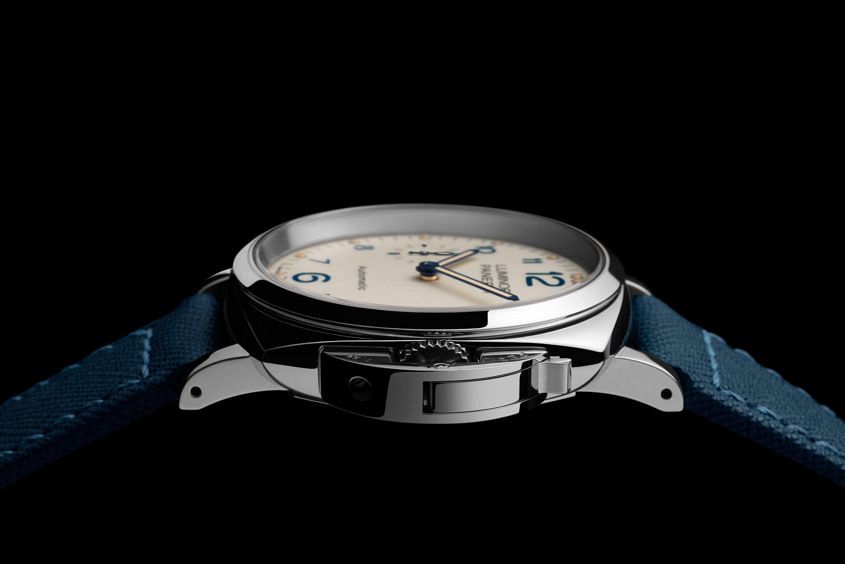 FS: I hear what you're saying about proportion and purpose, Sandra, but you know what, that does not fuss me at all. I've never been a massive horological purist in a lot of ways, and it's not like Panerai don't offer the OG Luminors if the Due doesn't float your boat. Speaking of boats, the biggest gripe a lot of our commenters have about the Due in general is the 30m of water resistance, which is a bit odd. I asked Panerai about it, and they say that 30m is fine for a dip in the pool, and that more resistance would have added to the thickness. I can understand that response, but I also fully get the perspective of those who'd like a bit more.
All told though, as an alternative option for someone who likes the style, but needs a dressier option — this is such a smart move. And while I *could* wear the 38mm in a pinch, I'm much more comfortable with the 42mm case size. Like, really — where has this watch been all my life? — comfortable.
The dials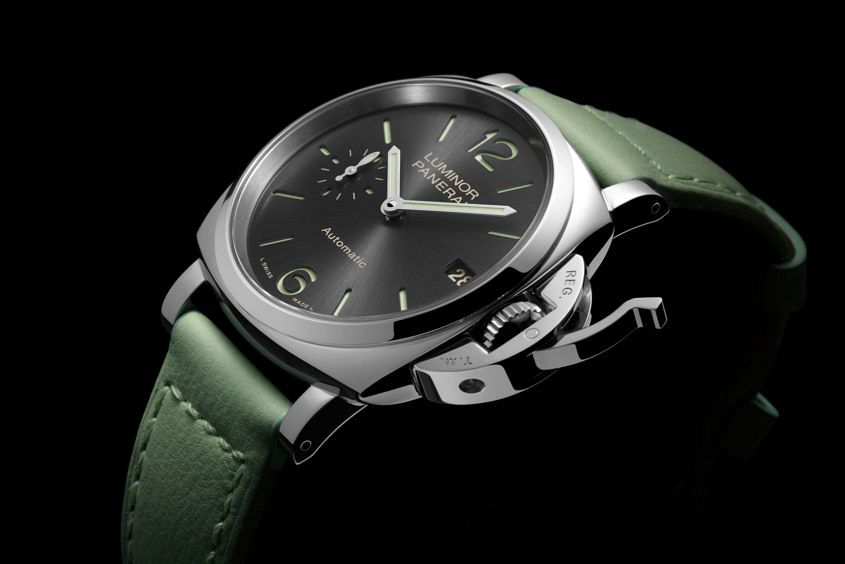 SL: Panerai haven't made it an easy choice, with the two steel models, PAM00755 and PAM00903, each having a different and equally good-looking dial. The first has a sandwich dial in the classic 3-6-9-12-plus-indexes format, in a galvanic anthracite tone (relatively new to the brand, it's perfectly 'Panerai', I think) with a sunray-brushed finish, and a luminous under-dial in pistachio green (which shows bright green in the dark). The second has an ivory-white dial with painted numerals in a strong, slightly smoky blue with pale beige luminous dots (which also glows bright green in the dark). Both looks have become equally core to Panerai's aesthetic in recent years and both are really well executed – as I say, a hard choice to make. If there's one thing I'd like to change it's the date window – such a tiny little thing and very hard to read – but that's across the board, not particular to the 38mm.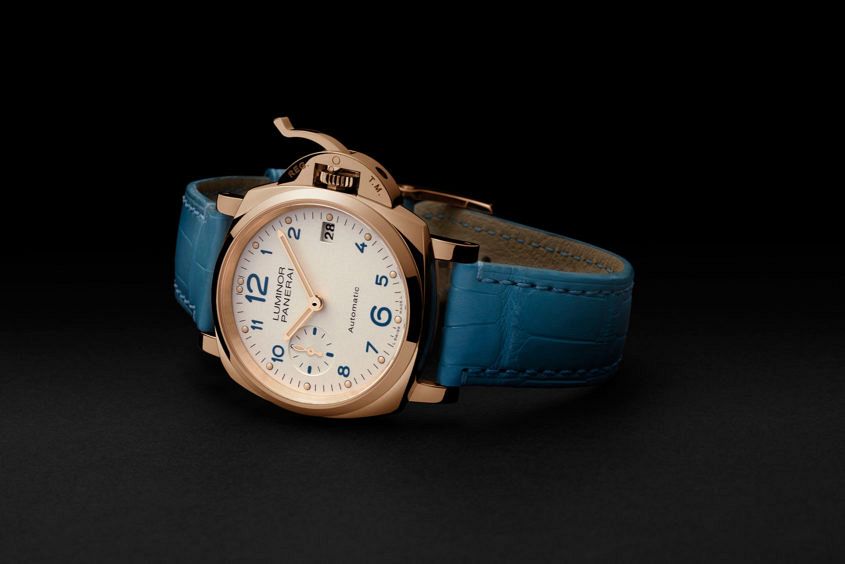 FS: No, Sandra, they made it very easy indeed from my side of the fence. Ivory. All. The. Way. Don't get me wrong, that anthracite is lovely, but that off-white, with those numbers — such a fresh new look. I'm willing to admit that's very much personal preference, and that the sun-brush is very much in keeping with the dressy character of the Due.
The movement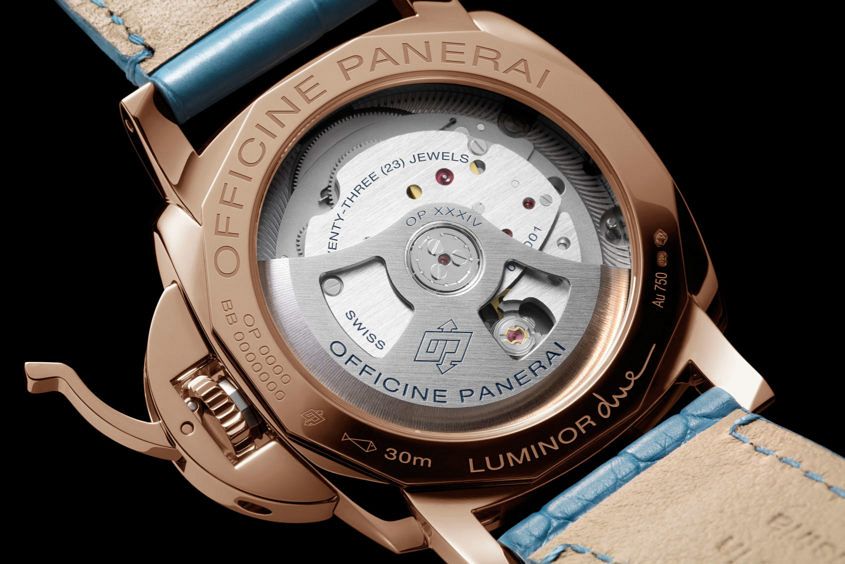 SL: Not a lot to say, since we can't see it through the closed caseback. However, the gold-cased PAM00756 does have a display back, which shows Panerai's typically straightforward – shall we call it industrial chic – finishing. So do we assume the same in the steel cases? The calibre is OPXXXIV, a single-barrel automatic with power reserve of 3 days (about 72 hours) plus date and small seconds displays.
FS: Yeah, the 72 hours of power reserve is nice. It's worth noting that the OPXXXIV, which Panerai describe as a Manufacture movement, isn't made by Panerai themselves but rather made for them by a Richemont-owned supplier, unlike the P.4001 and P.4002 micro-rotor movements in the larger Due models. I understand there's been a fair bit of modification work done so they meet Panerai's standards, like the solid 72 hours of power.
The strap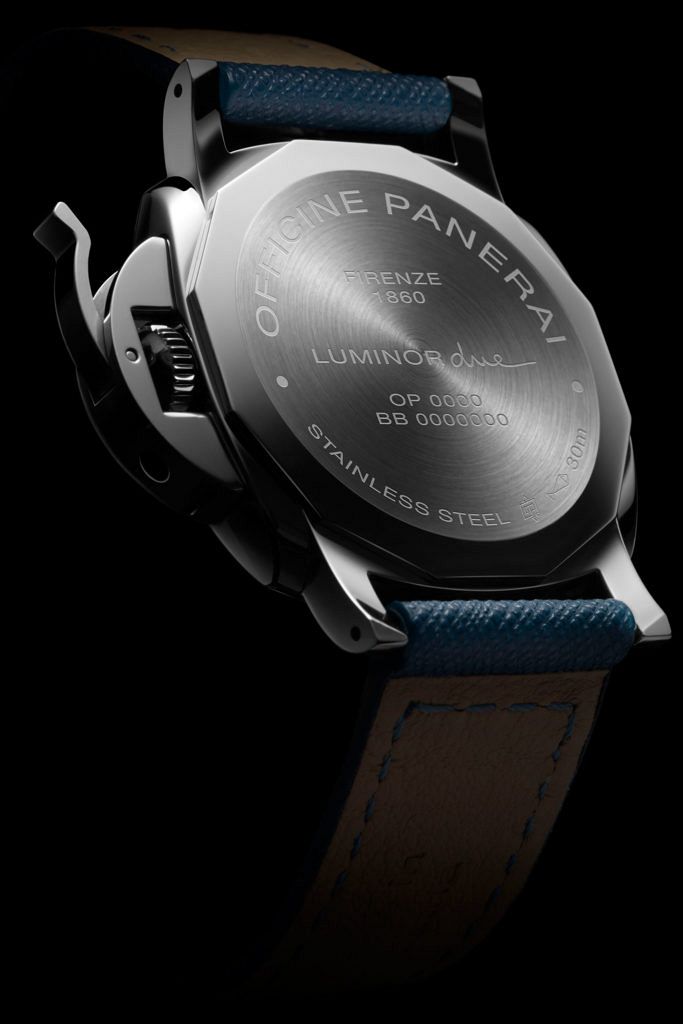 SL: Hallelujah! Panerai have joined the small but slowly growing ranks of watch brands with a modern attitude towards straps by giving the Luminor Due 38mm a quick-change system (To you other brands: no, we don't want to trek to a boutique to have a strap changed if we decide to wear a different colour to dinner. And especially not when we are travelling.) The 38mm collection has a different strap for each of the four models – pistachio green matte leather, smoky blue Saffiano-type leather, bright aqua-blue alligator-stamped calf and black alligator. Presumably, we could buy all four and swap them about, although the colours don't all mix terribly well with the dials – so far. Let's say 'so far' because surely Panerai will add the change system to some of those great strap colours and materials from elsewhere in the collection and offer them in the 20mm width needed for the little Luminor?
FS: As someone who has under lug scratches on pretty much all his watches, I can say I'm also a big fan of Panerai's quick-change system. I haven't spent too much time with it, but it seems to be fairly foolproof and mechanically sound, but I didn't really spend too much time with it. You can see the system in action in our video. And while the quick-change is the big story here, I'm excited to see more of Panerai's typically excellent straps roll out using it. I was also really on board with the blue Saffiano — though for me I'd like to see it a fraction thicker.
The verdict
SL: I'm always happy to have my prejudices challenged – especially when it means discovering something that I didn't expect to like as much as this. It's great to see a Luminor Due with proportions that make sense and it feels and looks just right on my wrist. Hey, it's a Goldilocks watch – and it's one that I would gladly own and wear. Aesthetically, both the anthracite dial and white dial versions in the steel case hit all the right notes – and will look equally good on a slim-wristed man or a woman. There's one big disappointment, though: the 30-metre water-resistance. That's the bare minimum for any watch these days and really not enough for what should be an everyday, wear-it-without-a-care timepiece.
FS: All up, I think these new Dues are such a welcome surprise. It's a great example of a brand taking their core DNA and adapting it to meet the needs of a new, potentially untapped market. They look strong on the wrist, there's enough differentiation to keep them apart from the other Luminors, and they offer something novel — something surprisingly uncommon in a 'novelty'. I think these will be a real hit, and I can't wait to see where Panerai take it.