We watch enthusiasts love an excuse to come over all opinionated, don't we? A little "controversy break" from our worship of calibres and references. So how about this: after-market customising. Would you or wouldn't you? Is it cool to ice-up a Patek and black-out a Rolex – or is it a crime against horology? One thing is sure: it makes some very prominent watch producers quite hot under the collar.
But why the controversy? When you buy a watch it becomes your own property – so shouldn't that mean you can do whatever you want with it? Change the colour, pimp it up in whatever way makes you happy and makes the watch feel more "yours". It's never been an issue for cars: take your Bentley to Mansory or your BMW to the local foiling shop and you'll be praised rather than disparaged.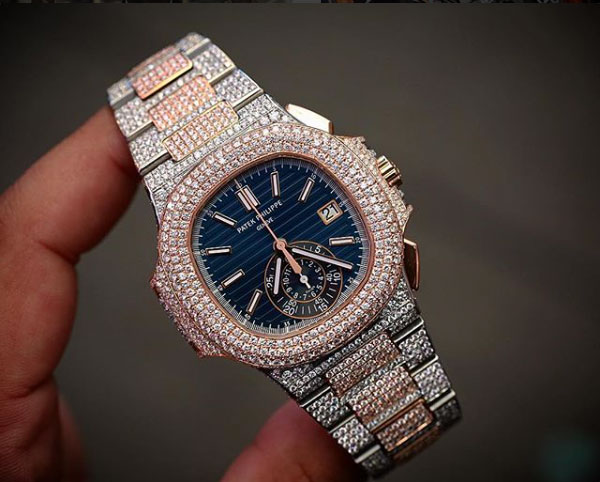 Weirdly, though, different rules seem to apply for watches. Modifying high-end timepieces is far from new (1980s; Hip-Hop; the early days of Jacob & Co with the iced-up Cartiers …) but even so, having a watch customised by a third-party workshop is, apparently, close to sacrilege for many. Is that because of some deep-rooted conservatism in the watch world? (Not so long ago, merely changing a strap was considered rather bold.) Is it a form of snobbery? Is it because a watch is (somehow?) more inherently precious and delicate than a car?
Now, I totally get why MB&F's Max Büsser argued so passionately against after-market customising in a panel discussion at the last Dubai Watch Week. He conceives his watches as a complete artistic package (horology as kinetic art, housed within a sculptural object) and they are produced – nay, hand-crafted – in very small numbers. I agree when he says (in effect) 'leave my art alone'.
But a watch that's produced in the tens or hundreds of thousands, to a design that has changed little in decades? While I understand why most people wouldn't change a classic (its instant-recognition factor is often a big part of the appeal), changing the case or dial colour to personalise a big-series-produced watch is not in the same league as painting a moustache on the Mona Lisa.
After-market customising actually removes a barrier-to-purchase for some buyers. As a friend – who owns mainly vintage and indie pieces – tells it, he wanted a Rolex for daily wear (massive respect for the brand, the quality etc) but didn't want to be "just another one of those guys with a Rolex". Bamford Watch Department was his solution and his all-black Milgauss has become his "almost favourite watch".
(Through its partnership with LVMH, Bamford has, of course, now gone legit – even the term "going legit" is rather telling of the dodgy reputation that still haunts customisers – and although Bamford still does after-market, it's now limited to LVMH brands. The "pre-market" customised editions done with TAG Heuer and Zenith don't count as customising in the truest sense – think of them like any other limited-edition brand x artist/designer/ambassador collab. Or like those 'configurators' that luxury car brands offer. Very different from the "rebel territory" of the after-market.)
So, back to third-party/after-market customising: what really is the problem?
It kills the resale value and/or you will never retrieve the extra money (those diamonds!) you invested in the customisation. Well, yes, obviously. Heck, even having your initials engraved on the case-back can "destroy" resale value (unless your initials are, say, JFK – and you actually ARE the real John Fitzgerald Kennedy and actually DID own the watch). But to me, that argument is a red herring: if you buy an object but are not planning to keep it, why would you personalise it in the first place?
It voids the warranty. Rolex and other major brands are adamant about this – and while some would-be modifiers complain that it's "just mean-minded" and "designed to be a disincentive" (views aired in that same Dubai discussion), it's understandable, given that DLC-treating the case or changing the dial means un-casing the movement in conditions that the original maker can't control. On the other hand, if you know a good "old-fashioned" watchmaker to whom you can entrust your servicing and repairs, a voided warranty is really no issue. And the best modders (why would you give your valuable watch to any but the best?) issue their own warranties.
Speaking of the best: customising has now gone way beyond all-black or added ice – and it's hard to argue against the quality of work done by the likes of Artisans de Genève (skeletonised Daytona) or MAD Paris (tattoo-engraved Datejust; all-blue Royal Oak). The one-off nature of each piece adds a value for the owner that has nothing to do with money. And, in my view, the fact that it's purely an aesthetic change does nothing to compromise the original watch.
Where it does get a bit weird, I think, is when a movement is also altered. The Mother of all Mods (to date) must be the Rolex Milgauss Tourbillon executed last year by Label Noir. Now, I know that kind of radical work is done with car engines, but for me, somehow, the engine of a watch seems a step too far. (And if I seem to be contradicting my own argument here, so be it.)
But that Milgauss is not my watch, so whether I "approve" or not is completely irrelevant. That said, I thoroughly approve of the skill of the watchmakers who re-worked the Rolex calibre 3131 to accommodate a tourbillon (modifying only two of the original parts and removing 53 of them to make space). And I certainly approve of the owner having the guts to take things so far – not to mention the huge pleasure he will get from having the watch of his dreams, regardless of whether it makes sense to anyone else.