OPINION: How to buy your first baller watch – by @fakewatchbusta
Time+Tide
Editor's Note: Any Instagram-savvy watch fan who doesn't follow @fakewatchbusta and @rolex_enforcer is either lying, in need of a tip, or perhaps they just have enough entertainment in their lives already. We fall into the camp of those that enjoy the odd bust, with a preference for the posts that can help educate (as well as eviscerate) on the telltale signs of fakery and forgery. Too-slim batons? Poorly cut out numerals? Skate ramp rehaut? Shivers of pure delight for watch geeks. 
Occasionally, in amongst the (unhelpful) troll army takedowns, you get a glimpse of the impressive, detailed knowledge these guys are able to demonstrate, even using only the pixelated images as source material. So, when we discovered that Robert Downey Jr. may have had the odd fake in his collection, we turned to FakeWatchBusta and asked, 'Is it ever OK to own a fake watch?' The story FWB wrote was, well, surprising. It offered, and extinguished, every possible excuse, from the obvious, to the more heartfelt, such as the toxic and unregulated conditions endured by the people making these fakes. We wanted to read more. Rappers seem to make up the lion's share of FWB's busts, so let's start with them. The subject: the art of how to buy your first baller watch as a rapper on the rise. 
OK, so you got your first big paycheque as an up-and-coming rapper and you want to buy your first serious watch to stunt on the 'gram. I know it seems like an iced-out watch is all the rage in the rap game, but if you look at the big stars like Jay Z and Drake you'll soon learn that keeping it FACTORY-made is the way to go. There's a reason Jay Z raps the iconic line: "Those ain't Rolex diamonds, what the f*ck you done to that?".
So let's go. Here is my take on eight key watches, from the budget stainless steel Rolex to the full-on quadruple-mortgage-on-your-mansion suggestions, starting with the watch I feel is the ultimate rapper's purchase:
Rolex Yacht-Master II ref. 116688
This is THE big face Rolex. It's actually the biggest solid gold watch that Rolex produces. It's also ludicrous in a good way. No date (who needs that anyway?), but it has a regatta timer! You can count down the minutes to the next time Soulja Boy takes the L.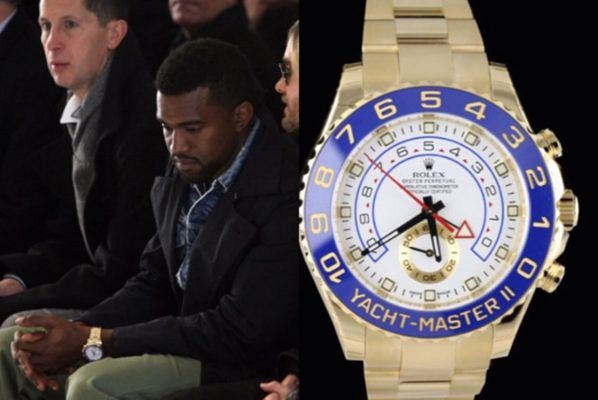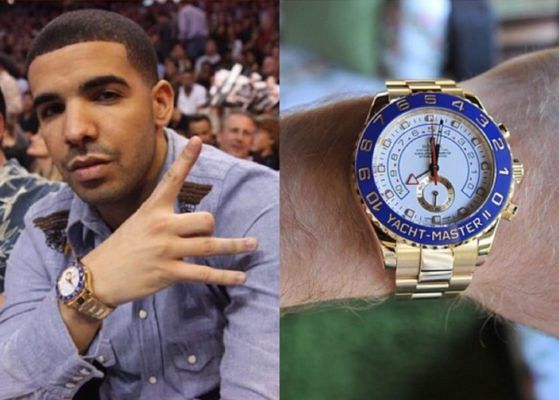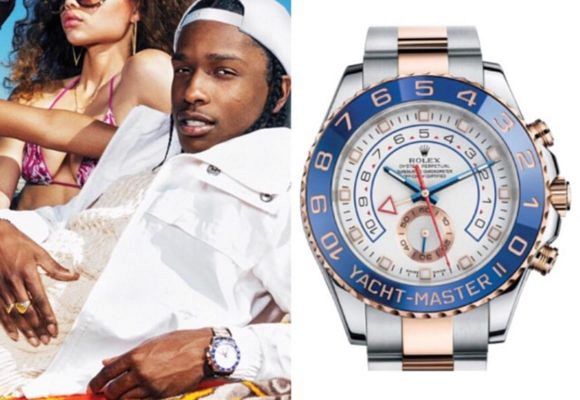 Rolex Milgauss ref. 116400GV and Rolex Day-Date II ref. 218235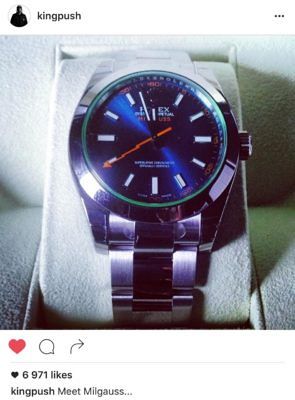 I have a lot of respect for Pusha T. He buys watches in all price ranges, so let's have a look at two of his watches. The Rolex Milgauss is such a cool watch. You get magnetic resistance from all that sound equipment, and the history of the watch is just awesome. I would actually say it's the least likely Rolex for a rapper to buy and that is what makes it really cool. This Milgauss will even make the watch snob nod when you walk by.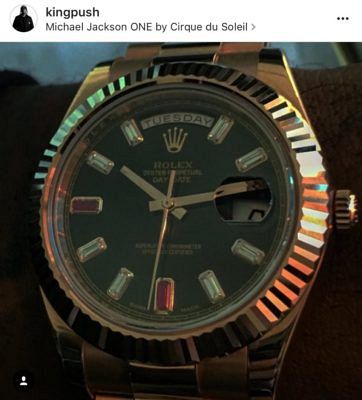 His other watch is a factory dial solid gold Day-Date II with a baguette-cut ruby and diamond dial. Taste those words. You can get a shady jeweller to set a watch full of diamonds but that's not the same as Rolex's own stones. This is a rare bird and already discontinued.
Any Richard Mille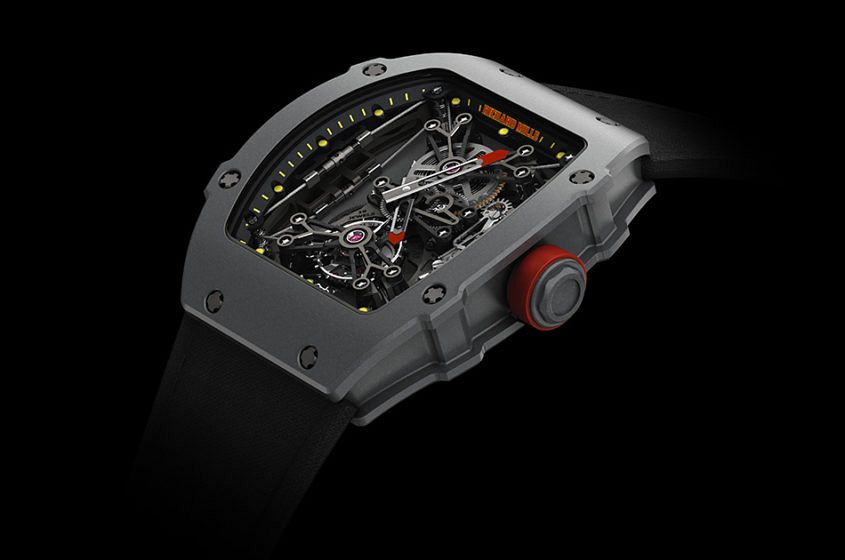 Do like Pharrell and just break the bank completely: buy a Richard Mille. Richard who? Don't be afraid, the price tag is in the range of your social security number. Buy this RM 27-01 and be the king of Instagram. And it can withstand acceleration of 5000G so don't be afraid to party with it.
Audemars Piguet Royal Oak Offshore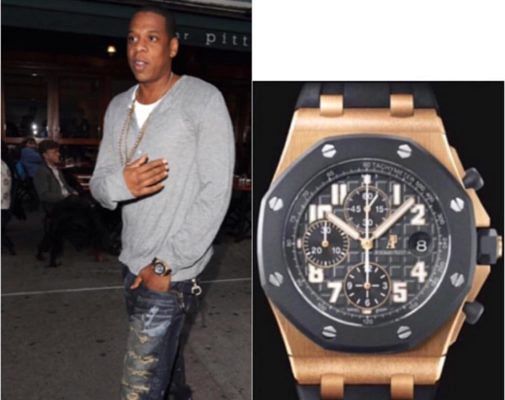 A solid gold Audemars Piguet almost seems cheap after that Richard Mille. The Offshore is big, badass and recognisable. It's also the easiest watch to spot as a fake, so if you buy a genuine one, everyone is gonna know you're ballin'. Do like NAS or Jay Z and get the 25940OK.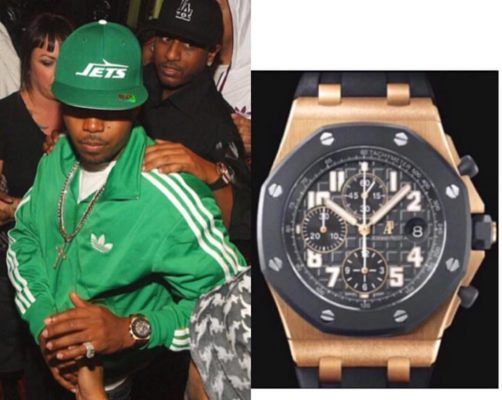 Rolex Submariner in white gold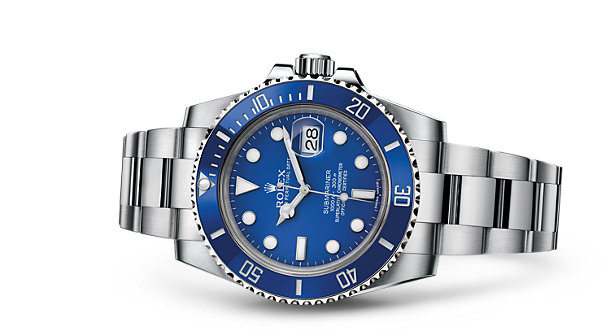 So, you want to spend a lot of money but you still want it to be a bit low key? If this sounds like you, buy the SMURF! Only watch lovers will know the price tag and you'll look like a boss wearing it. No diamonds, no gold color but still 100 per cent 18 carat gold.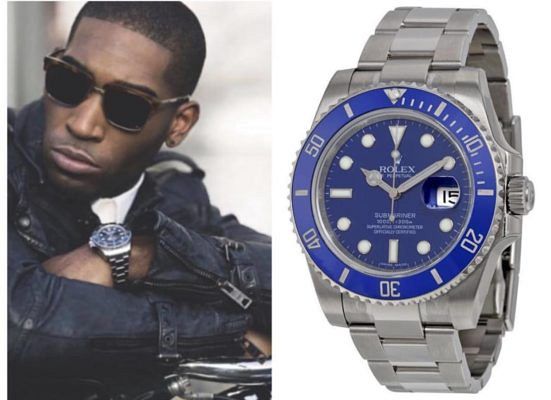 Hublot Big Bang "10 Years" High Jewellery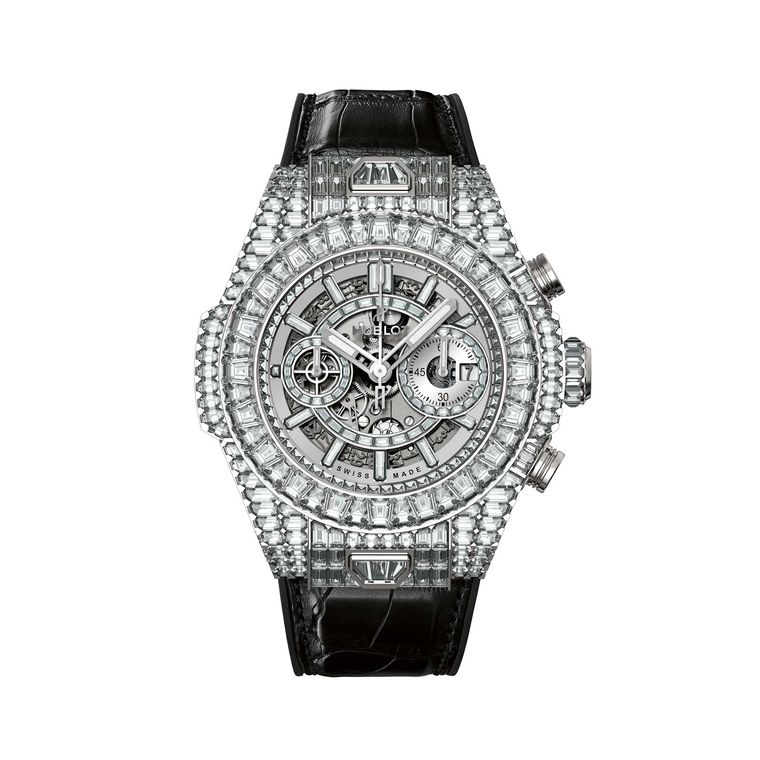 OK, so ice is your game. You want diamonds all over that sh*t and you still want to keep it factory. Where the hell do you throw your money? Look no further than this million-dollar baby from Hublot. They made 10 one-off watches last year, so good luck on finding one.