So, remember how TAG Heuer pretty much stopped the show at LVMH's Dubai Watch Week at the start of this year with their stunning Carrera 160 Years Silver? Remember how much you, and pretty much every other person in our community, immediately wanted one, only to be told that all 1860 examples were sold out? Well, turns out, they weren't.
In fact, TAG Heuer's three best limited edition releases of this year thus far – the aforementioned Carrera 160 Years Silver, the ultra funky Carrera 160 Years Montreal and the fresh to death Fragment Design Chronograph – are available for online pre-order (depending on your location, though most are reportedly covered), and we've got the links. This is very handy for people who are unable to get to a boutique to place an order, which is many of us in the pandemic-stricken age. But first, patience my dears, let's remind ourselves of a little bit about each of these great chronos.
TAG Heuer Carrera 160 Years Silver
T+T founder Andrew McUtchen said the Carrera 160 Years Silver "might be the perfect watch", and that sentiment is very, very accurate. Just look at it: it's simple, elegant, restrained and timeless – it is all the chronograph you'd ever need. The way the radially brushed sunburst silver dial dances in different light is mesmeric, and the polished 39mm stainless steel case is just about perfect for most people's wrists. The Heuer Calibre 02 found inside the exquisite case is also a master class from TAG, with the manufacture movement offering a self-winding, column-wheel chronograph with vertical clutch and no less than 80 hours of power reserve. Yes, if you're in the market for a beautiful, subtle, wearable everyday chrono, this is a great option, and you can now pre-order one by clicking right here.
TAG Heuer Carrera 160 Years Montreal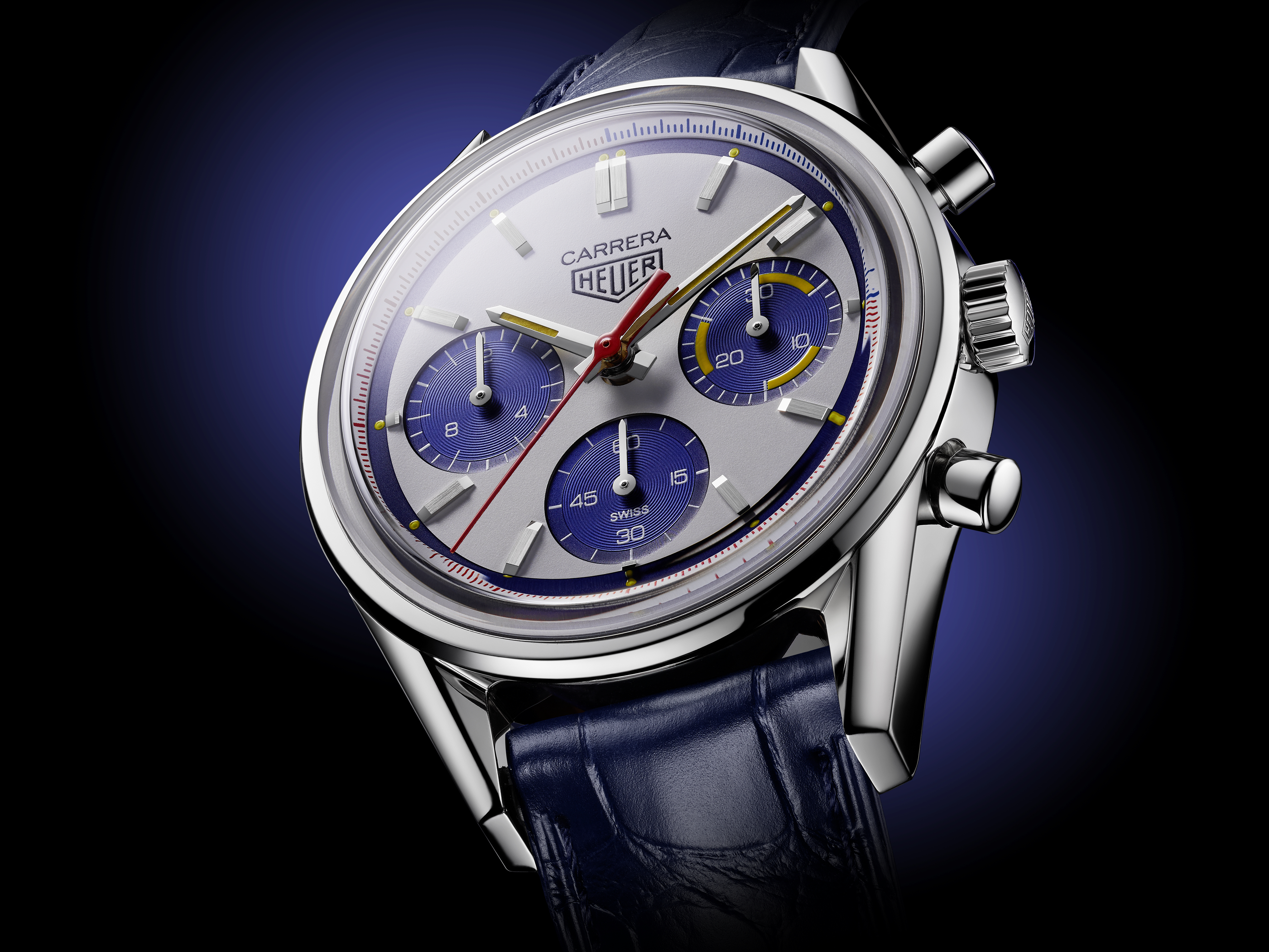 Stylised to pay homage to the 1970s Heuer Montreal chronograph, this new Carrera just oozes retro chic, and arguably offers even greater visual appeal than its silver sibling, especially if you like to live life flamboyantly. The polished stainless steel case retains the same dimensions and visual cues as the Silver Carrera, and that means a handsome and versatile visage with some gorgeous features such as elegant lyre lugs and diminutive piston-style chrono pushers. And just like its silvery sibling, the Montreal comes correct with the Heuer Calibre 02 movement. Definitely more of a weekend chrono, but no less brilliant, and with just 1000 being made, we'd recommend acting fast. Click here to get your pre-order.
TAG Heuer x Fragment Design Chronograph
This sporty timepiece is the brainchild of Japanese clothing studio Fragment Design and its founder, Hiroshi Fujiwara. To say Fujiwara is a pioneer of design and culture in Japan is somewhat of an understatement – the man is largely credited with not only introducing his mother country to hip-hop but is also considered by many to be the godfather of Ura-Harajuku fashion. Based on a standard TAG Formula 1, the Fragment Design Chrono is meant to harken back to some of TAG's most iconic, motorsport-inspired wristwatches of the '60s and '70s (think Autavia Jo Siffert or Viceroy) while also being a fresh, modern timepiece – neo-vintage, if you will. It's a great-looking timepiece, and although much more emphasis has been placed on aesthetics than the above two watches, that doesn't mean the Fragment Design Chrono has given up anything in terms of technicality. No, this watch still comes equipped with the Heuer Calibre 02, and it's all the better for it. As was the case with the last TAG x Fragment collab, just 500 examples of this limited edition timepiece will be created, and if you like the look of this watch, act fast, because we reckon this chrono will sell out quicker than the race cars its forebears timed back in the day. Click here to pre-order.