On this day, 50 years ago Neil Armstrong and Buzz Aldrin walked on the moon. An incredible achievement in the history of humanity. What's even more incredible is that this occurred less than seven years after President John F. Kennedy declared: "We choose to go to the Moon."
Of course, along for the ride was a humble steel chronograph from Omega – the Speedmaster. In the 50 years since that decade, the Speedy has become (and remained) one of watchmaking's most enduring icons. And, inevitably, this is something that Omega wanted to celebrate — and celebrate in style. At the start of the year, they released a solid gold tribute, but the low production and higher price tag of this piece made it unobtainable to many. So it was that fans waited with bated breath for Omega's 2019 collection announcement in May, and they were not disappointed.
The Omega Speedmaster Apollo 11 50th Anniversary in steel and Moonshine gold is a tribute to the history of Apollo 11, and jam-packed with details that speak to both the mission and the history of the watch. Most obviously there's the medallion of Buzz Aldrin descending from the landing module in the running seconds counter. And then there's the detailed re-creation of Neil Armstrong's famous footprint (and quote) on the back. Watch the video for some of the other subtle tells in this very cool Speedy.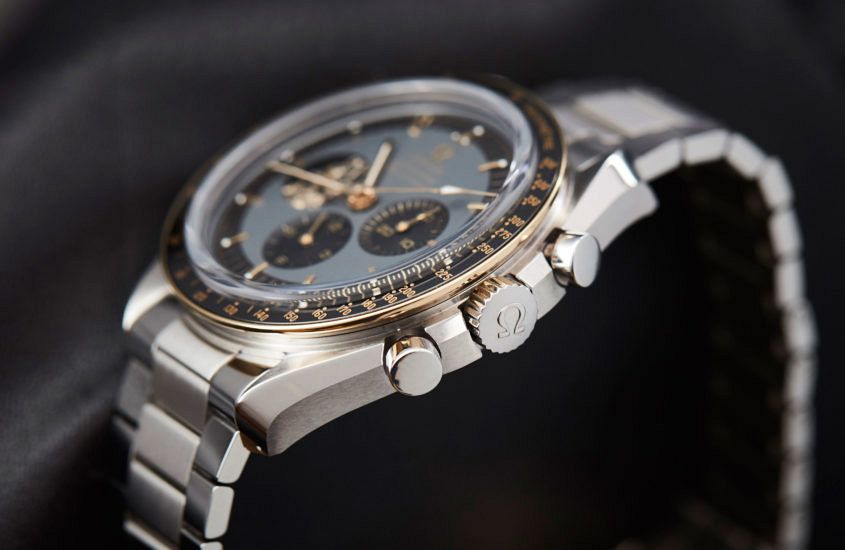 Omega Speedmaster Apollo 11 50th Anniversary
price and availability

Omega Speedmaster Apollo 11 50th Anniversary, limited to 6969 pieces, $13,175 AUD

Made in partnership with Omega. However, the opinions expressed in this article are our own in accordance with our Editorial Policy.