Omega ousts Rolex with brand new technology that promises 0/+2 second accuracy a day
Zach Blass
New Spirate™ System debuts new hairspring with ultra-fine 0/+2 regulation capability.
The system debuts in new Speedmaster Super Racing watch.
Its usage beyond the Super Racing is planned, but consumers will need to wait for new calibres – not just new watches.
COSC, METAS, Superlative, and more. There are various chronometer certifications within the industry today, with each, among other things, pledging a certain level of accuracy and performance. And in this Arena, Rolex has long reigned king with their Superlative Chronometer certification pledging an accuracy of +/- 2 seconds per day for each watch leaving their factory. Omega's Master Chronometer certification, in terms of regulation, is not far off with a pledged 0/+5 seconds per day. But today, thanks to their new Spirate™ System, Omega now has a new silicon hairspring capable of ultra-fine adjustment – so fine that it cuts Rolex's deviation rate in half with a pledged accuracy of 0/+2 seconds per day. And this new system is making its debut in a new watch: the Speedmaster Super Racing.
What is the new Spirate™ System?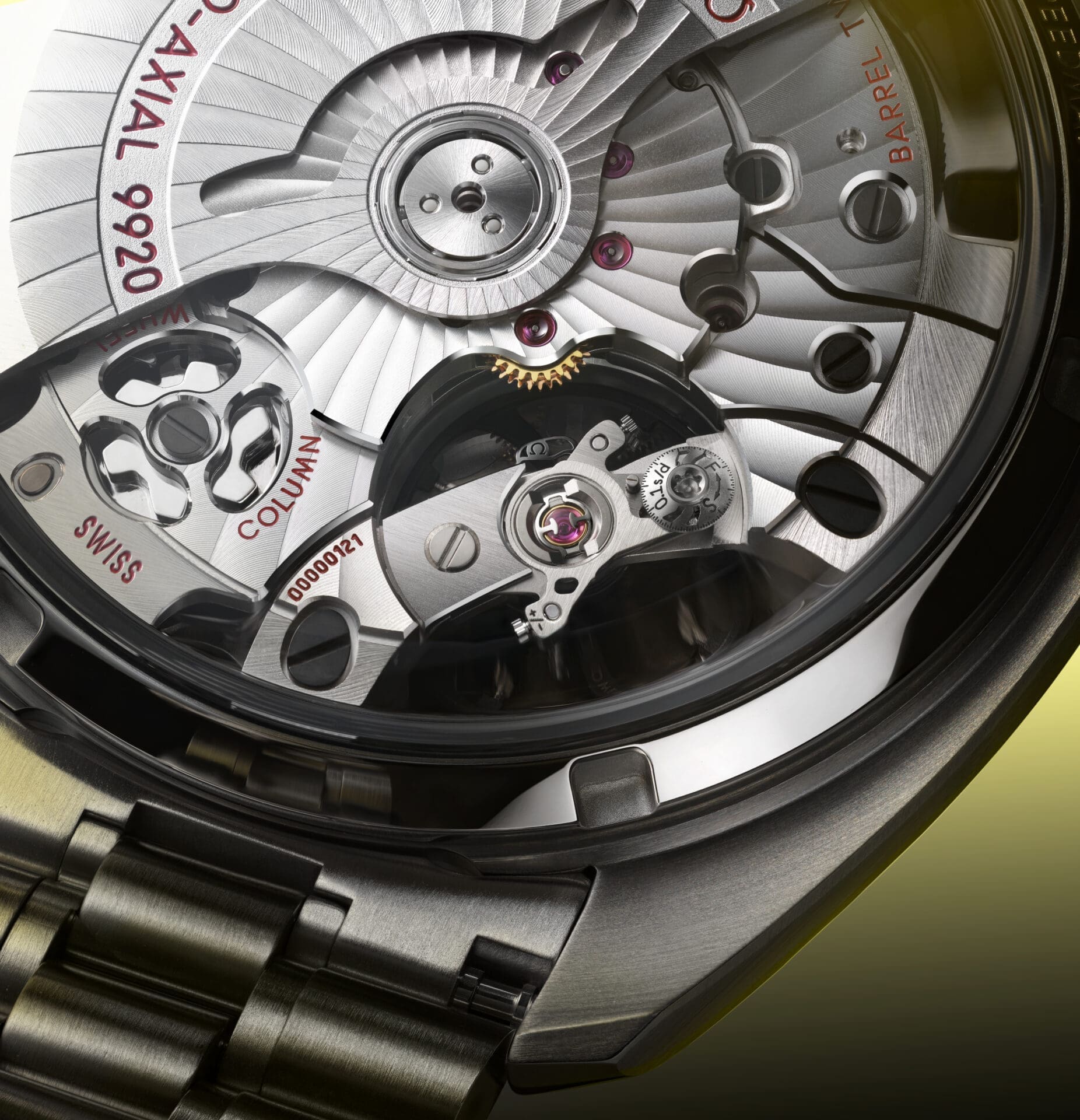 In layman's terms, the new Spirate™ System utilizes a fine-tuner on top of the full balance bridge that, with a specialized tool created by Omega, can be regulated in increments of .01 seconds with relative ease by Omega watchmakers even in boutiques.
Omega explains in more depth: "The Spirate™ System, which includes a revolutionary new patent-pending spiral that allows for ultra-fine rate adjustments. Thanks to this one-of-a-kind mechanism, it is now possible for Omega to achieve certified precision of only 0/+2 seconds a day. To meet these narrow targets, Omega had to quite literally reinvent the wheel: drawing on both the technical resources of the Swatch Group and the precision, stability and reliabity of Omega's chronometrically superior in-house movements. The innovative solution was a totally new Si14 balance spring which allows the watchmaker to act on the stiffness of the hairspring's attachment point through an eccentric adjustment mechanism located on the balance bridge. This new approach, based on the design of a high precision articulated structure with flexible bearings, is a superb example of Omega's willingness to run with new ideas: to make progress by taking on challenges."
What are its advantages?
The industrialization of ultra-fine adjustment: Omega has explained that adjusting a free-sprung balance in a boutique is not typically possible. But, with their specialized tool for the system, Omega watchmakers will be able to regulate watches brought into a boutique on site and with a greater degree of accuracy. This specialized tool, and the architecture of the Spirate™ System, allows for personalized tuning in increments of .01 seconds without risking imbalance. With a free-sprung balance, one screw can be corrected more than another. The Spirate™ System eliminates this issue, as well as eliminates risk of damaging the balance as no contact with it is necessary – strictly the tuner or "eccentric adjustment mechanism".
This potentially means quicker quality servicing: Assuming the watch strictly needs to be re-regulated, a resolution can be had in a much shorter time frame. Micro regulation to the four screws of a free-sprung balance can take days, and is typically performed at a repair facility versus a boutique – which means there are also transit times and service queues to account for. It would appear this is not the case for Omega's Spirate™ System, leading to potentially far shorter service times. That being said, an overhaul, or full service, is a routine part of owning a watch. So, factory visits or longer services will continue to be an eventuality. But, the regulation component of a full service will certainly be much shorter.
"An Omega watch will never be late": As with the current roster of their METAS Master Chronometer certified calibres, Omega pledges that there watches, at least upon leaving the factory, will never lose time. The range of 0/+5 seconds per day was already quite spectacular, but 0/+2 is on a whole other level that surpasses Rolex's Superlative Chronometer certification of +2/-2 seconds per day. According to Omega CEO Raynald Aeschlimann, an Omega watch will never run late and their quest for ultra-precision does not here. They will always regulate zero to plus versus minus to plus, the question is how far less beyond +2 can they go down the line. Also, as expected, the Spirate™ System is equally resistant against magnetism, so there is very little to no concern magnetism will disrupt timekeeping.
The one caveat…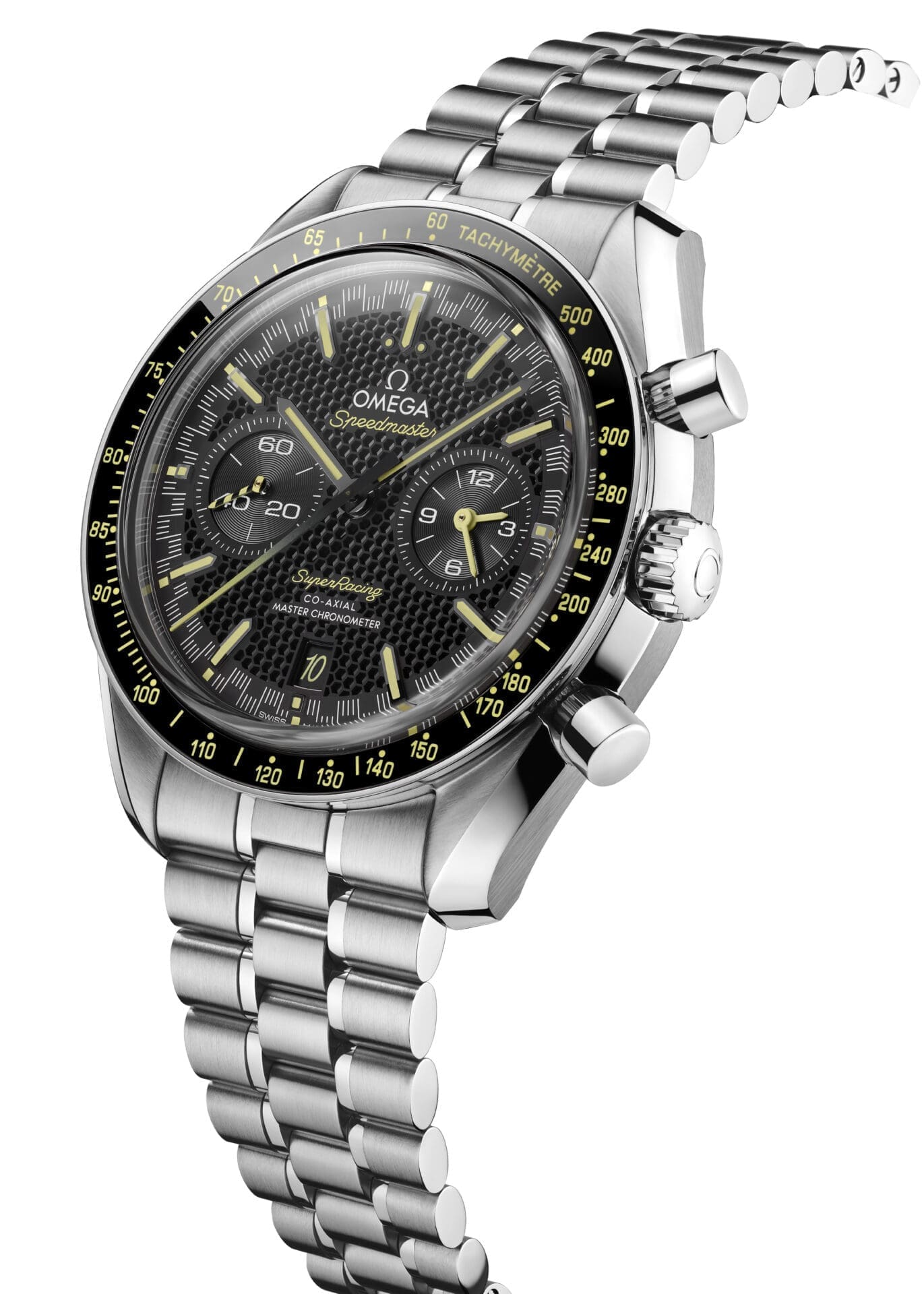 Understandably, the new Spirate™ System is not being rolled out across the entire catalogue at launch. For now, it is strictly available in the new Omega Speedmaster Super Racing watch, with its new Co-Axial Master Chronometer 9920 calibre, which has launched alongside the new Spirate™ System. Omega CEO Raynald Aeschlimann explained at the launch event earlier today that there are, of course, new watches on the way. But these new watches are not primed to use the Spirate™ System. Once new calibres have been developed, which use the Spirate™ System and can accommodate the various sizes and designs of Omega's cases, then it will be gradually rolled out into next generation pieces. So, do not expect the Spirate™ System to be used throughout the catalogue roster for some time.
We will have a hands-on review of the Omega Speedmaster Super Racing shortly, but, for now, the retail pricing is set at CHF 10,200 – just CHF 200 more than previous Omega Speedmaster Racing models.