Nick Jonas shows he's a serious watch guy with this Omega Speedmaster in Canopus Gold on Saturday Night Live
Zach Blass
As a watch enthusiast and journalist, I get excited when I see celebrities sporting coveted timepieces on their wrists. More often than not we see the greatest hits from the usual suspects, but on the most recent episode of Saturday Night Live, Nick Jonas made #watchfam really proud.
Nick has a clear appreciation for watchmaking. His Instagram feed is full of a variety of watches from a wide spectrum of manufacturers. Sure he has the more clear-cut celebrity choices in his collection, which we will explore below, but the watch Nick opted to wear during his monologue is a true flex that conveys he is not only a fan of watches as an accessory, but also for their horological merit. While he is certainly not the first famous figure to sport an Omega Speedmaster, he may very well be the first spotted wearing one of the new 3861 powered Speedys in Canopus gold – Omega's proprietary blend of white gold.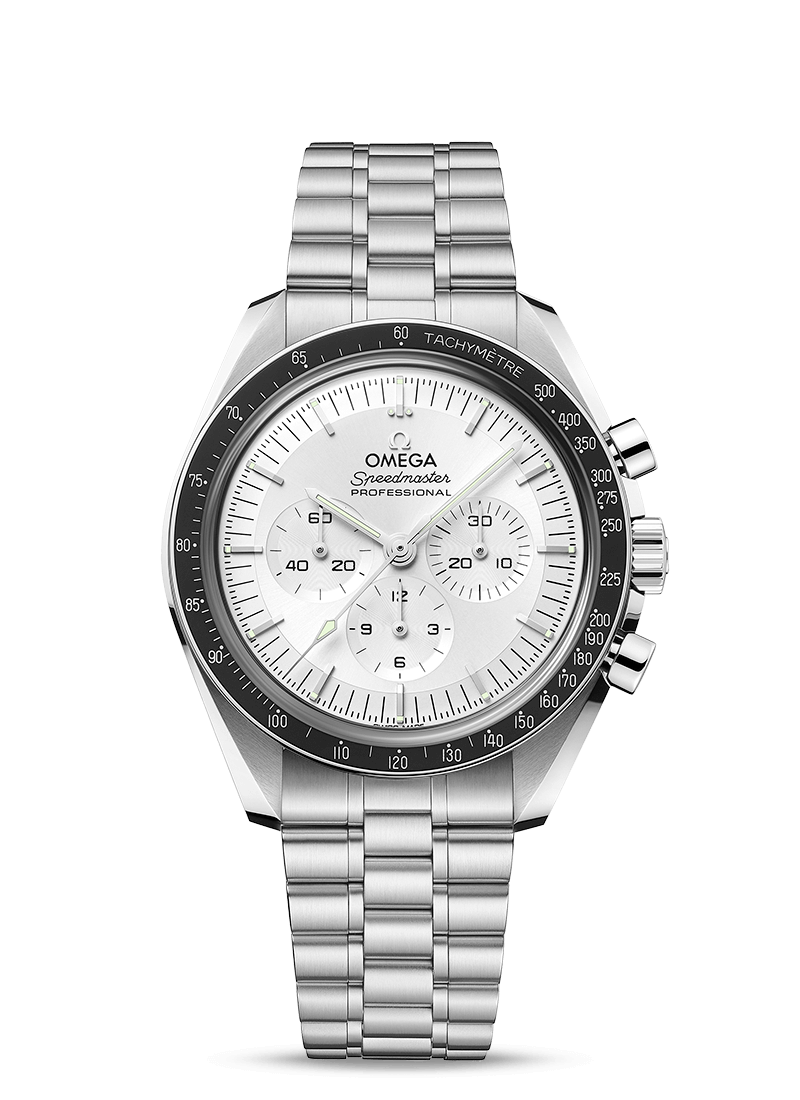 While a beautiful watch, it is definitely not a reference you would immediately guess would find its way onto the wrist of a celebrity. To choose this Speedmaster over another Rolex or Richard Mille, you would need an appreciation for the larger spectrum of watchmaking. The Omega Speedmaster 3861 in Canopus Gold is proof that Nick Jonas is a fully fledged watch enthusiast, not just buying the brand, but more so the watch for its merits.
Nick was not alone in terms of killer watch flex during the monologue. His brother Kevin had a fun cameo during the opening of the show and can be clearly seen wearing a 41mm Audemars Piguet Royal Oak with a ruthenium dial. It's a more understated monotone look and, while arguably less coveted than the blue dial version, displays a clear enthusiasm for watches, too.
It's Nick's collection, however, that's worthy of deeper exploration, so we decided to recap the many pieces he's been spotted wearing in recent years.
Rolex GMT Master II ref. 116718LN
View this post on Instagram
The Rolex GMT Master II ref. 116718LN is a great daily wearer for someone in Nick's position. It's precious yet robust and its GMT complication is great for someone who finds themselves travelling a lot and ending up in various timezones. The watch is perfect for all environments, its yellow-gold nature catering to formal events while its build and water resistance makes it equally suitable for a debaucherous yacht party or dive into the ocean.
Audemars Piguet Code 11:59 Chronograph in yellow-gold
View this post on Instagram
The Audemars Piguet code 11:59 was a slightly controversial watch upon its release, and by no means is the mainstream or obvious choice from their catalogue. To an extent, you really have to appreciate watchmaking and all the technical development that went into creating this intricate timepiece. Nick wearing the Code 11:59 chronograph is yet another example of him seeing past the power of brand name and appreciating the horological merits of the creation.
Richard Mille RM11-01 Flyback Chronograph in red-gold
View this post on Instagram
Aside from Rolex, if you were to take a guess of what brand would find its way into a celebrity collection, Richard Mille would be a very safe bet. The brand has developed a cult following among watch collectors and musicians and, to be fair, they are great timepieces to flex on the wrist. They are coveted watches that display a sense of status, but are also incredibly robust – with many of their athletic ambassadors actually sporting their creations while competing.
It may also be fair to assume Nick is quite the soccer fan, as the watch is named after Italian football legend Roberto Mancini. The watch is distinct from other Richard Mille timepieces due to the fact the dial is designed so that the wearer can see the exact number of minutes remaining during a football match's stoppage time.
Bulgari Octo L'Originale Full Blue Baguette Diamonds
View this post on Instagram
Probably the most expensive watch Nick has been spotted wearing is the Bulgari Octo L'Originale Full Blue Baguette Diamonds. He notably debuted the $1,000,000 timepiece on his wrist at the 2020 Golden Globes awards. Among his known collection, it is the only timepiece he has sported that incorporates diamonds on all components of the watch (aside from the movement). There are 1,172 stones, approximately 50 carats, with one round 7.74 carat stone set within the crown. Its faceted build leaves ample space for diamonds to be incorporated into the design and Bulgari has spared no expense or real estate to incorporate them. The dial's surface is entirely made of diamonds and sapphires with the brand name printed under the sapphire crystal. Of all the watches in his collection, this is the biggest flex.
Rolex Yachtmaster ref. 16622
View this post on Instagram
On the other side of the coin, The Rolex Yachtmaster ref. 16622 is attainable stealth wealth on the wrist. Unless you are familiar with the specifications, you would not necessarily realise that both the dial and bezel on the stainless-steel watch is fashioned from platinum. Its monotone aesthetic is very distinctive in the Rolex catalogue with the platinum dial having a grained texture you would be hard pressed to find in other references. This is a watch that's highly robust but far more under the radar than the other watches in Nick's collection.