NEWS: We are auctioning a seriously cult-worthy watch for charity, the Porsche Design by IWC Ocean 2000
Andrew McUtchen
The Porsche Design by IWC Ocean 2000 ref 3504 is the kind of model that makes the experience of being into watches great again. But more about the watch later. Because the really great news is that we have one (in pretty extraordinary condition) to auction on eBay, from this morning. You can bid on the watch right now, here. The auction will run for the next seven days. All monies raised will go toward the vital work of Motor Neurone Disease (MND) Assocation of Victoria, an organisation dedicated to finding a cure for MND.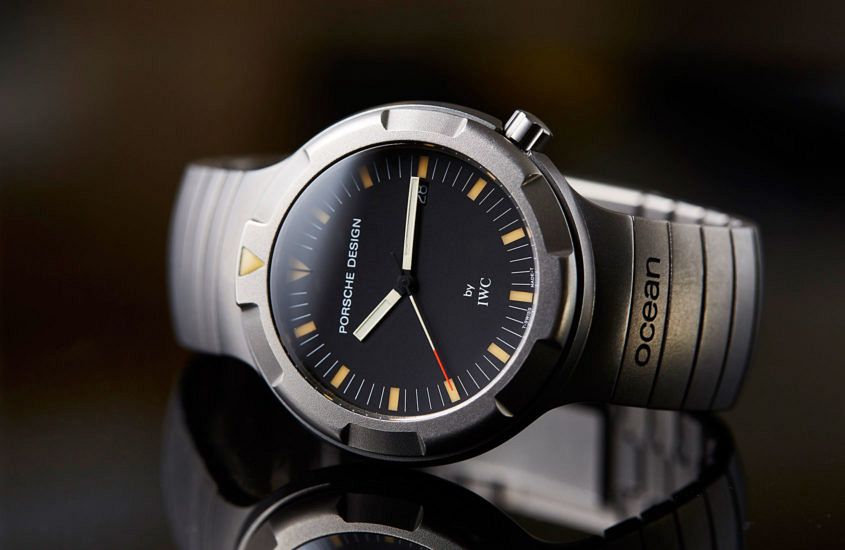 "Until there is a cure, there is care," their site promises. Anyone who has been touched by MND knows that it is a cruel, dehumanising disease whose usually slow progress is agonising for all involved. Needless to say, it is a worthy cause. And the cause is combined, in this effort, with a pretty incredible watch, as we said above, in pretty incredible condition.
Once you scratch the cool, smooth, pebble-like titanium surface of the Ocean 2000 you are immediately drawn into a world of storytelling and mythology that has been nicely compacted by the 35-odd years since its release.
This, in short, is a crush and cult-worthy watch. If there's already a cult around the watch then it is deserved. If there is one still to assemble — as history elevates its place, its eternally futuristic (and patently '80s design) and its enduring quality — then bring it on. The other party in this auction exercise is IWC. As soon as the brand, via the Australian Brand Director Florian Gutsmiedl, learned of the effort, they were all in. Not only did IWC fund the return of the watch to its Schaffhausen HQ for a service and full certification — the watch is to be sold with a certificate of authenticity, along with a contemporary IWC box, including an inner and outer box, as well as a travel case — the brand also made a video about the model, hosted by Dr David Seyffer, the Curator of the IWC Museum. What an incredible gesture, thank you IWC!
Porsche Design by IWC Ocean 2000 ref 3504 Auction Details
The auction is now live at and is open to all bidders around the world  – https://www.ebay.com.au/itm/352600750441?ViewItem=&item=352600750441&ssPageName=ADME:L:LCA:AU:1123
The auction will end at midday on Saturday 2nd March
There is no reserve price 
Buyers will receive the watch, a certificate of authenticity, along with a contemporary IWC box (including an inner and outer box) and a travel case
Some facts about the Porsche Design by IWC Ocean 2000
This is the first IWC watch to have a titanium bracelet and case.
IWC Museum Curator David Seyffer considers it special because it's a vintage watch you can wear without being worried, given its extraordinary robustness.
The Ocean 2000, which promises 2000m water resistance, was actually pressure-tested to 3200m and still didn't break.
What the IWC and Porsche Design collaboration did break, however, was itself, due to the partnership's outrageous success. The collaboration was ended because it threatened to overshadow IWC.
In fact, there are claims that the ref. 3700 annually sold more units than all other mechanical chronographs by all other Swiss companies combined.
The watch was designed and developed by Ferdinand Alexander Porsche for the West German navy.
This contract resulted in the famed Ocean 2000 BUND timepieces, which are among the most sought-after military watches.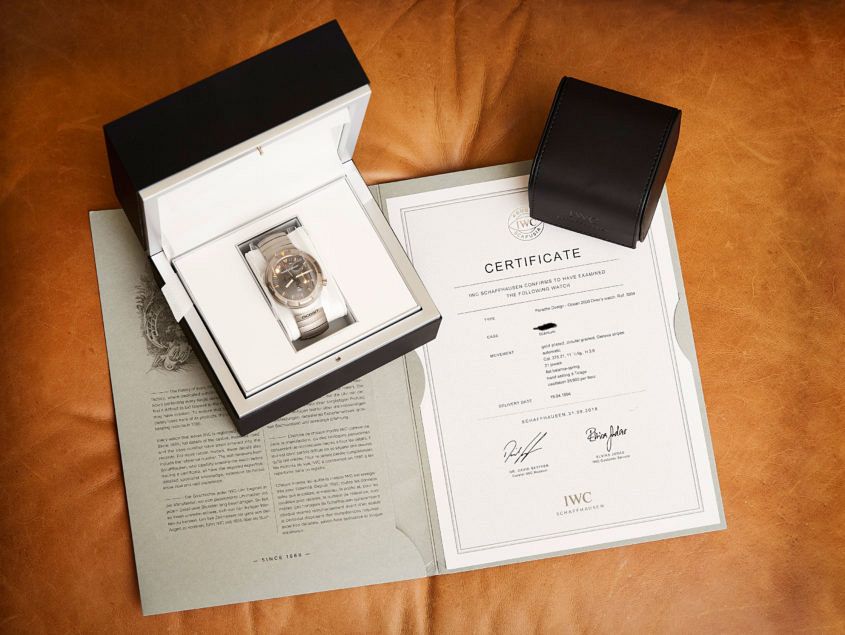 To all the bidders, we salute you, good luck!