NEWS: If you've ever wanted to buy a gold tourbillon for $3000 you might just be in luck
Felix Scholz
Auctions can be funny things. Most of the time the coverage around watch auctions tends towards the record-breaking headlines – the most expensive this, that or the other. But sometimes, thanks to the fact that auctions tend to be a crystallisation of market forces, you can find a hidden gem. Which might just be what lot 179 at tomorrow's (the 8th of August) Sotheby's Australia Important Jewels and Watches sale will be.
This lot is a Habring2 Tourbillon 3D in pink gold, sold by Habring's Australian distributor in 2015 for $45,000. Sotheby's Australia has placed an estimate of $2500 – $3500 on this lot. But before we talk about the estimate, let's talk about the watch. Habring2 are a small Austrian-based brand, consisting of husband-and-wife team Richard and Maria Habring. And while there are many small boutique makers out there, the Habrings have some serious watchmaking weight behind them. In an earlier life, Richard Habring worked for IWC, during which time he was instrumental in the development of a revolutionary execution of the split-seconds chronograph (or doppelchronograph) that did away with the fiddly and expensive column wheel approach, heralding a new era of 'accessible' split-seconds. Habring's ingenuity doesn't stop there — their robust and honest take on watchmaking sees them modify existing movements with clever complications, offering a compelling combination of artisanal craft, affordability and reliability. They've been feted by the industry too, having won a total of three GPHG awards over the years.
This watch is a great example of that approach. It marries a 60-second tourbillon, designed and made by Richard Habring, to a heavily modified, manually wound Unitas 6498-1, a real classic workhorse that will be instantly recognisable to people who've spent time peering into casebacks. It's cased in a large, contemporarily sized 42mm pink gold case, with real weight to it. The size, combined with the multi-stepped dial and semi-open tourbillon, means this watch is a far cry from delicate and dainty, but nor is it an in-your face statement piece.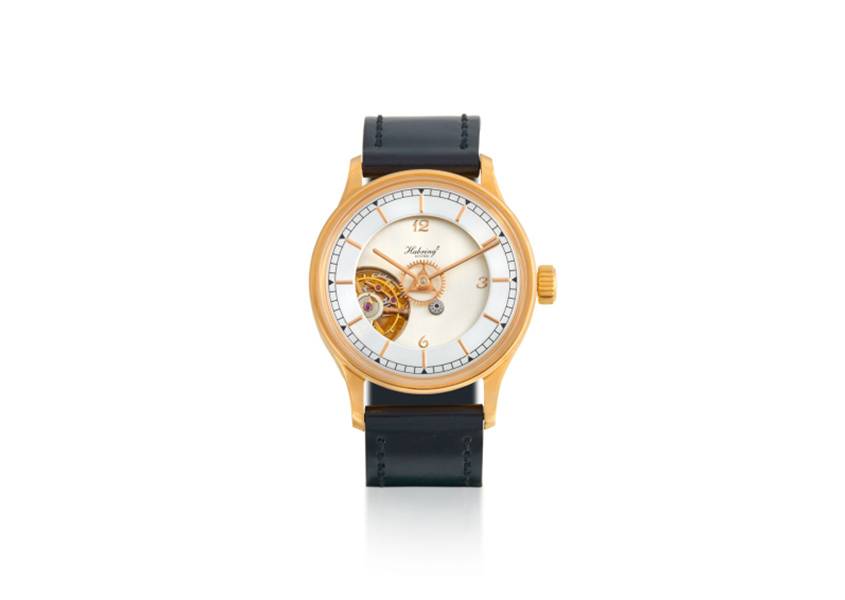 So why the low estimate? Funnily enough, that was exactly what I asked Hamish Sharma (Sotheby's Australia's Head of Jewels) when I sat down with him yesterday. His response was measured, and indicative of the market. Hamish stated that name recognition of Habring2 in Australia was negligible, and that their watches were relatively untested in the auction space. It was these two factors that formed the basis of the estimate. And while I'm sure there's an element of canny marketing of a tricky-to-sell watch involved (hey, we're talking about it), I think the prime driver in this case is the relatively unproven market value. And while there's no doubt the estimate has helped generate interest from people who know and appreciate the brand, when I asked Hamish about what he hoped the watch would realise at auction, he responded that he would be very happy if it hit, or slightly exceeded, the top estimate.
On a personal level I'm in two minds about this. On the one hand, I think this represents the potential for what I think is a great bargain, a beautiful piece from an important modern watchmaker. On the other hand, I'm sad that a beautiful piece from an important modern watchmaker is (to my mind) so greatly undervalued. It's a great example of two (at times conflicting) approaches to watches. On the one hand, they can be seen as wearable works of art and expressions of a fine craft tradition. On the other, they can be seen as commodities, and repositories of value. Auctions like the one taking place in Melbourne tomorrow night tend towards a pure expression of commerce rather than connoisseurship, but sometimes, if the right people are in the room or on the phone, the two can meet. Personally, I can't wait to see what this watch hammers in at.