New Kurono 2023 Anniversary Calendrier 'Azuki' : アズキ is your last chance to purchase the model – but it is not limited!
Zach Blass
The Kurono 2023 Anniversary Calendrier "Azuki" will be the last Calendrier I produced
As an Anniversary model the watch is not a limited edition, it is time limited with all successful orders honoured
The first Kurono dial to be made of phosphor-bronze, the case's water-resistance is raised to 50m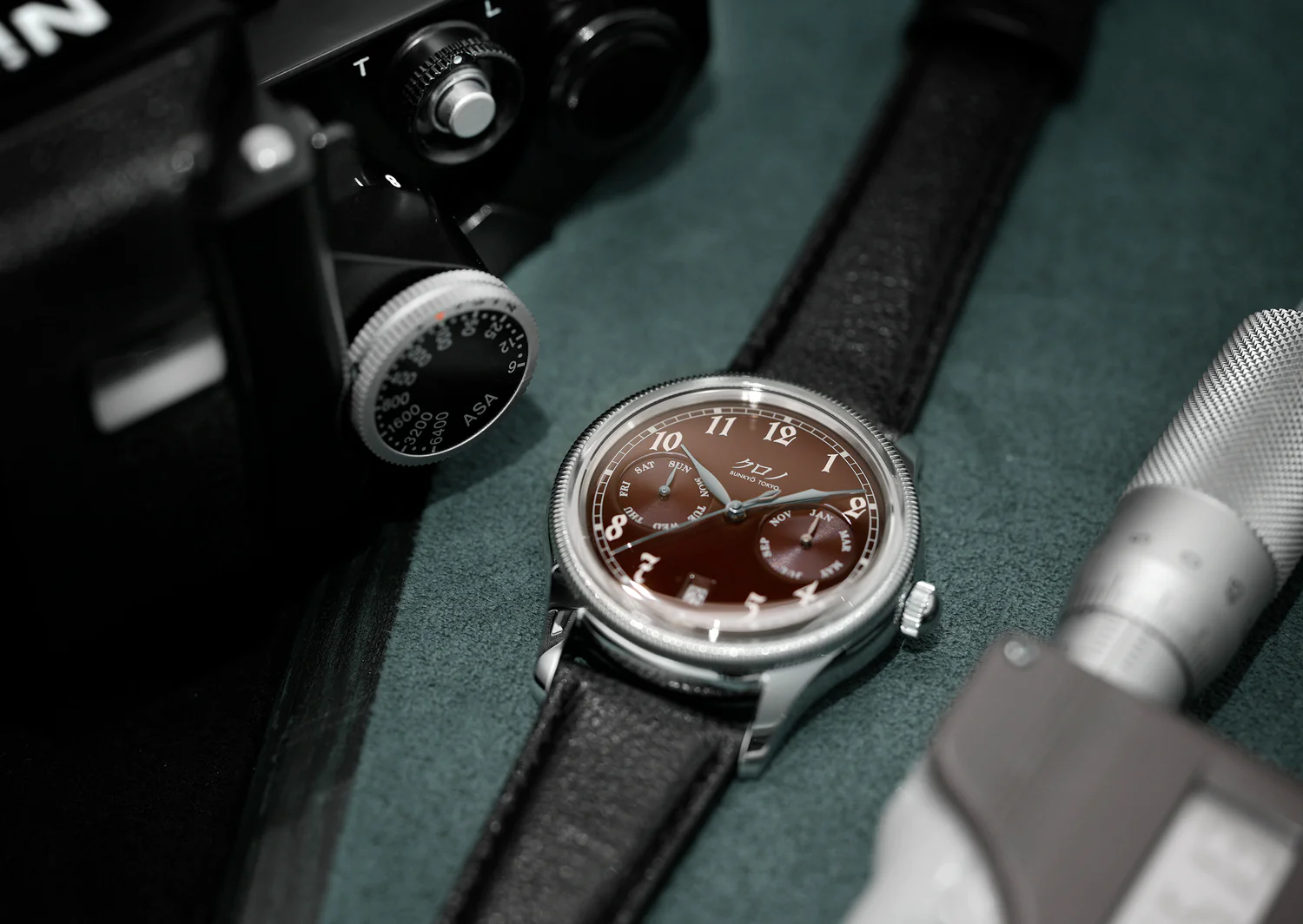 Cards on the table, I have long been a Kurono-phile. While I did miss out on a few of the earliest models, the raging FOMO I felt after missing those first limited editions led me to set reminders/alarms and carve out time to successfully make an order on six later releases: the Kurono Mori, Toki, Seiji, Grand Akane, Grand Hagane, and Chronograph II. First and foremost, what draws me and many other collectors to Kurono watches are their incredible dials painstakingly designed by Kurono founder and master watchmaker Hajime Asaoka. The second element I find attractive is the brand's more approachable price point. Under his own name, Asaoka-san's creations cost tens of thousands of dollars or more. But Kurono watches, depending on the tier of release, typically hover at less than US$1,500 for the entry models, with more complicated or "Grand" artisanal tier models with Urushi lacquer dials costing between US$3,000 – $4,000.
The only issue, at times, is the scarce availability due to a demand that far exceeds the supply of each limited run. Asaoka-san, however, founded the Kurono Tokyo brand as a means of bringing quality watches at a lower price to more and more people. Thus, the tradition of an Anniversary model was born – where each year an anniversary watch is presented that is not a limited edition. Instead, the anniversary releases are time limited. This means any successful placed orders within the allocated windows will be honoured and delivered. On Friday, May 26 (JST), two order windows will open for the new 2023 Anniversary Calendrier 'Azuki' : アズキ which will also be the last series of Calendrier I watches produced.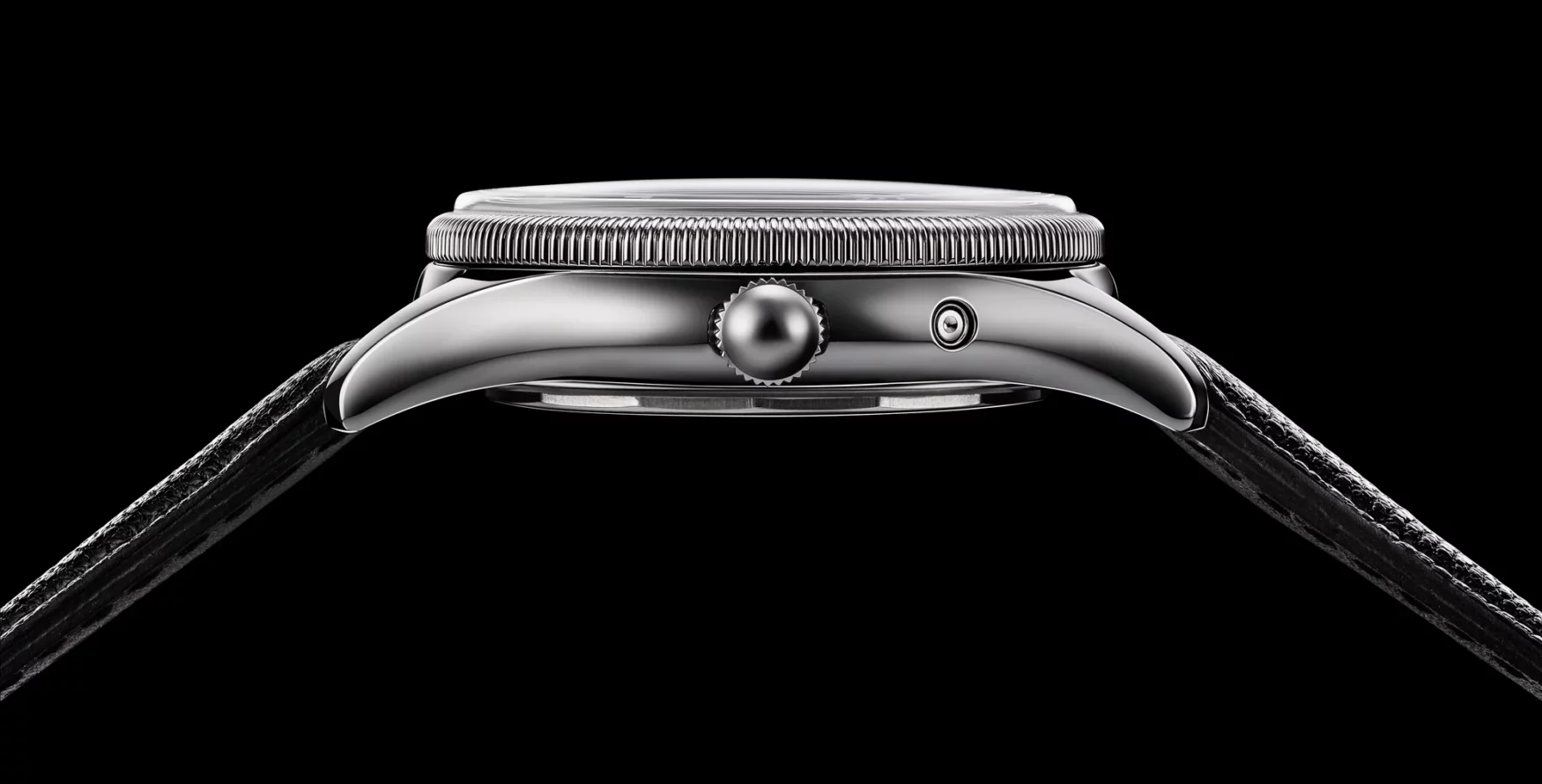 The Kurono 2023 Anniversary Calendrier 'Azuki' : アズキ is packaged in a 38mm, 316L stainless-steel case that is a rather slender 11.5mm including its boxed sapphire crystal (which Kurono claims is 0.15mm higher than ordinary boxed sapphire crystals). The Calendrier I, from a case perspective, has the distinction of a coined bezel and a month-corrector pusher at the 2′ position. But, like all Kurono models, the case is fully distortion-free mirror-polished – offering a level of finish typically found quite a bit of above its price point.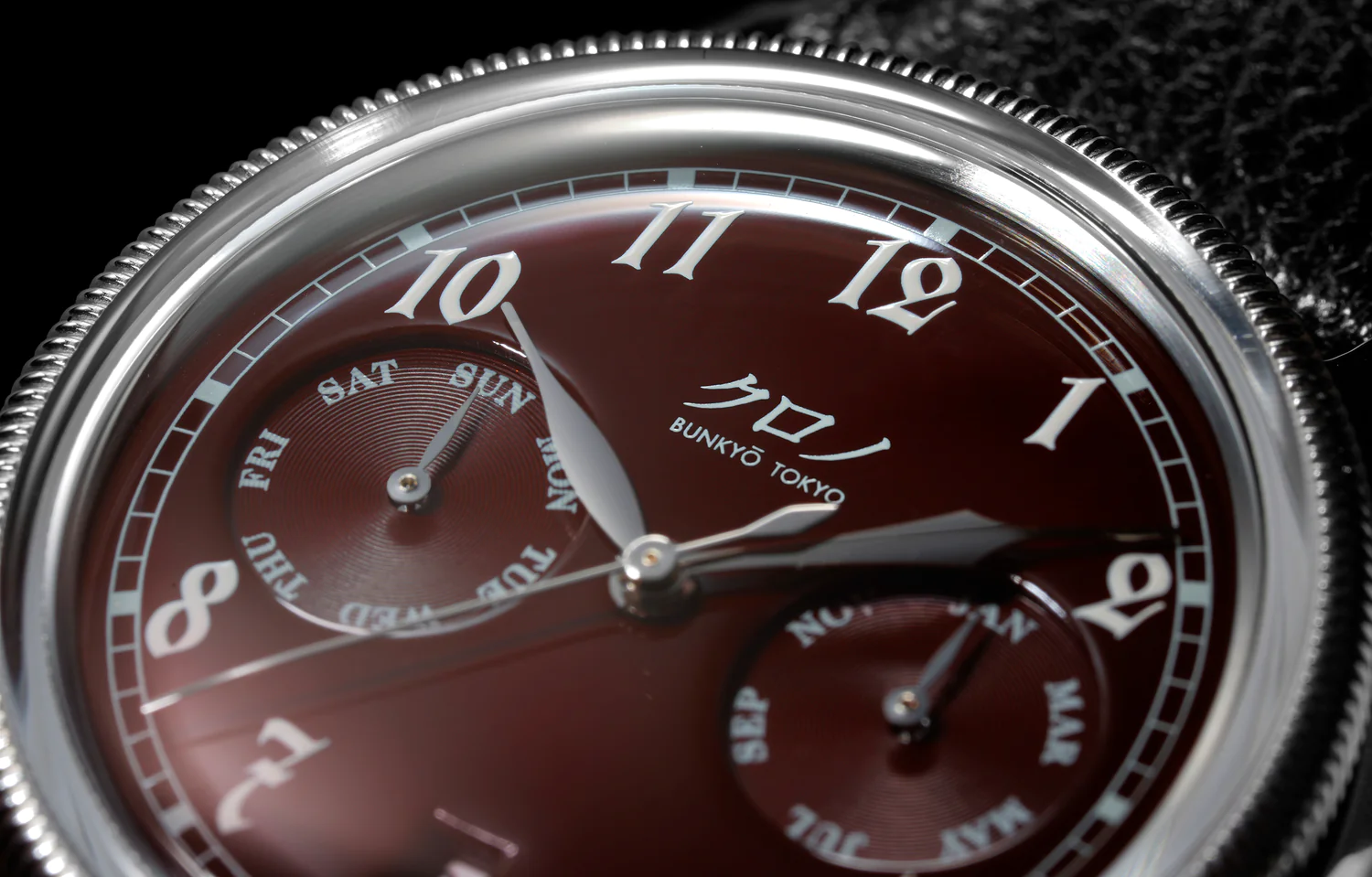 The dial layout remains the same as the previous Calendrier I's green dial, with a railroad outer minutes track, gothic hour numerals, day register at 9′, month register at 3′, and black on white date window at 6′. The distinct, hand-bent, and mirror polished Kurono leaf handset is also once again used. But, for the first time, Kurono has used a phosphor-bronze dial plate in order to achieve its deep maroon colour.
Hajime Asaoka explains: "This time, as usual, I mixed the maroon myself and gave it to the dial maker as a colour sample. The coating was quite thick. I wondered if the dial maker would be able to finish the colour the way I wanted. After a while, the dial maker sent me the sample. The person in charge of the project said that he had gone through a lot of trouble, but the finished dial was superb. The sample I sent was painted on a white plastic plate, but by using a reddish "phosphor bronze" material for the dial itself, they were able to achieve a deep colour tone while reducing the coating film. Of course, great care was also taken in the colour mixing of the paint itself."
He further explains that his choice of colour stems from a car, the Datsun 240Z, which he believes to be the last in Japan to use such a deep maroon. But he soon realised that it was far more difficult to achieve such a colour on a watch dial rather than the body of a car – necessitating the usage of phosphor-bronze for the first time. To use phosphor-bronze as the dial base makes the manufacturing process far more laborious, as it is harder to machine than your typical brass. But, it is this attention to detail and chase for perfection that makes Kurono stand apart from other brands producing watches at the same price.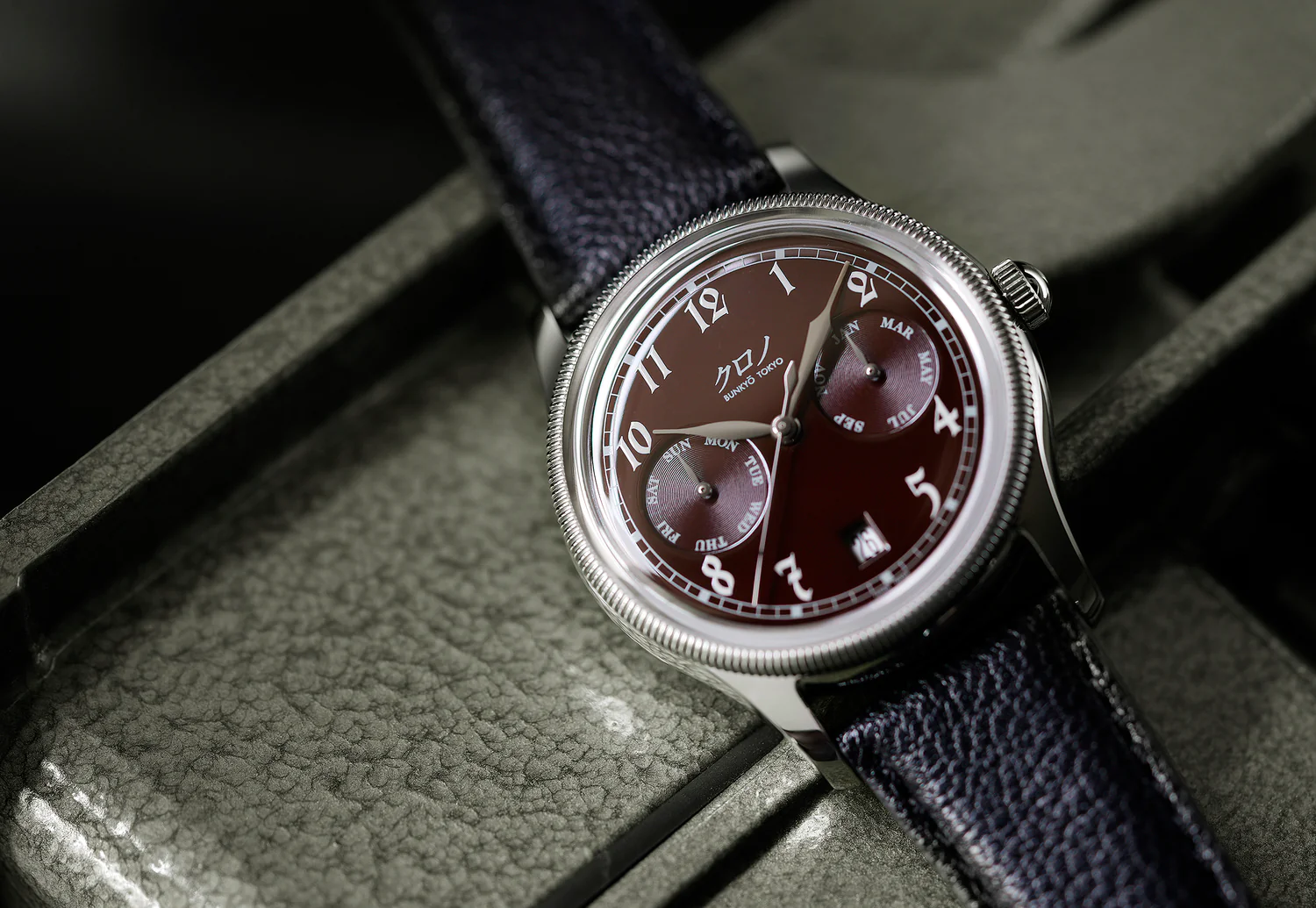 Beneath a solid caseback ticks the automatic Miyota 9122, the usage of which allows Kurono to keep pricing down and is proudly Japan made. The Miyota 9122 offers 40 hours of power reserve and is a full triple calendar movement, with the date, day, and time adjusted via the crown and the month adjusted via the 2′ case pusher. In line with previous Kurono releases, the watch is outfitted on a pebbled black leather strap, made in Japan of course, with a 20mm width where it meets the case and a tapered 16mm width as you reach the pin/buckle closure.
Kurono 2023 Anniversary Calendrier 'Azuki' : アズキ pricing and availability: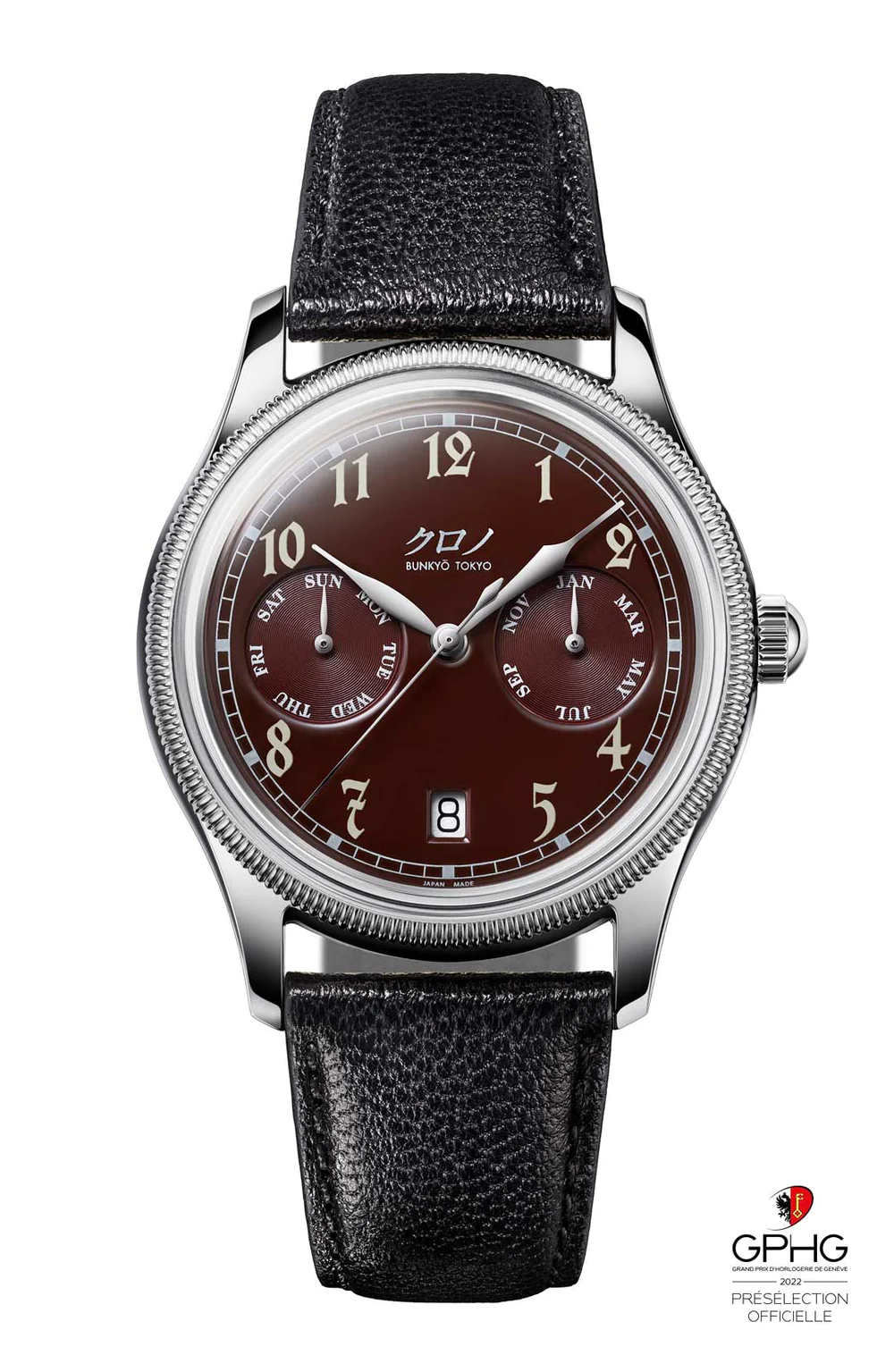 The Kurono 2023 Anniversary Calendrier 'Azuki' will be available for purchase on Friday, May 26, and there will be two order windows. Price: US$1,830 / JPY243,000 (excl. shipping and applicable taxes)
Order Window 1: 11.00AM – 11:20AM JST, Friday, 26 May
(BST) London: Friday, 26 May, 3:00am – 3:20am
(EDT) New York: Thursday, 25 May, 10:00pm – 10:20 pm
(GST) Dubai: Friday, 26 May, 6:00am – 6:20am
(AEST) Sydney: Friday, 26 May, 12:00pm – 12:20pm
(PDT) California: Thursday, 25 May, 7:00pm – 7:20pm
(CST) China: Friday, 26 May, 10:00am – 10:20am
Order Window 2: 11.00PM – 11:20PM JST, Friday, 26 May
(BST) London: Friday, 26 May, 3:00pm – 3:20pm
(EDT) New York: Friday, 26 May, 10:00am – 10:20am
(GST) Dubai: Friday, 26 May, 6:00pm – 6:20pm
(AEST) Sydney: Saturday, 27 May, 12:00am – 12:20am
(PDT) California: Friday, 26 May, 7:00am – 7:20am
(CST) China: Friday, 26 May, 10:00pm – 10:20pm
Multiple purchases across windows is strictly not allowed. Each registered customer shall only be able to purchase one piece. Price excludes shipping and any taxes in your country. Deliveries start from end of June through August 2023.
Brand
Kurono Tokyo
Model
Calendrier I: 2023 Anniversary Calendrier 'Azuki'
Case Dimensions
38mm (D) x 11.5mm (T)
Case Material
316L high-polished stainless steel
Water Resistance
50m
Dial
Maroon, phosphor-bronze dial base
Crystal
Boxed sapphire
Strap
20mm x 16mm black leather strap with pin/buckle
Movement
Automatic Miyota 9122
Power Reserve
40 hours
Functions
Hours, minutes, seconds, triple calendar (date, day, month)
Availability
Order window 1: 11:00AM – 11:20AM JST, Friday, 26 May
Order window 2: 11:00PM – 11:20PM JST, Friday, 26 May
Price
US$1,830 / JPY243,000 (excl. shipping and applicable taxes)