The new French Wave: 5 small watch brands setting a high bar for independents worldwide
Thor Svaboe
Paris, Haute Couture and summer on the French Riviera – France has elegance ingrained into its very soul. Wrist-worn style is something we are used to seeing from both Cartier and Chanel, while Hermès has evolved into a serious horological prospect – take their sporty H8-series this year. But for the more budget-conscious, there is a French Wave of small brands with their very own take on good mechanical wristwatches, and their own trendsetting design language.
From Baltic to Serica, the French have tapped into the vintage design vein with a certain savoir faire, resulting in a sharper and perhaps more authentic take on diver's watches and tool watches than established brands. If you are looking something tough yet petite with a little retro panache, the new French style might be just right for your wrist.
Baltic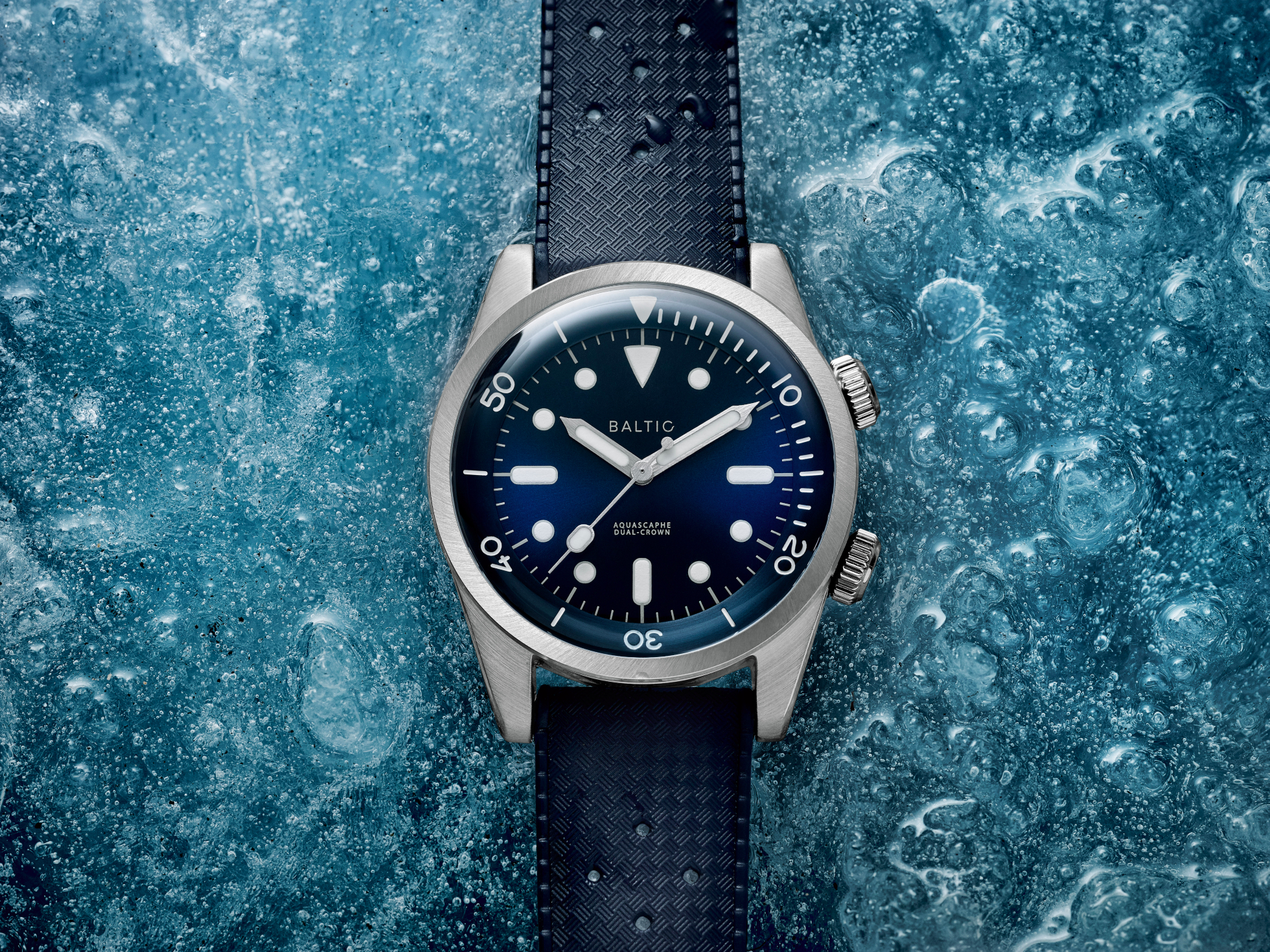 Close to transcending the niche world of microbrands, Baltic started with their continously sold out HMS001 and Bicompax001, then by a stroke of ingeniuity used the same slim 38mm case with a larger bezel to make the hit skin diver Aquascaphe. As one of the microbrands that even holds their value on the secondary market, they surprised us this month with their sharp version of a Compressor case diver's watch (covered in Shane's story here). Riffing off their simple tool case, the Baltic Aquascaphe Dual Crown is a slim, confident design seemingly of monochrome tool purpose, but still has that intricate set of details that set Baltic apart. A textbook-comfortable 39mm case with a short 47mm lug-lug length and two large crowns, one for the inner dive bezel, sit tight against the case body, ready for action. The case itself has now acquired delicate polished bevels along its flanks, creating a twinkle in the sun along with the flat brushed and bevelled bezel. Take your pick between monochrome black, all black PVD, or my favourite, the deep ocean blue. It comes equipped with the solid Miyota 9039 automatic and a 200m depth rating. Strap it on with its soft tropical rubber and dive, for God's sake. Price: EUR 650
Serica 4512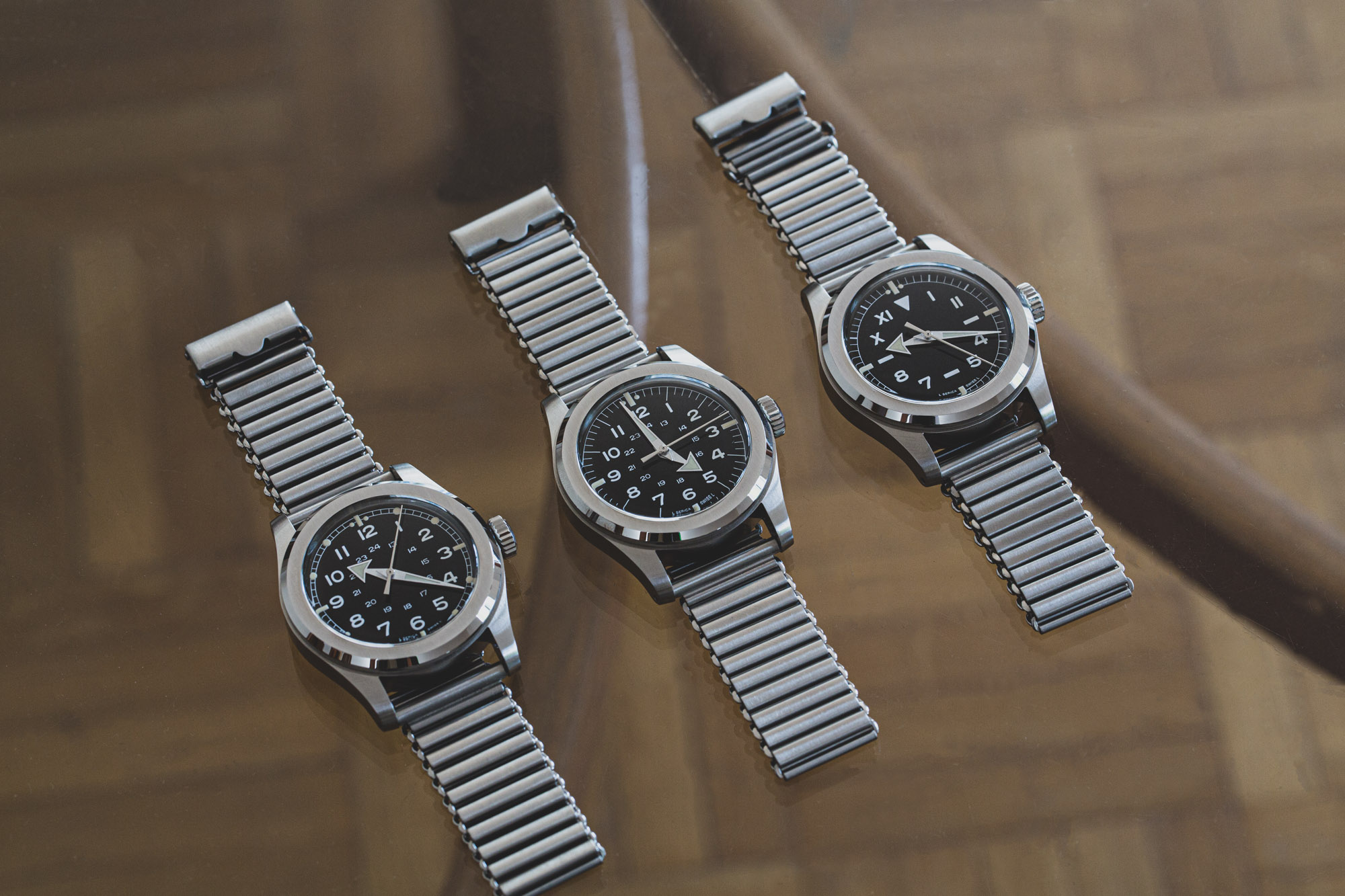 You'll have to look long and hard to find the Serica logo (we'll tell you later), but this bullet-proof small tool watch has such a strong personality it doesn't need it. Their 4512 might simply be one of the best field watch designs of the last five years that costs less than 1000EUR. From the calming effect of winding the manual Swiss STP 1-11 movement with the large crown, to the busy but legible 12 and 24 hour scale on the black dial, this watch is all about compact balance. With a chunky case, delightfully round little down-turned lugs and that broad bevelled bezel, it'll take a beating, and might even get more charming with the odd scratch. Like the Baltic range, Jerome and his team still manages to produce something pared down and minimalistic of design, yet with that certain je ne sais quoi that still makes it elegant. At 37.7mm, this fits with everything from chunky knits to suave tailoring. The logo? Cheekily hidden at the base of the dial, in the minute track. Price: $650 USD
Yema
As French brands go, Yema is the most established. Their Superman is a bona fide classic skin diver, now available in many guises, including some very tempting bronze-cased versions we did a story on here. The appeal of Yema is the fact that they cater to the taste for small-cased period purity with a 39mm option, but still offer the same model in a more contemporary 41mm size. At Yema, you can have your croissant and eat it, whether you insist on wearing a diver's watch with a suit jacket (yes, may I burn in horological hell), or want a slightly larger size. Their latest model is the purist tool Superman Maxi Dial, with the recognizable swoopy, slim Superman case in an all-brushed version with a tool-max steel bezel. The pointy crown guards rising up like the French Alps up from the case side and charming bezel-lock holds the numbered bezel, an understated frame to the icy cool freshness under the crystal. The Maxi Dial is bright blue with large rounded lume-print indices, a fat triangle at 12 and skin diver hands. The Superman case is quite long of lug, but swoopily ergonomic, so it'll feel more like a comfortable 40mm and its 13mm thickness rests sleekly on the wrist. At EUR 990 with the in-house YEMA2000 no-date caliber, this is superb value for a 300m diver's watch.
March LA.B
Can I say this is as French as they come without being politically incorrect? March LA.B have created their own petite universe with a glamorous take on the 70s with luscious colours. Not a pure online player like the others in this story, but with a showroom in London, in addition to two more brand stores in France. March LA.B (no, I didn't miss a dot) aim sky high with their glamorous creations. The colour the founder Alan Marhic is most fond of, is the colour du jour of 2021, green. In the organic, square cushion shape of the AM2 Automatic we have a perfect example of their design integrity and non- conformist style, as this does not look like anything else.  A softly shaped slender case has abrupt notches where lugs would normally sit, brushed indents like the slim flat edge of the bezel, and an intricately engraved crown jauntily placed at 4 o'clock. A very 70s glam, sun-ray green dial, has parallel polished indices for the hours with some whimsically horizontal at the top and base of the dial. I sense a futuristic take on art deco both in these architectural details, and the March LA.B logo itself – it's certainly refreshingly different. At a near goldilocks 39mm square, the AM2 offers a choice of five dial colours and three hand-made leather and steel bands, with a solid Myiota calibre keeping time in check. This is a mere taste of the rather charming universe of March LA.B whose name incidentally refers to the fact that it was established between Los Angeles and the seaside resort of Biarritz. Price $ 1,246 USD
Charlie Paris
This value-heavy small brand has something in common with all the French speaking watches in this article, and that is integrity. An integrity of style, and a language that reminds us of vintage details we have seen somewhere before.  Like the seventies cocktail factor of March LA.B, the blue dial Concordia from Charlie Paris is a fresh sports watch, in a superb case shape that reminds us of the chunky lugs of the original Black Bay. With a sharp, swoopy bevel that should not be possible for such a small manufacturer's budget, the broad polished bezel is a dressy sports frame for a just-so mid blue dial. The same blue, somehow quite maritime, is picked up in the intricate crown. Punching seriously above its weight class, the Concordia has a 300m depth rating, no mean feat within a svelte 38mm case of only 11.1mm height. Applied indices and a sharp set of sword hands completes a compact package of 316L steel, with a scarcely believable price, helped by the everyday solidity of a VH31 Seiko Mecha Quartz movement. The Concordia also comes as a tempting diver's watch, that might just appear as a Micro Mondays story here in a couple of weeks. It delivers serious value at EUR 275