The new Cartier Santos Dumont Skeleton watches are the ultimate technical and aesthetic tribute to their namesake
Zach Blass
The new Cartier Santos Dumont Skeleton watches are a technical and aesthetic tribute to Alberto Santos Dumont
They use the newly developed 9629 MC automatic skeleton calibre, with a micro-rotor in the shape of a replica of the Demoiselle
One of the three watches is a limited edition, cased in yellow gold with the front of the case navy-lacquered
Sports or tool watches have a rather homogenous aesthetic. Most people would not recognise the fact that watches like the JLC Reverso were born as a sport watch, the Reverso's flippable case designed with the intention of protecting the crystal during polo matches. In this same vein, some may struggle to believe that the Santos Dumont was not only among some of the first wristwatches ever made, but also the first-ever pilot's watch. That is a huge first to be able to boast, and its design is indicative of Cartier's mission to, even within the landscape of a tool watch, have designs that are unfailingly elegant and timeless. Over a century later, the Santos remains one of Cartier's flagship models. And, today, the new Cartier Santos Dumont Skeleton serves as a strong aesthetic and technical tribute to their beloved aviation icon and the namesake who commissioned and inspired it.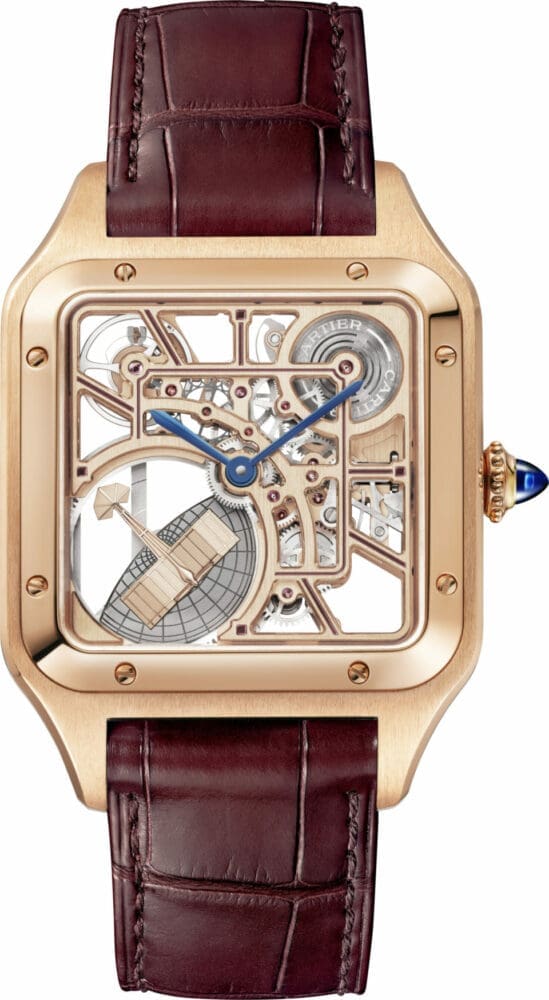 There are three models to discover, with stainless-steel and rose-gold models that are not limited edition and a yellow gold model that is limited to 150 pieces. It carries the familiar Santos Dumont case shape, with a square dial display resting within a rather octagonal case that is brushed on its topside and case flanks with polished accents found on the bezel and lug and case bevels.
Each of the watches are presented in Cartier's "large" size, which by modern standards is not very large – clocking in at 31.4mm in diameter, 8mm thick, and 43.5mm lug-to-lug across the wrist. They also each use a brand new manufacture calibre, comprised of 212 components, that took Cartier two years to develop. This new 9629 MC automatic micro-rotor skeleton calibre is both the movement and dial. The structure of the bridges is such that the lines extend out to the edge of the dial, and, in a way, serve as hour indices. Obviously this does not occur uniform throughout, the large micro-rotor in the shape of a replica of Dumont's Demoiselle plane preventing such lines to run through to the 7′ and 8′ position. But, if you look closely, you will notice that at 12′, 3′, 6′, and 9′ you have square hour indices and that the bezel screws are situated in a manner that they do in fact also indicate where you would need to align you hour hand for 1′, 2′, 4′, 5′, 7′, 8′, 10′, and 11′. Very clever.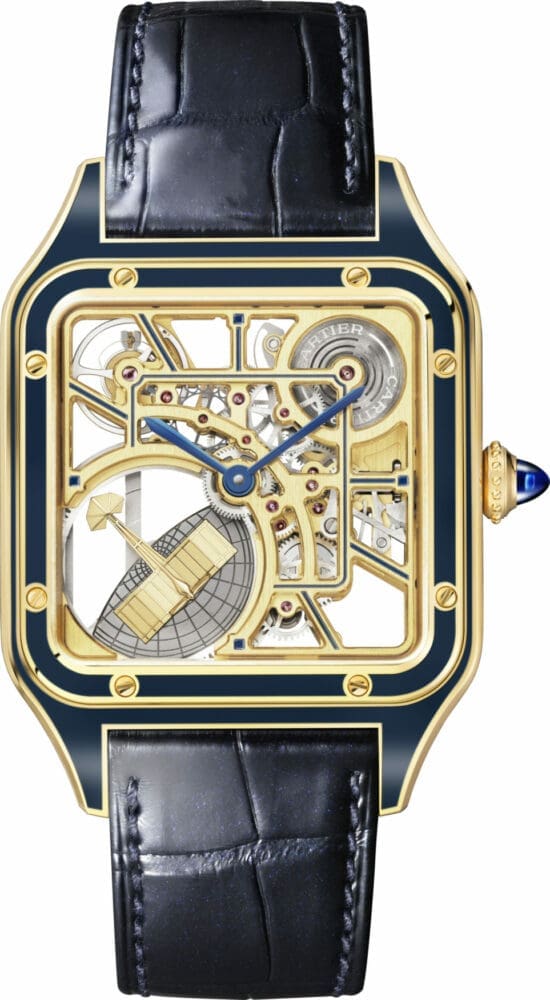 It is a bit more subtle on the regular production models, but the limited edition in yellow gold makes it explicitly clear. All of the watches utilise strap-matching shades of lacquer on their movements, placed within central channels and the squared indices found on the the top-sides of the bridges – grey for the stainless steel model and burgundy for the rose gold model. The limited edition in yellow gold, however, takes it a step further, having not only lacquered bridges in navy blue, but also a case with a thin navy blue lacquer coating executed in the same manner as last year's Santos Dumont's – a certified Watches & Wonders 2022 sleeper hit.
I don't know about you, and I certainly confess my bias as an owner of last year's rose gold and beige-lacquered Santos Dumont Limited Edition, but the yellow gold would have to be my favourite of the three. All three Cartier Santos Dumont Skeleton Micro-Rotor watches, however, are very striking, and I really appreciate the lacquering, linear graining, and chamfering of the thin bridges across all models – and the micro-rotor is a piece of sculptural artwork in of itself.
Cartier Santos Dumont Skeleton Micro-Rotor collection pricing and availability: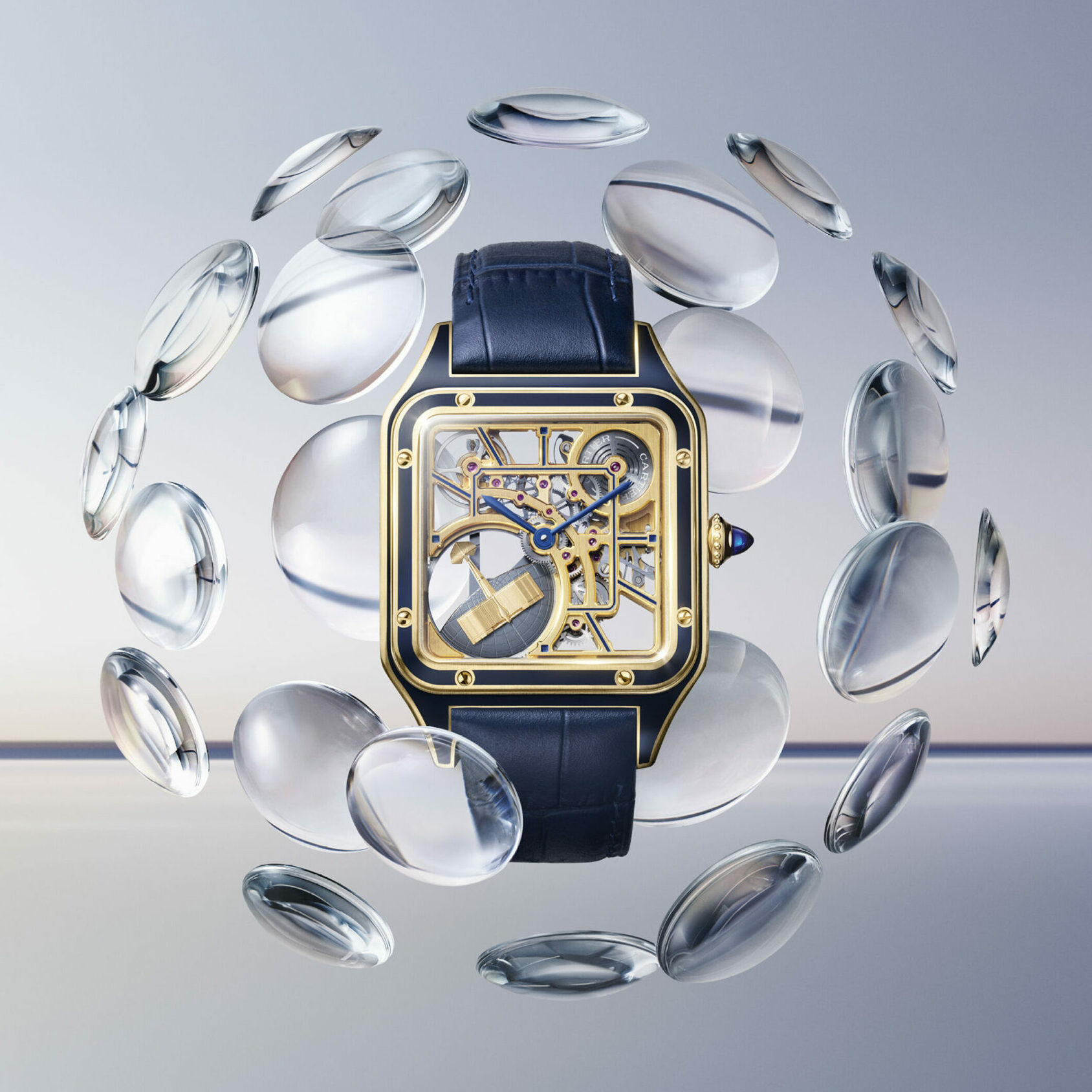 The Cartier Santos Dumont Skeleton Micro-Rotor collection is now available for inquiries. Price: TBA
Brand
Cartier
Model
Santos-Dumont Skeleton
Case Dimensions
31mm (D) x 8mm (T) x 43.5mm (L2L)
Case Material
Stainless steel, rose gold, or navy-lacquered yellow gold
Water Resistance
30m
Dial
Skeleton, with case-tone matching and lacquered bridges
Crystal
Sapphire crystal and caseback
Bracelet/Strap
Alligator-skin leather strap with case matching ardillon buckle
Stainless steel: Grey and blue leather straps
Rose gold: Burgundy and brown leather straps
Yellow gold: Blue and dark blue leather straps
Movement
Cartier automatic skeleton 9629 MC
Power Reserve
44 hours
Functions
Hours, minutes
Availability
Available now for inquires, navy-lacquered yellow gold model limited to 150 pcs.
Price
TBA