Just the things you need to know about the new Apple Watch Series 7 (including that 20% bigger screen)
Zach Blass
Technology requires innovation to maintain its relevance. It is a constant arms race for manufacturers like Samsung and Apple, with both powerhouse tech giants looking to outdo and outperform the other in order to impress the billions of people who engage with their products. Today the Apple Watch Series 7 was unveiled, but this time around Apple took a page out of Rolex's book: incremental changes and improvements. There isn't too much that looks completely new for this latest Apple Watch, so we have compiled the facets that are – including a slightly larger screen and case, brighter display, and faster charging among others.
Five new aluminium color ways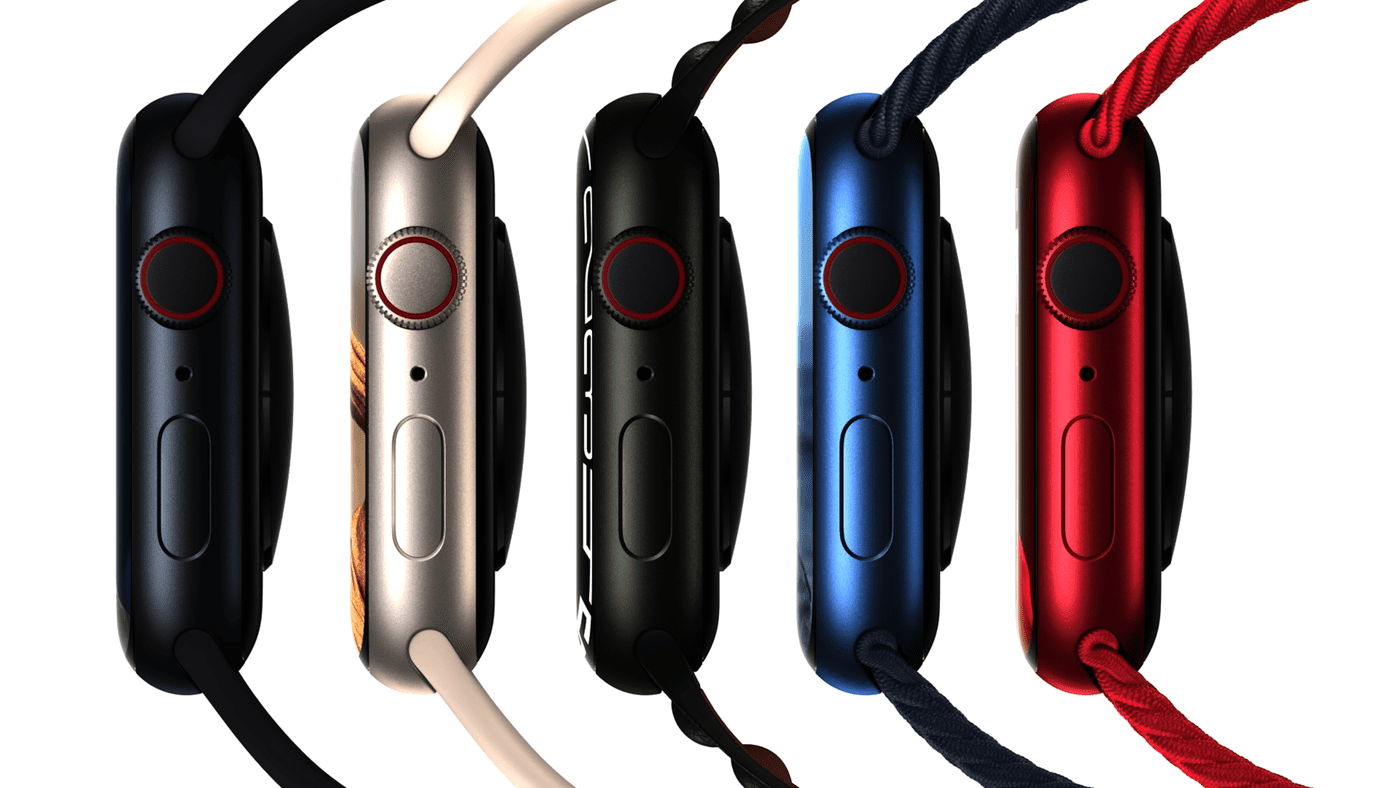 The entry material of the Apple Watch, aluminum, has become that much more diverse. Five new color ways have been added: green, blue, (Product)RED, a sandy-beige "starlight", and darker "midnight" blue.
Larger sizing
Apple looked to incorporate a larger screen without enlarging the case too much. Apple explains: "The challenge was to create a bigger display while barely expanding the dimensions of the watch itself. To do so, the display was completely re‑engineered, reducing the borders by 40%, which allows for nearly 20% more screen area than Series 6. And over 50% more screen area than Series 3." This has resulted in a one millimeter bump in sizing. Earlier generations were 38/42mm, which then jumped to 40/44mm, but now the Series 7 introduces 41/45mm sizes which hopefully will not feel too large on the wrist – as someone who enjoys the 38mm sizing of their Series 3. The larger screen has led to a first for the Apple Watch, with the Series 7 including QWERTY keyboard functionality for wearers to type messages in favor of scribbling or speaking them.
Brighter Always-On Retina display and more seamless rounded crystal
Apple Watch fans were glad when Apple brought an Always-On display to the watch, making it feel that much more like a traditional watch. The Series 7 continues that technology, but with a screen Apple claims is 70% brighter without hindering battery life. The redesigned display led to another aesthetic innovation, a seamless integration between case and display that creates a subtle wraparound effect and refracts light.
"Most durable Apple Watch" claim
Apple claims the Series 7 is their most durable design yet. According to Apple: "Fundamental design changes were needed to achieve the vision of the larger Always-On Retina display. These same innovations also helped make the most crack resistant front crystal yet… The front crystal is over twice as thick at its tallest point than Apple Watch Series 6, adding strength and durability. Robust geometry. The front crystal has been redesigned with a flat base, creating a sturdier shape more resistant to cracks."  The Series 7 is also the first Apple Watch that can boast dust resistant IP6X certification alongside the familiar depth rating of 50 meters.
Faster charging
Battery with digital devices can be a bit of an Achilles heel at times, largely because we exhaust power with such heavy usage. While the battery life has not really been raised from previous watches, the good news is charging is now faster than ever. Apple explains: "The entire charging system for Apple Watch Series 7 has been rethought to get you up and running faster than ever. With an updated charging architecture and fast-charging USB-C cable, it takes about 45 minutes to go from 0 to 80% charge. Up to 33% faster charging than Series." Incredibly if your watch is near-dead by the end of the day, it only needs 8 minutes of charge in order to provide 8 hours of sleep tracking.
Apple Watch Series 7 pricing and availability: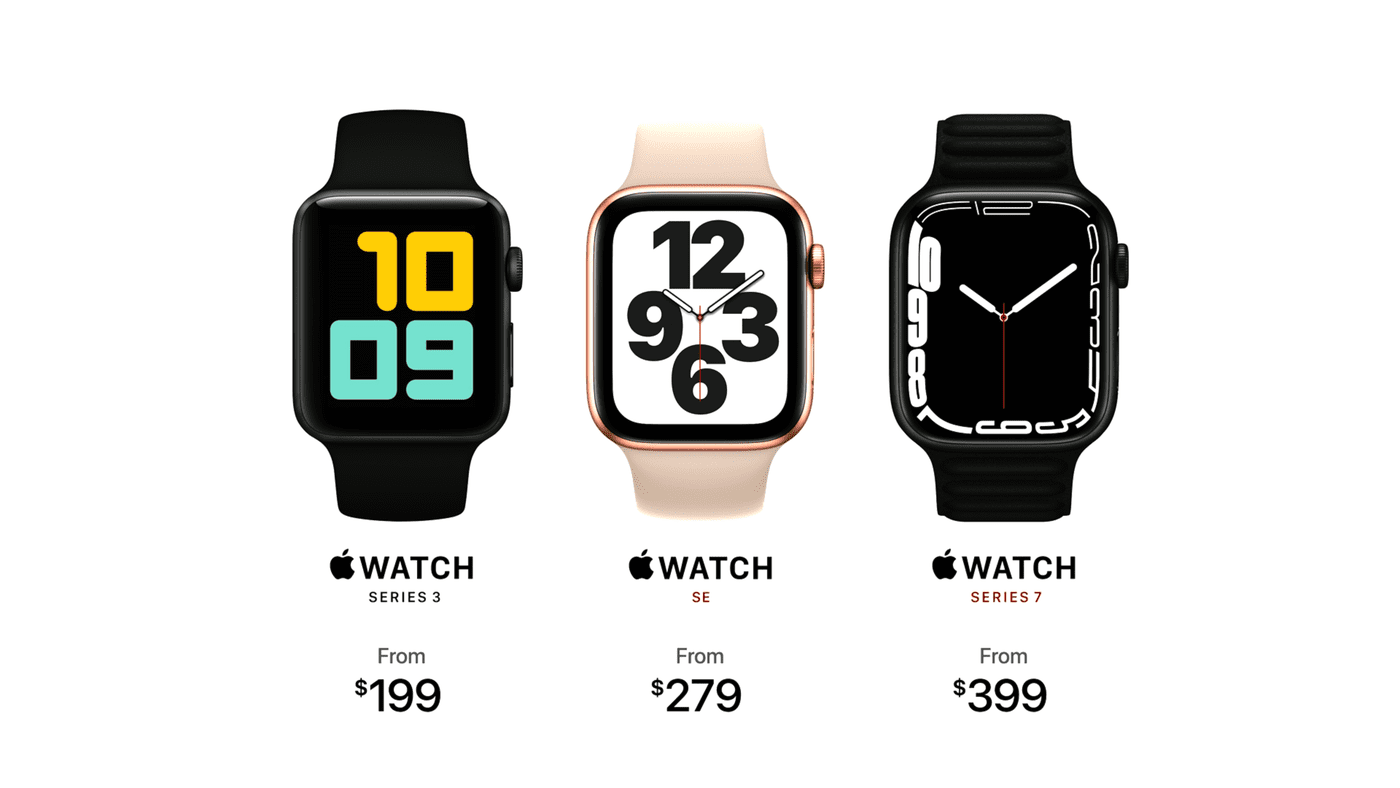 The Apple Watch Series 7 will be available for purchase later this fall, at a starting price of $399 USD.