A little over a week ago I found myself paying more attention than usual to the pre-flight safety spiel. Perhaps due to the fact that I was standing in a sunny clearing, looking at a helicopter. "Don't go near the tail rotor, don't put your hands up when you get out, and if you lose your hat, don't worry about it." Sensible life advice.
Half an hour and a hundred-odd kilometres later I found myself looking down at my destination: a sweeping golden-brown field on the top of a mountain — Spicers Peak Lodge. It's a beautiful location, sweeping vistas and high country that is equal parts stunning and Australian. It's also, thanks in no small part to its elevated position, the perfect place to learn more about Montblanc, a brand for which the mountain is more than a literal logo. It's also a metaphor for the pursuit of something higher, something greater.
Given all that, it makes perfect sense that my wristwear of choice for the weekend was the TimeWalker Date Automatic, a no-fuss number that's made with action in mind …
My first impression was … that it was lighter than expected. This isn't my first foray with the TimeWalker. The last time I wore one (also, not coincidentally, amidst mountains) I wore the larger chronograph on a steel bracelet. It was a little bit of a beast. This guy, in comparison, was light and nimble, with a fairly slim case and a sporty rubber strap.
Once I put it on, it felt … effortless. The 41mm steel case is a great size, and the rubber, with elevated ridges on the underside, was exceptionally comfortable. There are some sort of watches I want to know I'm wearing — statement pieces, solid gold and the like — but, increasingly, I'm digging the easy ubiquity of a daily wearer, the sort of watch that slips under the cuff and into your life with barely a ripple. There only when you need it. This TimeWalker has that potential.
Looks-wise … it's a little unconventional. When it was first relaunched a few years back, the story around the TimeWalker was one of brave automotive adventure, and the design speaks strongly to that inspiration. Most clearly through the dial, which eschews the typical hour markers (though you get those on the bezel), in favour of a speedometer style 0-60 scale. But even though the dial inspiration is sporty, the execution is a little less utilitarian, with shiny applied numbers and a soft black starburst finish keeping things interesting. This design language is carried over onto the heavily knurled crown and ceramic bezel as well as that rally-style rubber strap.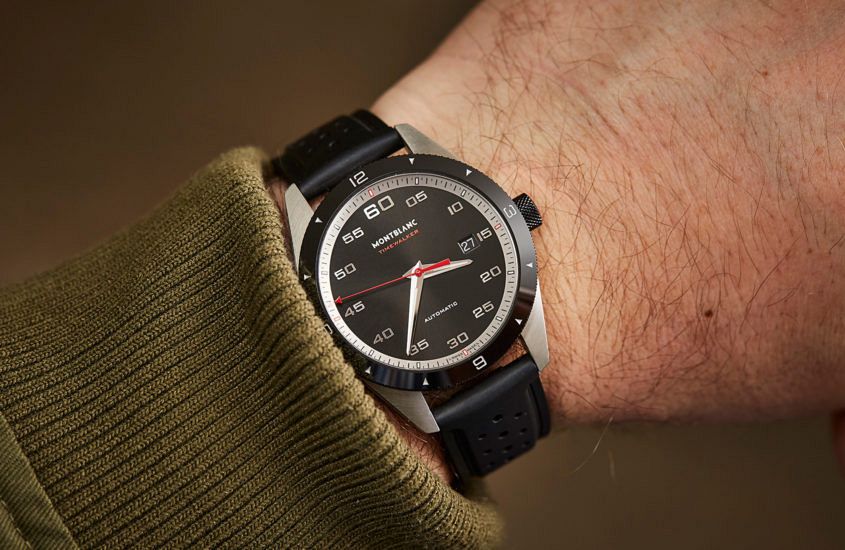 What stood out to me was … those flashes of red. The TimeWalker text, that Minerva-inspired second hand and the tiny flashes on the polished chapter ring. This judicious use of colour really works, though I've got to say I think the seconds hand could have been a bit bolder, or bigger in real life. One thing that didn't stand out was the black-on-black date. And I'm OK with that.
I'd wear this with … what I wore it with. Bombers, field jackets, polos and button-downs. This watch, especially on rubber, is an unashamedly casual piece, so it would be a mistake to try to dress it up too much.
If I could change anything … it would be the finish on the side of the bezel. I get that it's meant to be rough and grippy, but for my delicate fingers it was a little too rough.
Montblanc TimeWalker Date Automatic Australian pricing
Montblanc TimeWalker Date Automatic on rubber, $4470.