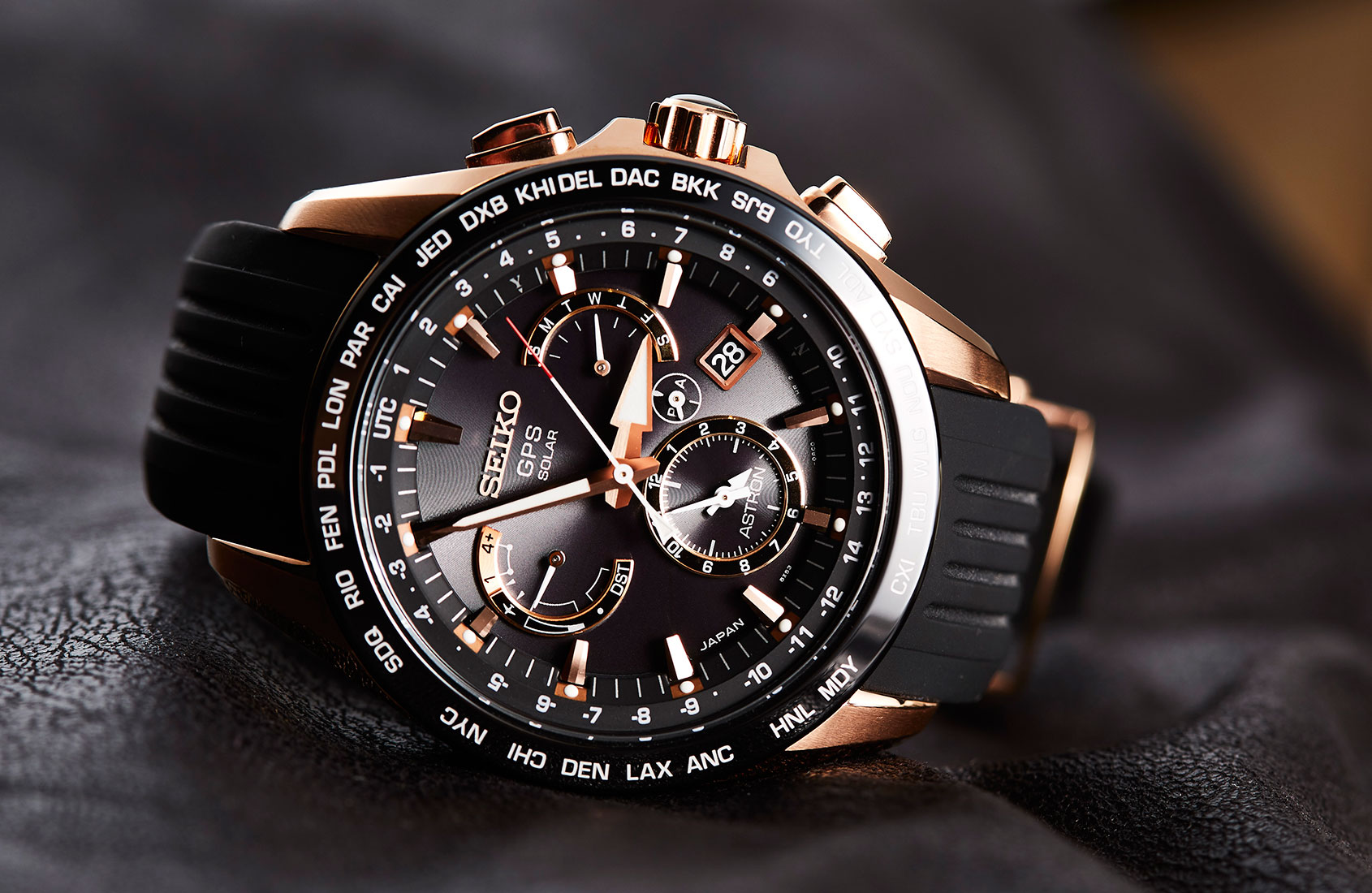 Last Sunday I boarded a plane in Melbourne and made the 8,000-odd kilometre trek to Tokyo. And in the last week I have travelled, by Shinkansen, bus and car a further 1500 or kilometres across Japan. On my wrist every step of the way – from airport lounges to traditional Ryokans – was the Seiko Astron.
The Astron is a tremendously important and innovative watch for Seiko – it takes its name from the first quartz wristwatch, developed by the brand in 1969. The orginal Astron was a major milestone, not just in watchmaking, but in the history of electrical engineering. Seiko is hoping that the current Astron, released in 2012 will prove to be just as significant; it is the world's first GPS solar watch, and aims to be an unfailing, ever-accurate timepiece, no matter how obscure your timezone. There's no doubt it sounds impressive, but what's it like on the wrist?
My first impression was…Confusion. I'm a mechanical watch kind of guy, and the Astron, for all its appearance as a conventional watch, is a very hi-tech product. At first glance it appears to be a chronograph, but closer inspection reveals that the subdials are actually a second time zone, the day of the week and an indicator display that packs a surprising amount of info into a very small space – the number of satellites in range, battery status, airplane mode (!) and daylight savings time indicator. All this is operated by the crown and pusher-like buttons. Like I said, quite a lot of information to fit onto a watch dial.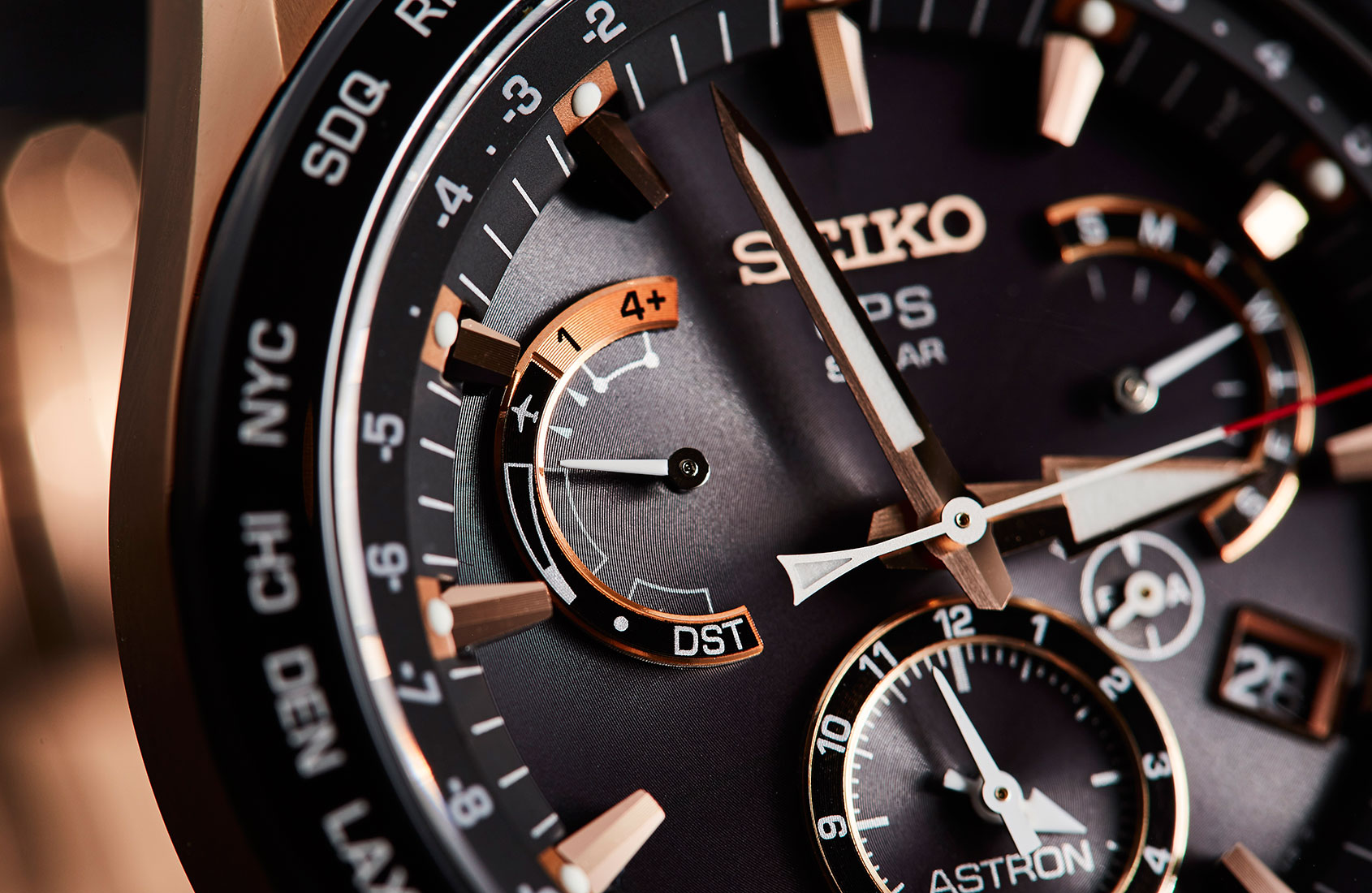 Once I put it on, it felt… Unreasonably fun. After I worked out how to turn off daylight savings time (thanks to the handy manual, which is actually called the 'Handy Manual') I walked outside and hit the button located at two and watched the hands magically move around the dial to the correct position. When I saw this, I was sold.
Looks-wise… It's handsome, in a sporty kind of way. The Astron comes in a few variants, from the busy design of the chronograph model to the almost dressy World-Time. However I was wearing the Dual Time – steel with rose gold coating on a silicon strap. The 45mm case wears well, with plenty of nice details. Unlike some other solar powered watches, you can't see the cells, as they're under the dial. And while I'm a fan of black and gold, I prefer it on smaller, simpler pieces, as the case size, complex design and bright metal adds up to a very 'flashy' piece. Luckily for me there are lots of Astron options, in a wide range of colour, metal and strap combos.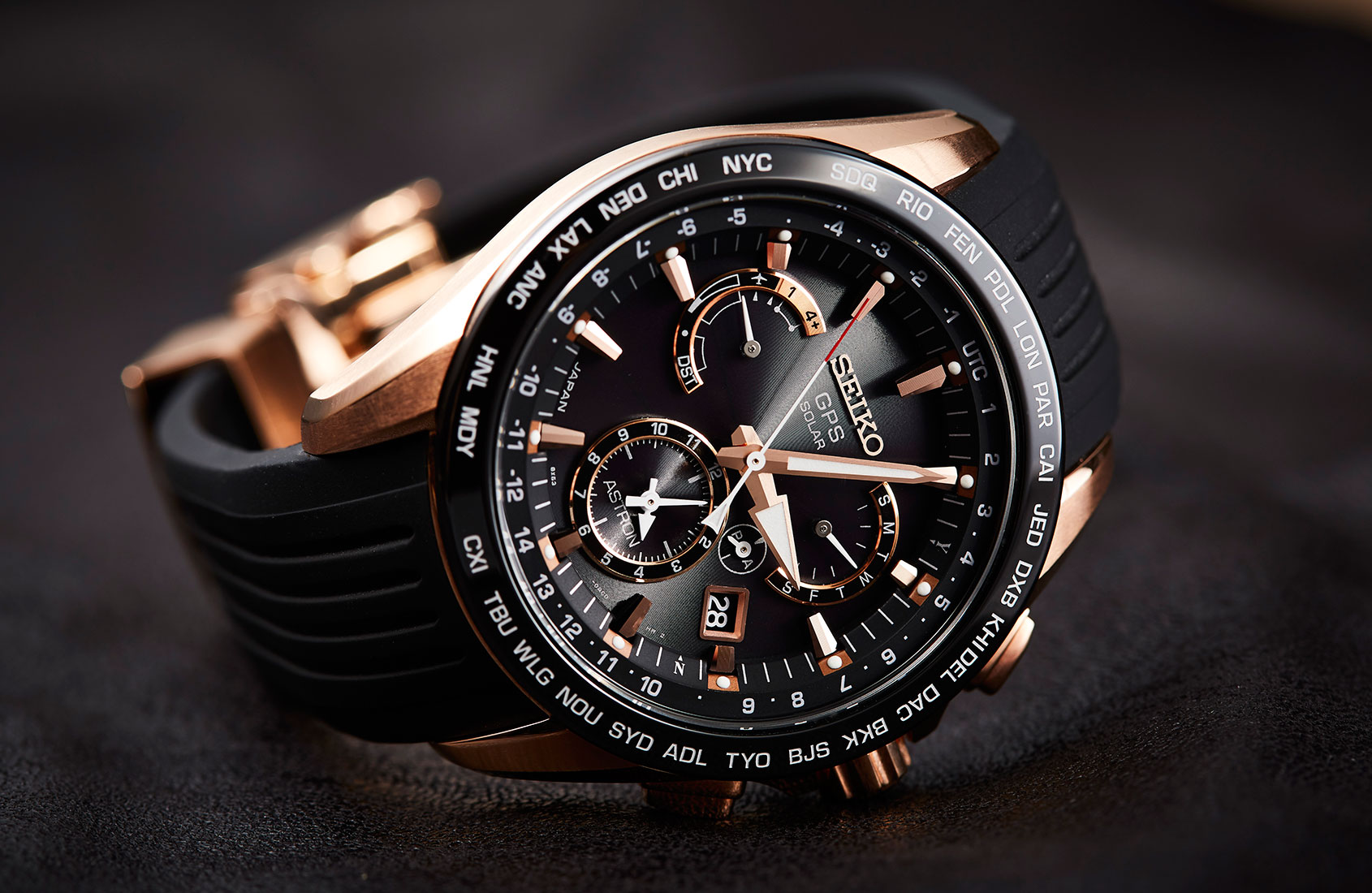 In contrast, the assembly of the watch itself has a more personal touch – with Seiko workers being involved at every step of casing and testing the watch.
What stood out to me was… the surprising seductiveness of the tech. During this week I had an opportunity to learn about the Astron technology and witness assembly at the company's Shiojiri plant. It was like nothing I've seen before. The Astron movement is put together in a giant robotic assembly line. You'll have to take my word that it was impressive, as Seiko were very strict on the no photo policy, which is understandable given that they made the robots themselves and probably don't want to share the tech with their competitors. In contrast, the assembly of the watch itself has a more personal touch – with Seiko workers being involved at every step of casing and testing the watch.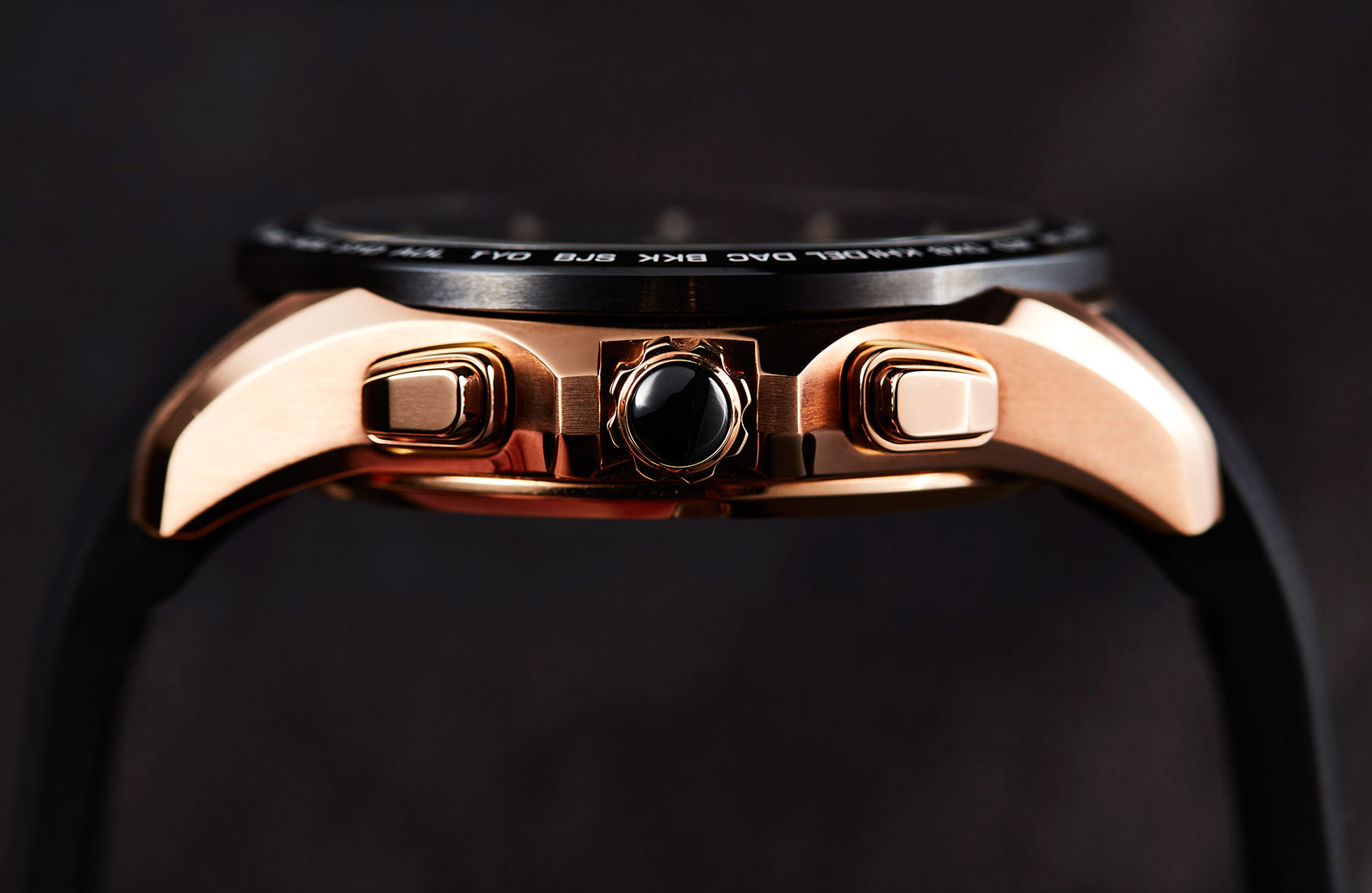 While witnessing how the Astron was made was eye-opening, the technology itself is even more so. Seiko has made a GPS watch that speaks to satellites 20,000 kilometres above our heads, and made it to run on incredibly low energy, while being small enough to fit in a 45mm case. Astonishing. In fact the current generation of Astron is 40% more efficient than its predecessor, in a case that's 3.2mm thinner. One of design challenges Seiko is most proud of overcoming is the GPS antenna – their design is ring-shaped and sits under the ceramic bezel and chapter ring, thereby ensuring that signal strength isn't blocked by the metals in the case. And how accurate is it? Well, apparently it will lose one second every 100,000 years.
I'd wear this with… casual to smart casual. I wore a lot of suits this week, and to be honest the Astron would not be my go-to suit watch – for me it's more of a neat jeans and a casual shirt kind of number. Having said that, over the week I spotted several Astrons on leather straps, which gave it a much dressier look.
If I could change anything…I didn't love the keeper on the strap – it's made from a quite large piece of metal and I found it a little awkward and occasionally uncomfortable. However it's a fairly easy issue to fix.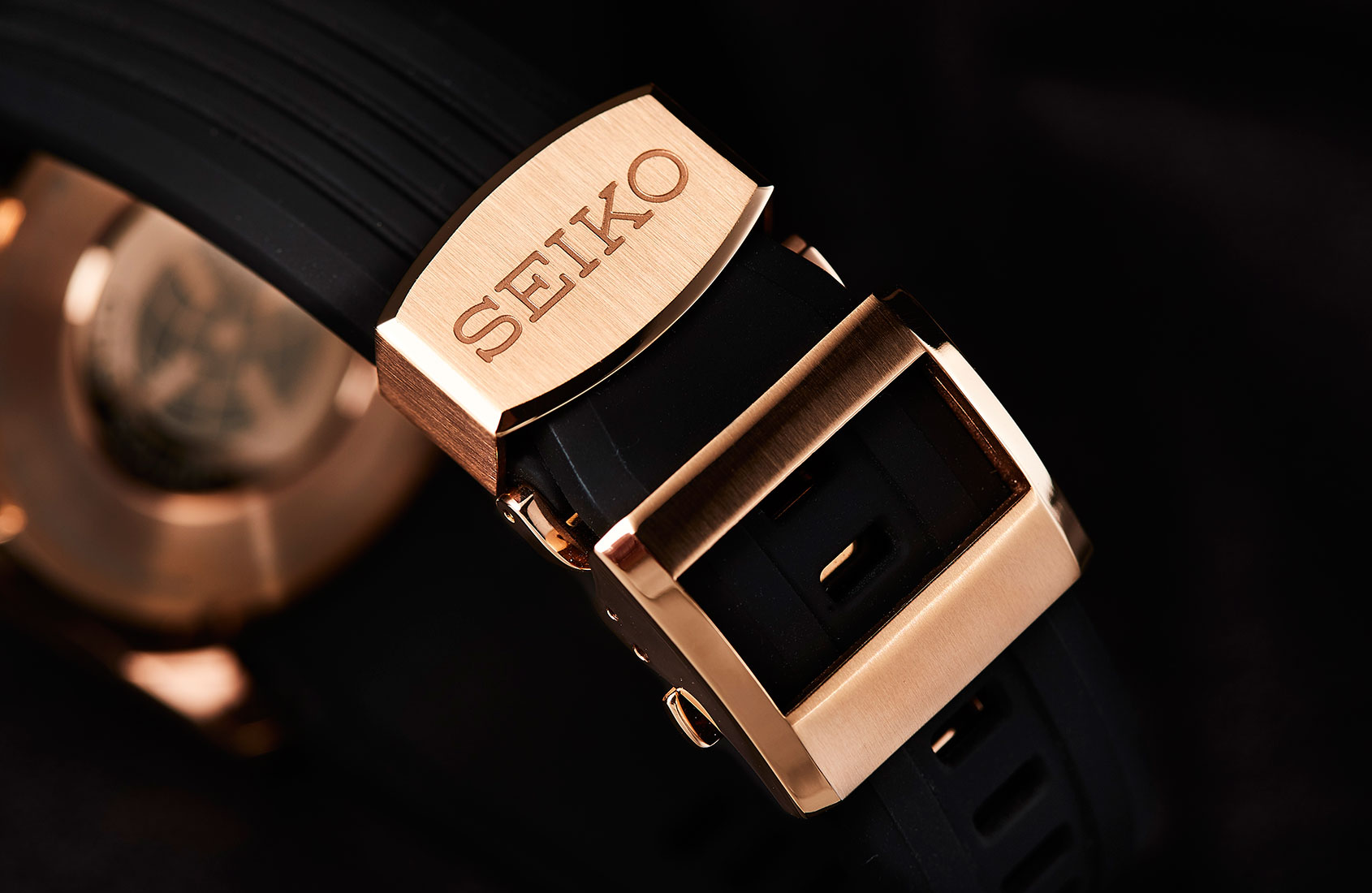 By the end of the week…I had an entirely new appreciation for the Astron. And not just because of the convenient second time zone. I came to learn just how technically impressive this watch is, and why Seiko believe it will be just as significant as the original quartz Astron. Not only is it the world's first GPS solar watch, but it's knows what the time is no matter where you are on earth, it's incredibly accurate and, best of all, you never need to change the battery.
The Seiko Astron 8X Dual Time (ref. SSE055J) Australian pricing
Seiko Astron 8X Time, ref. SSE055J, $2800.