MY WATCH STORY: Ernie's heirloom Rolex collection
Felix Scholz
Last week we met a passionate collector by the name of Ernie at our live wind down at Oscar Hunt. We couldn't help but notice the beautiful vintage Day-Date on his wrist (looking amazing on a lizard skin strap btw), and when he mentioned that it used to be his grandfather's, we just had to find out more.
A few days later we caught up over a coffee, and he brought along some very special Rolex watches.
Thanks for taking the time to tell us about these watches. Now, what's the story with this Oysterdate, aside from the lovely linen dial?
My father gave me this watch for my 21st birthday – right off his wrist. It was my first good watch. Do you wear it much? Hardly ever [it should be noted that Ernie's collection tends towards 47mm Panerais – it's easy to see how a 34mm Rolex might not make it into regular rotation], but it's an incredibly important watch to me and I'll never be parted from it.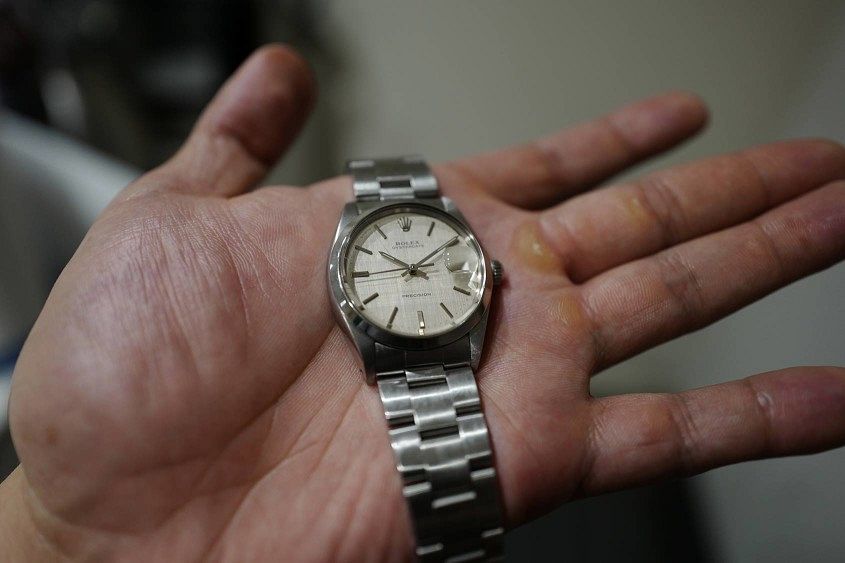 I repaid the favour recently – I gave my father my Sea-Dweller when he turned 70. He's got a few watches but now he never takes it off. He does everything in it – painting, gardening, everything. It's got a lot more scratches now than when I owned it, but I wouldn't have it any other way.
That's such a great thing to do. Moving on to the Day-Date, that you mentioned belonged to your grandfather….?
Yes, this is from 1959, and I remember him letting me hold it when I was young. There are a lot of strong memories in this watch for me.
It's in beautiful condition for its age – your grandfather must have looked after it?
It's a reminder to me about just how robust Rolex watches are. This is over 50 years old and it's still working perfectly. I love Rolex because of their reliability.
And you're wearing another Rolex today.
Yes, the GMT Master II – it's my everyday watch. And maybe one day I'll pass it on to my own children.