Recently, Ben Gunsberger – friend of T+T, visual effects artist, photographer and co-founder of Babyology.com.au – posted this image on his Facebook feed without a caption. In watch circles, it doesn't get much more intriguing than that, so we pestered him (over and over) until he agreed to fill us in on his Seiko.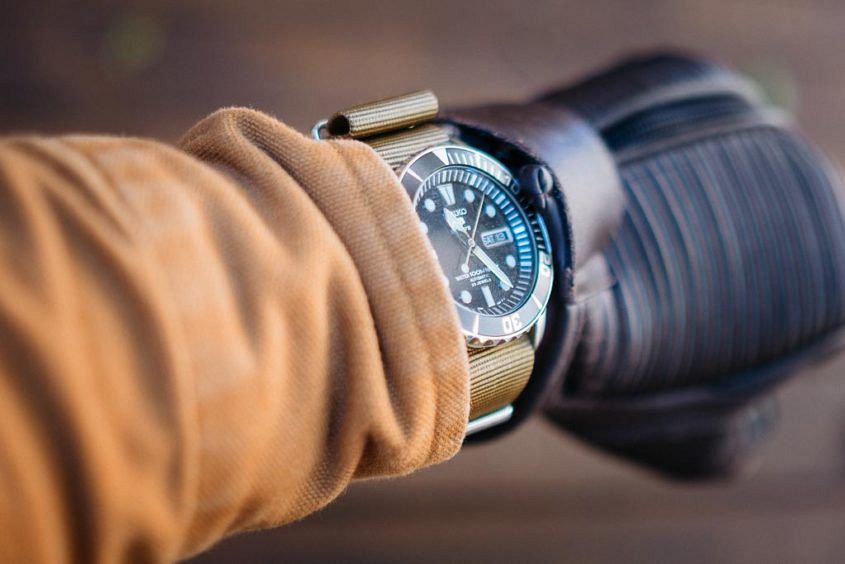 What's the story of this watch?
It's the Seiko SNZF17K1 "Sea Urchin" on a Clockwork Synergy NATO strap. Ever since I became interested in mechanical watches, I've loved the Rolex Submariner, and I was toying with the idea of buying a 1976 model for my 40th birthday, in 2016. After lots of time spent looking and researching I came across the Seiko which is visually quite similar. There's also a whole DIY community built around modding them, which is cool. I mentioned this to my dad, who's also a watch guy, and he took it upon himself to buy me the watch as well as all the tools and information needed to properly look after it myself. It ended up being much more memorable than an old Rolex. I like having a mechanical watch that didn't cost a fortune. I don't stress about every scratch or scuff. I've yet to take it apart though.
What does it say about who you are?
You'd have to ask someone else that! I guess you could say I like classic, minimal design where form follows the function. There's nothing on the watch that doesn't need to be there. I also think having it on a NATO strap changes the look a lot and gives it a unique style, which I like.
In the photo, it looks like you might be in motorbike gear. Are our detective skills up to scratch?
Yes, it's a custom 1983 Yahama SR500, imported from Japan. I use it mostly for city riding in Sydney, with the occasional weekend trip with friends. They all have big, modern bikes, so it's fun trying to keep up with them. I also have a Vespa 1959 VBA that I ride around town.
So, how long have you been interested in watches?
My family lived on the North Shore of Sydney in the early '80s and I distinctly remember a watch store in Chatswood that had a child's size Casio in a display that consisted of a water tank with air bubbling up around it. It was incredible. I think at the time it cost over $100, which for an eight-year old in 1980s dollars was a fortune. I ended up saving pocket money and birthday gifts and finally got the watch. Since then I've been interested in watches, although I've shifted my focus from electronic to mechanical watches over the years. For me, watches are a combination of several things – the technology, the craftsmanship and the aesthetic.
Do you own any others?
Too many, probably. The ones I currently wear are an Oris Divers TT1 Titanium Chronograph and a Seiko SCED, which is a reissue of a watch designed in the '80s by Italian car designer Giorgetto Giugiaro. It's famous for being worn in Aliens. I also use an Apple Watch for fitness tracking, which I had to replace recently, after the first one was destroyed by the vibrations of the engine.
If you could add any watch to your collection what would it be, and why?
Where to start! I still love the old Submariners. Other watches I'd love to own one day are the Audemars Piguet Royal Oak Chrono and the Ressence Type 3.