EDITOR'S NOTE: It's Boxing Day, which means one thing to Australians. Sitting at the MCG (Melbourne Cricket Ground) in the baking sun watching men in white throw a ball at each other with only a small block of wood to defend themselves. It's called cricket, it's a game of spectacular skill, brutality and grace – and today is one of the biggest contests of all, the Boxing Day Test Match. It means a lot to us as a nation, I'll let Australian cricket team captain Steve Smith explain in it in his words here. Today, in a MY WATCH JOURNEY special, Andy Green sits down with one of our most formidable bowlers (picture 145km/h bullets raining from his right hand like an X-Man) Peter Siddle and talks about his other great love, his fiancé Anna. (Peter wanted us to write that – well played Pete) No no, naturally we talked watches.
FOUNDER'S NOTE: I have to jump in here. I love cricket, and I need you to know a bit about this guy before Andy takes over. To describe Peter Siddle as a great Australian fast bowler would do him a disservice. One of 'the' greats? Now that's more like it. 'Sids', as he's known to his mates, has taken over 200 wickets and has his eyes on 250. He's already among a pantheon of only 14 bowlers to have done so much damage with the 'nut' (the ball), and all along his destructive way he's taken out some of the best batsmen to ever play the sport with a patented brand of quiet menace and determination. He's a destroyer that does his work without fanfare or high-jumping celebrations. Well, not too many, you've got to forgive a guy for getting a little excited while taking a hat-trick (three wickets IN THREE CONSECUTIVE BALLS) on your birthday. In terms of celebrating his extraordinary career off the field, his options are a little more limited than most of his teammates. For starters, Sids doesn't drink, so all those victory beers and drinking from champagne filled cups and so on is left to the other players, and, in day-to-day life, it leaves him with more money in his pocket. So he spends some of it on watches. Which is what brought him to Andy, and to us at Time+Tide Watches.
AG: How did your love for watches begin?
PS: I bought my first 'serious' watch in 2008, when I debuted for the Australian team, in India. To celebrate the milestone, I bought myself a Tag Heuer Carrera Calibre 8 GMT with a Grand date. It was the beginning of the end, and definitely what triggered my new addiction.
AG: Tell us about your relationship with watches, what do they mean to you?
PS: You know, I don't drink or spend huge amounts of money on anything, so watches (and cars) are the only real vices I have. As a man, watches are really our only opportunity to accessorise, and to add to your get-up. For me I enjoy fashion, and enjoy matching watches to my outfits. Playing cricket internationally means I spend a lot of time overseas, either playing, or taking time off between seasons to travel. So, I've always made a point to stop into watch stores, especially when I visited Switzerland last year, which is when I first saw the FM Vanguard collection at one of their retailers.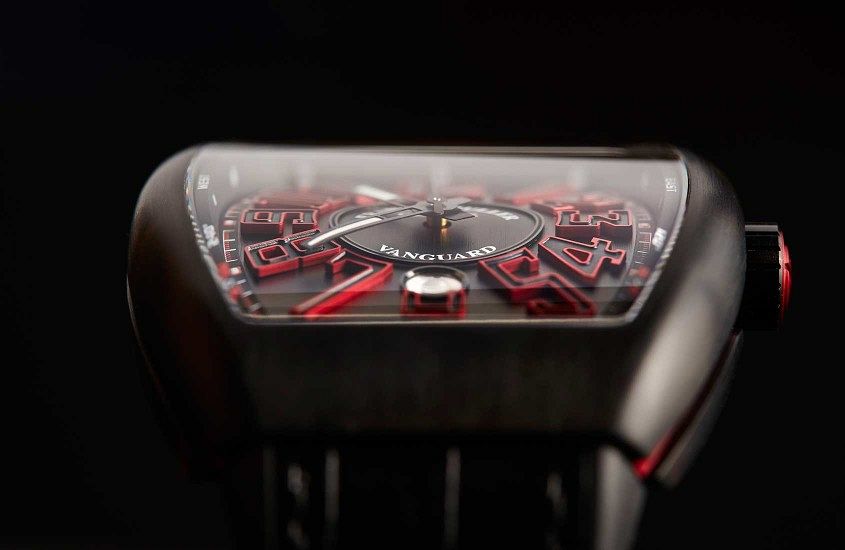 AG: Tell us the story behind this watch…
­
PS: After recently taking my 200th test wicket (NB: an achievement only 14 others hold) my fiancé Anna, decided to surprise me with this Franck Muller Vanguard. I'd returned home from a recent match in Tasmania, to a very excited and surprised fiancé. Anna told me she'd got me a small gift, but I had no idea what to expect. After making me finish dinner, Anna blindfolded me and sat me down. After much suspense and a series of ultimatums (which shall remain nameless – Ed) I was allowed to take off the blindfold off and realised what was in front of me. I was completely stunned. It turned out she'd organised the purchase with a friend of mine while I was in Tassie, after he tipped her off. All of a sudden a few things started to make sense. I knew something was up when someone tagged me on Insta, in a picture of my car on Swan Street, when I was out of town playing.
AG: We know you've had the watch less than a week, but tell us what do you like about it? What drew you to it?
PS: You know, I already own a few watches, and another Franck Muller, but there's something about the design that I absolutely love. It's a very unique watch, and it's very sporty, which is definitely in line with my lifestyle, and more importantly – my personality. The T+T review of this watch actually went live as I was in Tassie playing, which was a huge tease. I was actually going to buy this watch myself, so I absolutely love it. Anna had talked about buying me a watch as a present to celebrate my 200th test wicket, but I wasn't expecting this at all.
The fact that it was a gift from Anna, and marks such a huge milestone in my career is so significant. Knowing the effort that she went to in organising it, and the fact that she knew I'd like it, as well as the fact that she likes it, makes the piece priceless to me. It's actually the first watch I haven't chosen myself, and I'm sure it will mean a lot more to me when I retire.
TT: What's next for you?
PS: The thing I love about watches is that they keep me motivated to achieve various milestones in my life. They're great for keeping me working hard, and making sure I perform. So, the next big milestone for me would be 250 test wickets. The dream watch for me at the moment is the Audemars Piguet Royal Oak Offshore, Forged Carbon. Whether it's to celebrate 250 wickets, a retirement present, or a wedding gift, I'm not sure.
Thanks to the legend Peter Siddle for taking time out of a very busy schedule to drink coffee and talk watches. Best of luck today big man!