Editor's Note: The world of watches is a very small and very global one. The story behind this interview is a case in point. Just before Christmas I received an instagram notification saying, "Felix, you like watches – check this guy out," from a friend who used to work in a café I frequent in Melbourne. She tagged me in the account of a regular customer at the café she now works at in the Norwegian capital of Oslo. After checking out @everydaycollector's beautifully composed pictures of art, interior design and watches, I knew I had to get in touch with Anders and find out more about his careful and considered collection.
Tell me a bit about yourself. What do you do when you're not an everyday collector?
I live Oslo with my wife and two kids. I work as a photographer, focussing on real estate photography. I see a lot of apartments and properties around Oslo. I am also a keen coffee enthusiast and use some of the city's great espresso bars as my extended office.
What's the driving force behind your watch collection?
I have always collected things and have a particular love for crafts and design. My main focus when collecting watches is aesthetics, but I also try to be an informed and thoughtful collector. I try and trust my own judgment, and not be guided by trends. There are of course a lot of 'must have' watches that might not be the most original or eclectic choices that find their way into my possession. Flipping watches is not my thing, and I try to hold on to all the things I get. My motto is to never sell.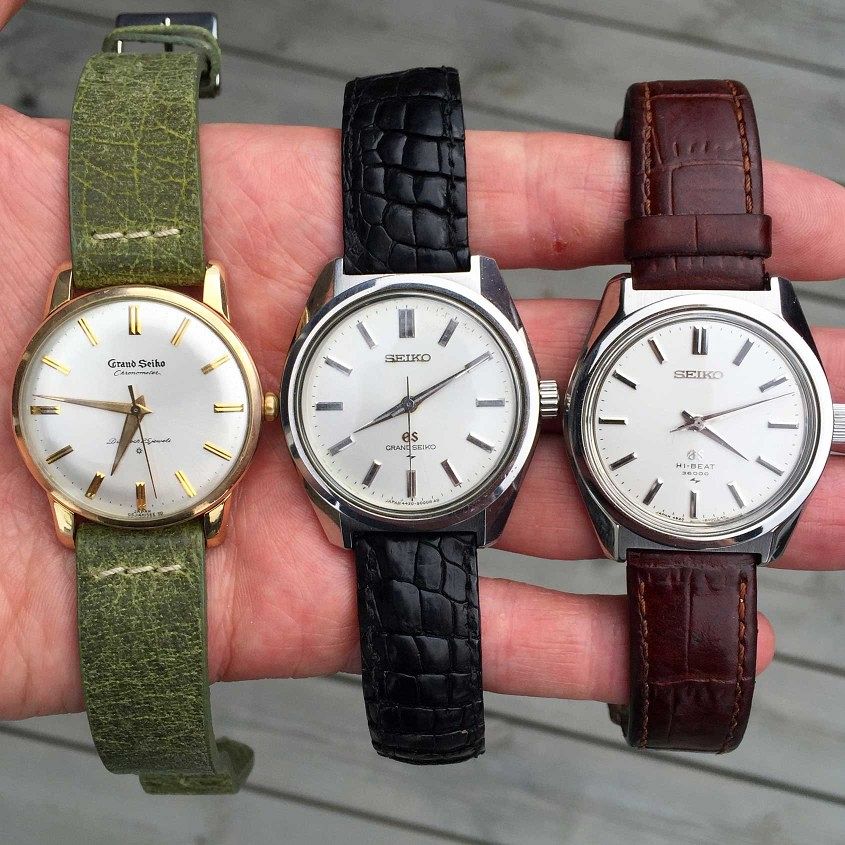 What started your passion for watches?
Back in 2007 I read an article in Monocle magazine about Grand Seiko and their factory in Japan that really interested me. Soon after, I bought my first modern Grand Seiko (a quartz), and that lead to more research and I started buying vintage Grand Seiko watches on eBay. I found the brand, history and price point very appealing. I was a student at the time and collecting vintage or modern Swiss brands seemed out of my reach financially. Grand Seiko offered great quality, an interesting history, a fantastic, simple aesthetic at a price point I could actually afford. It's a very undervalued brand.
Do you have any key pieces in your collection?
My GS ref 3180 and 4420 are very important to me. Being the first and second watches made in the GS line make them historically interesting and I also love the simple design of them both. Unfortunately, my 3180 does not have an original crown and if there is anyone out there who can sell me one, please contact me!
Of my later acquisitions, the Rolex Explorer 1016 and my Royal Oak Jumbo D series are both great in so many ways. They aren't rare or unique, but both are so great to wear and historically significant in their own way. The vintage Royal Oak just feels so good on the wrist and the radical design is pure eye candy. Ultimately, the reason and joy in collecting these objects is to wear them and enjoy them on a daily basis. I've also recently added a rare two-tone Vacheron Constantin 222 that's the predecessor to the Overseas.
Are you on the hunt for anything at the moment?
I keep a list of watches that I find interesting, ranging from budget class into the impossible range, financially. I'd like to get my hands on a Lange 1 at some point, but I'd also love to find an example of the Universal Genève Polerouter on a nice vintage Gay Frères bracelet. I also have a current love affair with the Rolex Oysterquartz day date. I'd love to find a solid gold Oysterquartz.