When I go to the pinpoint the exact moment in time I decided that I wanted a particular watch, there's almost always a common denominator: it's seeing it on someone else's wrist. My Monaco story starts this way. My business partner in Time+Tide is a pretty big Heuer and TAG Heuer fan. He is the founder of Calibre 11 – the home of TAG Heuer and vintage Heuer collectors – and has, at times, been among the most pre-eminent Heuer collectors in the world. It goes without saying that his wrist has been a showcase for pretty much every style of watch the brand has to offer over the years – vintage, modern, attainable, completely out of the question, you name it, DC has shown up at some point with it on.
I remember the day he first wore the 2015 Monaco distinctly. I asked to take a closer look, and snapped off a couple of wrist shots. Before I knew it was, I was re-reading Felix's review and paying closer attention to the photos. How had I never noticed that powder blue dial at the time? The mirrored horizontal indices? The fat slab of sapphire crystal that warped the light from all angles. Uh oh, it was happening.
My first impression was… That it's retro. It's square. When am I ever going to wear a watch like that? What would you wear with that? To be honest, I didn't really like it. But then I noticed – pardon the squiggly logic here – how noticeable it was. I caught myself looking at it again. And again. Hmmm. In a world of round watches, the unapologetic squareness of it is actually pretty boss.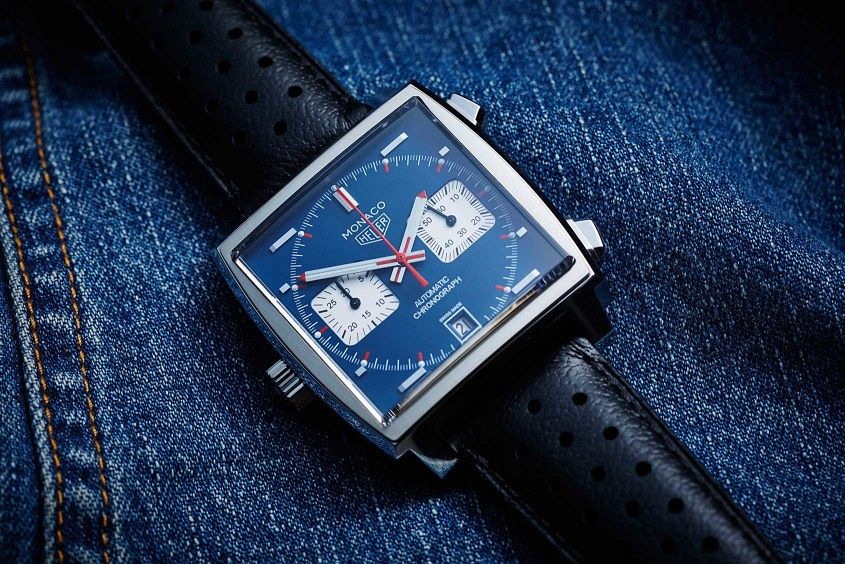 Once I put it on, it felt… Snug. Not odd at all. The flushness of that square caseback sits very nicely. And no matter how I twisted my wrist I couldn't get the crown on the left hand side of the case to dig into my arm – one of my most immediate concerns, alleviated!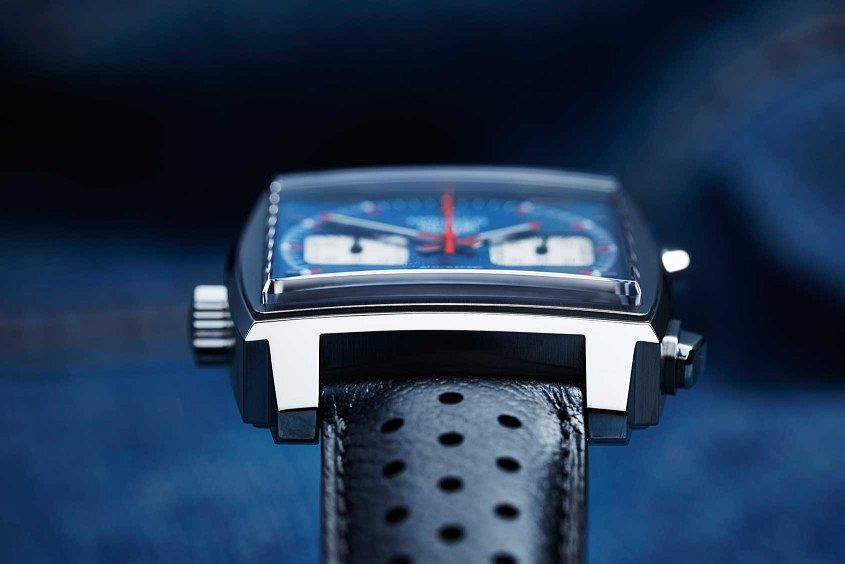 Looks-wise… It's got this whole petite, but still out there balancing act on the wrist. Petite, because it's not actually, in the metal a 'big' watch at all. It's just 39mm X 39mm, and believe it or not, you can notice that one millimetre less than the popular 40mm size our eyes are all adjusted to. The size and short lugs means that the chances are good that it won't extend beyond the profile of your arm. The 'out there' component is less about the square shape of the case than the early '70s disco bling of reflections caused by the mirrored indices (seriously, these indices are sharp baby, Grand Seiko, eat your heart out!) and the light melting edges of the thick sapphire crystal.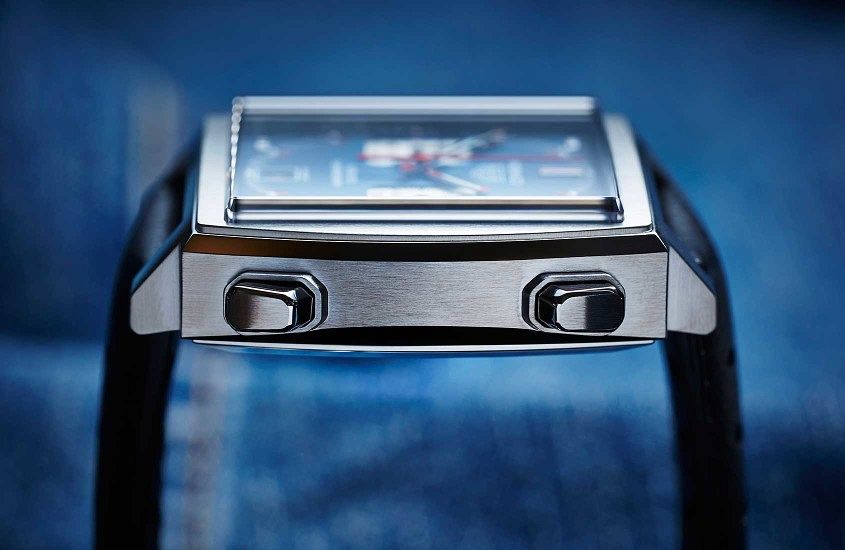 What stood out to me was… The not in any way overpowering size. I was really expecting this to be quite a chunk of metal and glass on the wrist, but it's really delicate in its way – and demure, by way of that powder blue dial. Considering it's a matt dial, it tends to suck light in the dark, presenting as navy, and then become very pale blue in direct sunlight. For a texture and grain-free material (compared to, just say, the Monaco Calibre 12, which has a starbust dial) it still has some character.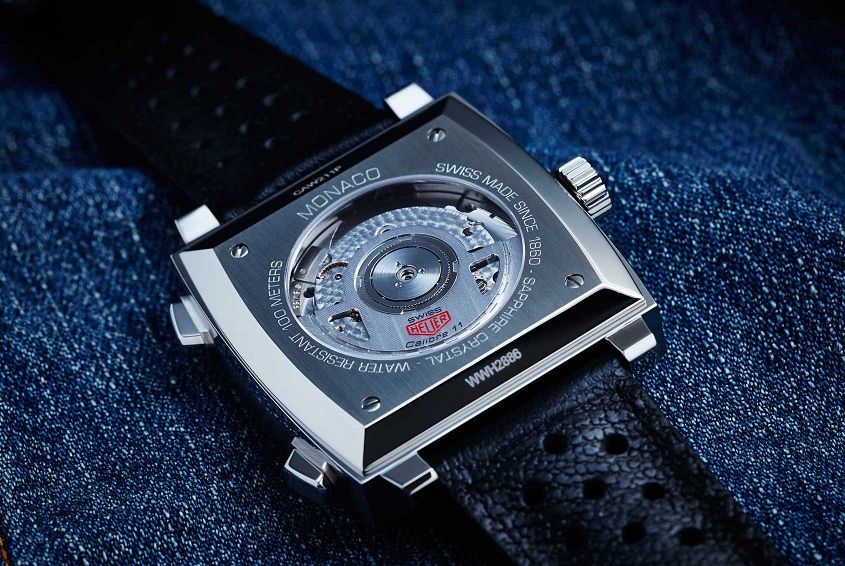 I'd wear this with… anything but formalwear to be honest. And I think I'd go there too if I could get a padded black patent leather strap and if there was some blue in what I was wearing. I'm no peacock when it comes to this kind of thing, but with the right strap I think this watch could actually elevate a formal ensemble to interesting levels. The real hero with this watch, though, is denim. Lord, does this dial go crazy when placed in any kind of proximity to any denim, but especially mid wash. Some kind of weird colour chemistry goes to work on the eyes. Fitted white T, jeans, white trainers. The other item that complimented it beautifully was my Belstaff leather jacket. Who needs a McQueen firesuit anyway?
If I could change anything… The lume isn't great, but thinking of that took a while. For what it is, a square watch that is an astonishingly faithful re-edition of the McQueen, it's comfortable to wear, gets lots of comments (if you don't like dealing with random questions and questioners avoid this watch at all costs) and does the job of telling the time unfailingly. Interestingly, the main change from the '69 McQueen is the case dimensions – the slightly curved flanks of this model are slimmer than on the original, which for me makes it better proportioned and svelte.
By the end of the six months… I'm looking forward to the next six. The Monaco is the change-up to have in the bag when the rest of your roll is round.