If you've ever picked up a glossy magazine or attended a major sporting event it should come as no surprise to learn that marketing is hugely significant in the world of watches. It's also hugely expensive, competitive and, all-too-often, dull.
From awkward posed photographs with A-list celebrities, to baffling brand ambassadors and the most tenuous of partnership tie-ins, for the average watch enthusiast the business of marketing these objects in which they invest so much passion can be confronting at best and alienating at worst. But obviously, it's a strategy that works for many brands.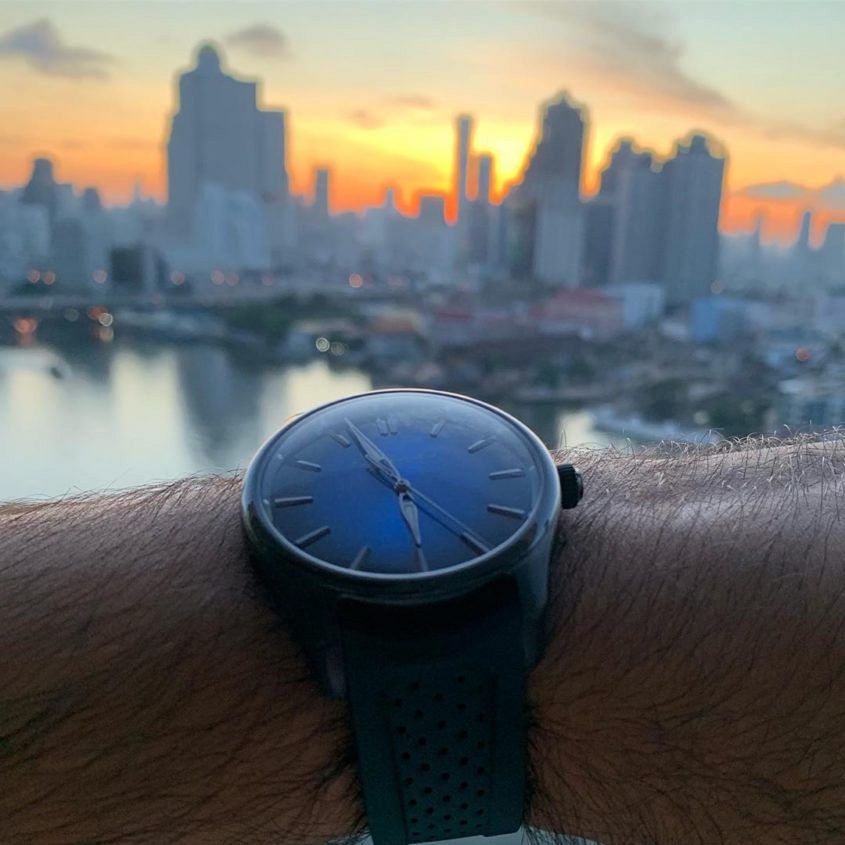 Not all brands have the deep pockets and infrastructure to support this sort of sweeping approach to marketing, and instead they rely on a more surgical approach. H. Moser & Cie is one such brand. With a boutique approach and comparatively small production (these are 'Very Rare' watches, after all), Moser is proud to take a more personal approach with their marketing. Moser takes pride in personally knowing many of their end customers, and this one-on-one relationship between manufacturer and wearer leads to some interesting oppurtunities, like the Pioneer Tour.
The Pioneer Tour, or #pioneertour for those on the 'Gram, is a clever marketing activation that sees the downright gorgeous Pioneer Centre Seconds Funky Blue Black Edition get up close and personal with the people who need to see it the most. Basically, it's a community-driven adventure, which sees one watch tour the world, travelling from the wrist of one watch lover to another, in a surprisingly organic, user-generated world tour.
Not only is this a great example of grassroots marketing in a digital age — allowing Moser's biggest fans to have a hands-on look at one of their latest watches, a crucial barrier given the brand's selective retail presence — it's also smart social media, as part of the deal is for the aficionados to share a few pics of the watch around the world (so far it's been spotted in Austin, Singapore, London and elsewhere), which is a savvy way of using your brand's biggest advocates to get the word out, while engaging them in a pretty meaningful way and giving them a pretty great opportunity to get hands-on with a great watch.
It's rare that a brand is as comfortable letting go of the marketing reins as Moser, but it's entirely in keeping with their overall vibe. While the watches are very serious pieces of kit, Moser don't take themselves too seriously on the communication front, with a personal, approachable style, both in person and on social media. If you want to chat to the CEO, head on over to @edmeylan and ask him some questions. Say hi from us.
The other great thing about Moser is that the brand even has a sense of humour, something that is very rare indeed in a particularly buttoned-up industry. I mean, you can't take yourself too seriously if you make a watch out of Swiss cheese (even if the underlying message is important).
So, follow the #pioneertour to see where the watch heads next, and if you're more interested in chronometry than celebrity, make sure you check them out.