Editor's note: Without doubt, the most popular dial colour for men's watches is black. So, here's the blackest, darkest dial we can think of — the H. Moser & Cie Endeavour Perpetual Moon Concept. To find out why this watch is so impossibly dark of dial, read on …
Few colours have the symbolic weight of black. It's meaningful in pretty much every culture. It's associated — naturally enough — with darkness, mourning and solemnity, and with endings and beginnings. It's also a colour of power and authority.
All these associations and emotions are tied up in Moser's latest conceptual piece, the Endeavour Perpetual Moon Concept Vantablack.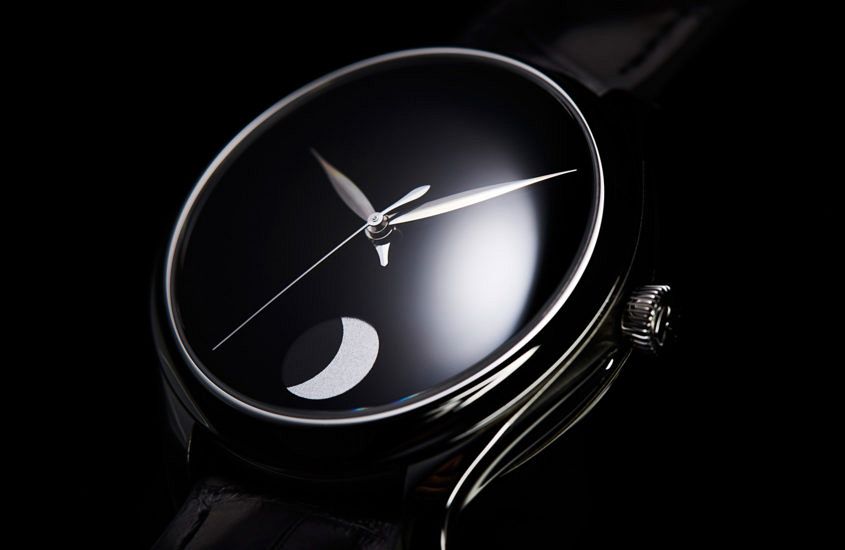 Before we get to the greater meaning of this watch, let's talk about the purely physical: steel case, 42mm wide, in the characteristically scalloped Endeavour case. A broad exhibition caseback shows off the HMC 801, manually wound, equipped with Moser's interchangeable escapement and good for seven days of wind as shown on the indicator on the caseback. The strap is black alligator.
All this has been seen before. What hasn't been seen is the dial. Black, and stunning in its absence. Four hands sit upon a void of nothing. Hours, minutes and seconds marking time against an index-less dial. The stubby fourth hand serves as a day/night indicator, which you might think is redundant on a single time zone watch. But this little hand serves a purpose — accurately setting the phase of the moon. A moon that shows its face at six, a plain black and silver disc, with a grained finish that causes it to look impossibly textured compared to the rest of the dial. The moon phase complication is accurate to over a millennia.
These details, while they might be sober and reserved on any other watch, are amplified when placed against this dial. Small reflections on the hands and case seem massive; the otherwise innocuous moon draws the eye — an eye that cannot track the impossible, crushing, blackness of the dial. A blackness that has been achieved through the dark arts or science of carbon nanotubes. This dial is not painted in any traditional sense. It has been sprayed with Vantablack, a material that consists of vertically aligned carbon nanotube array (VANTA for short). This patented substance absorbs 99.965 per cent of visible light. On the material's other applications — like telescopes and infrared cameras — this serves a practical purpose. On this Moser watch, the purpose is something else.
Looking at this watch on your wrist is like staring into a well of nothingness, with the time and the moon floating on top. Rarely have I worn a watch that has inspired such a visceral, powerful reaction. This is not a watch on which you read the time, it is a watch on which you contemplate the nature of time itself — not the daily revolution of hands, but the slow, inexorable movement of vast, silent objects through the darkness of space. Endless beginnings and endings, encapsulated in 42mm of steel and sapphire. Truly a concept watch.
H. Moser & Cie. Endeavour Perpetual Moon Concept Vantablack Australian pricing and availability
H. Moser & Cie. Endeavour Perpetual Moon Concept Vantablack, limited to 50 pieces, $55,000