10 watches from Montblanc's 2020 collection that suggest they are reaching the top of the mountain
Fergus Nash
When Richemont acquired Minerva to pair with Montblanc to fast-track legitimacy for their watchmaking division, some scoffed at the audacity. Taking a respected, historical watchmaker and giving their patents to a pen brand seemed like horological heresy at the time; however, Montblanc's commitment to continuing Minerva's legacy only grows more apparent with each subsequent year of new releases. Burgeoning respect from all, even the naysayers, is happening. For 2020's online edition of Watches & Wonders, Montblanc have updated their collections to include 10 novel designs, ranging from subtle dial changes to bombastic antique re-imaginings.
Heritage Collection
While Montblanc's 21st century merger with Minerva has given them access to a plethora of unique complications and designs, the Heritage Collection honours the more restrained timepieces from the '40s and '50s, evoking the post-war boom of prosperity and optimism. Two chronographs make up the three new models. The Heritage Monopusher Chronograph isn't just salmon-dialled, its dial is subtly sectioned into rings of sunburst brushing and grainy stippling. Black rhodium coats the indices and hands, granting a soft contrast that doesn't jut out too much. As with each of the new Heritage models, the bent lugs and curved spring bars help reduce the 42mm cases visually, to not depart from their much smaller ancestors.
The second chronograph is a 100-piece limited Pulsograph, named after the much sought-after meter aiding doctors in measuring heart rate. With a smoked tobacco dial and 18k rose gold case, it's hard not to have the world turn sepia when you imagine wearing it. Another 18k gold watch, but not limited, is simply a Heritage Automatic in British racing green.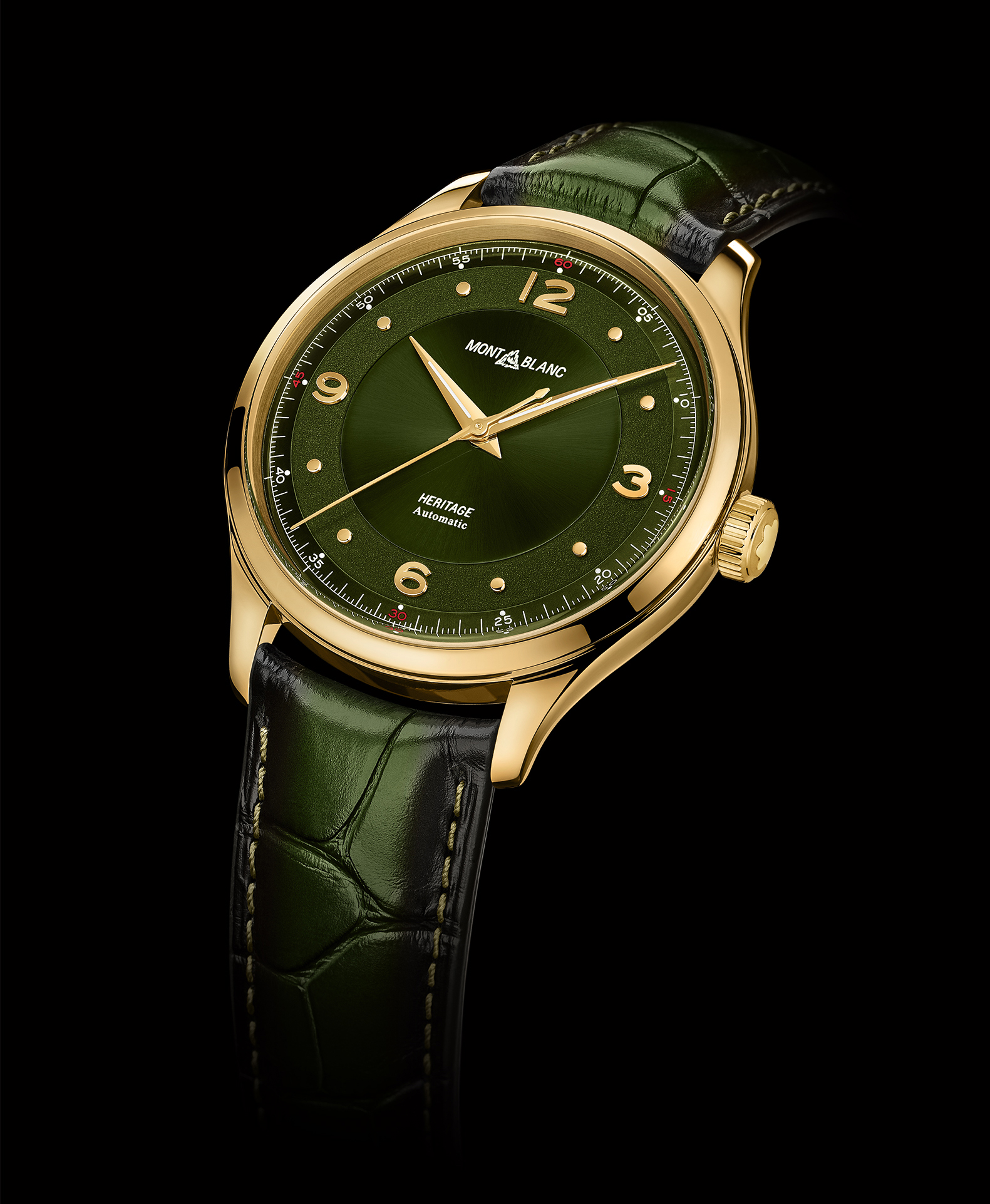 There is something inexplicable about this combination. The tones of metal and lacquer bring out so much warmth in each other that it's near impossible to believe it could be cold when strapping it on. The matched green alligator strap may make this watch clash with a wide range of attires, but it's just too attractive not to try.
1858 2020 Collection
As a deep and personal dedication to Minerva — the watchmaker founded in 1858 — this collection is by far Montblanc's most eclectic with a number of limited runs, dial variations, case materials, and even some pocket watches. This time around, we get five new timepieces. With the theme of 'mountain exploration', three of these capture a harsh winter, blowing it towards the viewer with a wash of abyssal blues and cold, crisp whites.
The 1858 Geosphere is a well-established model for Montblanc, but you can't help enjoy seeing it again. The average wearer might not need to navigate with the sun and a compass, but the grade five titanium case and 100m of water resistance may make this the most gorgeous tool watch out there.
Also given the midnight-blue treatment is the 1858 Automatic Chronograph, a classic bicompax layout with a new bidirectional ceramic bezel with luminous cardinal direction engravings.
The most stunning of the new blues, though, has to be the limited edition 1858 Split Second Chronograph. Based on Minerva military mono-pushers from the '30s, the beautifully intricate dial unsubtly melds together a telemeter scale, split chronograph, and hypnotising spiral-tachymeter. Orange accents bring the watch to life, while the 44mm brushed titanium case cements the military aesthetic.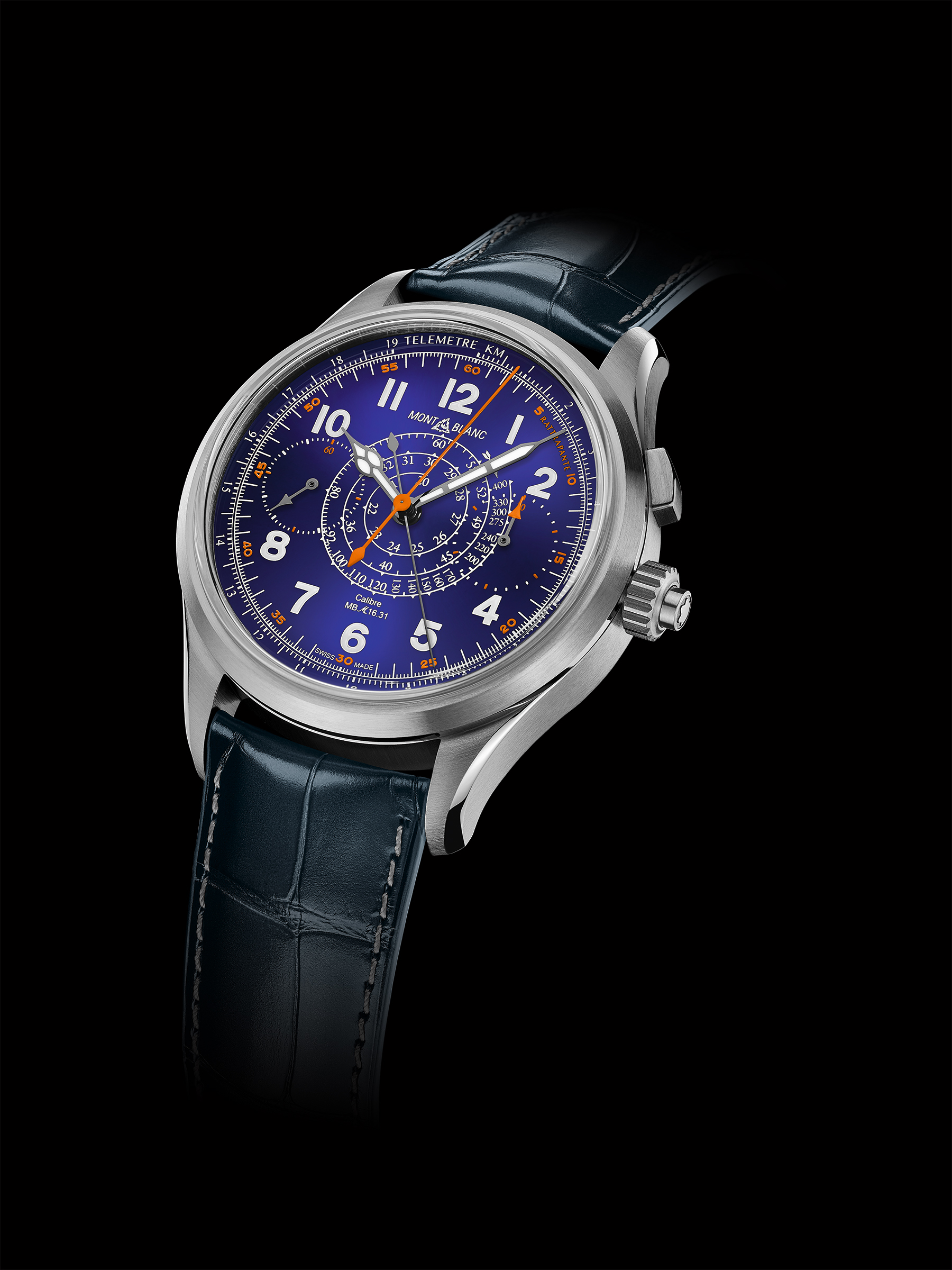 Bronze watches are spiking in popularity, and the new 1858 Monopusher Chronograph Limited Edition is one of the classiest responses. A black dial and off-white markers keep things simple, but the rose gold cathedral hands ensure there aren't any cold metals to clash with the warmth that bronze gives.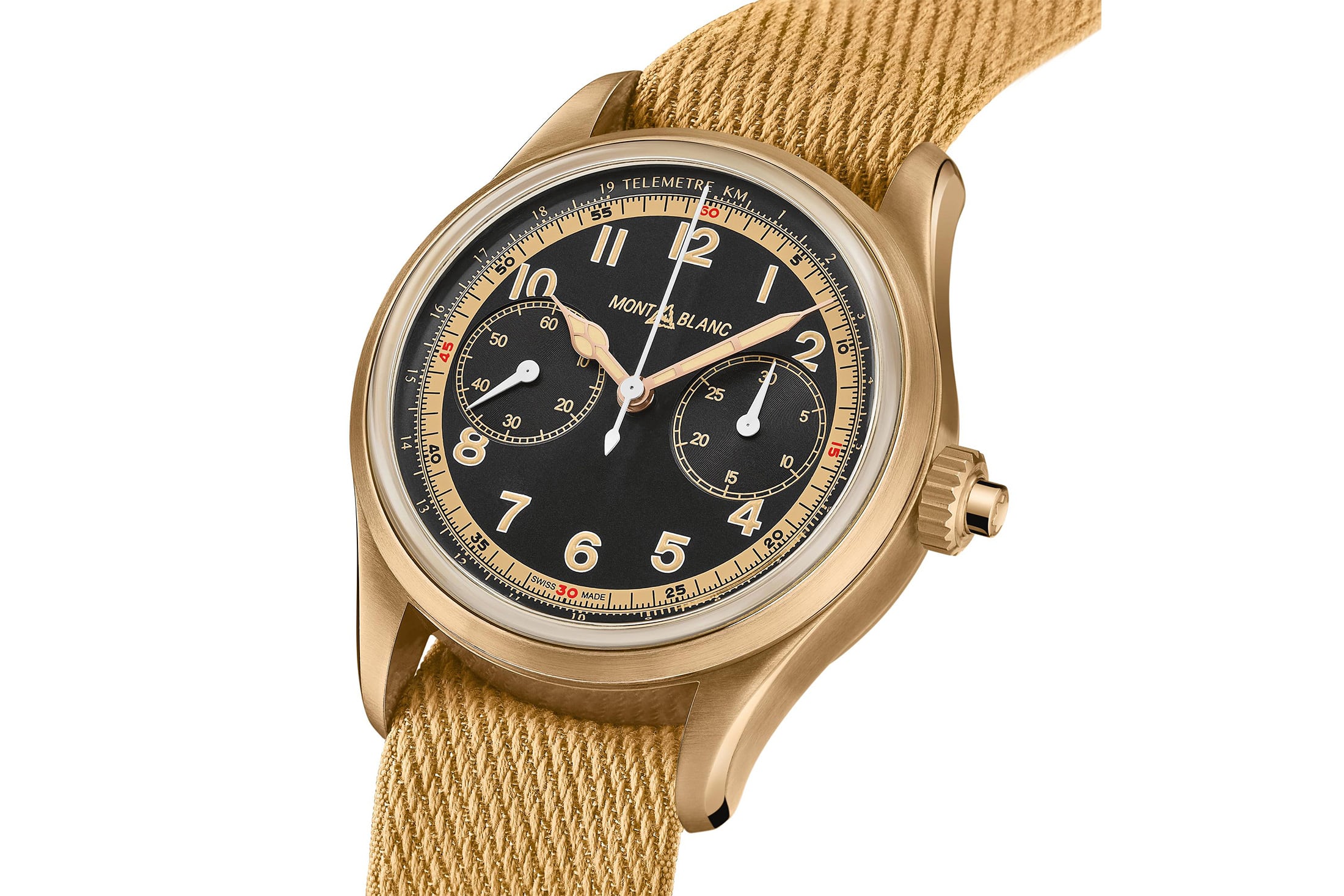 Saving the most intriguing for last, the 1858 Automatic 24H steals the spotlight when it comes to quirky, vintage-inspired timepieces. The solitary red hand jumps out at you, making the watch incredibly easy to read at a glance once you become accustomed to 24-hour time. Unfortunately for us Australians, the compass feature, as indicated by cardinal directions on the chapter ring, is inversed in the Southern Hemisphere, but that won't stop the bronze-alloy bezel and smoky-map dial from instilling a sense of adventure.
Star Legacy Collection
The only new releases not to be based on Minerva are the two additions to the dressy Star Legacy Collection — the focus of which is a certain super-sized elegance. These watches, adorned with Roman numerals, appear to be an evolution from the Tradition Collection, capturing the same impeccably clean spirit, whilst indulging in some lavish complexity. The exploding-star guilloché pattern gives the dial some much-welcomed depth to fill the negative space, and a large onion shape crown adds a hint of old-world charm.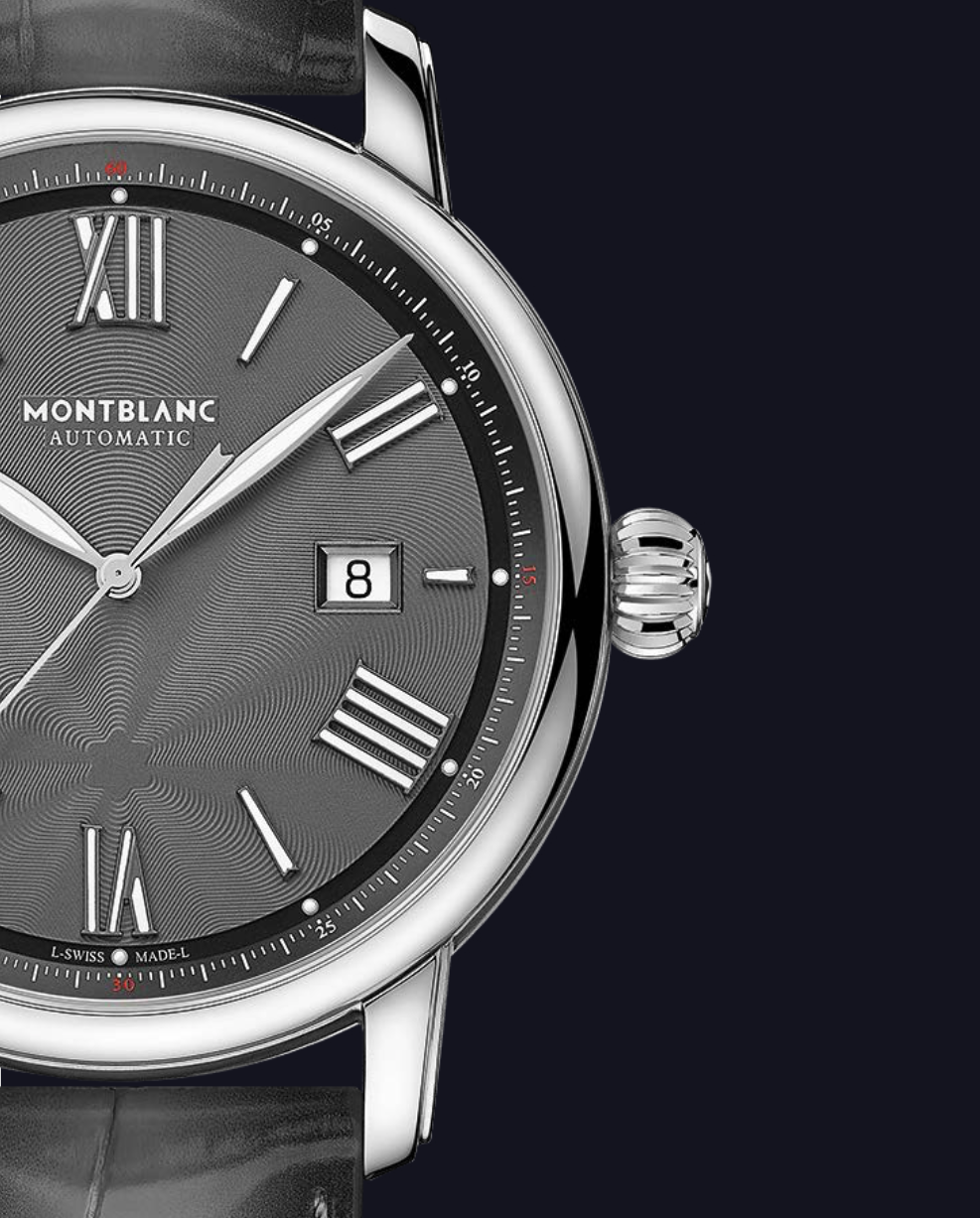 The movements are the same as those used in the Legacy Collection as well, using Montblanc calibers modified from Sellita bases. Both the Automatic Date and the Chronograph Day & Date operate at 28,800 vph, although the Chronograph does pack in an extra 10 hours of power reserve to make up for the added strain of the complication, bringing them to 38 and 48 hours respectively. They may not be as pretty to look at as the in-house Minerva movements, but that's a tall – and expensive – order to be fair. The display caseback at least provides you with that option.
At 43mm, and with lugs that don't shy away, these models are now the widest in the Star Legacy collection. Whether or not you're a fan of plus-size dress watches, these designs do benefit from the legibility that comes with it. Both can be seen in a charcoal "anthracite" or white dial versions, with either a three-link steel bracelet brushed down the centre or a tidy alligator strap.