Mo Salah serves watchless, vintage vibes – so we fixed that for him
Borna Bošnjak
Mo Salah, the prince of Cairo and Liverpool stepped out of his football boots, slipping into something more comfortable for his photoshoot with GQ. Combining vintage blazers and bandanas with high-end pieces from Prada and Louis Vuitton, all anchored with a classic pair of Adidas Gazelles, it was a style masterclass. There was one glaring omission, however. There were no watches in sight in all but one shot, and though nice, the Royal Oak really didn't suit the afro-in-a-bandana vibes exuding from the pics.
The vintage – Cartier Tank Basculante
The moment I saw this image, I had a clear idea of what I wanted to pair the outfit with. Something relatively small, not round and unisex, with a dark-coloured dial – to go with the androgynous undertones of the mesh top combined with a strong-shouldered overcoat. Cartier was the clear choice, though my initial idea of going with a Must de Cartier proved challenging, as I wanted a white metal. Most vintage Tanks with black dials are gold, so I opted for the Basculante. With the pop of blue just above the crown, the dial can be hidden completely for an ironic statement, if one so wishes.
The budget – adidas Digital Two
Not that he'll be overly concerned with staying on a budget, but this tick seems like the perfect one for the fit in question. The newly released adidas Digital Two costs around A$150 and is backed by production know-how by Timex. The retro design fits perfectly with the knitted Saint Laurent tank top and trousers by Iranian designer Maryam Nassir Zadeh, and I can easily imagine it loosely hanging just above the Egyptian's wrist. It's perfect for Salah – look, the dial even includes his first name.
The modern – Hublot Classic Fusion Anticlockwise Bronze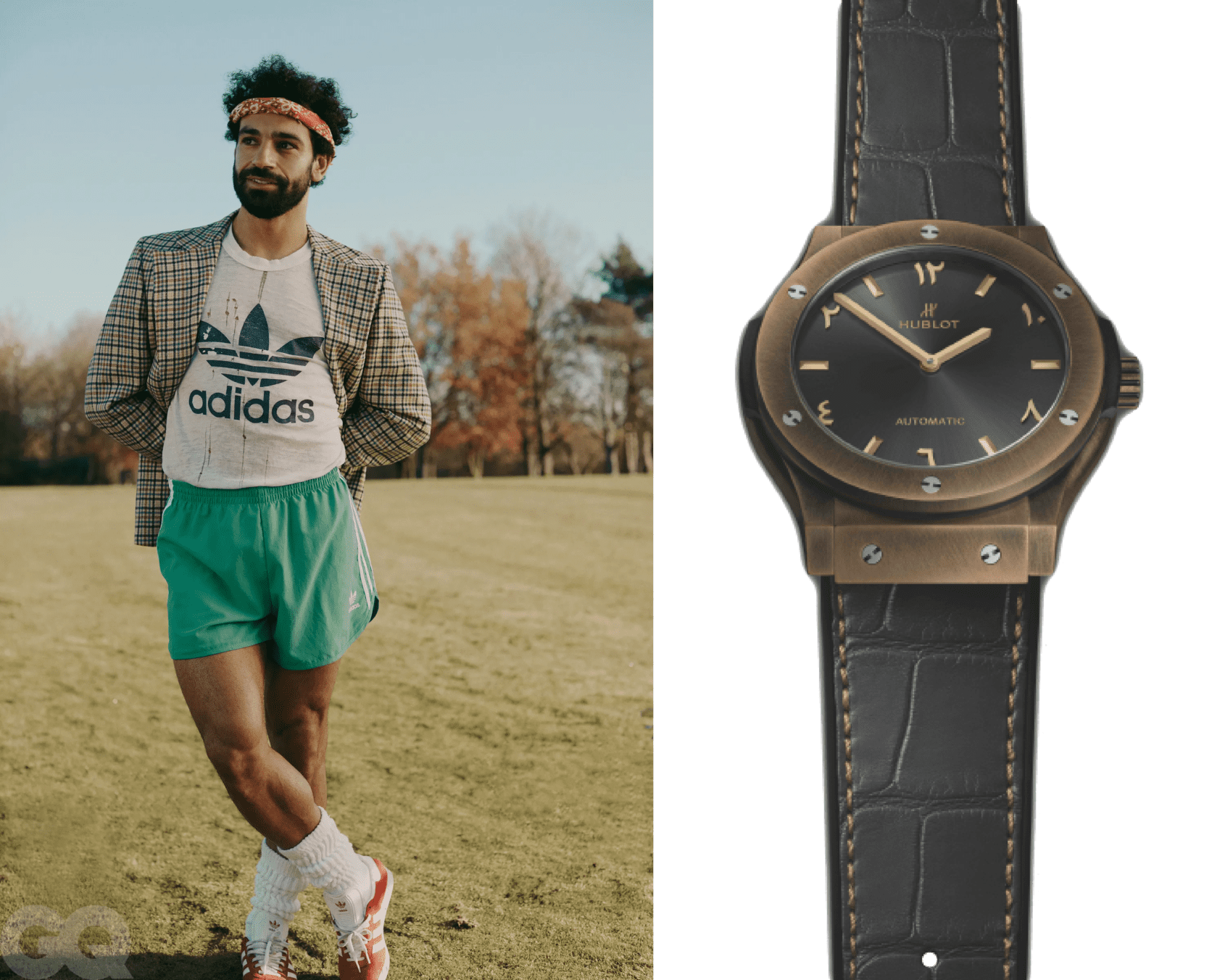 I struggled to find a new piece that fits the somewhat raggedy aesthetic GQ went for in this shoot. The vintage blazer and tattered shirt require a piece that shows an equal amount of age, as something shiny and new would stand out too much. My thought went to bronze, and after a bit of digging, I came across this Hublot Classic Fusion Anticlockwise. While this isn't the only bronze Hublot LE, the addition of Eastern Arabic numerals plays into Salah's Arabic-speaking background nicely, and the reverse-running nature is a fun gimmick.