Making a buzz: Ming x Massena Lab collaborate to create honeycomb hotness
Zach Blass
Whenever Ming introduces a new watch, the brand's followers immediately mark their calendars and ensure they set aside time to race to the checkout for one of these highly coveted watches. The designs of this independent watch brand are absolutely distinctive, with every component meticulously crafted to reflect the design language of Ming Thein. Ming brings his photographer's eye and creative-designer mind to create watches that cannot be compared aesthetically to anything else offered in the industry. Although his earlier designs have long waiting lists, Ming retires his references to make way for the next generation of creations – always looking to push the envelope further and continually refine his watches to be the best they can be. Alone he is a force to be reckoned with, but today he teams up with industry veteran William Massena of Massena Lab to introduce the 17.09 Ming x Massena Lab Limited Editions. This is the first time Ming has ever collaborated with another brand to produce a watch. The result is a killer aesthetic, born from two design geniuses renowned for their attention to detail.
The stainless-steel cases of both editions are 38mm in diameter, 10mm thick, and 44mm across the wrist lug-to-lug. These dimensions will cater to a variety of wrists, while the 100 metre water-resistance enables the distinct designs to be both sporty and dressy watches depending on your wardrobe and activity.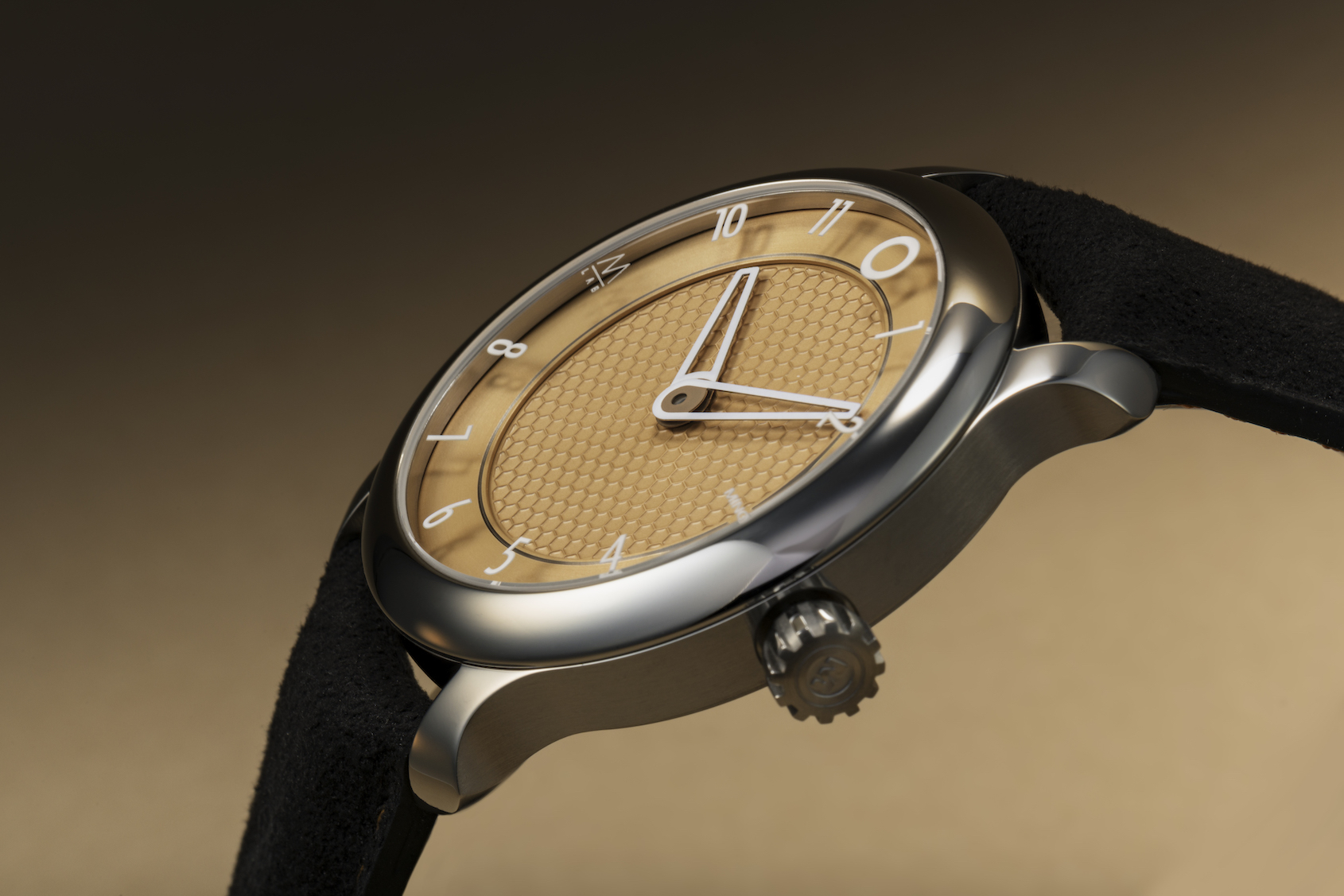 In terms of its finish, the bezel and top facets of the lugs are mirror polished and the case band and sides of the lugs have a rich satin brush. According to Massena Lab, "The polished and brushed 316L stainless steel case recalls the "padellone" (little frying pan in Italian) cases that were found on Rolex 8171 while still maintaining the trademark flared lugs of the 17.09."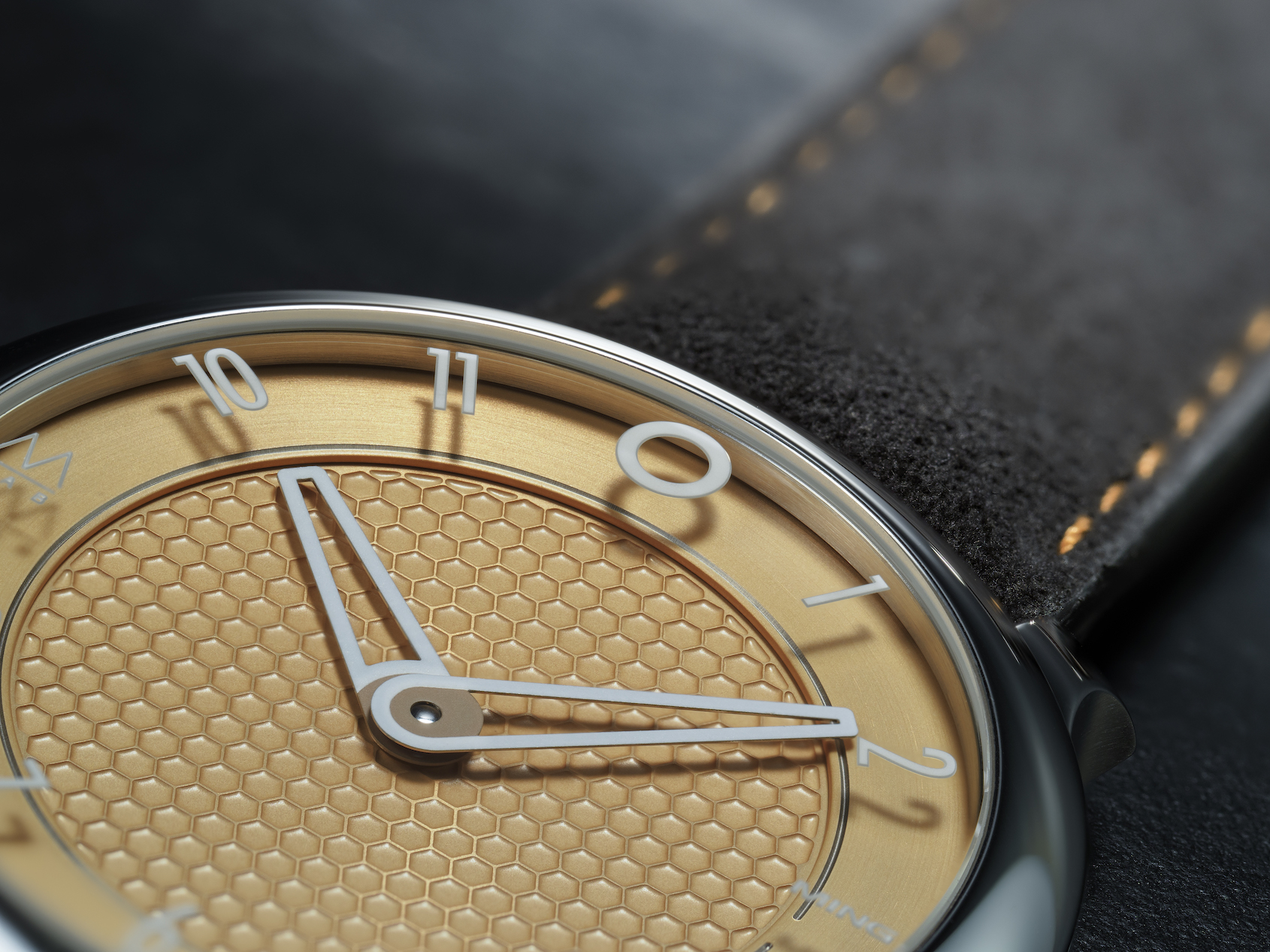 The Rolex inspiration extends to the dial as well, its design a modern re-interpretation of Rolex's famed honeycomb dials from the mid-century. The 17.09 Ming x Massena Lab Limited Editions come in two different flavours: a 50-piece run with honey coloured dials and 150 pieces with black dials. As we have typically seen from Ming watches, the dial is kept clean with zero printing on its base. The hour numerals, as well as the Ming and Massena Lab branding, are actually laser etched beneath the sapphire crystal and filled with generous SuperLuminova® to glow brightly in darker settings. This also creates the "floating" numeral effect, each numeral casting a shadow on the dial beneath.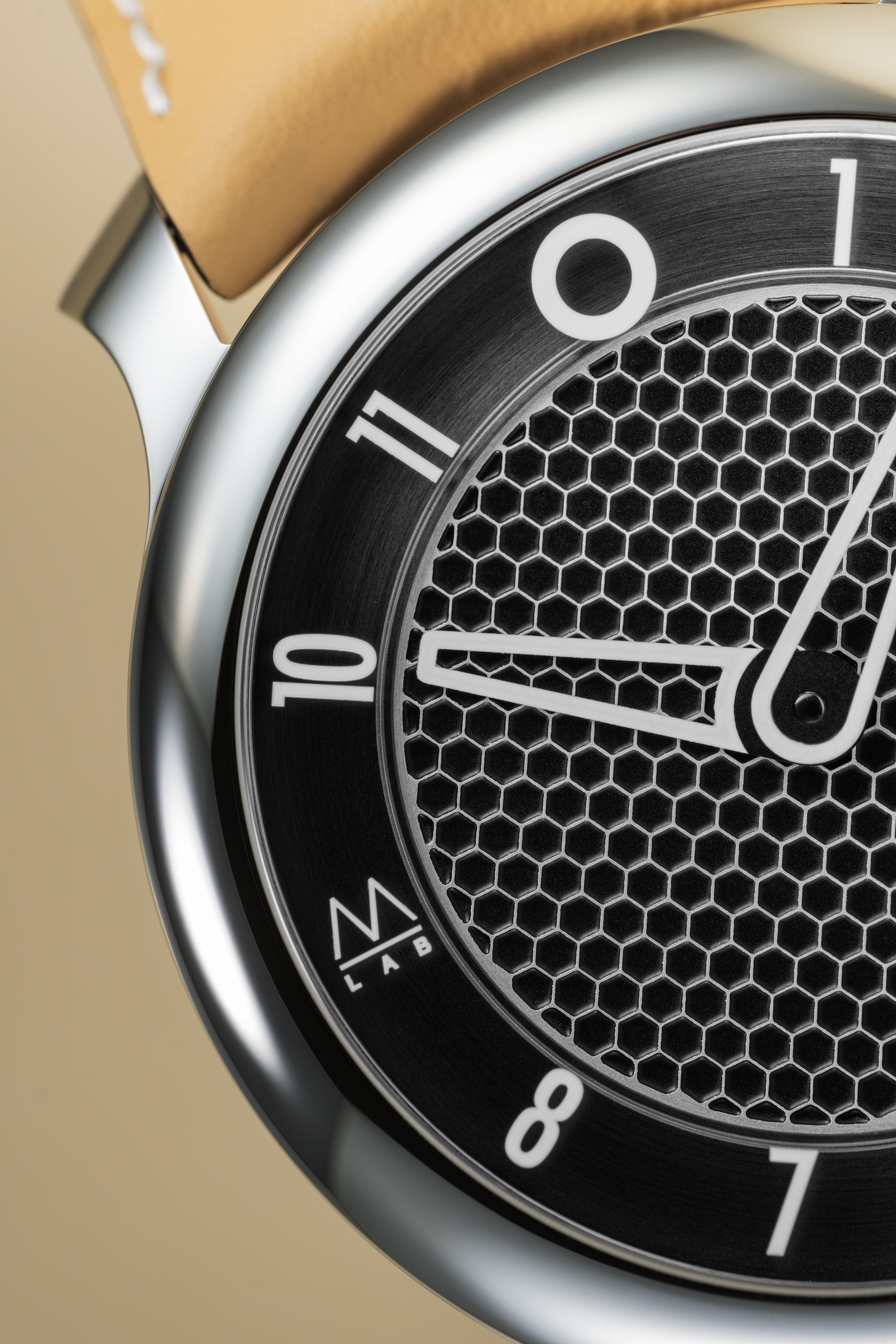 Both colours share the same texture and layout, with a stepped central honeycomb pattern framed by a rich concentrically brushed outer ring. The two finishes work in harmony to create balance for the dial, with the outer brushing really drawing the eye to the textured centre. The honeycomb pattern on the honey dial is a bit more subtle, the pattern rendered in a tone to match and blend into the dial. The black dial configuration introduces a bit more contrast, with the honeycomb pattern executed in grey metal to ensure it does not get lost in the black backdrop. The central hours and minutes hands have been skeletonized to create as little obstruction of the dial as possible, the borders of the hands coated in SuperLuminova® to ensure legibility at night.
Both 17.09 Ming x Massena Lab Limited Editions are outfitted on Jean Rousseau Paris leather straps of the utmost quality. From personal experience I find Jean Rousseau Paris second only to Hermes, and that really means something. The honey dial 17.09 is paired with a textured brown alcantara strap with brown rubber lining and orange contrasting stitching.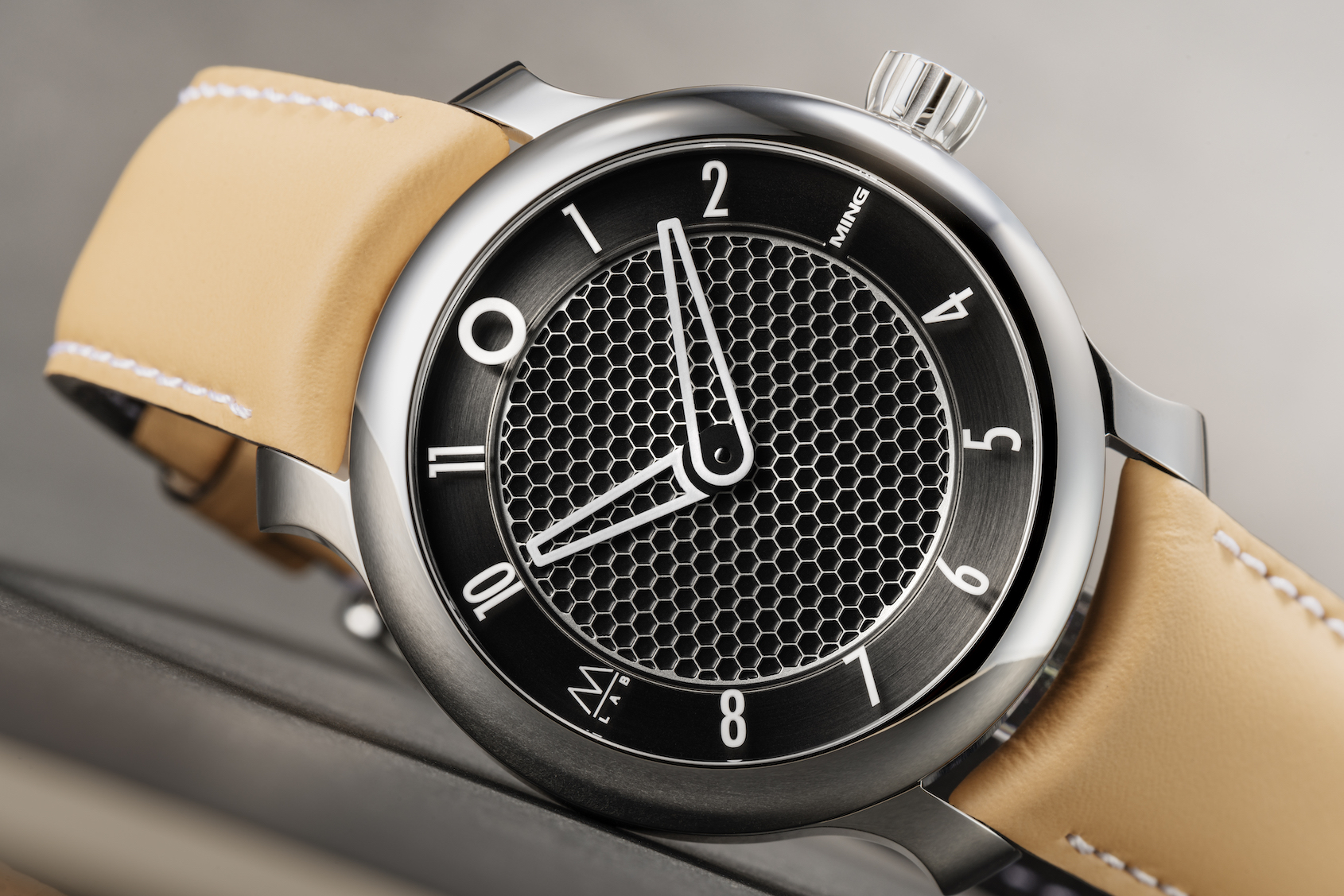 The black 17.09 is offered on a smooth calf-leather strap with brown alcantara lining and off-white stitching. Both straps are curved to sit nice and flush to the case and have quick-release tabs on their underside to make them an absolute breeze to remove. Jean Rousseau Paris has a wide catalogue of straps to purchase, some of which can be bought from the Ming website directly as well.
The numbered solid caseback is also adorned with a honeycomb pattern to match the dial, but with the Massena Lab logo framed in its centre. Inside the 17.09 Ming x Massena Lab Limited editions is a modified version of the Sellita SW330-2, the 300.M1, developed by Manufacturer Schwarz-Etienne. This movement, originally launched with and exclusive to the Ming 17.09, has an independent hour-hand adjustment mechanism. This allows you to adjust the hour without stopping the minutes hand, which will be a really neat feature when travel resumes and we begin to find ourselves in different time zones again. The Sellita base is known to be a reliable and robust timekeeper, and considering its 250-hour test program regulation you can expect high performance from these 17.09 watches. While you would not visibly know it due to the lack of a central seconds hand, the 42 hour power reserve movement does feature a hacking function.
17.09 Ming x Massena Lab Limited Editions pricing & availability: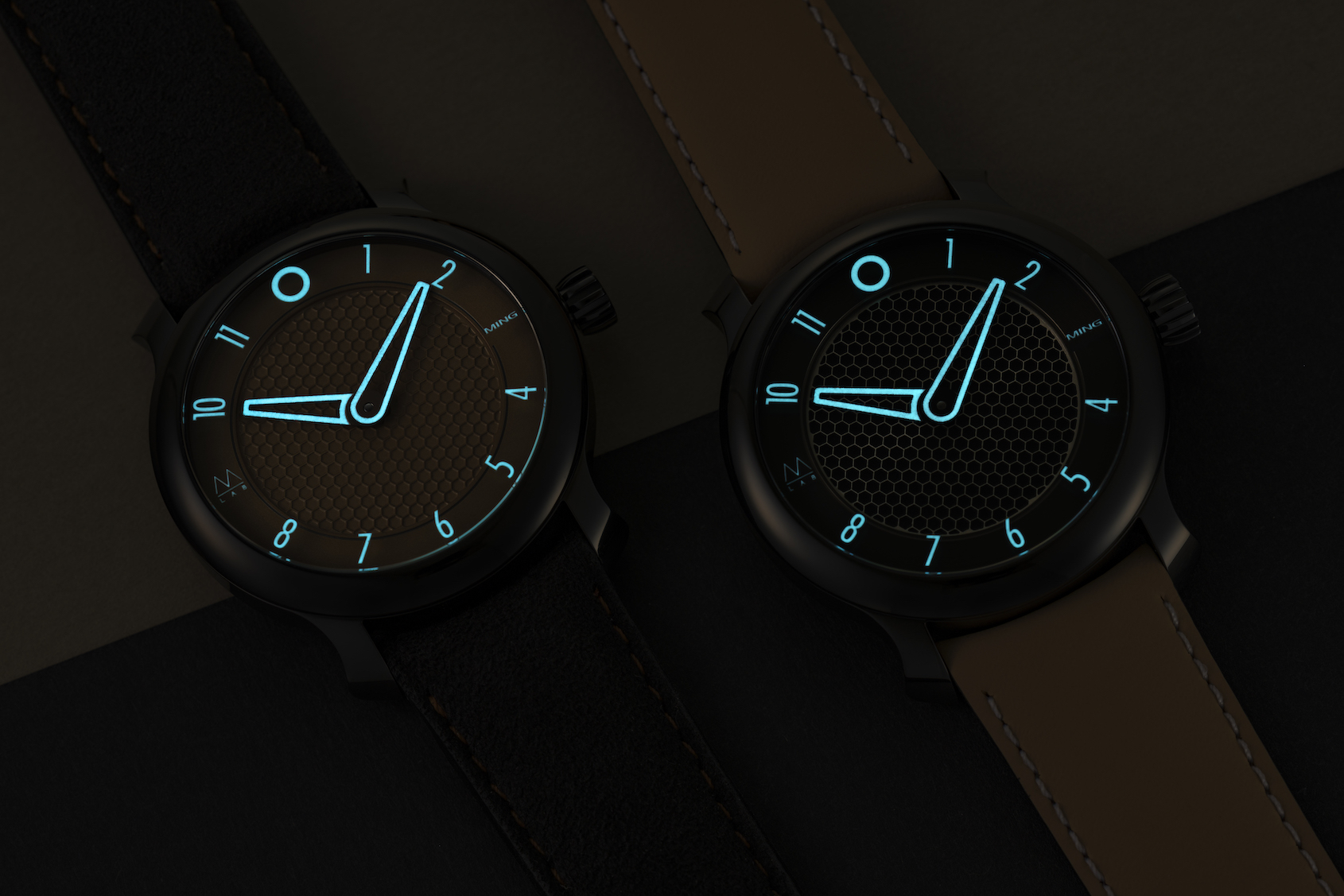 Limited to 200 numbered examples (50 in honey, 150 in black) the 17.09 MING x Massena LAB Limited Edition will be available for purchase on Thursday, May 20th at 10:30am EST (GMT -5) at massenalab.com.
Price: $2,795 USD (honey dial) and $2,595 USD (black dial)
Each watch includes a matched strap by Jean Rousseau Paris, which offers the wearer a distinctive style.
Watches will be delivered in late July, and shipped from New York City.
Technical Specifications:
● Model: 17.09 Ming x Massena Lab Limited Editions
● Functions: Hours, minutes; independently adjustable hour marker
● Material: Stainless steel
● Dimensions: 38mm; 10mm thickness, 44mm lug to lug
● Dial: Honeycomb pattern dial
● Double sided anti-reflective coating
● Caseback: Closed steel back with special honeycomb engraving, individually numbered
● Lume: Super-LumiNova X1
● Caliber: 300.M1 – based on the Sellita SW 330-2
● Power Reserve: 42 hours
● Water Resistance: 100 meters
● Strap: smooth calf in honey with brown alcantara lining, brown alcantara with brown rubber lining and orange contrasting stitching; quick release with curved fitting
● Lug Width: 20mm