INTRODUCING: The Ming 17.06 Copper and Monolith
Sean Ding
Reintroducing their debut 17.01 model, the Ming 17.06 Copper and Monolith boast major construction improvements over their predecessors, as well as making some subtle design tweaks. With two new models, let's first take a look at the 17.06 Copper.
Offering warm earthy tones set within a polished stainless steel case, the 17.06 Copper is easily the dressier, more 'traditional' looking of the two. When it comes to the level of texture and detail within the dial pattern, the 17.06 Copper has confidently entered territory previously dominated by the likes of Grand Seiko. The combination of a mirror finish polished case and the gentle lustre of the pinkish copper dial is wonderfully soothing, and not often seen outside of the highest echelons of haute horology. Finally, the gentle outward flick of the lugs is an elegant twist that brings some sharpness to balance out the round case. After reading so far, you might not be surprised to learn that the 17.06 Copper is a finalist in this year's GPHG. Not bad for a brand that started only two years ago.
Turning now to the 17.06 Monolith, we find something totally different. The matt black DLC bead blasted case gives the Monolith a distinctly stealthy appearance, rarely seen in the context of a dress watch. Typically, watches finished with these techniques are brutal-looking tools (think Sinn or those Victorinox INOXs), known for their ability to survive a tank shell and offer the subtlety of a brick through a window. In spite of this, the Monolith would not look amiss under the cuff of a tux. In fact, it would look perfectly at home, as the petite 38mm diameter and 10mm height works hard to offset the aggression of the matt black DLC coating.
What we find on both pieces is a generous application of Super-LumiNova C1 to the hands and hours track. If you agree that Ming watches look amazing in daylight, their radiance isn't diminished in low light.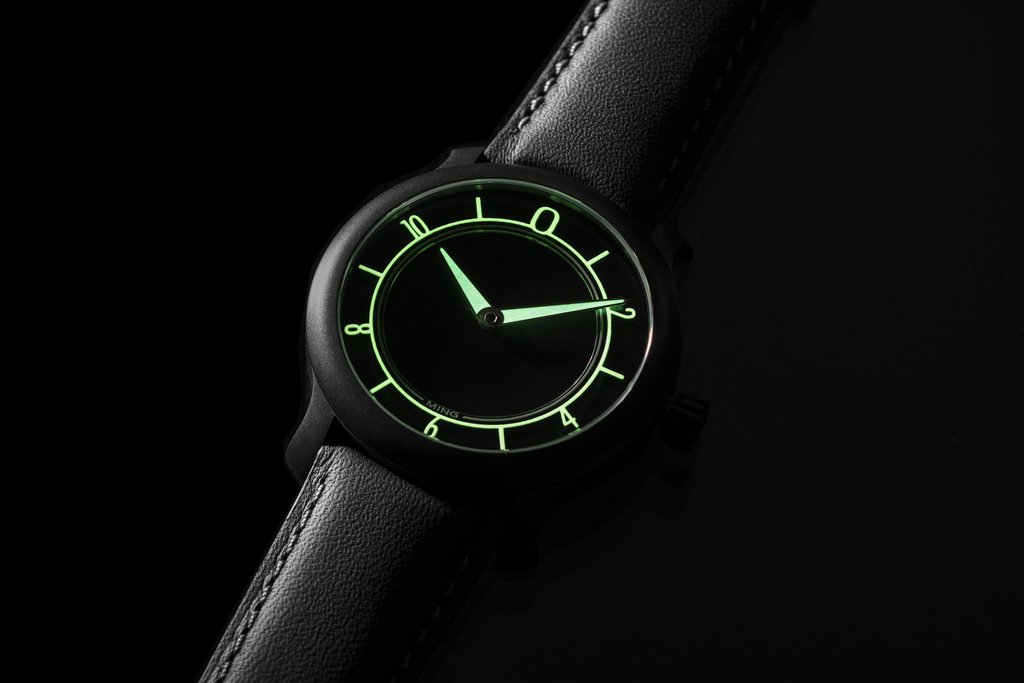 Of the two characters we have spoken about so far in this story, the Copper is easily more luxurious and elegant: probably goes ballroom dancing and wears French linen shirts with the buttons down to his navel. However, the Monolith is the decidedly cooler and edgier sibling, preferring to fight thugs in alleyways on weekends, and probably has a tech startup. Both would be awesome to hang out with.
Despite speaking fundamentally the same design language, the differences in finish, colour and dial texture turn them into two drastically different executions of the same underlying concept. In being able to execute both so well, Ming has demonstrated seriously impressive breadth and depth in strength of design.
Ready for order at 1pm GMT (that's 11pm for us down under) on September 19, yours truly may or may not be staying up past his bedtime to order one. Given that the Copper is limited to only 300 pieces a year (CHF 1250) and the Monolith to half of that (CHF 1500) they're bound to be snapped up quickly.