The watches, and wild watch stories, of Mike Tyson
Luke Benedictus
Mike Tyson has led a truly crazy life. We don't have time to go into it all here: the horrific childhood, the dizzying ascent, the pet tigers, the rape conviction, the coke habit, the comeback(s), the ear biting, the tragic death of his daughter, the facial tattoos …  Let's just say that Tyson hasn't pulled any punches in the life-experience department.
His watches overall have not been as wild, but several of the stories surrounding them have a familiar ring. In January 2000, for example, the Mike Tyson circus arrived in London. "Iron Mike" was there to fight the British heavyweight champ Julius Francis. But in the lead-up to the bout, Tyson decided to head out for a spot of retail therapy.
Flanked by his six bodyguards and the boxing promoter Frank Warren, Tyson entered Graff Diamonds on Old Bond Street where he launched into a epic spending spree. Tyson selected a diamond watch with a sapphire dial, an emerald and diamond bracelet and two pocketwatches (one of which was a pornographic automaton of a couple having sex). All went smoothly, until the store manager deigned to enquire who would be footing the £426,000 bill. Tyson shrugged off the demand and said that either Warren or Showtime, the American cable channel that dominated pay-per-view boxing, would pick up the tab.
Unsurprisingly, neither was that keen to stump up the cash and, several days later, Tyson was told he had to return the jewellery or face criminal charges. Forced to give back the goods, Tyson was furious. Flying into a rage, he stomped out of his hotel, saying he was abandoning the fight and jumped into a limousine to Heathrow airport in order to head back to the US.
With the big fight suddenly hanging in the balance, the promoters agreed to get the diamond watch for Tyson and secure payment later in order to save the bout. Mollified, Tyson went from the airport directly to the pre-fight press conference, twirling his new watch proudly on his wrist.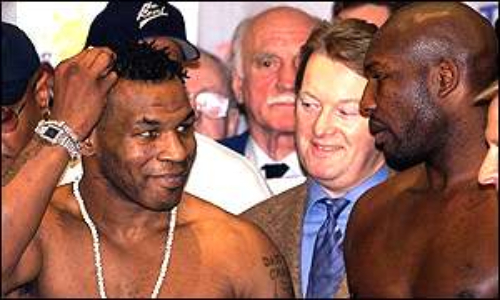 It probably wasn't the ideal preparation for the bout, but it didn't stop Tyson brutally dismantling Francis and knocking him to the canvas five times. Yet this wasn't the end of the watch story.
Six months later, Tyson was back in London for his June fight against Lou Savarese and decided to pay another visit to Graff Diamonds. He didn't get a very positive reception. The jeweller told Tyson he was no longer welcome in the store because they had still not received payment for the goods in a case that would later go to court.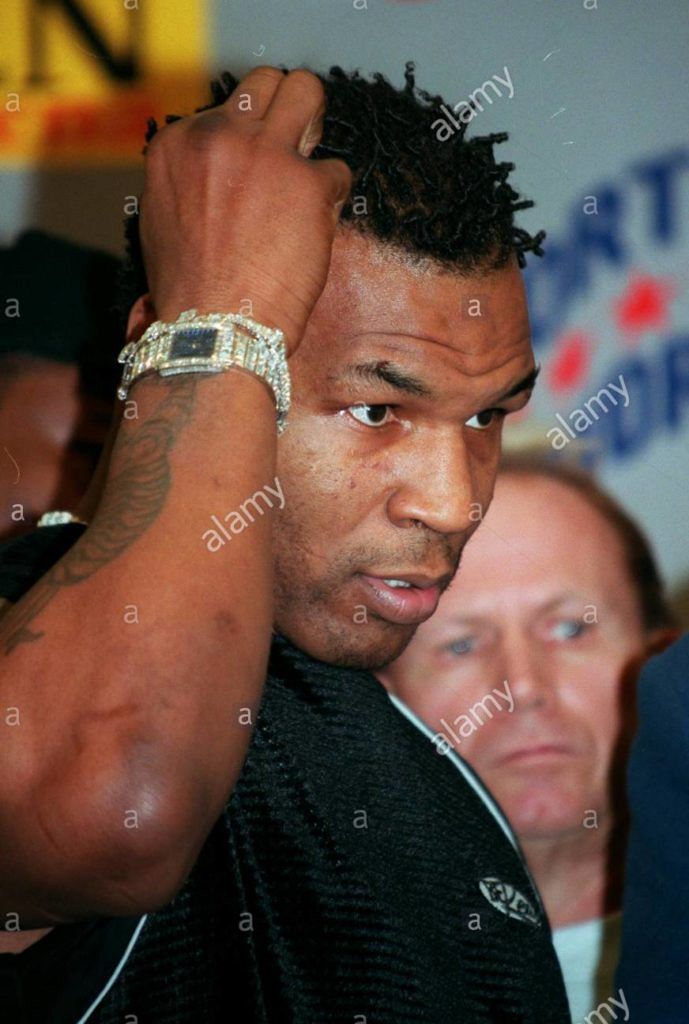 Incandescent with rage (again), Tyson summoned Warren to his hotel suite for an explanation. Reports claim the conversation proceeded to very heated. When Warren appeared at a press conference the next day he wore make-up on one side of his face beneath a heavily bloodshot eye.
The episode has all the ingredients of a classic Tyson tale. There is the reckless extravagance that would later force the boxer to file for bankruptcy in 2003 despite having made about US$400 million in the previous 20 years. There is the latent threat of violence that always seemed to cling to the self-styled "Baddest Man On The Planet". Yet there are also examples of Tyson's extraordinary ringcraft and pugilistic ferocity. While already significantly past his peak, he dismembered Francis in just two rounds. Savarese took just 38 seconds to put down, with Tyson conserving sufficient energy to embark on a particularly bonkers post-match rant. "I'm the best ever," he said. "I'm the most brutal and vicious, the most ruthless champion there has ever been. There's no one can stop me. Lennox Lewis is a conqueror? No! I'm Alexander. He's no Alexander. I'm the best ever. There's never been anyone as ruthless. I'm Sonny Liston. I'm Jack Dempsey. There's no one like me. I'm from their cloth. There is no one who can match me. My style is impetuous, my defence is impregnable, and I'm just ferocious. I want your heart! I want to eat his children! Praise be to Allah!"
Now as a bearded 54-year-old who hasn't fought anyone since 2005 (or threatened to eat their children), Tyson has decided to step back into the ring. His opponent: another great boxing champion Roy Jones, who can no longer call himself "Junior" given that he's now 51.
Pretty much no right-minded person thinks this exhibition match between two men in their 50s is a good idea. And that's before TMZ released an image of Tyson signing the contract while apparently smoking a joint. "Boxing is nothing to play with," George Foreman warned. "I would tell them that it's really dangerous."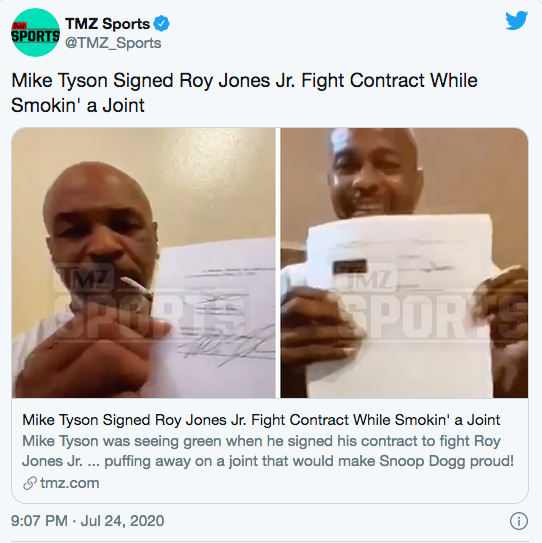 But as the bout is clearly a naked cash-grab for both legendary fighters, let's hope Tyson uses some of the proceeds to add to his watch collection. After all, the boxer clearly enjoys his wristwear and has a definite soft-spot for a white-gold Rolex. He's been photographed, for example, in a Rolex Datejust, a supremely versatile watch often overlooked by Rolex fan-boys in favour of the GMT or Daytona. Yet the Datejust remains a classic watch suitable for any occasrolex
ion, particularly with the pearly lustre of this iteration.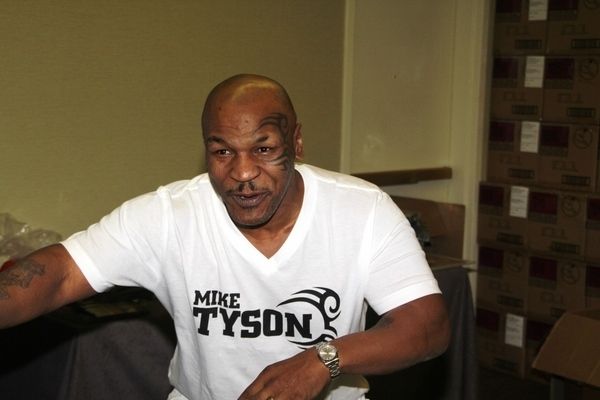 In addition, Tyson has also worn the Rolex Daytona in white gold (below). The mother-of-pearl dial and diamond hour markers ensure that this chronograph isn't short of razzle-dazzle. But the silvery colour scheme ensures that it all comes together in an suprisingly wearable form.
Tyson has also been spotted in various pieces from Hublot, a brand whose connection to boxing goes far beyond marketing spin.
In 2012, Hublot and the WBC formed the José Sulaimán Boxers Fund, a charity that supports fighters who've fallen on hard times.  To raise money, Hublot created 24 pieces of their King Power World Boxing Council watch, each bearing the signature of a living boxing champ. Tyson was picked alongside a host of top fighters including Sugar Ray Leonard, Evander Holyfield, Lennox Lewis, Julio César Chávez, Roberto Durán, George Foreman, Oscar De La Hoya, Vitali Klitschko and Jeff Fenech. Twelve of the watches went to the boxers themselves while duplicates were sold off to raise money for the charity. The watches, essentially 18k gold and green versions of the King Power Chronograph, raised almost a million dollars at auction.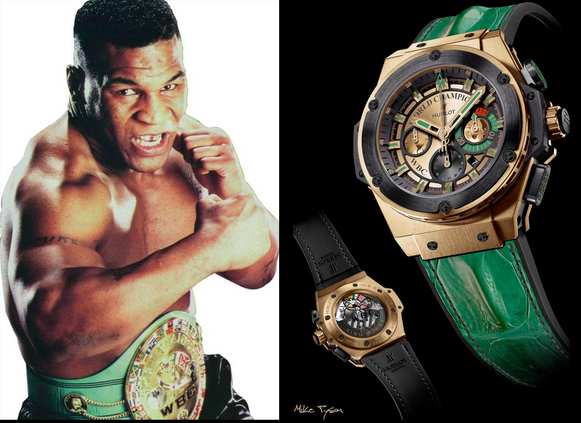 At another Hublot event for the boxing charity last November, Tyson received another watch. This was the Hublot Big Bang Unico WBC made from green micro-blasted ceramic and presented on a green alligator strap.
Boxing, of course, is a notoriously cruel sport for fighters on the downward slope of their career trajectory. As Willie Pep, the late world featherweight champion once said: "For ageing boxers, first your legs go. Then you lose your reflexes. Then you lose your friends."
Fortunately, time looks like it's being a little kinder to the mighty Mike Tyson, judging by his collection of watches and his lightning speed in recent training clips.