If you're a motoring enthusiast, you know that the glory is in the details. Few vehicle manufacturers latched onto this ethos as much as Italian companies did in the '60s and '70s, designing breathtaking, voluptuous bodywork, with the most luxurious interior touches. Whether it was seats, shift knobs, or the instrument cluster, everything had to be a visual feast. That way, when you put your foot to the floor, you were guaranteed a driving experience that was both beautiful and visceral. Try as they might, modern manufacturers can't reproduce that same feeling, whether it be down to necessary safety features, ever-tightening budget restrictions, or simply just an evolution in tastes. Thankfully, this passion is alive and well in motor-themed watches, as the lust for detail-focused engineering synchronises perfectly with obsessive artistry.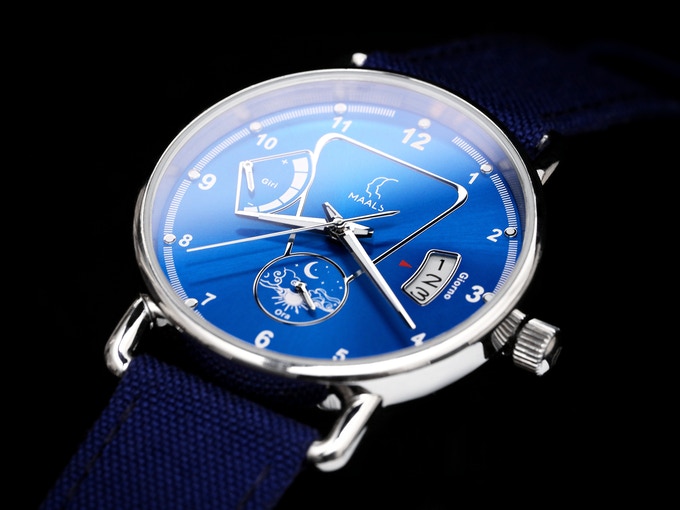 MAALS Watches takes notes from heritage car brands and integrates them into their own personality-driven designs. Where some brands take legendary racing liveries and use those colours on a rather standard-looking watch, MAALS' newest Kickstarter campaign, the Giri Ventiquattro, imbues subtle automotive details within an already highly unique timepiece.

The UK-based micro are doing things with off-the-shelf Miyota movements that aren't really seen anywhere else, such as on their previous release, the Jump Over The Moon, which adapts a rather tame three-hand and moonphase quartz movement into a jump hour watch, dripping in retro styling and appearing to have been ripped from a vintage car's dash.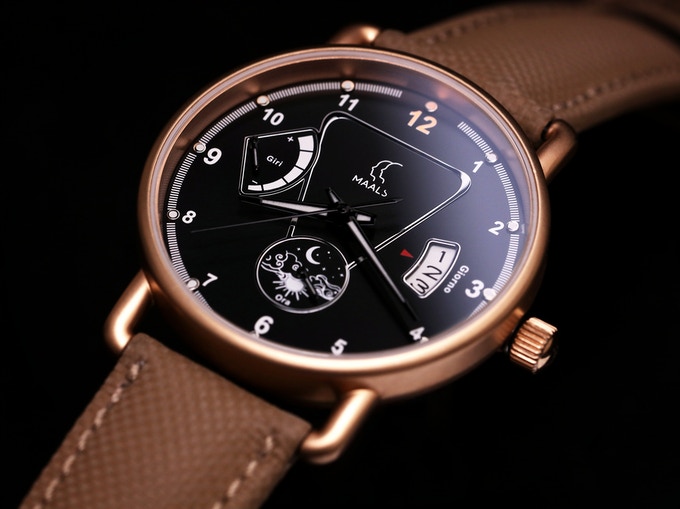 When you first see the Giri Ventiquattro, you instantly know that this is something special. The 'evocative' triangle, as seen on Alfa Romeo front grilles, makes a return on this model. However, this time it's interrupted by a 24-hour sub-dial at the bottom, with a mystical and charming design of a sun and moon instead of simple hour markers. The Alfa Romeo nods continue with Italian script, also denoting the dial's power reserve and date functions. The 40mm diameter and lack of bezel means that the watch has a lot of wrist presence, but the vintage-style wire lugs keep it easily wearable on smaller wrists.
There are four variations, each giving their own slight twist to the personality of the Giri Ventiquattro. The standard steel-cased blue dial offers the most pure experience, with a stealthy black-on-black DLC-coated model honing in on some modern aggression.
The rose gold case with black dial edges the design into dressy territory, which is aided by the dial's sleek execution despite its sporty intentions. The most intriguing variant is the black DLC case with a fully luminous dial, and skeleton hands letting the dial shine through from underneath. The lume colour isn't a sickly green or blue as we're used to, but rather an attractive burnt orange, bordering on shell pink.
The caseback is just as lovely to look at as the front of the watch, featuring more artwork from Okse, who was commissioned for the 24-hour sub-dial design. I'm not sure exactly what Alfa Romeo has to do with an astronaut spinning the Earth on their finger, but it looks too good to care.
The etching is below a display window, which solves the argument about whether seeing the inner workings is better than a nice design or artwork. The Miyota 9134 is one of their premium movements, showing a bit more decoration than one might expect from a budget Japanese model.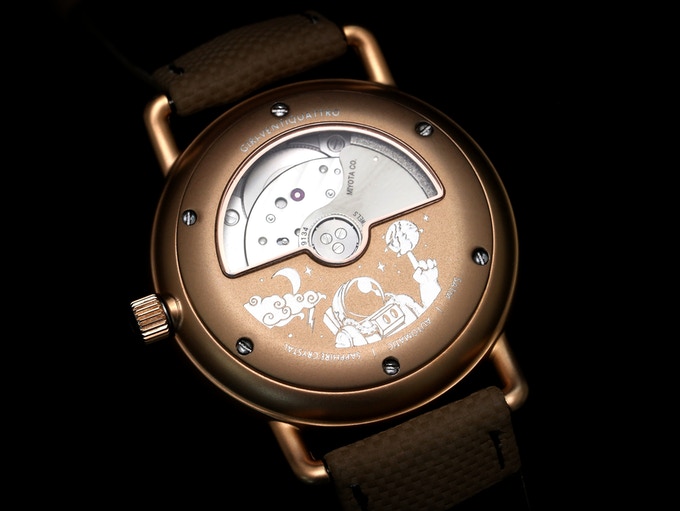 Its 28,800 vph beat rate and 40-hour power reserve are more than adequate specifications, which should keep good time.
You can really feel the family-owned purity coming from MAALS, somewhat from their playful descriptions often citing their own geekiness, but mainly from their ability to come up with mould-breaking watches that prioritise character over trends. Whether or not the Giri Ventiquattro is for you, MAALS are definitely a microbrand to keep track of.
MAALS Giri Ventiquattro price and availability:
The MAALS Giri Ventiquattro is £350 (during pre-order) for any of the four colours, and is available for pre-order now until September 25. For more details, visit MAALS right here.