MICRO MONDAYS: Straum's debut combines Viking myths with modern luxury
Thor Svaboe
The Nordic region has only a small clutch of watch brands and they just seem to have a different air about them. Brands like Bravur and Linde Werdelin all create their own wrist-worn worlds through inspired design while ignoring retro fads. Straum is all this and more, a new brand that taps into a rich vein of Norwegian nature and stories from the Viking age with rich dial art and a Swiss-made focus on the all important small details. The result is one of this year's strongest microbrand debuts.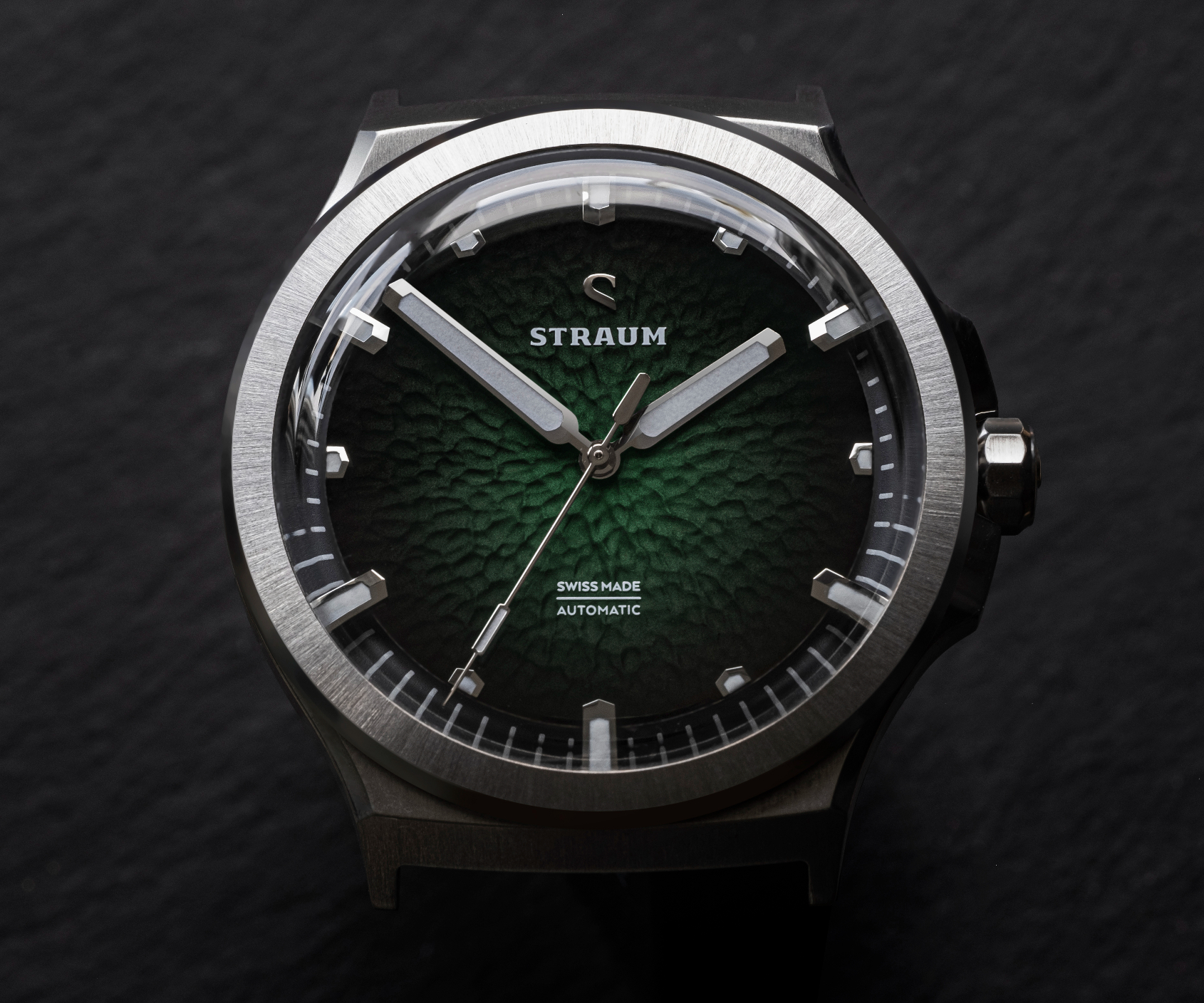 I'm desperately trying to be objective (while waving a big flag) as I introduce the first Norwegian microbrand we have covered. Straum's watches may be manufactured in Switzerland but they also reveal a strong Nordic spirit.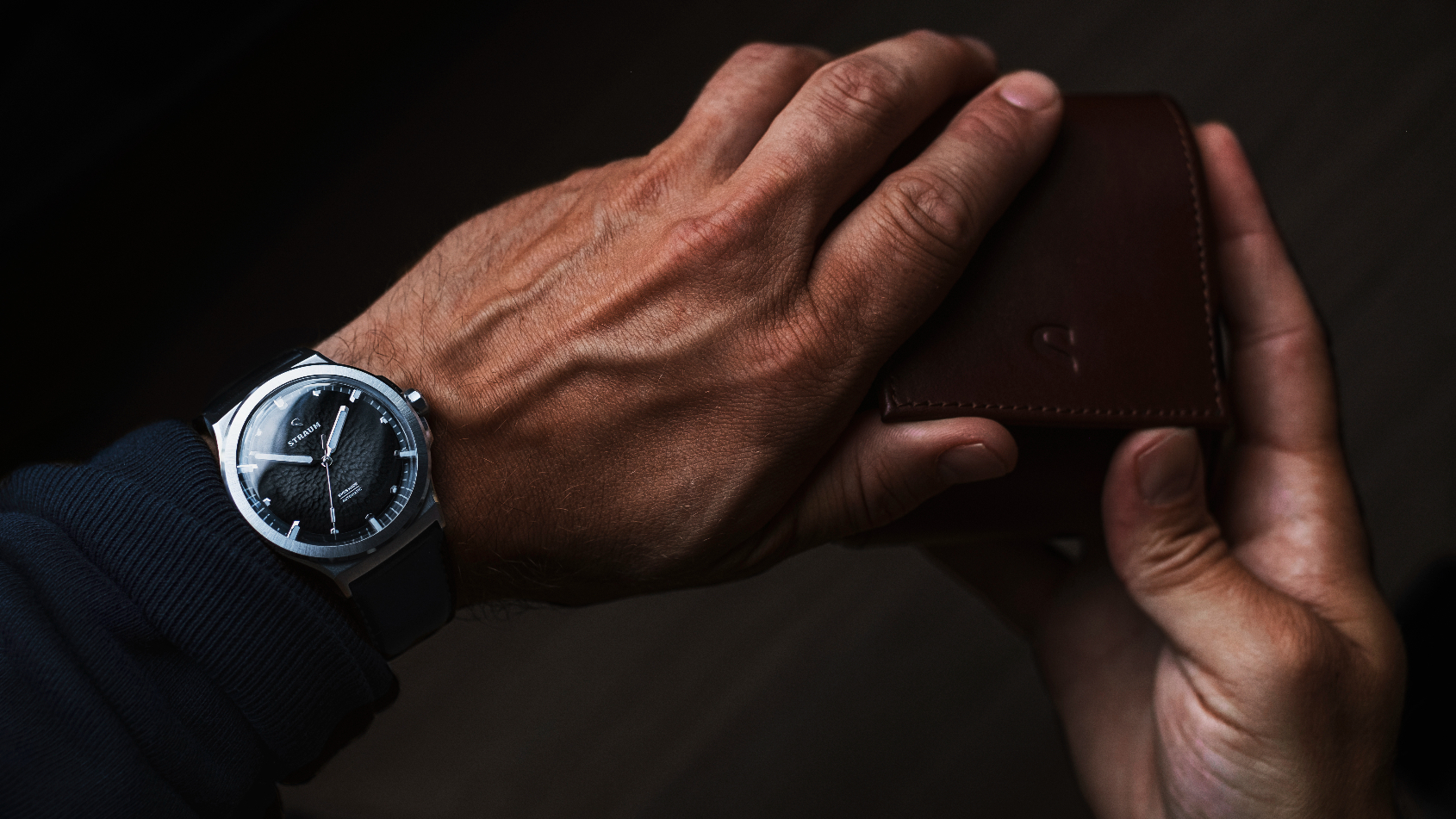 We all know the tried and tested approach of 1960s' tool watches, and the market laps them up. Find a fairly ubiquitous catalogue 316L case of 38-40mm and Fifty Fathoms-type shape, get a decent graphic designer to help with some retro typefaces, and you might have a hit in 2021 (but don't quote me on that).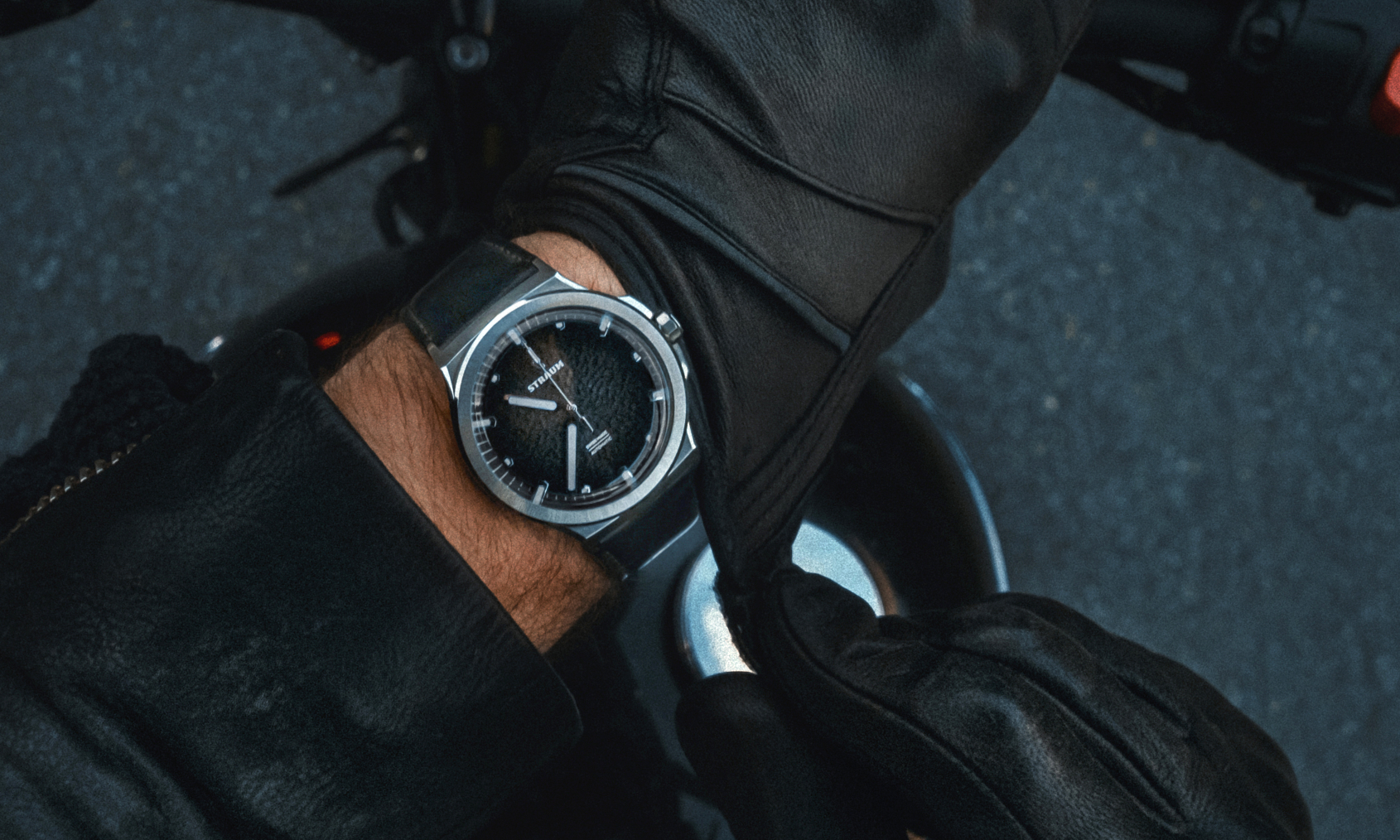 Straum is taking a refreshingly different approach. They're playing the long game with their Rastarkalv and Opphav pieces that walk the tightrope of modern sports luxury. After five years of research, Lasse Roxrud Farstad and Øystein Helle Husby at Straum seem to have hit the sweet spot with their debut and done so without the faintest hint of fauxtina.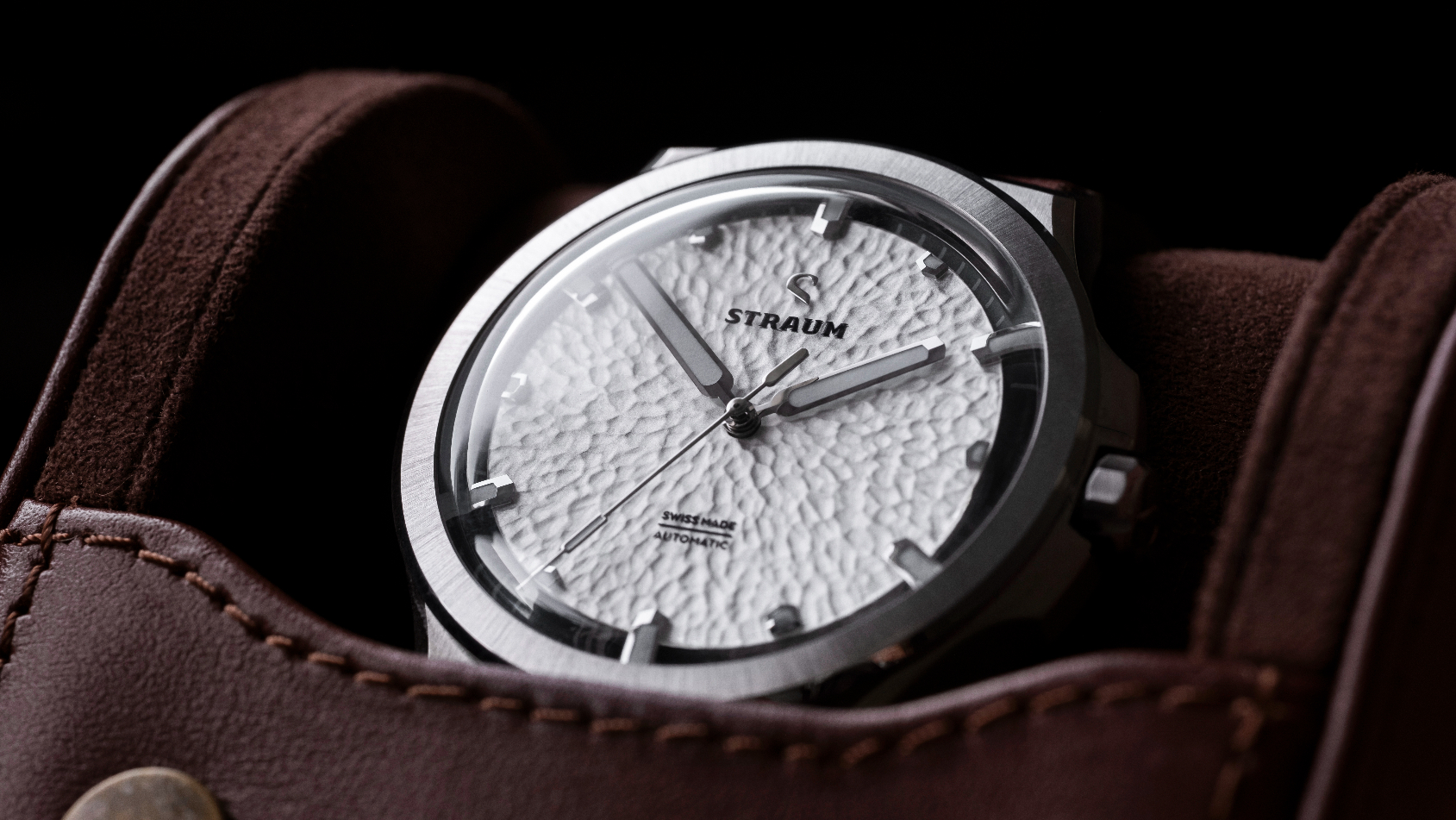 "Our mission is to explore Norway, find captivating stories, and present these stories in premium, high-quality mechanical watches." said Lasse in a chat last week.  "We pick our inspiration from the rough nature of Norway, finding excitement in the juxtaposition of the rough with the sophisticated", says Lasse.

As a first impression I'm getting a vibe of Hublot's taut Classic Fusion line mixed with a Grand Seiko-esque dial, and just like that, your attention is well and truly grabbed. Five points to Straum right there.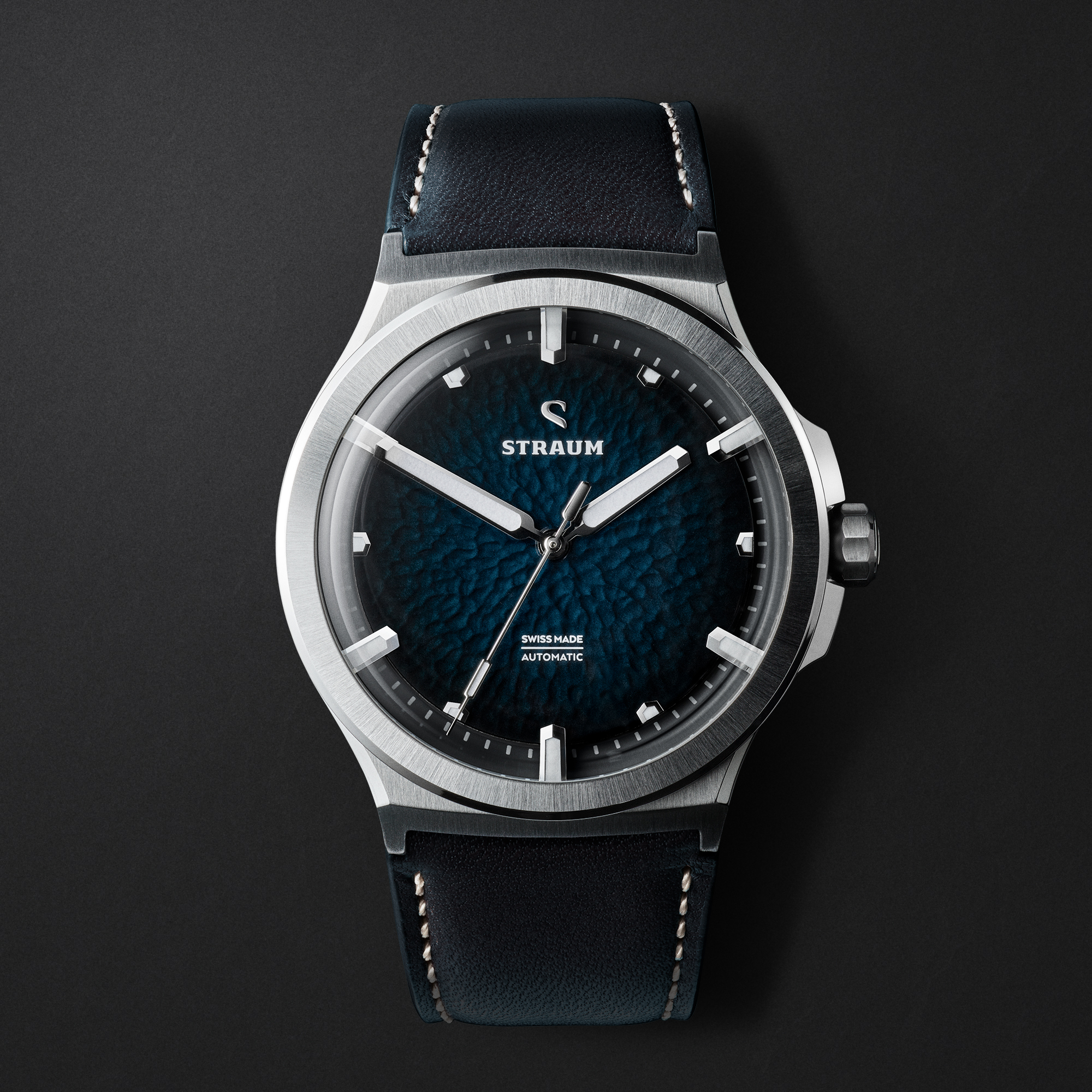 From an ice-cool silvery white looking like the surface of fresh snow on a craggy mountain, to a deep lush green evoking Nordic forests or the dark blue of the North Sea, the inspiration is clear as it draws you in to discover more.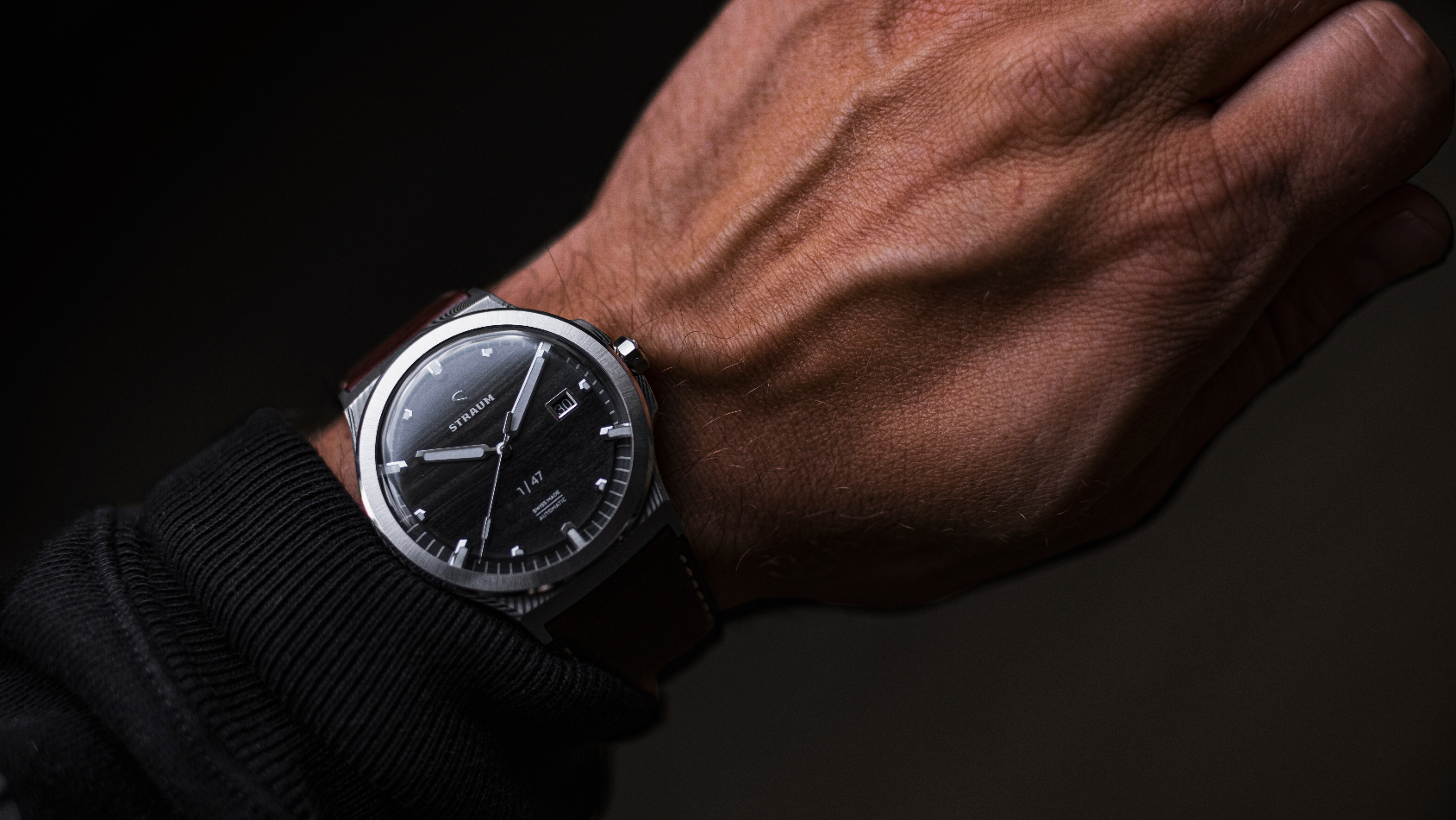 Rastarkalv, their limited edition of 47 numbered watches, has a vivid, rich dial made from 3300 year old wood, dug up from the deep swamps of the Frei Island. This location bore witness to one of the great Viking battles in the year 955, determining in part what we know know as the foundations of Norway as a nation. These wooden dials are set within a Damascus steel case, a process of heating and folding steel akin to the ancient art of swordmaking, meaning that no two cases are alike.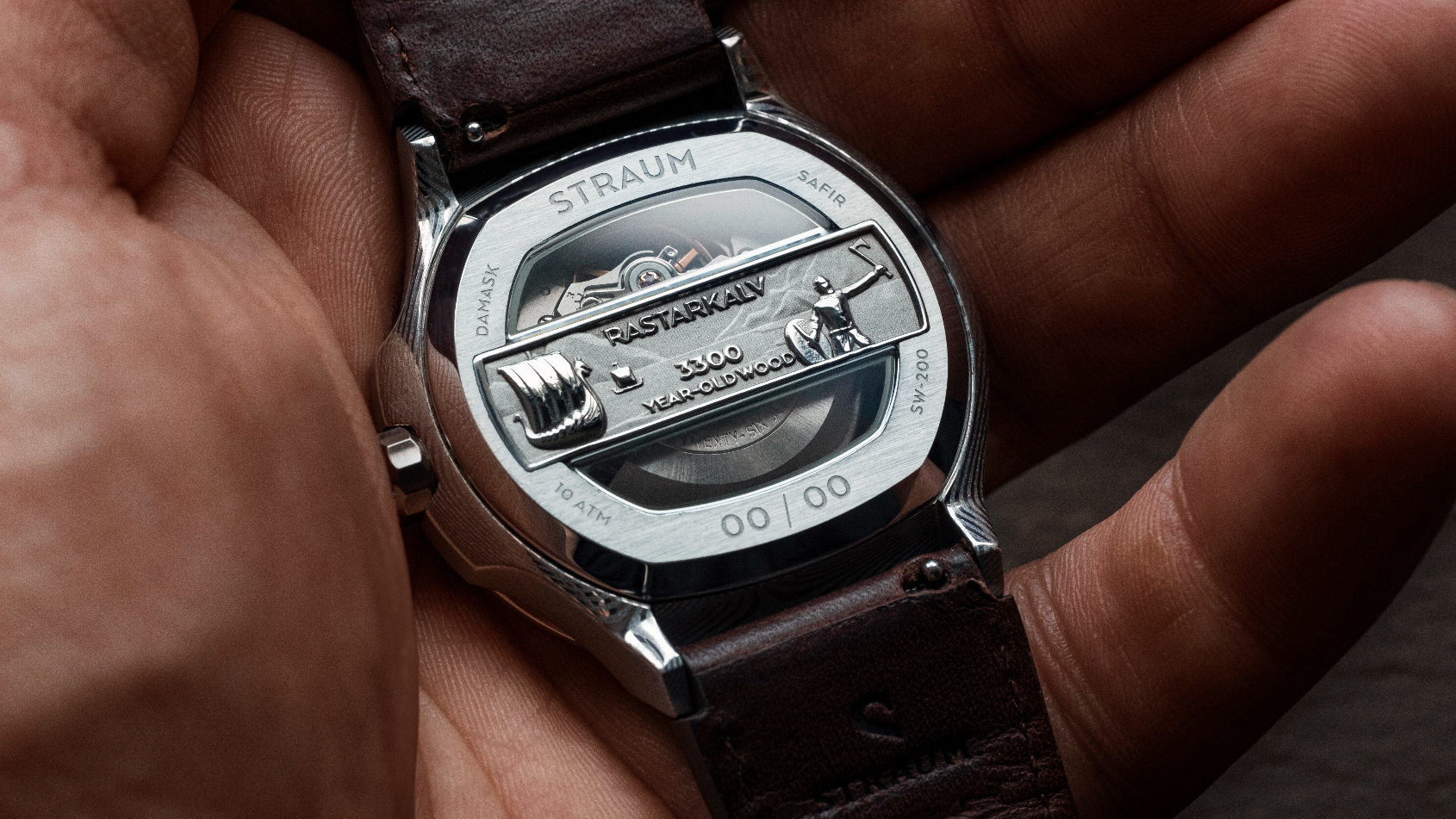 With the elegant steel dialled Opphav meanwhile, Straum has managed to toe the line between sports and formality.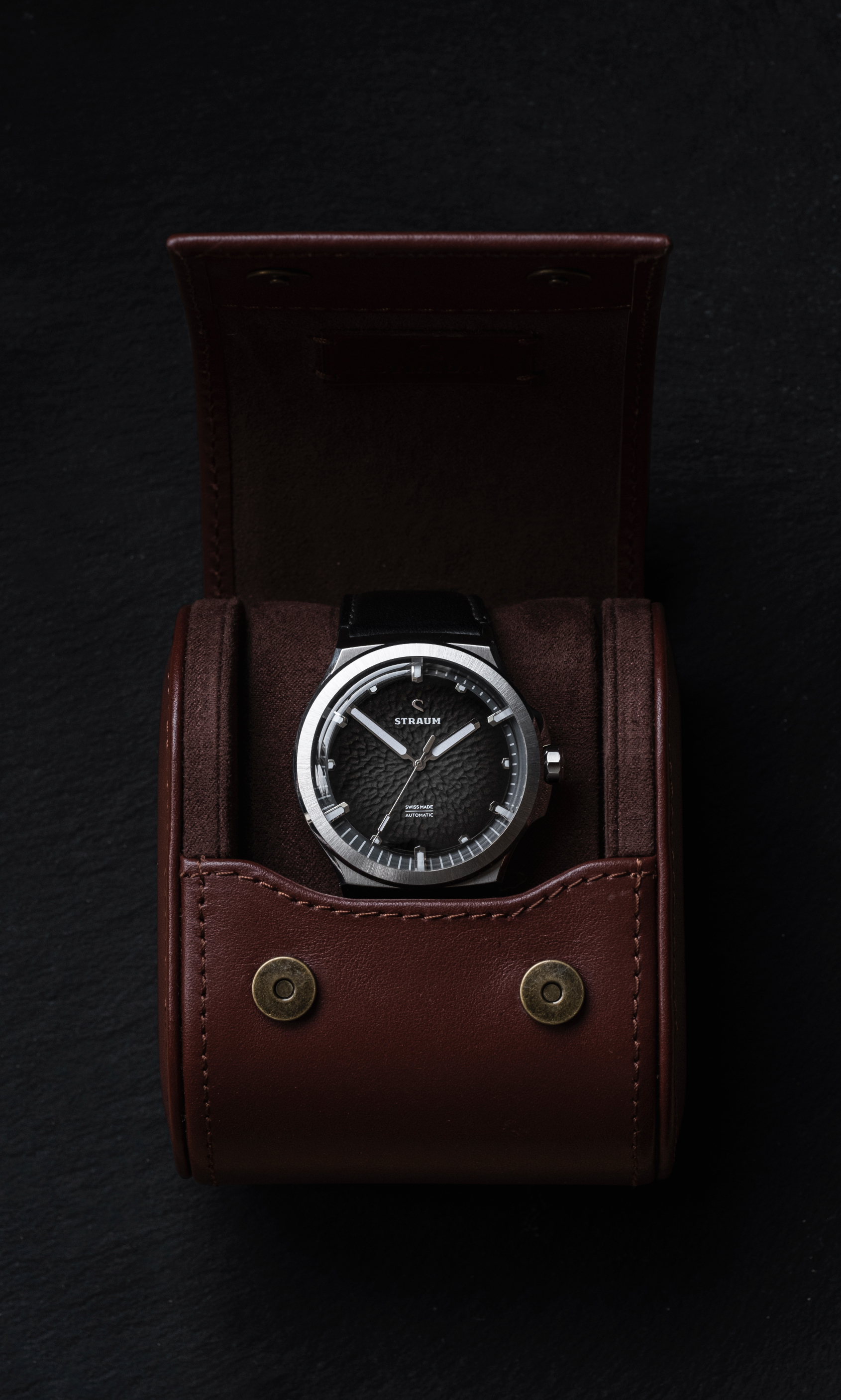 After a brief glance within the sharp, brushed bezel, you encounter a deep gloss darkness in green, blue or anthracite, with a hypnotic 3D pattern emerging, like hammered metal under glass. Within the radially brushed bezel, lumed bold indexes grip a dial whose lacquerwork reads like a Nordic translation of Japanese dial art.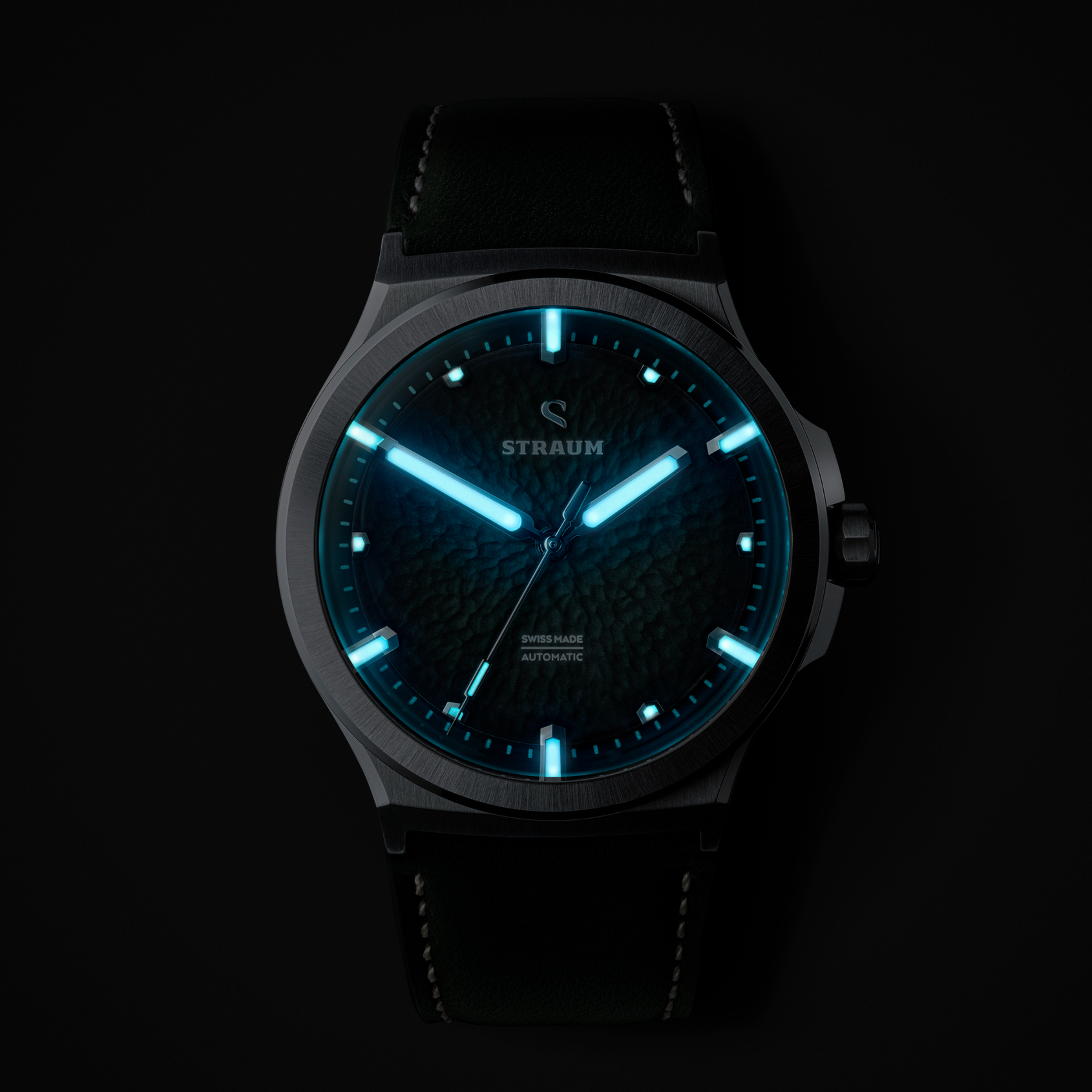 This transports you into the deep forests and Tolkien-like raw nature of the North. With a sharp mastery of brush and bevel, and a sweeping dynamic, the design is very much its own. So while the 41mm case has a hint of a certain porthole-design, it is slender at 11mm, and resolutely modern. On the wrist (yes, I have had a prototype here), the case sits ergonomically hugging your wrist, and the combination of angled case ends with a wide and supple leather strap delivers palpable comfort.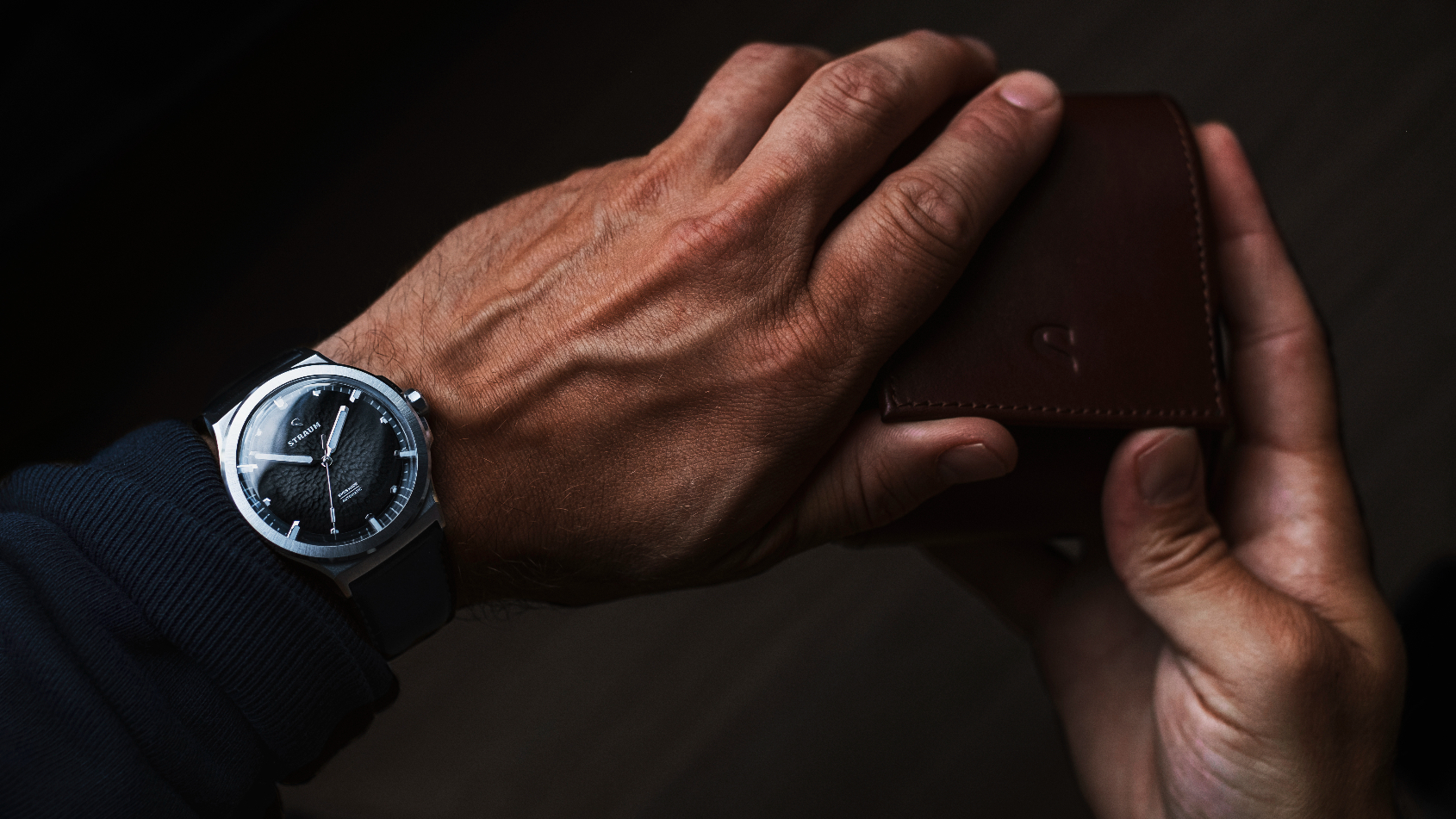 This strong debut with beguiling dials and a soft vegetable tanned leather strap makes this the strongest Nordic microbrand debut of the year. All watches come with a leather travel case, another part in what is a premium debut by two designers that understand that the Nordic Gods are indeed in the details. Now let's petition them for an integrated bracelet.
The Straum Opphav and Rastarkalv, price and availability:
The Straum Opphav in silver, green, blue or grey is $990USD on a vegetable tanned leather strap
The Straum Rastarkalv is limited to 47 numbered pieces at $1990USD on a vegetable tanned leather strap
For more details, visit Straum right here