MICRO MONDAYS: The Pynchon Watches Negotium brings back heritage charm in a calendar watch with a difference
Thor Svaboe
Many microbrands cater to our strong desire for vintage divers. This makes it increasingly frustrating if, like myself, you have a penchant for slim skin divers with a '60s look and feel. You run the risk of eventually going broke or getting decision fatigue with such a vast choice of watches jostling for your attention. Besides, I only have one watch box, and double-wristing isn't really my thing. That's why there is a gap in the market for the return of classic formality, visible in many of the larger brands, but often passed on by the smaller debutants. Pynchon has the finger on the pulse of this important niche with four versions of their refined new release with a calendar complication. In fact, the Pynchon Watches Negotium might just be your best entry ticket to the world of classic elegance with a twist of complexity.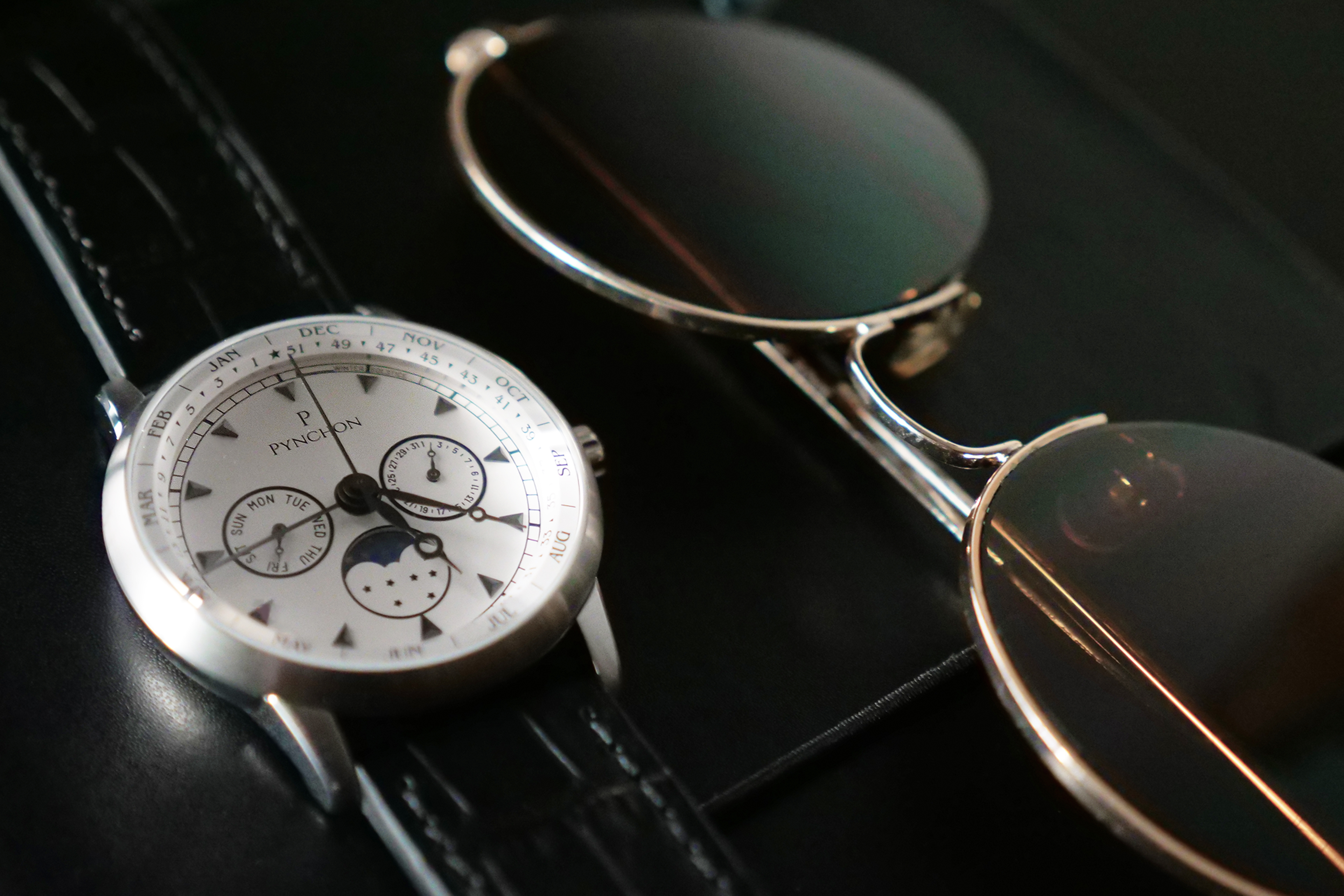 The Negotium comes with a round case that drops away from the crystal with a slim side profile and a non-bezel design to leave the attention focused on a dial with classic details. The functional, logoed crown is flanked by inset pushers for calendar adjustments while the case is framed by rounded, sweeping lugs.

With the reliability of a Swiss quartz movement, Pynchon brings superb value to what is a highly functional calendar dial. Useful? I'd say it's made for those of us that, frankly, are having quite enough of Outlook calendar reminders, Zoom meetings, and the incessant buzz of the mobile.
From the rose-gold PVD case with its rich black dial, to the crisp white reference with its black laquered Breguet-style hands, the dial is packed with information, but in an elegant mid-century design. The tall rehaut has a full monthly calendar, dropping at an angle towards the minute railway track with the oft neglected but, for us Europeans, immensely useful week number, annoyingly omitted from my iPhone calendar.
The minute track doubles as an indicator for the seasons of the year, while the three delicately recessed registers are for days, date and the delightful bonus of a moonphase. For the pre-order price, I would say the Pynchon Negotium simply represents a value proposition like few others with a generous choice of colours from flashy blue on a matching navy strap, to clean monochrome white, to the formal choice of black.
The Pynchon Negotium comes in a 41.5mm case with a 12.45mm thickness, powered by a Swiss Ronda Normtech movement. The four references come with matching alligator leather straps, and have a depth rating of 100 metres, making it a great dressy, everyday wearer that will love to suit up for the high life.
It's a strong debut that will stand out from the usual tool watch crowd in this busy price segment. We are already intrigued as to what will be the next chapters in the story of Pynchon Watches.
The Pynchon Negotium, Price and Availability:
The Pynchon Negotium in rose gold will be available for a preorder price of  £299
The Pynchon Negotium in navy, black or white will be available for a preorder price of  £289
All available directly from Pynchon Watches Ltd.
Made in partnership with Pynchon Watches Ltd. However, the opinions expressed in this article are our own in accordance with our Editorial Policy.