Normally, when the name Transylvania is uttered, a certain fictional monster comes to mind. But for this week's Micro Mondays, we're taking a look at something hailing from the gothic region of Romania that doesn't want to suck your blood … just your bank account. And not nearly as vociferously as many rival brands.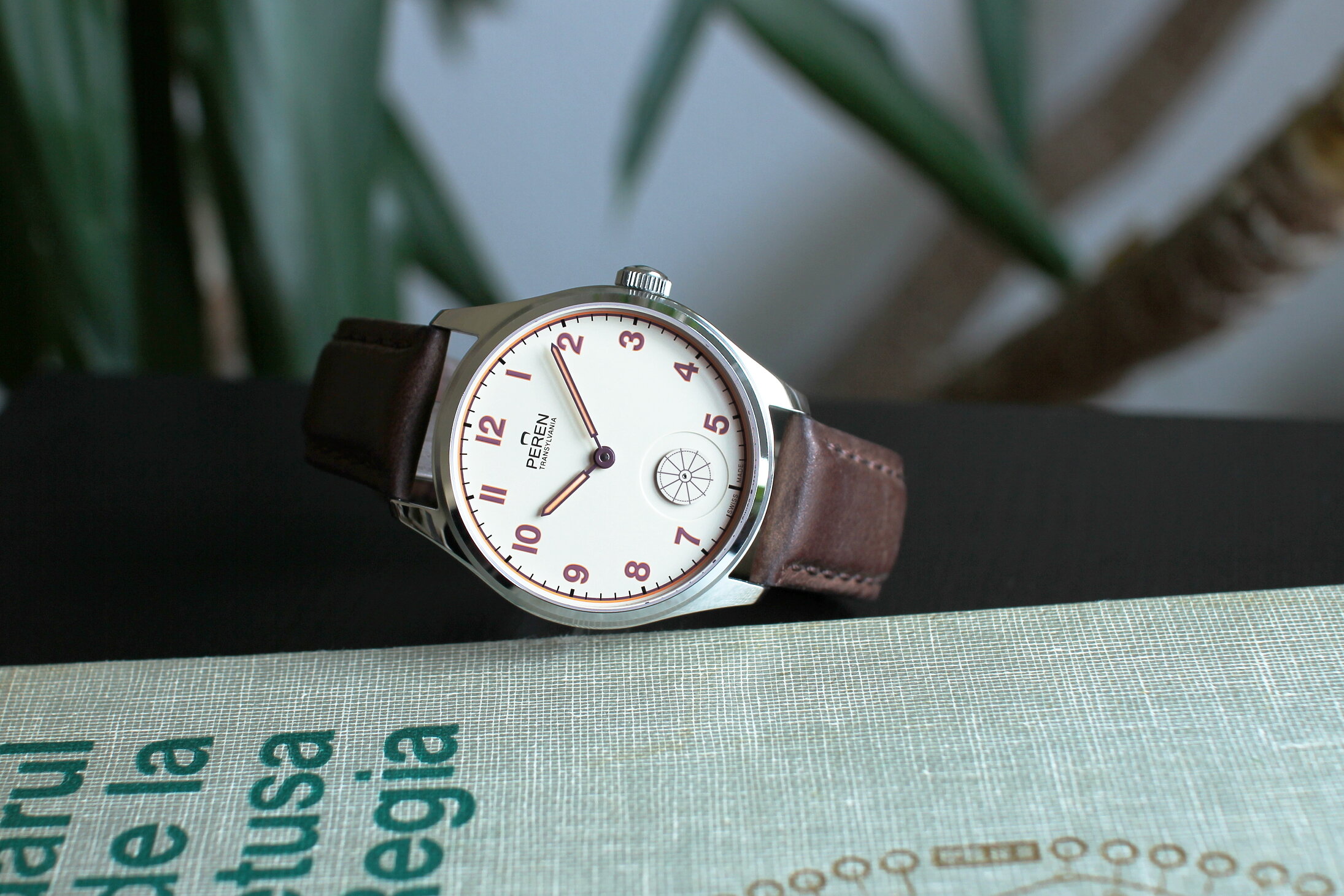 Peren watches, short for the word perennial, is a micro watchmaker that aims to pay homage to the inimitable terroir from which it originates, while also embracing traditional avenues of Swiss horology. They haven't been around for long, but the outfit has already released some great watches, such as the Nera, SOD and Classic.
Their latest timepiece, the Hintz, is a field watch that blends timeless characteristics with a few unique twists, and honours one of Transylvania's oldest watchmakers – Eugen Hintz. We've had this watch on our radar here at T+T for quite some time, and were very happy when Peren sent us a prototype, so we could go hands-on with the handsome timepiece. These are our initial impressions.
The case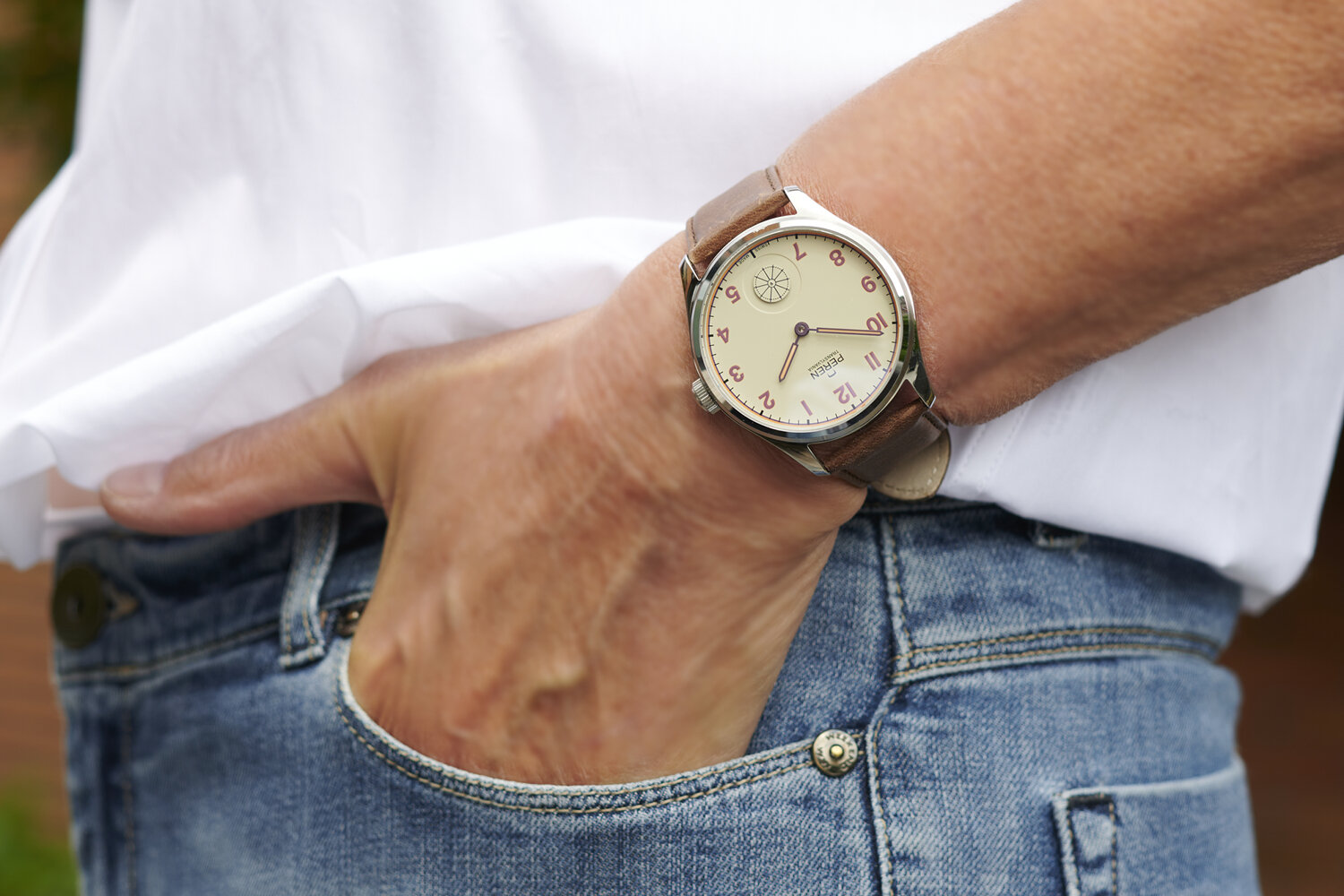 Hewn from 316L grade stainless steel and measuring a larger than expected 42.5mm across, 11.2mm thick and 22mm lug to lug, the Hintz's case is quite traditional, with short, tapered lugs and a diminutive knurled crown. Finishing is an attractive combo that sees both the top of the lugs and top of the bevelled bezel highly polished, while the flanks of the case and bezel feature concentric brush work.
Although only utilising a pull-out crown, the case is still good for 100 metres of water resistance, which makes the Hintz a more attractive everyday proposition. Peren has gone for a simple flat sapphire crystal with three layers of an anti-reflective coating for the glass, and between it and the no-nonsense dial design, legibility is superlative. We're also big fans of the display caseback, which features a very large aperture with minimal border, which gives owners a great vista to the Hintz's beating heart.
The movement
Peren hasn't scrimped on the movement of the Hintz – they've invested in third-party Swiss movement makers, ETA, and sourced their trusty small second Hunter Calibre 6498-1 UNITAS. This hand-wound movement beats away at 18,000 (2.5Hz) vibrations per hour, has 17 jewels and an impressive 52 hours of power reserve. What's more, Peren will offer you the calibre in two different forms of finishing – standard, or a more decorated "Élaboré". Our prototype's movement came equipped with the latter and, it's gotta be said, it's a darn handsome movement when given the ol' Geneva stripes and blued steel screw treatment, and we'd fork out the extra cash for the decoration if it were our coin.
The dial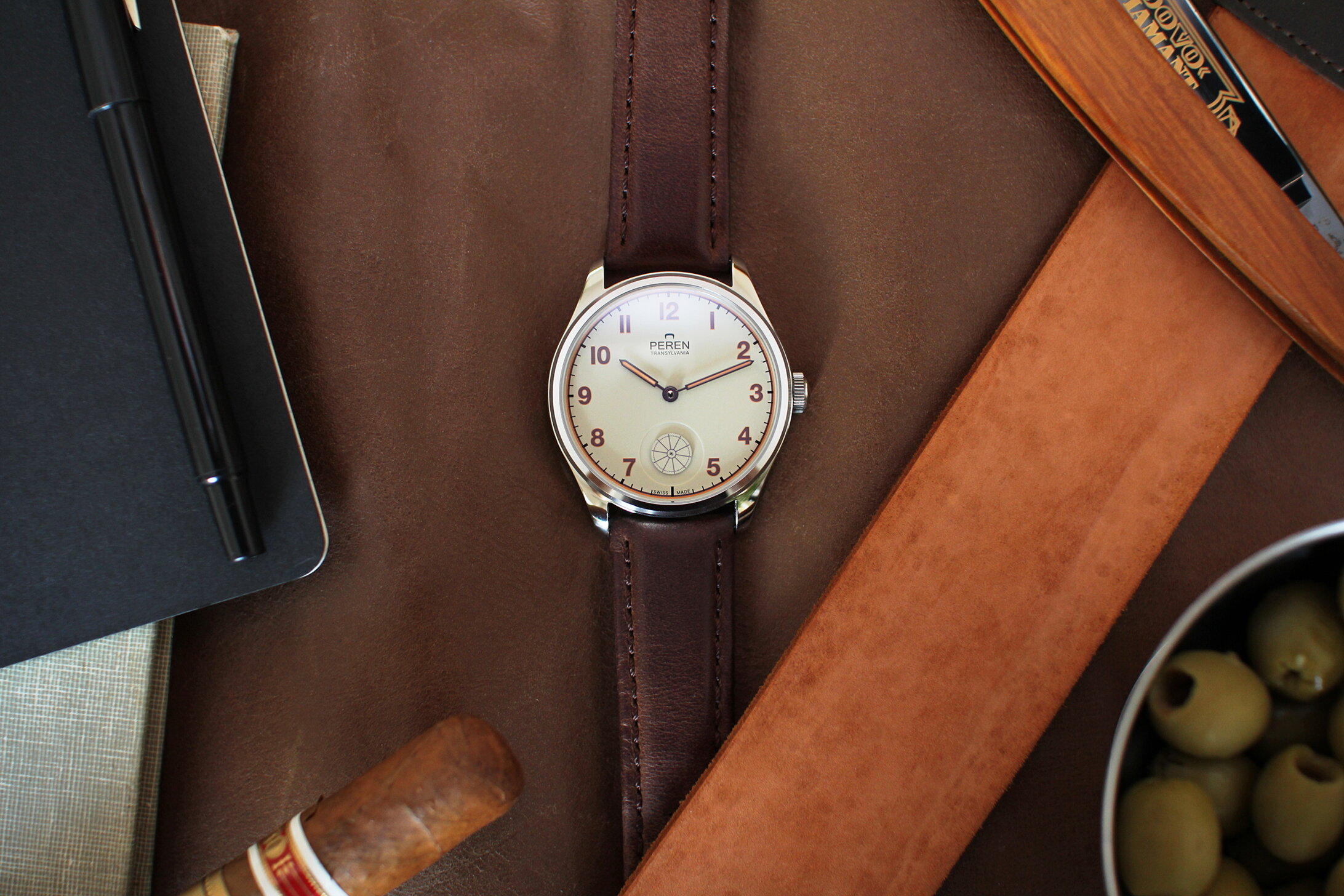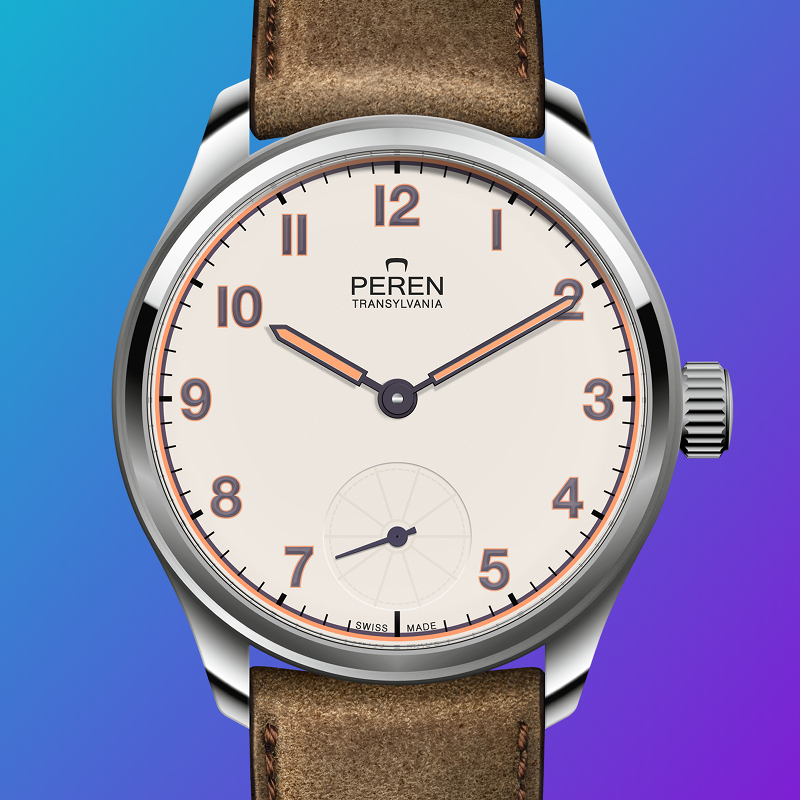 Creamy beige dials can look horrid if not done right, but Peren has pulled it off with aplomb – it's a good-looking thing, and easily my favourite part of the watch. There's a thin orange and aubergine border that surrounds the dial, and these two funky colours also feature on the handset and embossed Arabic numerals, which also both score a Super-LumiNova treatment. Perhaps the most notable thing about the dial, however, is the two different small seconds displays on offer. The first is an aluminium disc that's meant to portray Transylvania's famed "Andesite Sun", a giant disc-shaped rock display found next to one of the province's oldest ancient calendars. The second is a more traditional small seconds display with a slender steel hand. Our watch came with the Andesite Sun small seconds display, and we found it charming, like a miniature watermill wheel spinning calmly in a current.
On the wrist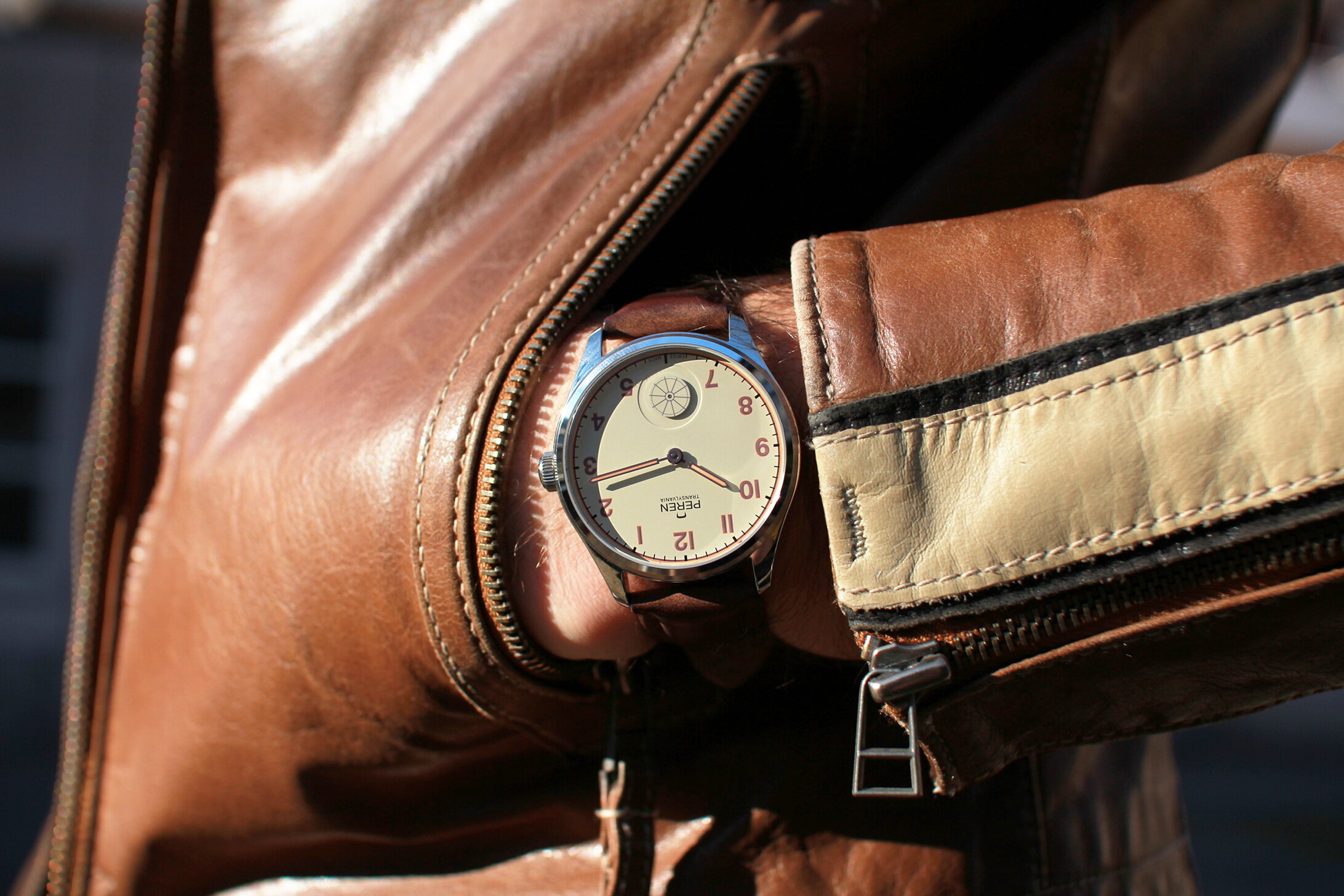 While we were initially put off by the size of it, the Peren Hintz is actually a pretty handy thing to wear around town. It's comfortable, and the tan brown leather band with pin buckle that it comes with makes it easy to pair with just about anything you care to wear. As mentioned earlier, thanks to the dial and crystal combo, legibility is a breeze in all conditions, and it kept good accuracy in the time we had it. A slightly quirky thing that we also noticed – in quiet rooms, you can clearly hear the hand-wound movement ticking away, much like an old pocket watch, which we found calming.
Verdict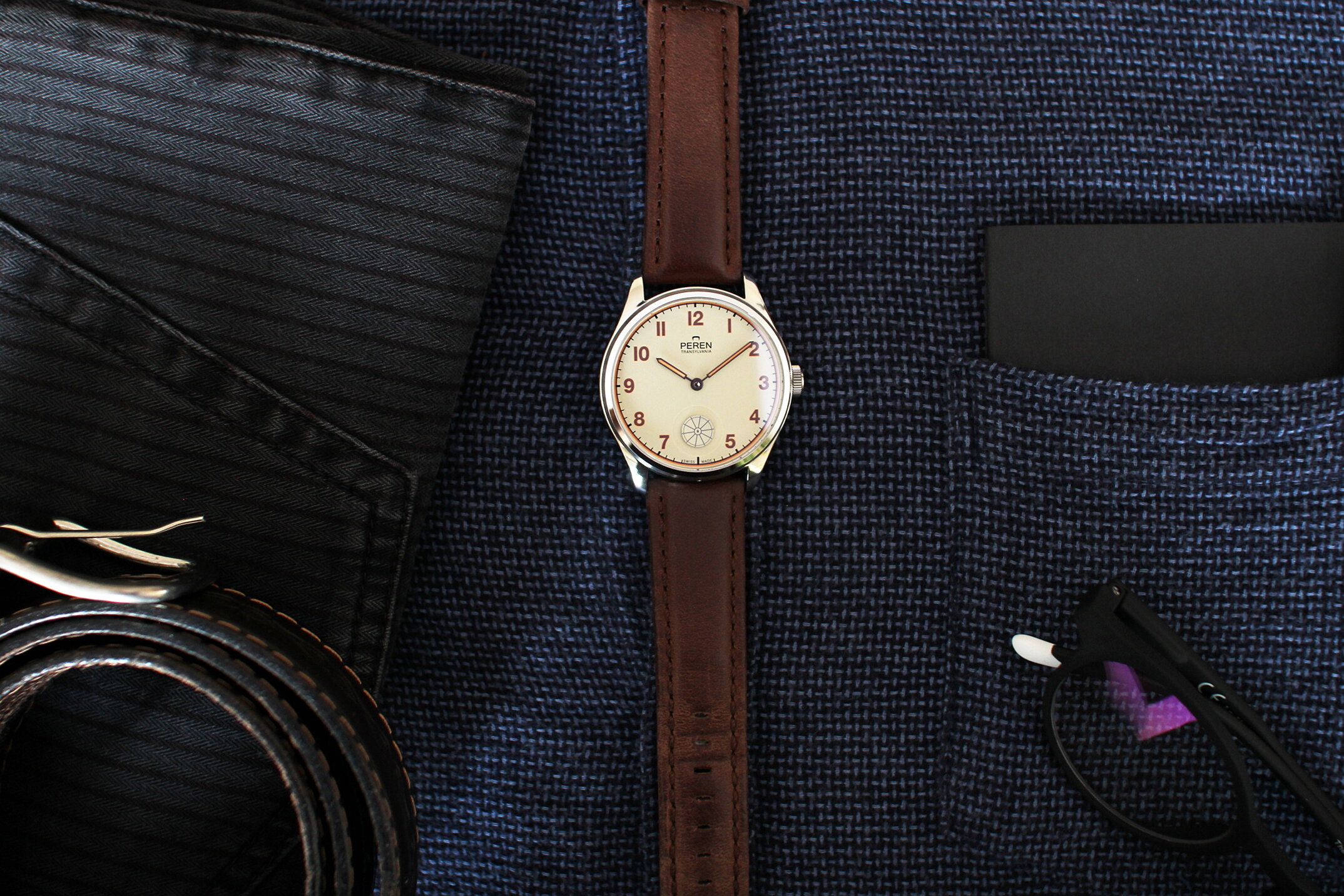 For around $1000 AUD, the Peren Hintz is a fun, legible, charming and left-field proposition that does offer a unique personality you won't find anywhere else. Nothing about it is profound or revelatory – it's just a good watch that goes about things a little differently, and if you like the look of it, you can pre-order one by clicking right here.