Was Conor McGregor's latest 'retro' Rolex Day-Date purchase inspired by Tupac?
Zach Blass
Well, Conor McGregor is already at it again. In the wake of two bold Jacob & Co. acquisitions, the UFC superstar has now added some more bling to his collection – only this time he went with a classic 36mm yellow gold Rolex Day-Date ref. 128348RBR with a green ombré dial with diamond markers and diamonds set into the bezel and centre links of the presidential bracelet.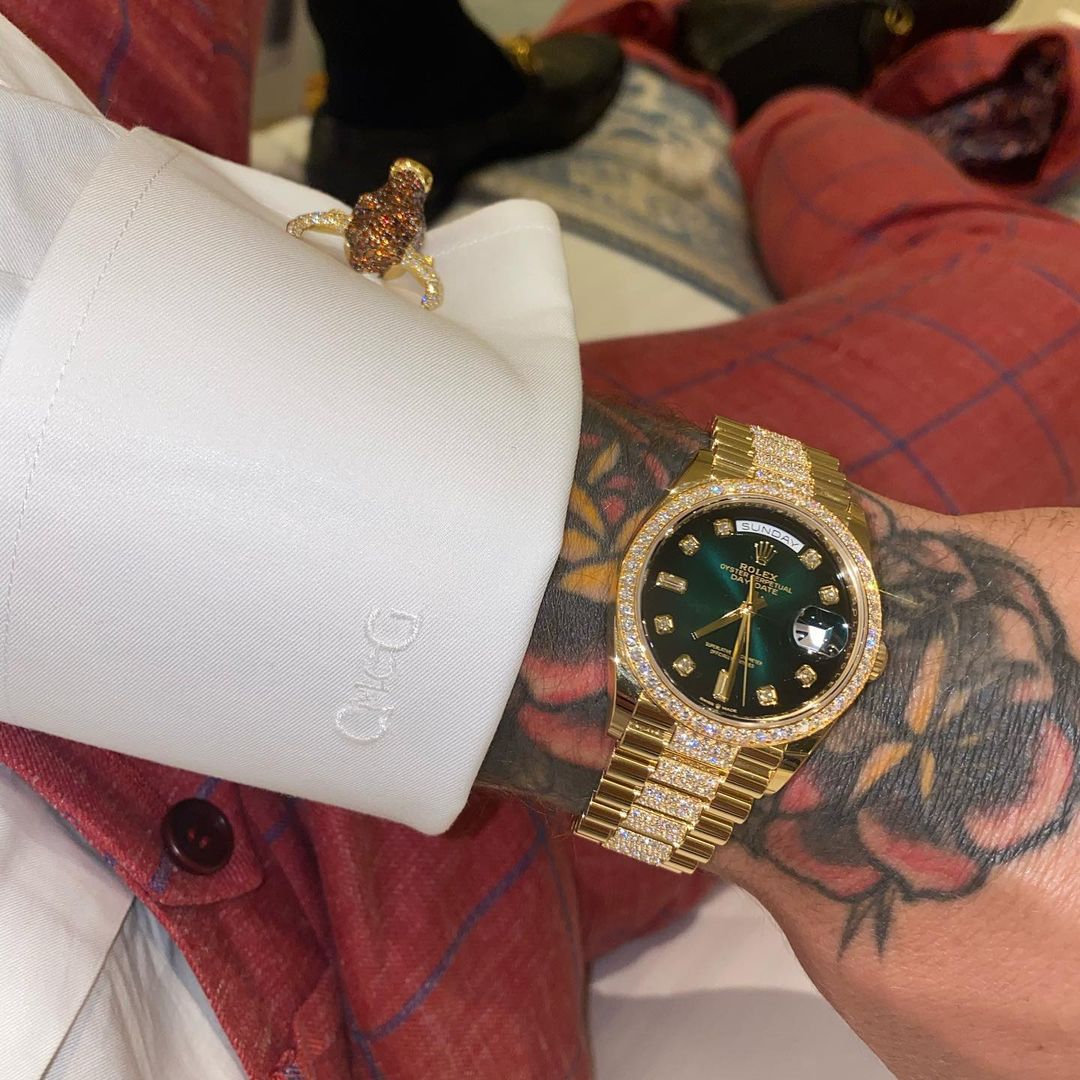 McGregor is no stranger to Rolex watches. He has added many pieces from the crown to his collection already, but two things about this latest acquisition deviate from his normal taste and preferences. First, he's previously opted for larger case sizes. Most, if not all, what he has previously been photographed wearing are at least 40mm in diameter (i.e the Daytona, Sky-Dweller, Day-Date 40, Yachmaster II etc).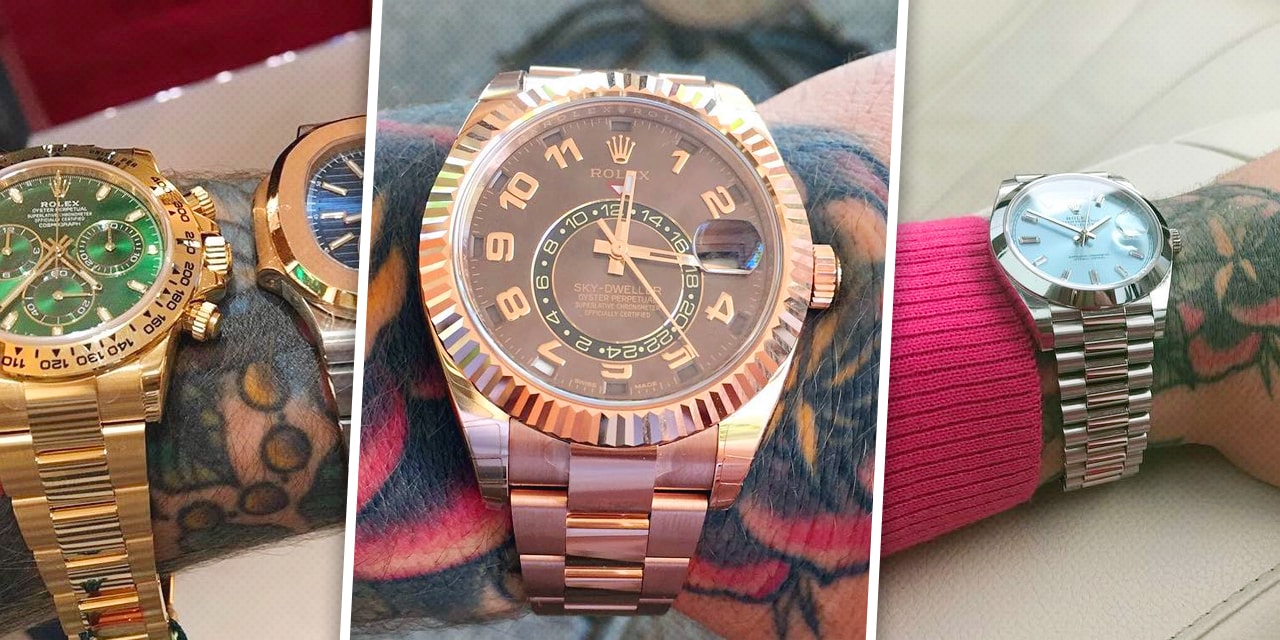 Secondly, while by no means his first diamond set watch, it would seem this is the first diamond-set Rolex watch to enter his collection. He has been pictured with diamond-encrusted Franck Mueller, Audemars Piguet, and most recently his two new Jacob & Co. watches, but today he adds Rolex to the list. Unfortunately we cannot share the price of the watch, as any number would be pure speculation. This is because the Rolex Day-Date ref. 128348RBR has that mysterious tag of "price upon request".
View this post on Instagram
So why did Conor decide to mix things up a bit with his latest Rolex purchase? It would seem his muse in this instance is none other than legendary rapper Tupac Shakur. In back to back Instagram posts (embedded above and below) he invokes Tupac as a source of inspiration for the purchase. McGregor writes in one of his posts, "New watch, @rolex. A retro styled Day Date of the modern era. Brand new! You won't see this green often, nor the diamonds wrapped around the barrel in this manner. A timeless, classic, vintage-styled ,modern Rolex watch. Like something you would have seen on Tupac in the '90s. Incredible! #OnlyGodCanJudge."
View this post on Instagram
As the size of his watch collection reflects, McGregor has clearly enjoyed an extremely lucrative career and is now branching out into other ventures such as his own whiskey brand, Proper No. Twelve Irish Whiskey. But having lost three of his last six fights, including being knocked out by Dustin Poirier last month, perhaps he is now beginning to reflect on his legacy as a UFC fighter and how the history books will remember him. Viewed from that context. this new Day-Date watch that he pointedly describes as "timeless" may hold particular appeal. The green dial feels like an obvious nod to his Irish background while the diamonds would be an obvious draw for such an apologetically larger-than-life character.
McGregor is not wrong when he claims the Rolex Day-Date ref. 128348RBR is not a watch you'll often see in the metal. The watch is a part of the current catalogue of Rolex watches, and you can see this from the coronet between the "Swiss Made" notation below the baguette diamond sixth hour marker. Rolex also reserves dials such as this green ombré for precious metal pieces only. Sure we now have Stella-inspired Oyster Perpetuals, but for ombré dials such as this you're going to have to go beyond the entry level of Rolex's catalogue.
Most people associate Rolex with their typical glossy black dials as that is what we generally see with their highly sought after sports watches. But the truth is Rolex manufactures some incredible dials in all manner of interesting tones and textures. As an example, their glacial blue dials are only found in their platinum watches such as the Day-Date 40 Conor McGregor owns and who can forget the leopard Daytona seen on the wrist of Nicolas Cage.
The diamonds may seem like a lot here, but considering what we have seen on the wrists of Floyd Mayweather or Cristiano Ronaldo, this Rolex Day-Date is considerably tamer. To be fair, I would argue of all his timepieces this Rolex matches his character most. The watch has a lot of flair like McGregor, but is also just as tough being a Rolex watch. It may seem blingy on the surface, but don't forget the how solid the build of any Rolex is.
The watch has a highly shock resistant in-house caliber 3255, that boasts a blue parachrom hairspring for anti-magnetism and paraflex shock absorbers to protect the movement against shock. The 70-hour power reserve movement is regulated to their Superlative Chronometer standards, accurate to +/- two seconds per day. Protecting the movement inside is the Oyster Perpetual framework and case architecture, with a crown secured against water with it's twin-lock gaskets – resulting in a depth rating of 100 metres.
Will McGregor only acquire diamond-encrusted timepieces moving forward? It remains to be seen. But in respect to his existing collection I approve of him moving to classically proportioned watches, and am curious to see what he adds next to his remarkable collection of timepieces. One thing is for sure, given McGregor's rate of spending, we won't long to wait until he adds to his ever growing wardrobe of watches.