"Last year reaffirmed to me the psychological value of wearing a watch" – Luke's favourite watches of 2021
Luke Benedictus
Last year, as Melbourne achieved the dubious victory of edging out Buenos Aires to endure the longest hard lockdown in the world, I was mostly working from home. Dear reader, it's fair to say that during this period, sartorial standards took a sharp nosedive. I couldn't get a haircut for almost five months and, at one stage, I opened my wardrobe to find all my leather brogues had been unworn for so long that they'd developed a faint layer of mould.
I eventually snapped out of it, of course. I resurrected my poor shoes and got myself down to the barbers. The result was instantaneous: I immediately felt a whole lot better.
This uplifting effect reminded me of the stories of British officers in prisoner-of-war camps in WWII who doggedly insisted on shaving every day as a way of keeping up morale. It's all about maintaining a sense of control – always useful however deluded it might ultimately be.
Wearing a mechanical watch gives me a similar form of mental armour and 2021 reaffirmed the psychological value of strapping one on. I didn't wear one for a while during the interminable gloom of lockdown. But I always feel more upright, alert and ready for the world with that reassuring weight tethered to the end of my wrist. All of which is a predictably circuitous preamble to revealing my five favourite watches of 2021 with one cheeky wildcard lobbed into the mix…
H. Moser & Cie. Heritage Bronze "Since 1828"
As usual, H.Moser & Cie offered a bunch of watches I could have picked here. The glossy enamel dial of the Heritage Perpetual Calendar Midnight Blue Enamel was pure horological filth, then there was the startling retro futurism of the Streamliner Flyback Chronograph. But my heart was ultimately won by the H. Moser & Cie. Heritage Bronze "Since 1828" (CHF 17,900). 
Released as a limited-edition run of 50 pieces at Dubai Watch Week and sold exclusively through Moser and the Seddiqi family online, the grey/black  fumé sunburst dial provides the backdrop for blinding white numerals that are individually hand-carved in luminous ceramic to deliver a sense of three-dimensional zing. This is encircled by the case made from Cupro-Aluminium Bronze – an alloy that won't result in any of that unsightly grey/green tarnish.
The standout detail for me though is the Cyrillic logo – a nod to the Russian roots of the Moser brand. I've always had a soft spot for the design language and dynamic typography of Soviet constructivism and this is a watch that is brimming with character whether worn on the deck of the Battleship Potemkin or simply down to your local pub.
Grand Seiko Elegance SBGW273
Green – as you've no doubt heard ad nauseam – was the colour of 2021. So I suppose I have to pick one green dial watch for that reason and pistachio is my favourite flavour of ice-cream. The SBGW21 is one of a trio of US-only limited-edition Grand Seiko pieces that came out in a variety of verdant hues.
The 37.3mm fully polished case encircles a heavenly pale green dial that purportedly reflects the colour of new grass sprouting within Japan's Genbi Valley. Sometimes I feel like Grand Seiko ladle on all this "nature of time" stuff a bit too thickly. But marketing claptrap aside, there's no denying that it's a lovely dial with its faint texture the result of a technique called "Kirazuri" in which mica powder is mixed in with paint to add a certain shimmer.
The peacock-blue second hand and glossy brown crocodile-leather strap conspire to milk every drop of wonder from this mesmerising dial. It's priced at $4900 USD, but with only 140 pieces available, the chances of getting your hands on one are regrettably slim. Read more
IWC Pilot's Watch Automatic Edition 'Laureus Sport For Good'
Fancy a great weekend watch? This is your solution for $9950. There's just something compulsively wearable about this limited-edition pilot's watch that celebrates IWC's partnership with the Laureus Sport For Good Foundation. Perhaps it's the medley of soothing blues in the 41mm ceramic case, dial and strap, but the result feels as inviting as your favourite pair of jeans. Throw in the snow-white detailing and the face is clean and serene. Curmudgeonly purists may object to the tip of the second hand having the temerity to add that extra jolt of red, but for me it brings a considered dash of seasoning.  Read more
Omega Seamaster 300 Bronze Gold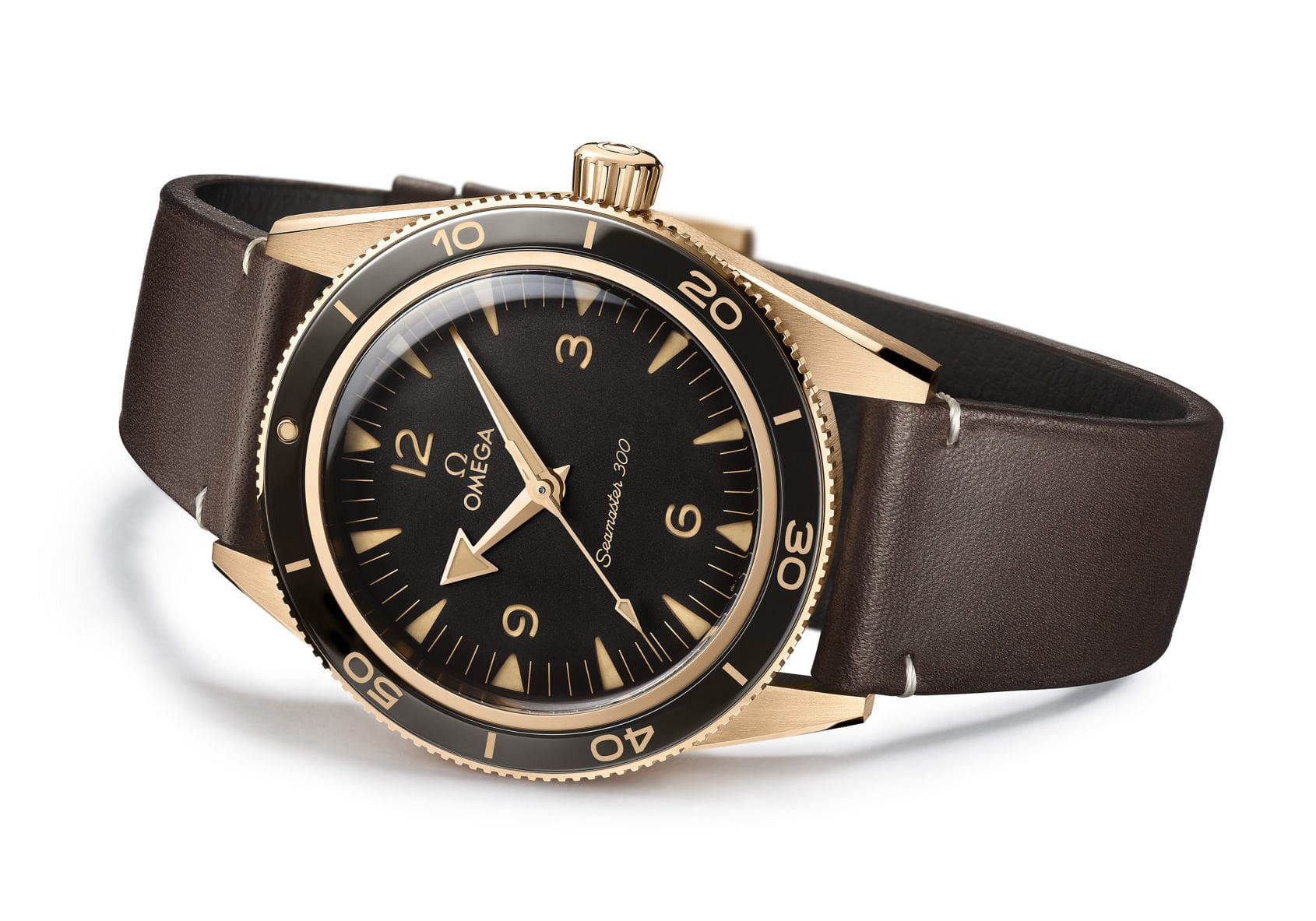 Patina has undergone a strange form of deification in recent years for its ability to add character and a certain weathered charm. But not all patina is equal – some bronze develops an unsightly grey-green tone that can also rub off on your wrist. Omega's extravagant solution to this problem was to develop its very own bronze alloy comprising 37.5 per cent gold. This new material will still gradually patina but without deadening the metal's lustrous tone and soft pink hue. The result is employed in this handsome brute of a diver, whose retro design cues mask its ultra-modern functionality, METAS-certified master chronometer movement and 300m water resistance.
Yes, some will quibble about a diving watch on a leather strap, but for the rest of us who don't tend to wear scuba gear on a daily basis, frankly who cares?  It's the bronze that's the real story here – the very dark chocolate brown dial highlighting its gorgeous mellow warmth. $17,675
Christian Dior Gem Dior
Shrink it, pink it, cover it with diamonds, and don't worry about a mechanical movement. For many years that felt like the watch industry's prevailing attitude towards women's watches, with the assumption being that dainty aesthetics trumped all other concerns. And, yes, I agree that it's a thoroughly sexist and objectionable approach  – women, of course, deserve fine mechanical watches too.  Unhelpfully, I'm also smitten by the glorious madness of this $98,000 quartz-powered watch.
"Stuff all your golden ratio pontification," French jewellery designer, Victoire de Castellane appears to be saying here. "Symmetry is totally overrated and here is the lopsided proof!"  The case here resembles a drunken octagon with cut-out sides set with turquoise and diamonds encircling a swirling beauty of a malachite dial. The mix-and-match effect continues on the asymmetrical and clasp-less bracelet that's comprised of a rickety jumble of gemstones including lapis lazuli, pink opal and tiger's eye.  The result is cheerfully bonkers – a fever dream of diamond-studded anarchy.