Love is in the air: The Time+Tide team selects their top Valentine's Day watches
Zach Blass
Look. We hope you have already lined up your Valentine's Day gift for your significant other, but, in case you haven't locked something down just yet, we have some last-minute watch suggestions if your love language is horology. In theory, I could have assembled a list of my own selects. But we all have different tastes and perspectives, so I have enlisted the Time+Tide team to fire Cupid's arrows and nominate their top Valentine's Day watches. What does it say about us as watch collectors that many of us picked watches we would wear ourselves?
Andrew's pick: Doxa SUB 200 White Pearl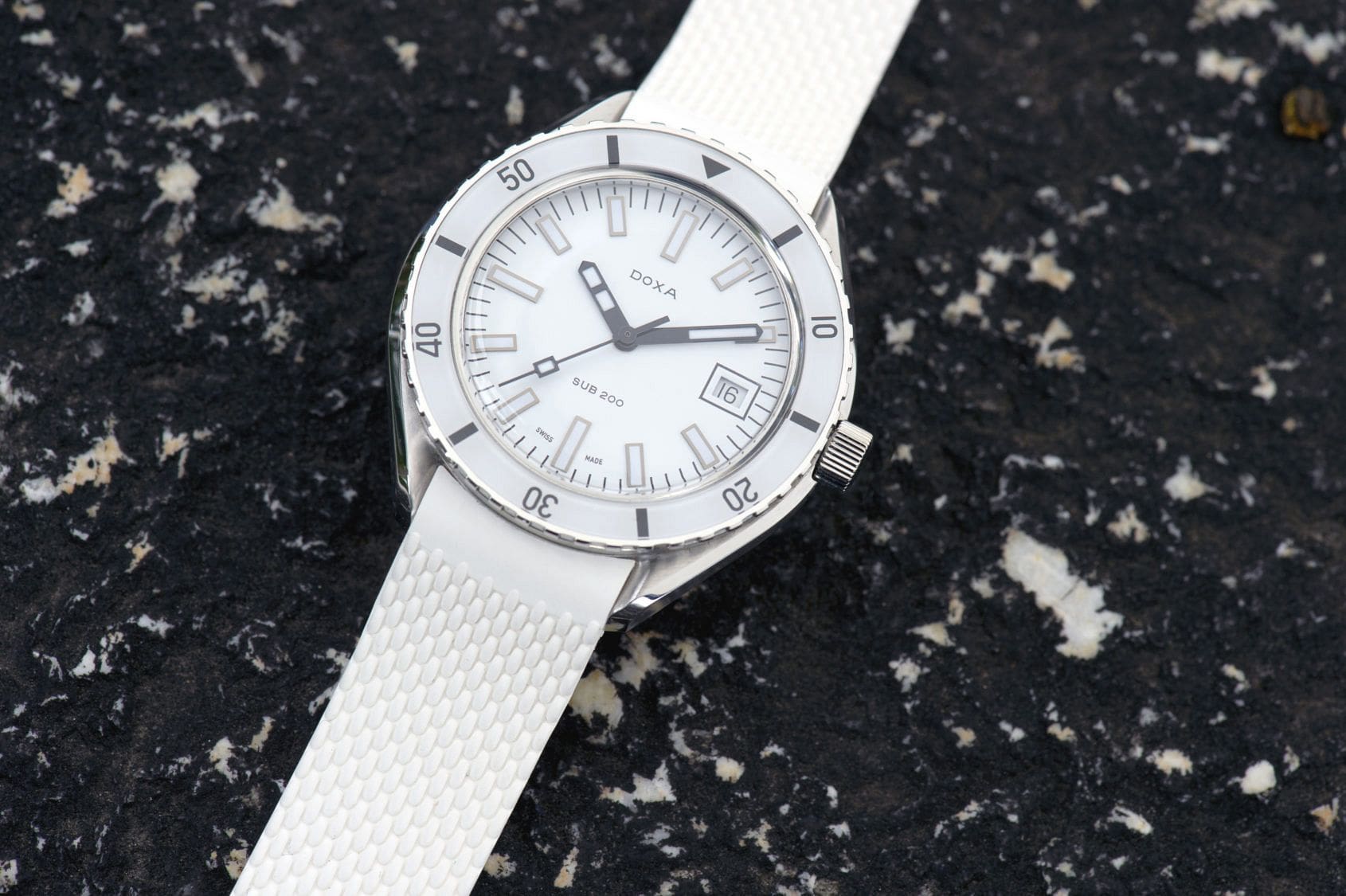 I'm all for mixing romance with horology. Hell, just last year I gave my wife a Zenith DEFY Midnight – still one of my favourite women's watches of recent years. But for my Valentine's Day pick, I'm going to get sneaky and consider a watch that I reckon she'll love and that I'll love to borrow.
I'm talking about the the DOXA SUB 200 Whitepearl. DOXA may be renowned for their punchy dial colours but this is as fresh as anything they do. As I think we wrote in our original review, it looks as "invigorating as an arctic breeze" and that white dial really makes those applied indexes pop.
The 42mm case might sound oversized on a female wrist, but it actually wears more like a 39-40mm due to those stumpy lugs that have a slight twist to them.  Don't be fooled by the purity of the colour scheme either. This is one tough cookie of a watch with a 200m depth rating and a 48 hour power reserve. In fact, if I did give this to my wife, I'm not sure she'd ever get the chance to wear it…
Price: $1,550 AUD on rubber, and $1,590 AUD on a beads-of-rice bracelet.
Zach's pick: Cartier Tank Must
If you are looking for a safe but super option to look into for Valentine's Day, it's hard to go wrong with a classic. Whether him/her/they, the Cartier Tank is a mainstay for any wrist that appreciates vintage proportions (26mm x 34mm to be exact). The Tank is a historic line for Cartier, making its debut in 1917, but the recent coloured dial Cartier Tank Must watches look anything but old. Sure, it maintains the classic design and stature which has made it such a popular model over the last century. This trio of lacquered dials, however, exude youthful energy and elegance, blending past and present aesthetics into a winning result.
Paired with everyday-proof stainless-steel cases and hassle-free quartz calibers, the watch costs much less then one would think a Cartier watch would and is a pick up and go timepiece sure to liven up any wardrobe. If you really want to lean into the Valentine's Day theme, the burgundy lacquered dial will be a timeless reminder of your love for another. But, who am I kidding, the blue and green are very attractive as well. Considering the entry-level Cartier cost, you may even want to get two – one for you, and one for your partner – and maybe even steal the "Cartier Couple" throne from Tom and Shiv. If there is ever an excuse to buy yourself a watch, it's while you are purchasing one for your partner as well.
Price: $2,860 USD
Ricardo's pick: Oris Big Crown Bronze Pointer Date
There is no questioning that red is the colour of Valentine's Day. It stirs up memories of long-stem roses and heart-shaped boxes of chocolates. But for us watch people, it also brings to mind some of our favorite red-dialled watches. One of my new favourites is the Oris Big Crown Bronze Pointer Date. And here is why I think you can't go wrong with it as a gift.
This recent release from Oris takes their pointer date design and pairs it with a bronze case and bracelet. Together, the burgundy dial and the gold tone of bronze result in a watch that just looks amazing on the wrist. And though this look will not stay the same as the bronze patinas, the uniqueness of the resulting watch becomes an almost living representation of your love.
Finally, should you still be on the fence about the Oris Big Crown Bronze Pointer Date as a Valentine's Day gift, you have to note its size. At only 40mm, it will wear well on the wrist of any loved one lucky enough to receive it.
Price: $2,600 USD
Luke's pick: Omega Constellation Co-Axial Master Chronometer 29mm
I must admit to being skeptical that any real person ever actually gives their partner a nice watch for Valentine's Day. But that probably says more about me. After all, what's wrong with a limp bunch of flowers hurriedly bought from the petrol station on the way from home? Or, if you're going to really push the boat out, that small stuffed gorilla in red satin shorts with "I luv u" embroidered on the rear?
Still if I was going to splash out $20,300 AUD on this manufactured con of a holiday that turns romance into an obligation (not v.sexy), I would have to go for this Omega Constellation Aventurine. The red dial is made of – you guessed it – Aventurine, a gemstone that offers a nice sparkle as it catches the light. If diamonds are a girl's best friend, there are a bunch of them here, too, in the hour markers and bezel. The 29mm case is made from Sedna gold and stainless-steel, the latter bringing a neutral base that enables the more boisterous elements to shine.
But don't be fooled by the superficial beauty. This is a serious watch that's propelled by Omega's Calibre 8700, a self-winding movement with a Co-Axial escapement that's been approved by METAS to Certified Master Chronometer status. Props to Omega for ensuring the internals are just as impressive as the externals here. There's more to this watch than just a pretty face.
Price: $20,300 AUD