The Louis Vuitton Tambour Moon Dual Time is a GMT built to clock up serious air miles
Thor Svaboe
Sceptical, moi?  We do love Louis Vuitton as one of the world' most prominent luxury brands. But are their watches up to scratch? Any doubt on my behalf is easily dismissed by shots of La Fabrique Du Temps, the 4000 square meter LV watch manufacture in Meyrin, Switzerland that opened in 2014. This is a bold statement of intent, filled up with watch boffins and artisans, and has resulted in haute horlogerie like the Louis Vuitton Tambour Curve Flying Tourbillon Poinçon de Genève in our story here. And now there are fresh examples of the new direction of LV, with two GMT watches based on the now well known Tambour case that debuted in 2002.
Louis Vuitton historically was the original choice not for those who Travelled in Style with an extravagant range of large suitcases and trunks for traversing continents. These watches here – he Tambour Moon Dual Time Silver 44 and Tambour Moon Dual Time Grey 44 – beautifully embody that spirit for the wrist. OK, so your next blast of scepticism may return when you hear the word "quartz". But why not simply embrace the fact that these two are both eminently practical watches and that when you're travelling you have enough on your mind already. Quartz? A big benefit.
First impressions
These two are perfect examples of the inherent balance of the Tambour (small drum) case from Louis Vuitton. Any watch manufacturer needs a signature, and in the Tambour case, LV has forged a strong identity through the round language of comfort. Both of these are 44mm watches that are both light and comfortable for their size, and with their colourful dial a pukka antidote to monochrome divers and dress watches. In a watch world that's over-reliant on demure vintage inspiration, they feel like a celebration of our times and more importantly our urge to travel! The Tambour cases sit softly on the wrist thanks to their combination of a slim sub-12mm case thanks to the Quartz movement, and the superb feeling of the smooth, polished pebble shape, on supple straps.
The Dials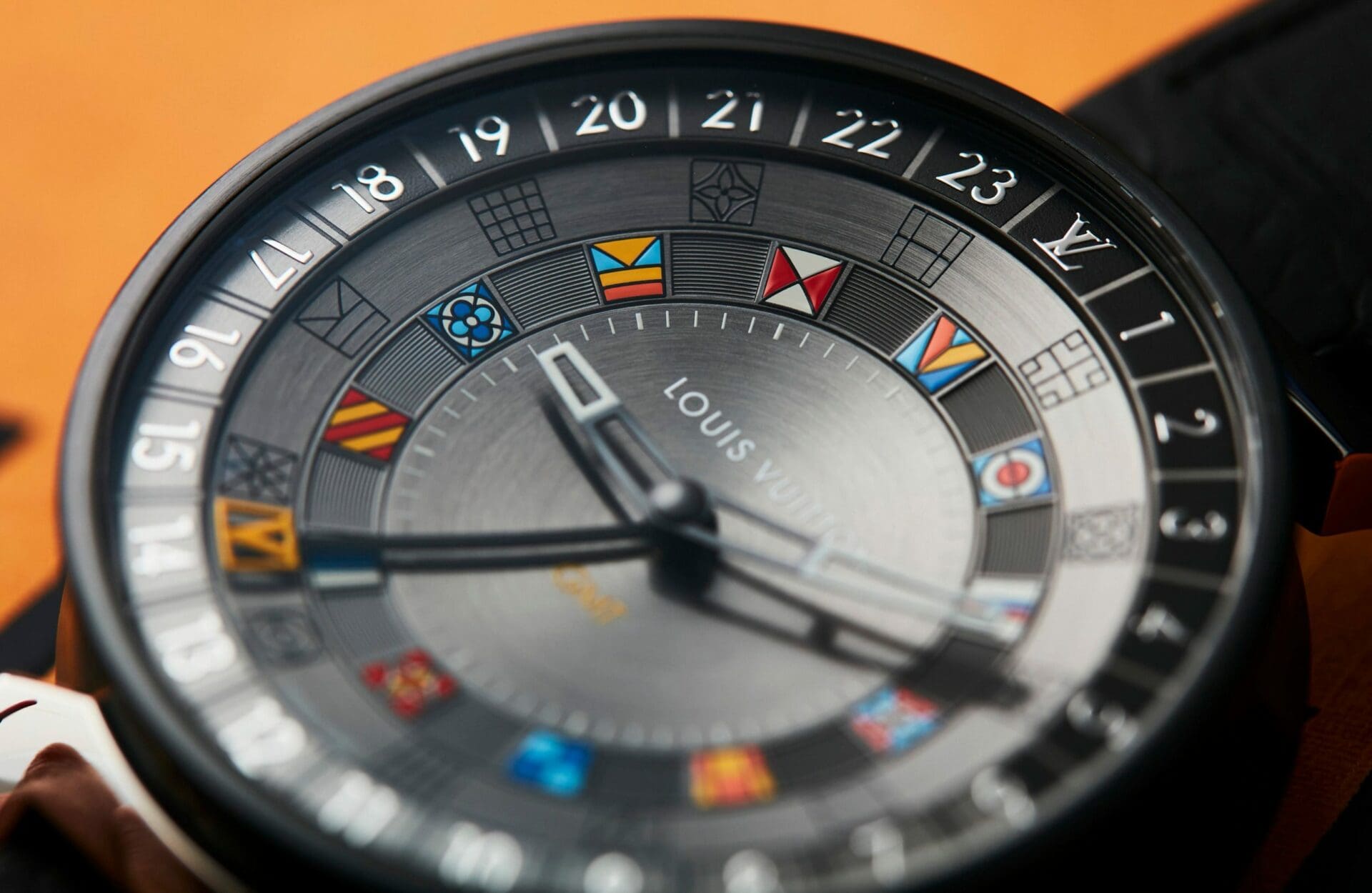 As in many Louis Vuitton references, don't be shy! If you're into monochrome tools this is not for you, but come on, let your wings out a bit. Both of these watches are refreshing examples of the focus on dial art, with a beguiling concave depth of sandblasted silver grey playing host to a narrative of exclusive world travel. The dial surface is adorned with symbolic flags of far flung destinations similar to the stickers covering the cruise liner trunks of early last century.
The white version is maybe even fresher and feels like a bright symbol of summer.  The time is shown by the bold skeletonized sword hands for hours and minutes, while seconds are considered superfluous. Instead the long third hand is endowed by one of my favourite details of the dials, a bright yellow rhomboid V-logo, pointing to the 24-hour scale on the rehaut, classically coloured dark and light – toned to mark night or daytime where you were travelling from. The same flash of yellow is picked up in the symbolic flags, bringing a cohesive fruitiness to the cheer of the dial. The dial area is large yet balanced, and eminently readable.
While we would normally have a lot to say of the manufacture movement, this is pure solid quartz power, one less thing to worry about when travelling. Me? I leave the haute horlogerie in the bag and wear a plastic G-shock on my summer flights, and I'm telling you, any of these two would increase my pure exalted happiness of travelling many fold.
The case and strap
Smooth, round and delightful is the feeling I get from fondling the Tambour case. The large crown does a superb job of keeping the proportions balanced while lending a more sporty air to the highly polished case, and the downturned signature lugs are pure ergonomics. The sporty air is here made even more prominent by the soft white rubber strap, embossed with a recognizable Louis Vuitton canvas check. To me, this ensemble makes me yearn for an eternal summer. Offering fun and a flash of colour on a grey winter's day, the Tambour Moon Dual Time is a fun-loving winner from LV whether in a more formal silver grey or enlivened by a pure flash or white.
Pricing and availability:
The Louis Vuitton Tambour Moon Dual Time $8650