"Instead of watching TV when I was 10 years old, I took watches apart." Celebrating 10 years of Louis Vuitton's Spin Time with its creator, Michel Navas
Andrew McUtchen
When it comes to watchmaking, it's no stretch of a hairspring to say that Michel Navas has done it all. He was a key figure at Gérald Genta in the high complications team in the boom times of the '90s. He also worked at Patek Philippe and Audemars Piguet. At Franck Muller, he masterminded the implementation of a complication based on the personality of its creator, from concept to the wrist — the 'Crazy Hours'.
The luminous brilliance of this invention, which sees the hour hand jump capriciously (and just about instantaneously) around the dial to the non-sequential numbers, is undimmed by time. Even after decades, the changing of the hour on a Franck Muller Crazy Hours watch makes me blink in surprise, every single time. While few would contest Muller's brilliance, his frenetic, unpredictable process was just as legend – Navas is credited with translating this into a mechanical tribute that has become the singular Franck Muller watch. The icon for the brand.
But, in conversation with his friend and soon to be lifetime business partner Enrico Barbasini, Navas concluded: "Between us, we had more ideas than the big brands needed." So, in 2004, the pair broke away to form BNB Concept with Mathias Buttet, before selling their stakes in the business to form La Fabrique du Temps (LFDT). Five years later it was acquired by Louis Vuitton. The first reaction Navas had to his parent company's approach was abject surprise. "They let us do what is our thing," he says. "To a point where we were quite shocked."
With freedom and space to innovate, the partnership did it again. And they did it with another jumping hour complication. Along with Barbasini, he created the Louis Vuitton Spin Time, a watch that tells the time with spinning cubes.
"We were so successful because Louis Vuitton is very, very young in the watch industry," Navas says. "So when we decided to develop Spin Time, we decided to be different from other famous brands. And to display time with cubes was, I think, a good idea because it's very rare, very different. We need a little boldness but with the utmost respect for the high watchmaking, because we come from the biggest, and most famous brands, where we had a legacy to protect."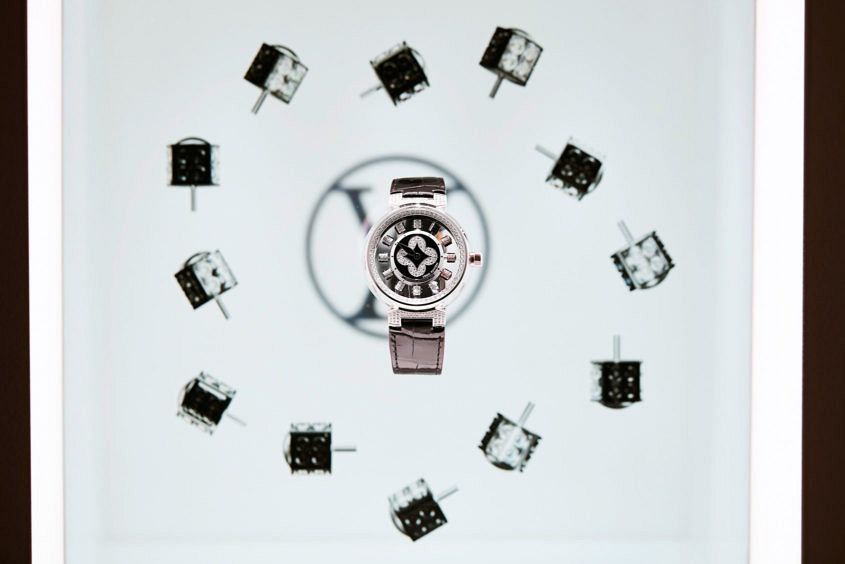 T+T: Let's talk in detail about the Spin Time, because I'm amazed at how instantaneous the spin is. It's lightning! Can you tell me about some of the remarkable things about this movement that make it such a pleasure to behold?
MN: For starters, it's a three-dimensional movement because normally the wheels are on the same plane and here you have to be 90 degrees with cubes and it's a special construction. This was the first movement that we launched 10 years ago. It is truly different. At this time it was very bold to make this kind of movement.
T+T: Even the noise that it makes, you just love it. The little click. So satisfying, I just play with it. As soon as I see a person wearing one, I ask to wear it and I actually just play with the times and make the cubes spin.
MN: Yes, you can play with it.
T+T: Can you give me one example of a challenge you had to overcome to make it work?
MN: The challenge is to reverse the wheels on the other side to turn the little cubes or the little cylinders. We have two models, one is for men, with cylinders with diamonds. For ladies, that was difficult to make. If you have a new idea, it must be sure to work, so this is the first criteria for La Fabrique du Temps.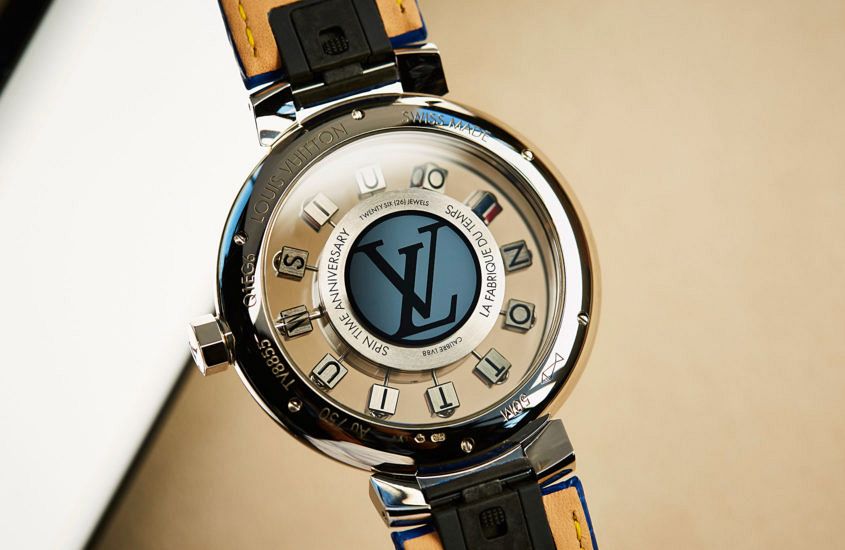 T+T: Do you think Louis Vuitton has an 'iconic' watch yet?
MN: I think it's the Spin Time, because now we are 10 years after its release and we are still so successful with this model.
T+T: Where does your drive come from as a watchmaker?
MN: It's my passion. I started taking apart watches when I was 10 years old, with my father, with my brother. Instead of watching TV, I started to repair watches with him, thanks to him.
T+T: That's interesting. And what do you think attracted you to watchmaking when you were 10? Most kids don't have the attention span to work on something so detailed. How did you get into that?
MN: I can't remember right back to the beginning, it was just a culture in my family. It is what we did. But over time, I learned that I am very attentive to what the clients need, what they want, what they miss. And if I can offer what they want, I am very happy.
T+T: And can you have quite close contact with clients at LFDT?
MN: Yes, absolutely. Louis Vuitton can do this kind of watchmaking because we are a small company, only 80 people in Geneva. One client wanted something very special, he was fond of horses. And we can start with a movement, maybe with the movement of minute repeaters, and when you push the trigger, something moves on the dial. He's patient with what he wants, and this client was fond of space innovation and we made something move on the dial, especially for him. It could be horses or whatever you want. Planes, cars. And we have special orders, nobody knows that. But Louis Vuitton can make something special for clients.
T+T: So it seems to me there's a vitality and energy you get from working with Louis Vuitton … You seem to be really alive with these different challenges.
MN: Yes, and the challenges are very interesting for us because we know Louis Vuitton for trunks, for leather boots, for ladies fashion, for shoes, but not at all for the watchmaking. We are very new, as I told you, very young in the watch industry, so the challenge is very interesting. We have so much to do, it's just starting now. We are very busy. But we want to keep La Fabrique du Temps small because now we are only 15 watchmakers, 10 dial-makers, six engineers, the designers, Enrico and I, and with others, we are 80 people. So we are a small company but to do such a nice job you have to be small.
T+T: You've worked in some very big companies over the years, what do you enjoy about being in a small company?
MN: The difference is that the watchmakers start and end the watch. They end the watch and deliver the watch. And I can tell you which watchmaker made which watch. I love the other brands, but now they are 1700 to 2000 people. It's huge. If you are in this workshop you cannot do this kind of job. It's craftsmanship, that's the difference. And they love to work with us because it's a small company and we stand by them to deliver the best they can do. No matter if it takes a week longer to assemble a watch, or three days longer, no problem. We want zero faults.
T+T: And to have complete ownership of this work, I suppose. And did the watchmakers meet the client themselves?
MN: Yes, sometimes they know who the client is. You have to come to La Fabrique du Temps. And if you visit La Fabrique du Temps, you will be surprised. That's because when you think about Louis Vuitton, it's …
T+T: Big …
MN: Everybody know Louis Vuitton: 'It's a huge company.' But, no, Louis Vuitton is a very small company for watches. It's artisans, it's craftsmanship and that is what people don't expect.
Made in partnership with Louis Vuitton. However, the opinions expressed in this article are our own, in
accordance with our Editorial Policy.