The Louis Vuitton 2020 Collection delivers flying tourbillons, gem-set cases and some very special spinning cubes
Thor Svaboe
Louis Vuitton are best known today for their leather goods, and historically for their travel trunks, but when it comes to watchmaking, most aren't aware of the work they do. Of course, having such a well-recognised brand globally is a double-edged sword, where Louis Vuitton bags are desired all over the world, but the quality of their other products is less well understood. But don't let that lull you into thinking the French-founded brand can stitch a seam and nothing else. No, the Louis Vuitton watchmakers are some of the finest in the world, earning their movements the Geneva Seal, a rarified standard of Swiss watchmaking reserved for the best of the best. Think Cartier and Vacheron Constantin, two other brands that are also authorised to use the Geneva Seal. So with that in mind, let's take a look at some of our favourite pieces from the Louis Vuitton 2020 collection, including flying tourbillons, gem-set cases and some special spinning cubes.
Tambour Spin Time Air Japan Limited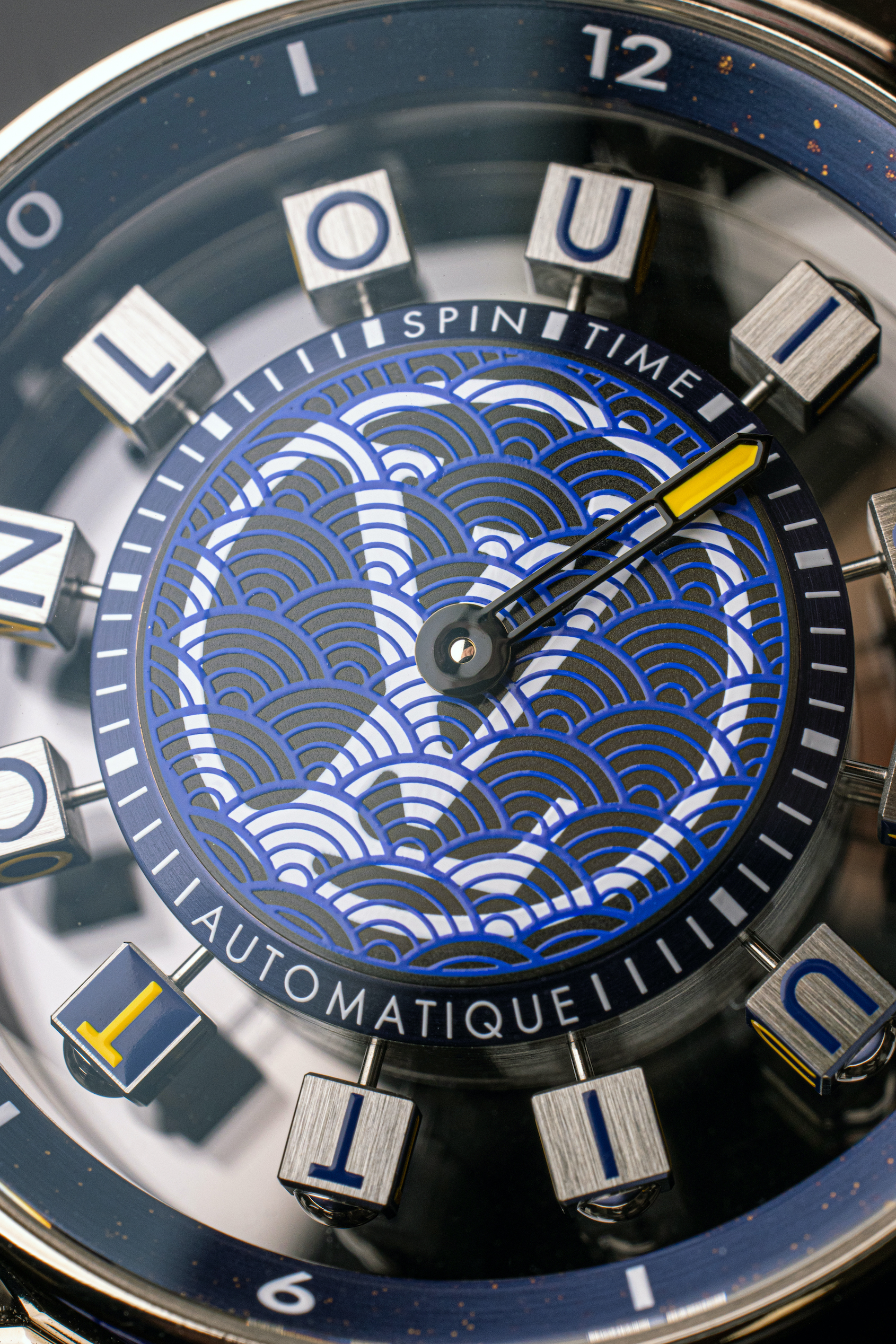 In the Louis Vuitton collection, we have seen and become dazzled by the intricacies of the Tambour Spin Time, as seen here in our video from Queenstown, New Zealand. This time, Louis Vuitton surprise us, with what is now the unusual yet familiar tambour shape, a shapely testament to the integrity and Haute Horlogerie within the maison. This is a new take on the intriguing dance of the cubes, with a new freshness of blue and yellow, a distinct Japanese vibe lending it an even stronger presence — and that says a lot. The 18k gold case, with a sporty octagonal crown, is an ergonomic frame for the intriguing theatre within.
The sole black and yellow minute hand points to crisp silver print on the dark blue rehaut, while the entertaining haute horlogerie fairground spectacle of the 12 lettered cubes will win your heart over with the first instant twirl. At each hour, the two adjacent jumping hour cubes both spin with a fraction of a second, and the next hour marker appears to have changed colour, a lemon-fresh familiar letter within a blue square.
The name Louis Vuitton? Yes, that is 12 letters. The cubes float like satellites around the centre movement, which constitutes a dial of sorts. Within its circular shape it is covered with blue translucent traditional Japanese waves, like a silk covering for the LV signature. The large polished lugs hold a hand-stitched crocodile strap in a perfectly matched blue, while the natural leather lining has a yellow stitch picking up the small yet super-fresh accents on the dial, and is fitted with a white gold ardillon buckle.
Voyager Flying Tourbillon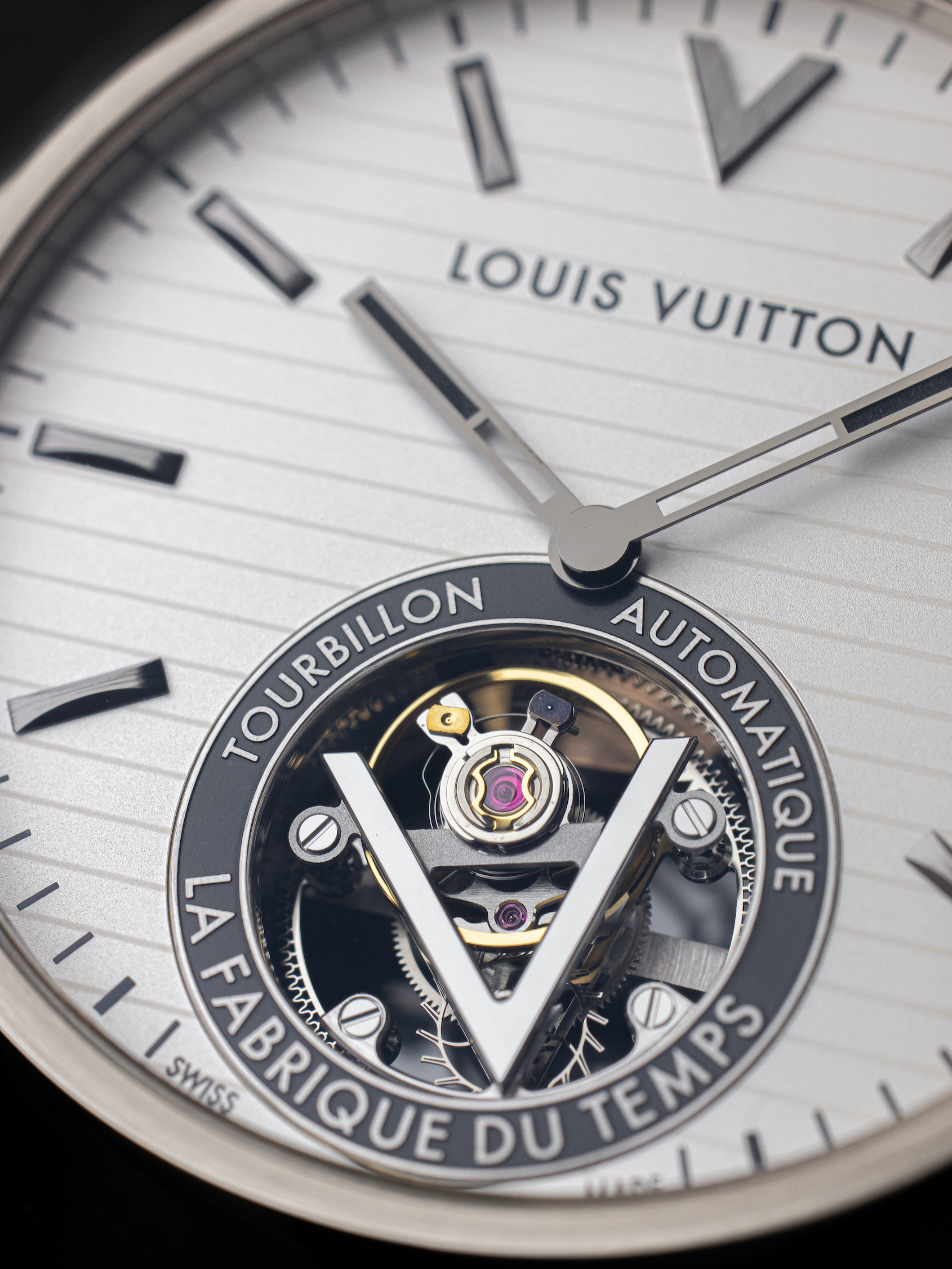 The organic, beautifully undefinable shape of the Voyager is back. This comes in a variety of versions, including gem-set gold references on the far end of the bedazzlement scale, while this is smooth purity. Its 18k white gold 41mm case defies categories, being neither cushion, tonneau or round, and is utterly beguiling — yet another sign of the brilliance of the LV ateliers at La Fabrique du Temps.
The slender lugless ends flow seamlessly towards the crocodile strap, while the dial holds a slowly spinning wonder at 6 o'clock that can make you forget the irrelevance of time. A flawless black or white dial surface holds delicate applied indices, and minimalist skeletonised baton hands perfectly executed with Super-LumiNova filled ends.
But what we came for is sitting within a detailed descriptive frame at 6, a perfectly symmetrical flying tourbillon, with the power to seduce you like no other complication. This minute mechanical wonder is powered by the automatic LV81, a 28,800 vph manufacture movement with a 40-hour power reserve, with the case having a secure 50m depth rating.
LV Fifty Five
The Fifty Five is a dazzling reference from Louis Vuitton. I will remind you of the exquisite automatic manufacture movement with its 42-hour power reserve as it's soon forgotten. This time the focus is on Haute Joaillerie rather than the 28,800 vph movement inside, as your mechanical thoughts are soon lost to the flash of the diamond-set case and dial.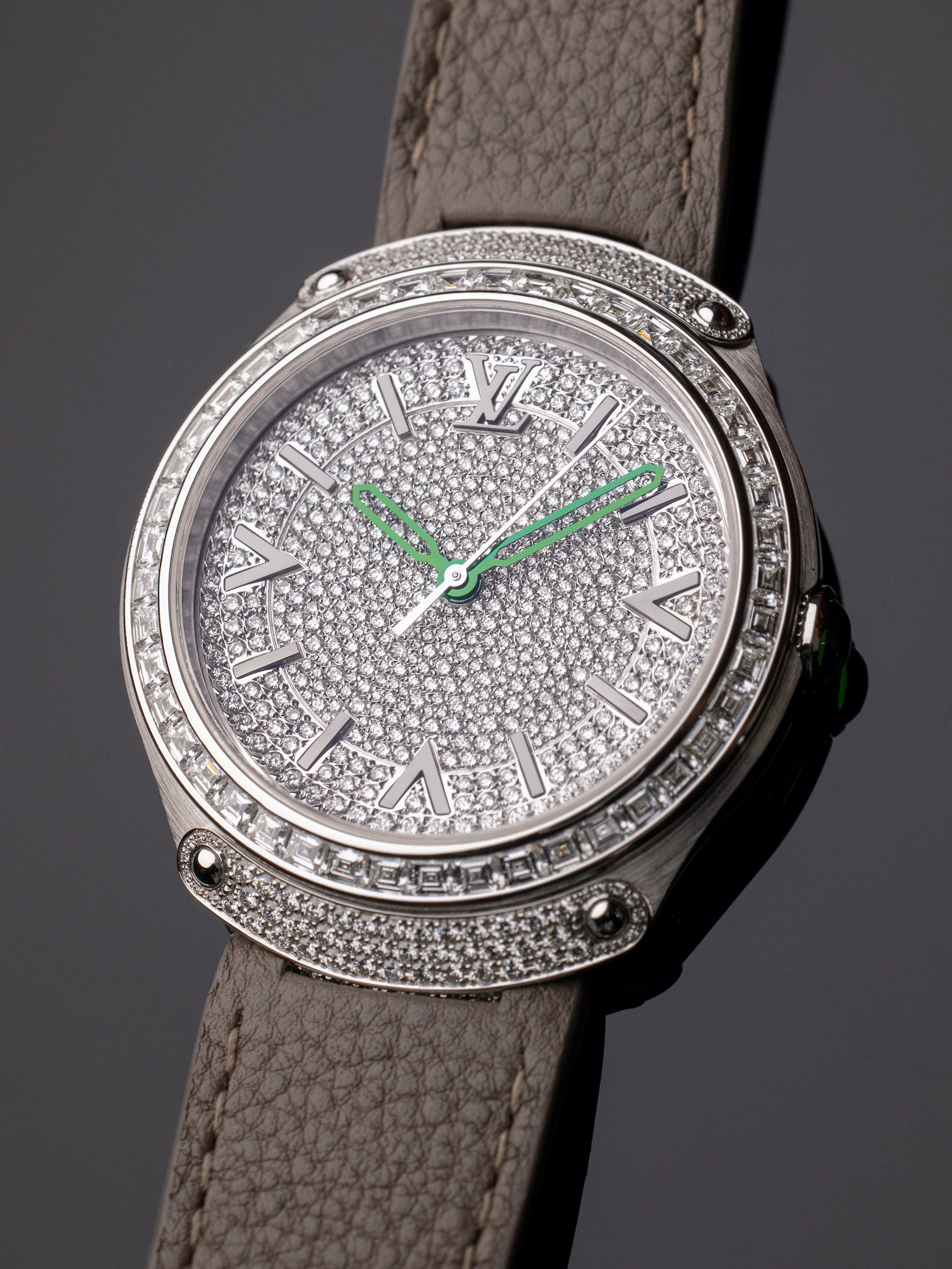 The lugless case of the Fifty Five has been designed with the ends evocative of the plaques personalised for the famous travel trunks of last century that put LV securely on the luxury map. Both ends of the shapely white gold case are beset with brilliant-cut diamonds, as are the small lugs holding the grey crocodile strap.
The dial itself is a pavé brilliant diamond-cut stage, with the quarter indices recognisable as the V of the name, though the correct font is only present on the exquisite LV logo marking 12 o'clock. Baguette-cut diamonds encircle this bright visage, while the design flair becomes apparent with fresh pops of emerald green. Both hour and minute hands are a bright metallic emerald shade, while the crown is inset with a garnet in a matching flash of green. No one will go unnoticed with this superb example of sleek watchmaking doing its best to brighten up your day, and believe me it will …
Tambour Spin Time GMT

This time I'm close to being lost for words, and that's a first. The Spin Time reviewed only a few paragraphs up — with its entrancing spectacle of colourful jumping hour rotating cubes within its glass cage — surely cannot be bettered? This time, Louis Vuitton tries their best, and manages to reinvent their own Spin Time within the same case, making it a new and sparkling proposal. The spectacle of the floating cubes is still here, though somewhat more quiet, as they are present within windows in a grey sunray dial, made more legible through the actual hours being printed on the cubes.
For added functionality, this large Tambour case is also inhabited by a GMT complication, regulated by large pushers at 10 and 8 o'clock, with some fresh red pops of colour and even a date wheel, with lume squares for the hours. So this is a functional tool watch? Well, it does even have a 100m depth rating but, boy, have Louis Vuitton done their best to balance out the exemplary functionality with one of the most spectacular round cases of 2020.
The 18k pink gold case is still ergonomically round, yet in this case beset with no less than 744 brilliant cut diamonds, including larger ones inset into the octagonal pink gold crown. I love the functional aspect of the clear and snap-happy Spin Time cubes, with a delicately simple GMT function. But let's be fair, for me it would be more a question of keeping track of my own ability to focus my vision, faced with what is yet another splendid example of what seems to be infinite scope within La Fabrique du Temps, for renewing our perceptions of les horloges du Louis Vuitton. Impressed? Much.