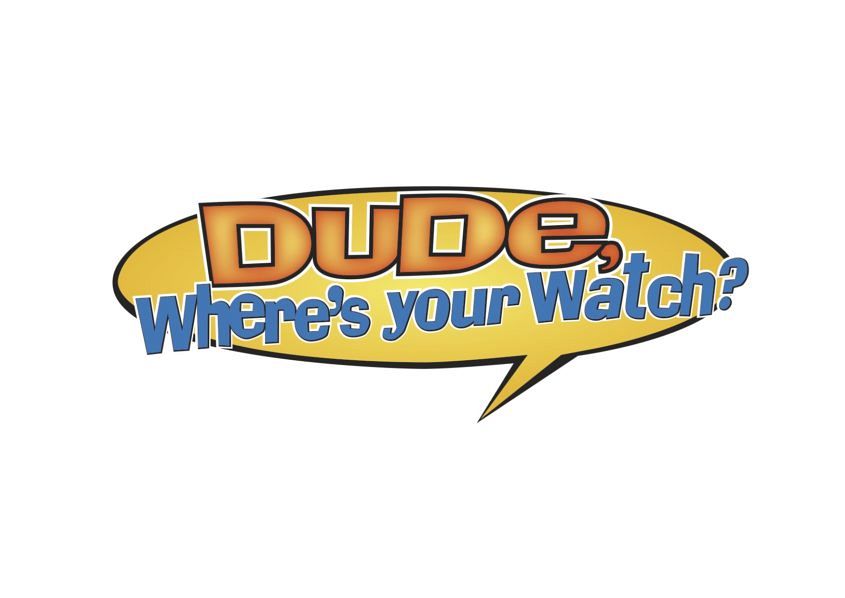 While the watch world's glitterati (including a fair chunk of Team T+T) shiver in Geneva, warming their frost-bitten hands over pots of fondue, those of us left here in Australia are enjoying a lovely summer. Conjure the usual stereotypes: prawns, barbecues etc. You get the picture. Of course, an overall coating of perspiration and seafood sauce is no excuse for not looking good – so do please factor into that mental picture the latest trends from the Spring/Summer 17 runaway shows, which we assure you are currently being sported Down Under.
To help with the visualisation process, here are a few of our favourites. But what's this? They're all missing one key thing. You guessed it: a watch! Fear not – we've paired each ensemble with a timepiece to complete the look. Readers from the northern hemisphere can feel free to take notes now, ready to put into action when summer finally arrives, months and months from now. Cheers!
Material Gains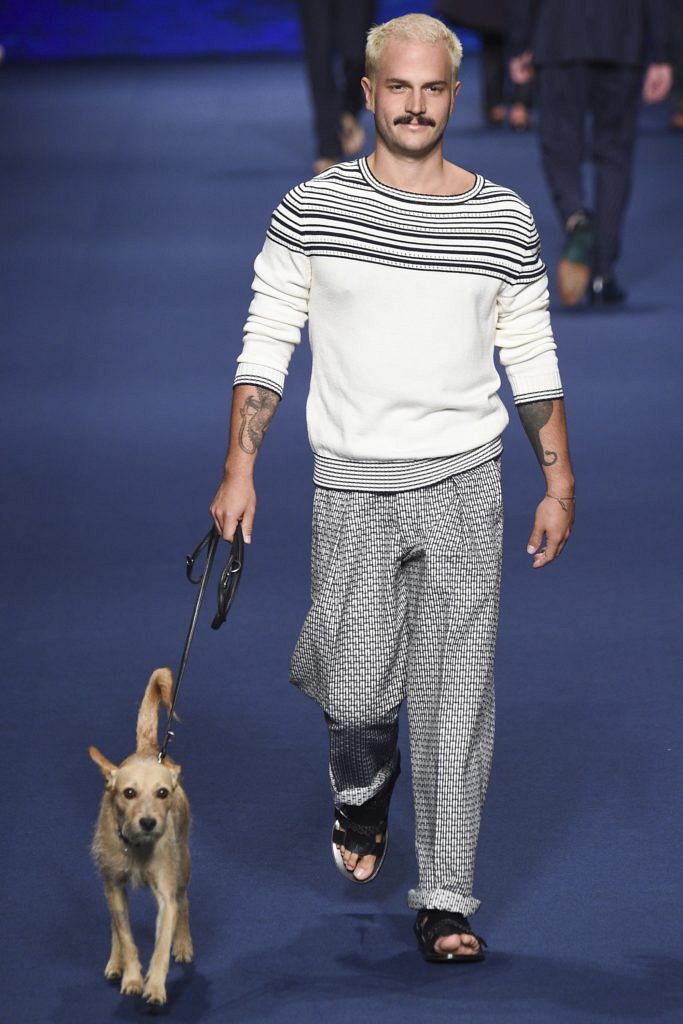 Still spraying on the skinny chinos? Well, stop! There's no longer any need to compress your nether regions in the name of fashion. This season's collections revolve around roomier cuts made with fabric aplenty, like the Etro look worn here by this circus strongman/hipster type. See how pleased he is with the breeze it affords? But good heavens, man, where's your timepiece? We suggest the Zenith Heritage Pilot Type 20 Extra Special in bronze, which has a touch of olde-worlde charm that fits nicely with his moustache and chimney-sweep tattoos. Scruffy dog is optional.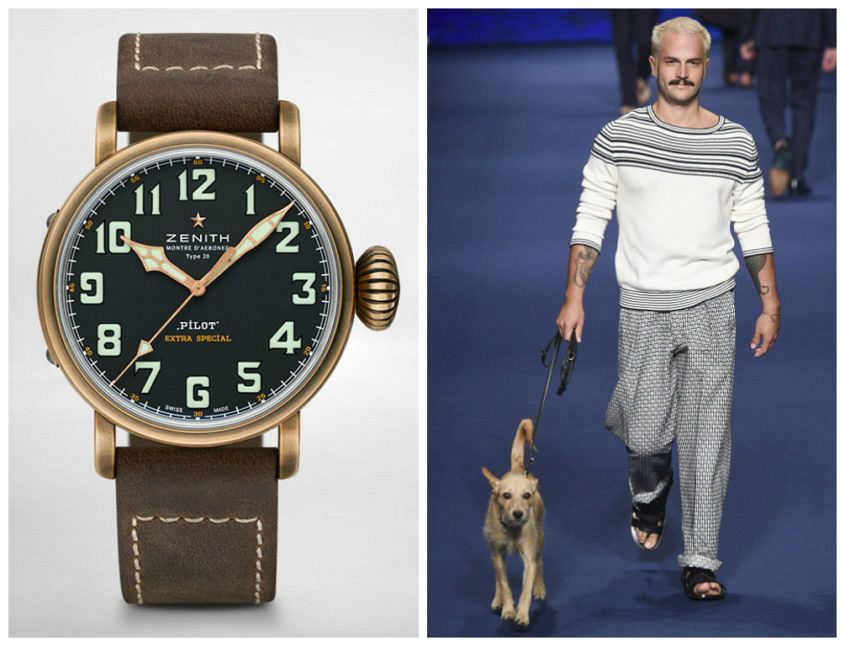 Brave necklines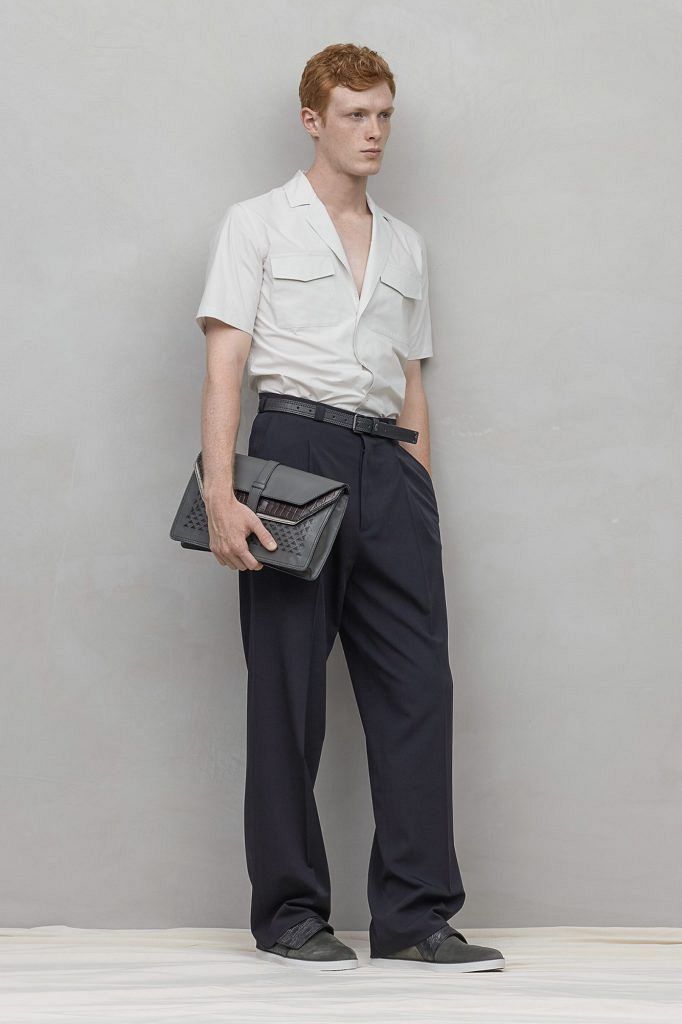 Rest assured if this chap were genuinely in Australia, he'd be wearing factor 30 sunscreen, or that deep V would be a blistered cherry red within minutes. That's the thing with a daring neckline – you've got to be prepared for the consequences. Again, the wider trouser leg is in play, though this time in a smart-casual look that's perfect for creative types. And while not all men are confident enough to go a clutch bag, if you are, this one's a beauty. Bravo, Bottega Veneta. But there's definitely something missing. We'd finish this off with the elegant Jaeger-LeCoultre Grande Reverso Ultra Thin Tribute to 1931.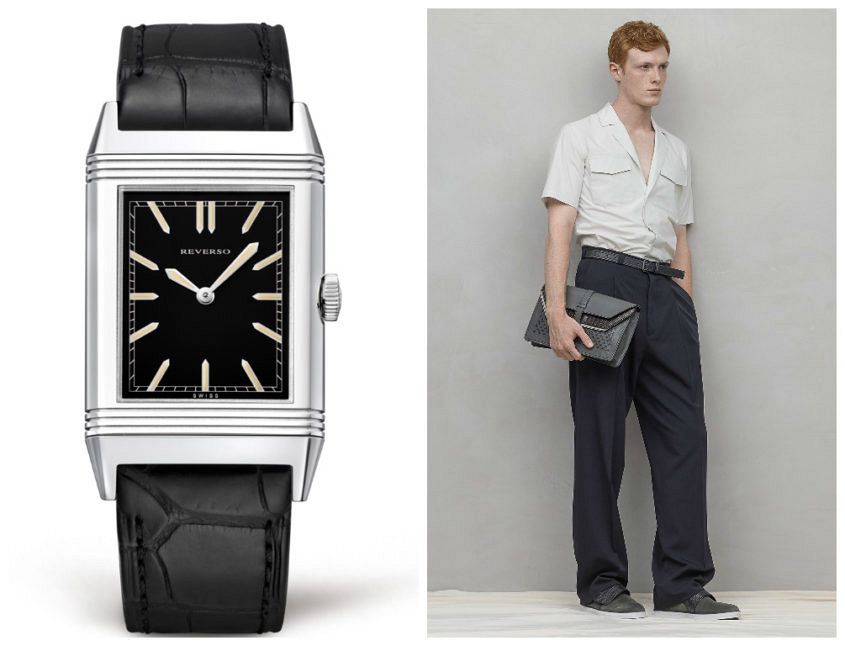 Proportional Representation
Though the model on the Comme des Garçons Shirt runway doesn't seem too cheerful about it, this look is really quite playful, toying as it does with typical proportions. His shorts aren't the short-shorts of recent times; they're long and wide. His cuffs arrive at a very interesting length indeed for a man's shirt. And the layering of a longer, more casual sleeve beneath the shirt is very relaxed – particularly with the added irony of camo hiding itself away. Actually, perhaps the poor boy's scowl is because he's realised the folly of venturing out without a watch. We'd rectify that with a dressy white gold Piaget Altiplano.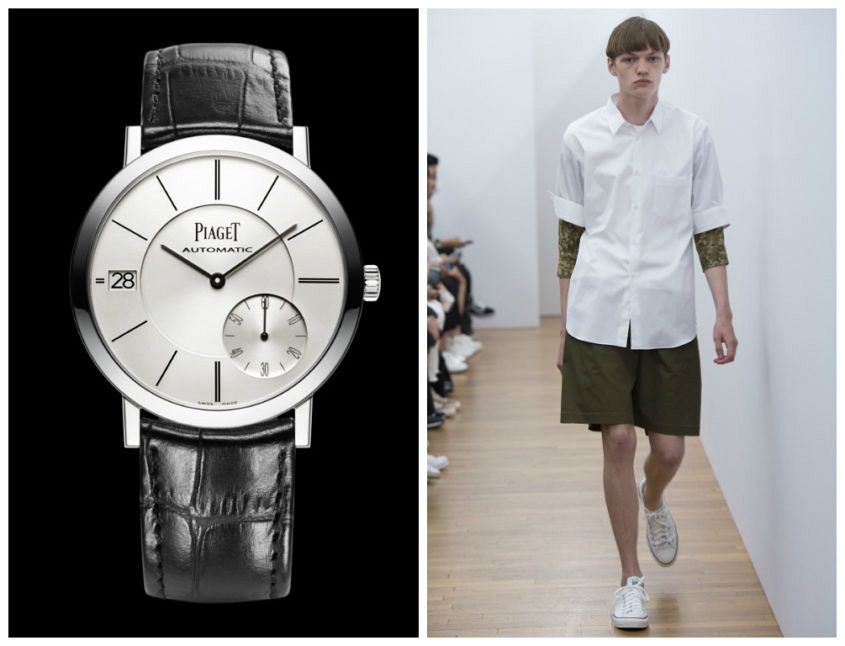 Geek Chic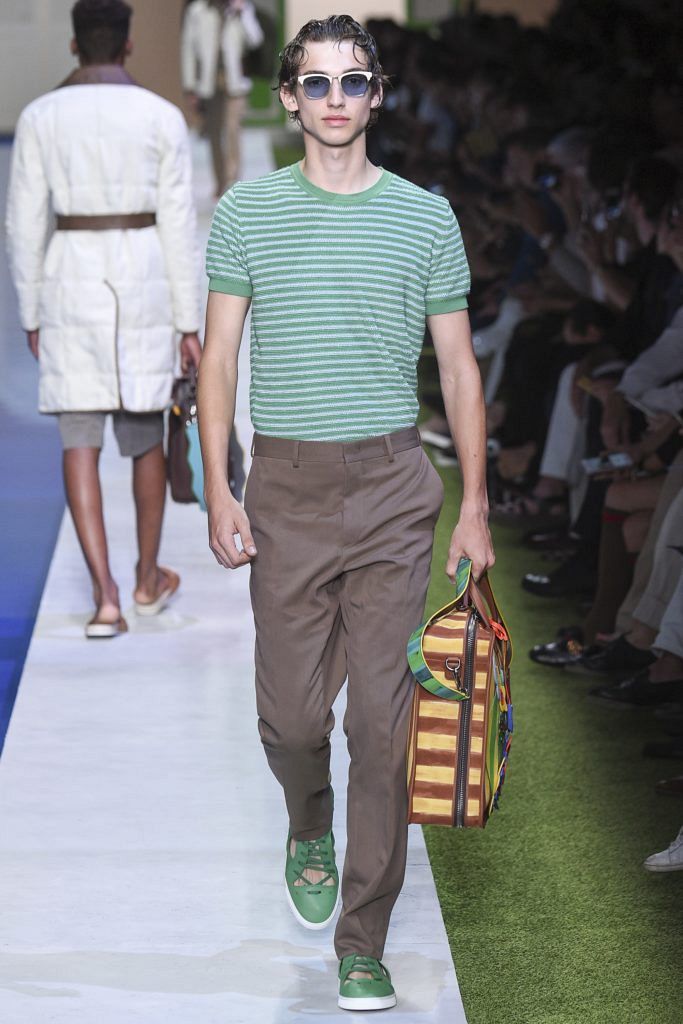 The planet-wide obsession with all things mid-century is showing no sign of subsiding, and we're OK with that. This guy's doing it well, for Fendi, with his knitted T-shirt, flat-fronted pants and retro sunglasses that evoke more than a hint of nerdery. The only difference with modern-day geeks is that you can bet that suitcase is filled with $100 bills from the sale of his garage software business. More than enough to afford the pink gold Cartier Santos-Dumont that we reckon would really cement this look.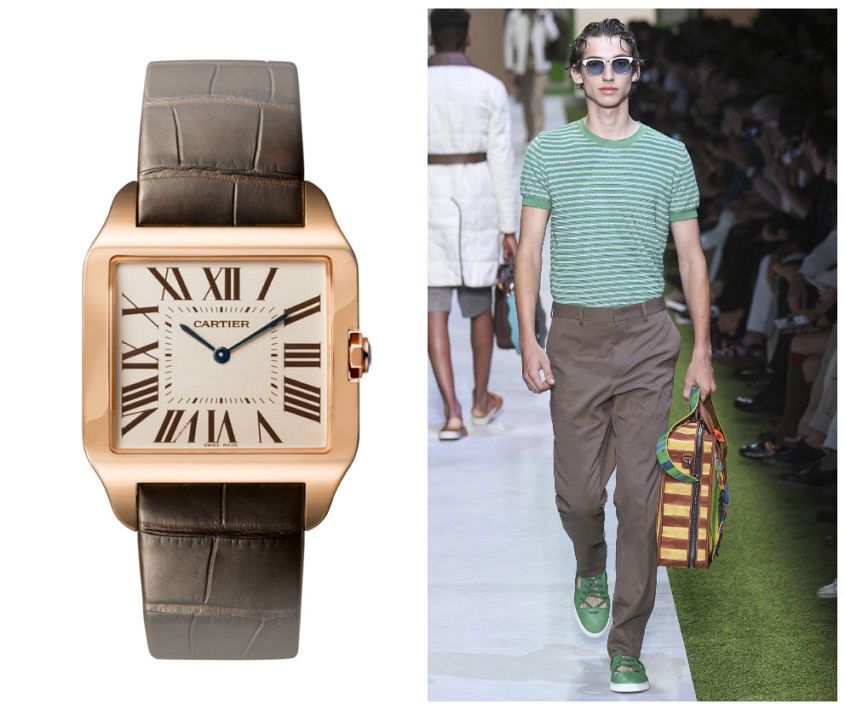 Texture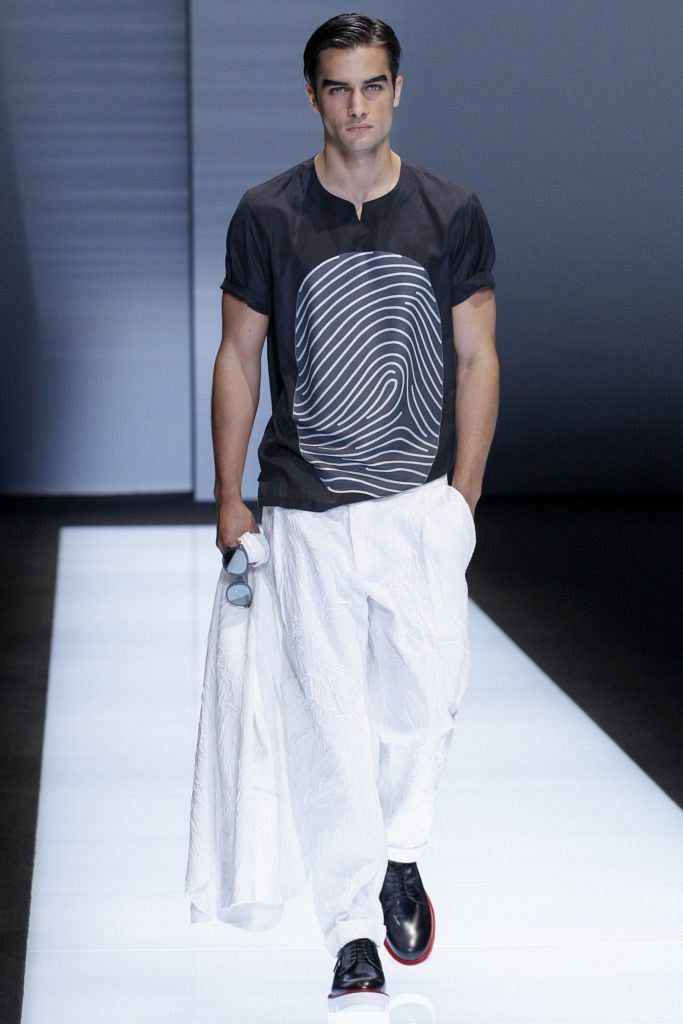 Casual suiting begins with less structured tailoring, but it's the fabric that really marks it out. Forget tweed or worsted wool. For summer, embrace lighter, breathable materials with unconventional textures which, per this look from Emporio Armani, can go well beyond the realms of your dad's crumpled beige linen. A futuristic T-shirt keeps things fresh, as does the monochrome palette. All this outfit needs is the Rado True Open Heart which, sticking nicely with the theme, comes in black or white.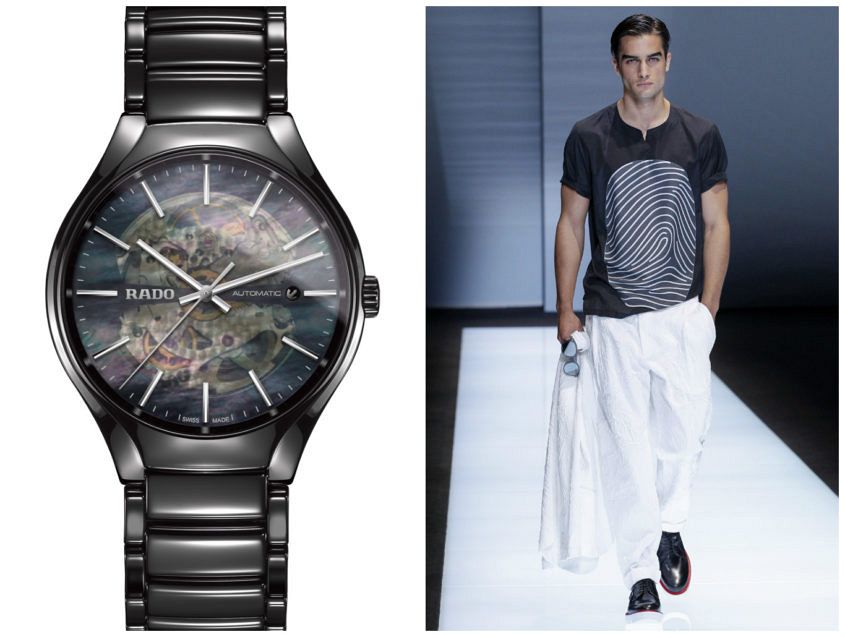 Illustration: Leonid Kashtalian