A look into the world of fine watch engraving with King Nerd
Time+Tide
Editor's note: Since we originally ran this story back in 2017, the star of @KingNerd has grown ever brighter – he's Revolution's in-house engraver, and works on all sorts of dopeness. Definitely worth a second look.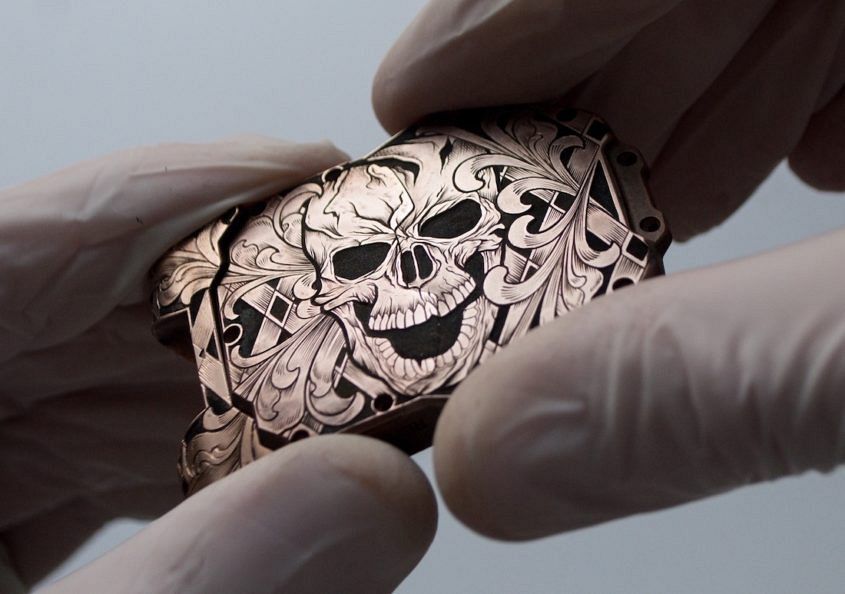 Real nerd @KingNerd might not be a real monarch, but he is royalty in the world of fine engraving. Definitely worth a follow if you're into acanthus leaves and long guns. Oh, and watches.

Tell me about yourself:
My name is actually John, after my father and his father and so on, but friends started calling me Johnny and it's kind of stuck! I'm a James Purdey & Sons (a very famous London gunmaker) trained engraver and was born and raised in West London.
How do you unwind?
Unwinding can consist of a few things for me – kicking my feet up and reading comics, listening to hip hop, going to a museum, looking at art or spending time with my family. My little boy, Hudson, decides whether I'm actually allowed to chill and do nothing, haha.
What's your daily watch and why?
My daily watch at the moment is the Linde Werdelin Hard Black II, but I also collect Seikos. As for other watches in my collection, that would be telling. But I don't just love the big brands, I love buying a watch that catches my eye. I recently bought a Deadpool watch off eBay for £2! It broke two days later – I was gutted. The LW I picked up recently had been one of my favourites and on my 'want list' even before I met the founders, Morten and Jorn. I love how they only make so many of each watch, but I was gutted when I couldn't get the watch I originally wanted, a green and black DLC Oktopus. When I last saw Morten he told me there was only ever one made!
What's your daily ride?
Honestly I love getting the train. It allows me to do everything I need on my iPad Pro whilst having a coffee and listening to some music. I do love cars though, and I'm lucky to have friends who work with, and own, amazing cars. I'm constantly looking at a 1980s convertible Mercedes SL500; I want one bad.

What are you working on at the moment?
Day-to-day I'm lucky enough to do the work I do for the people who trained me to become an engraver. As for my watch work, I'm working on some other cool projects with LW, and have recently returned an Arabic-inspired Bamford Watch Department Rolex GMT-Master II. There are some other possible projects in the works too, but I wouldn't want to say until it's a definite go-ahead. Watch this space.
Engraving is an unusual trade, how did you get into it?
I had just finished A-Level Art and English, and was actually on my way to Central St Martins to do something fashion-related. That was until my uncle, who worked at Purdeys, showed me some of their engraving work – and I decided to take a different path. After five years of training and nearly 15 years work, here I am.
And how did you end up engraving watches?
From the day I started engraving, I've wondered what else I could engrave – coins and watches were the obvious things for me. I first engraved a watch for Jaeger-LeCoultre – there's the Richemont connection – when I was asked to engrave two Reversos for a special client. Since then I've worked on Panerai, Rolex, Patek, Bamford Watch Department and most recently, a limited edition Linde Werdelin.
When it comes to engraving watches, my favourite material to work with would be a mild steel. However most watches are stainless steel. And in regards to a favourite watch or brand to engrave, I'd say a Rolex, because it has a great canvas to work with.
So, what's the next watch for you?
Even though I just picked up the LW, I'm already thinking about the next watch, like all of you guys! I'm pretty sure I'm going to get a vintage Omega Speedmaster Racing and engrave it for myself; I've got some cool ideas.