Collectively, a decent amount of people were shocked when Longines decided to revive the Spirit appellation earlier this year … and shocked in a good way. You see, as far as novelty unveilings go, the Saint-Imier watchmaker had already outdone themselves in 2020 (think Heritage Classic Chronograph 1946 or HydroConquest 41mm in Khaki Green), they could've just put their feet up, cracked themselves a crisp Swiss lager and called it a day.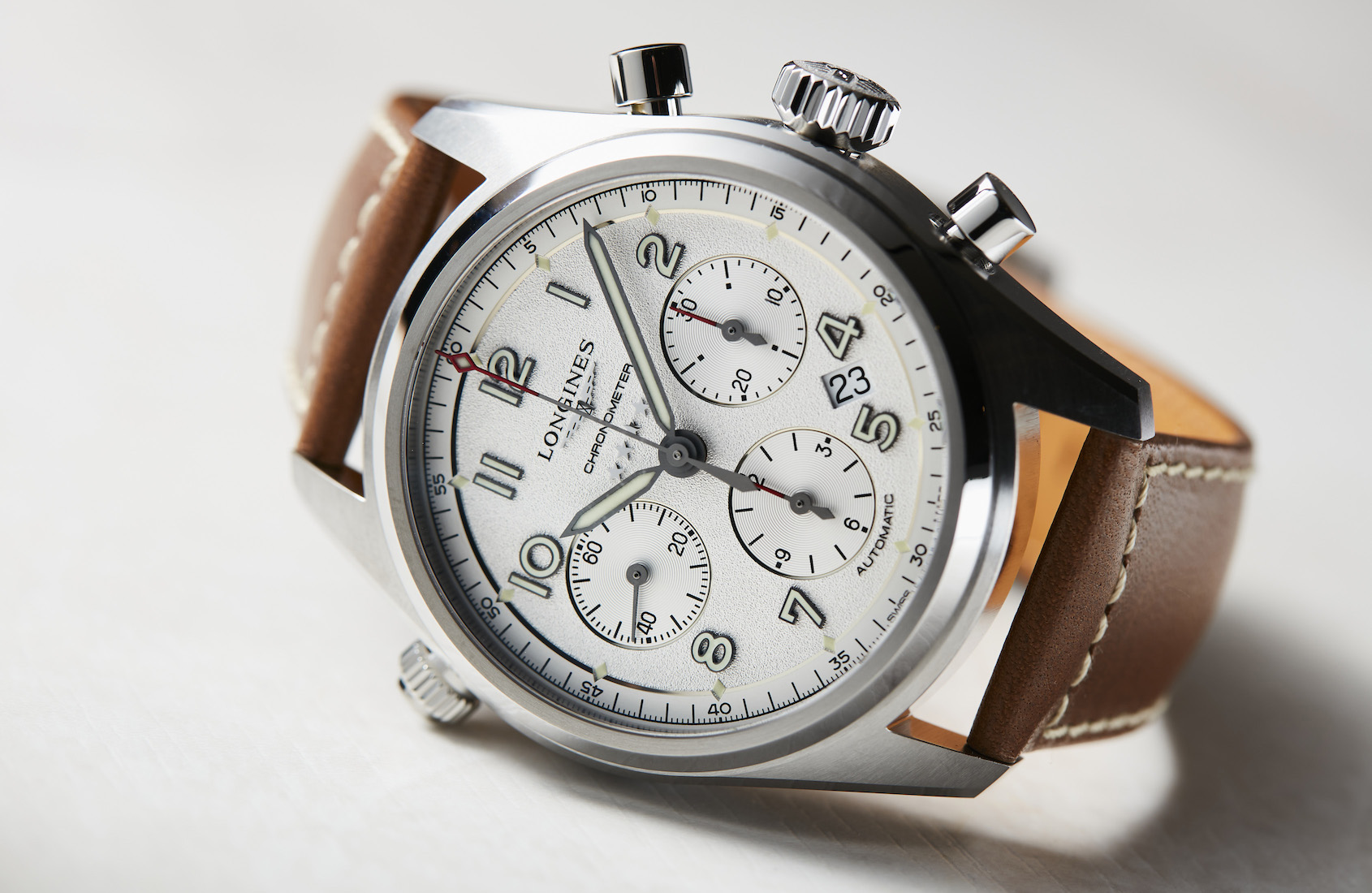 But they didn't. Instead, Longines set its sights on the sky, creating a collection of timepieces that aimed to honour the mavericks of early 20th century aviation. After all, although most won't know it, airborne rebels like Amelia Earhart, Elinor Smith, Howard Hughes and Paul-Émile Victor all relied on Longines timekeeping devices when embarking upon their respective pioneering endeavours.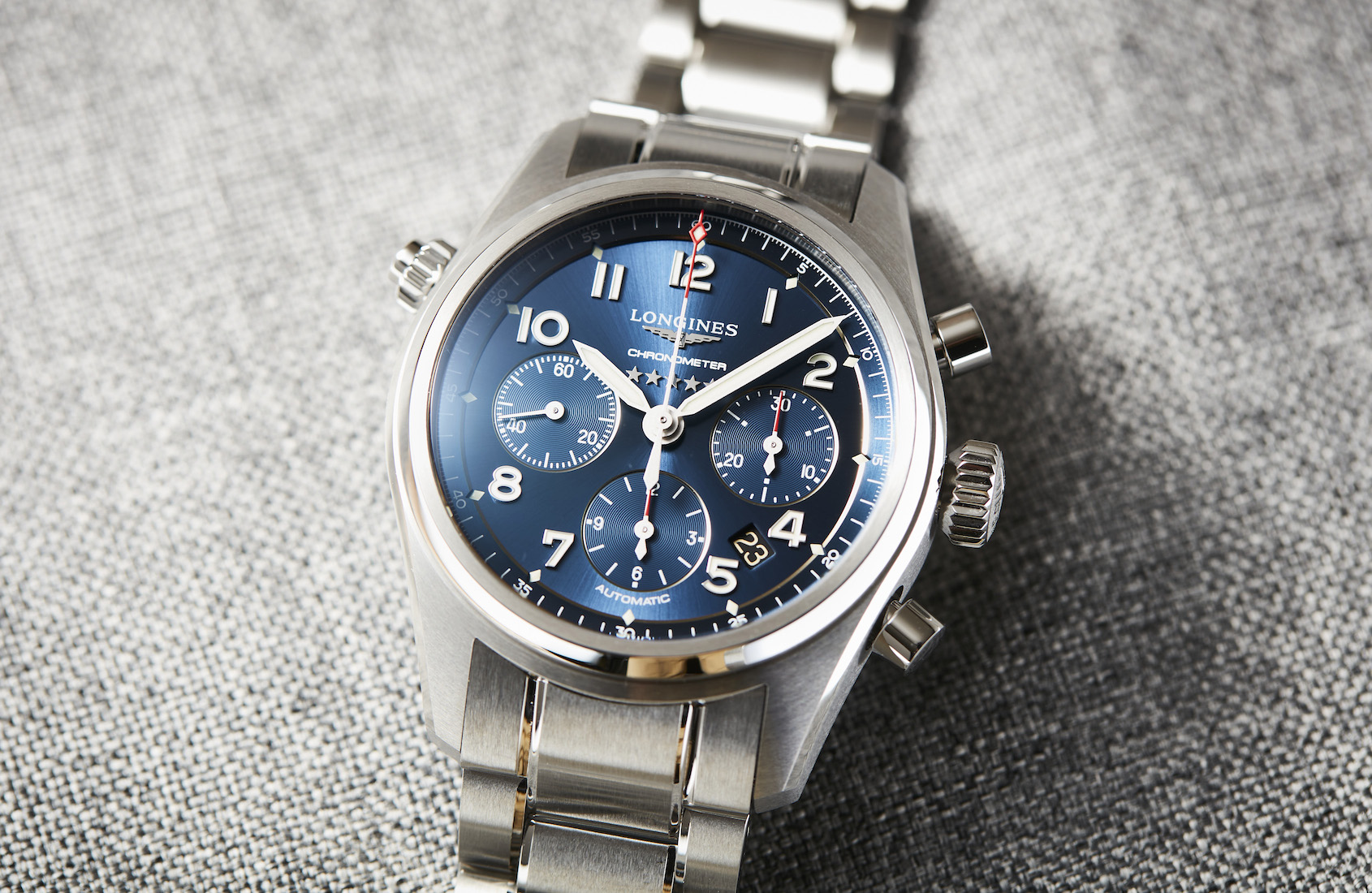 Now, that may well have been what the watchmaker set out to accomplish with the Spirit. Oddly, though, most of the new collection doesn't feel particularly like a pilot's watch. Sure, it possesses some stylistic traits characteristic of an aviation-themed timepiece, but to label it as such is almost too limiting. In essence, what Longines has actually done with its revived moniker is create one of the most compelling all-rounder daily propositions we've seen in a long time.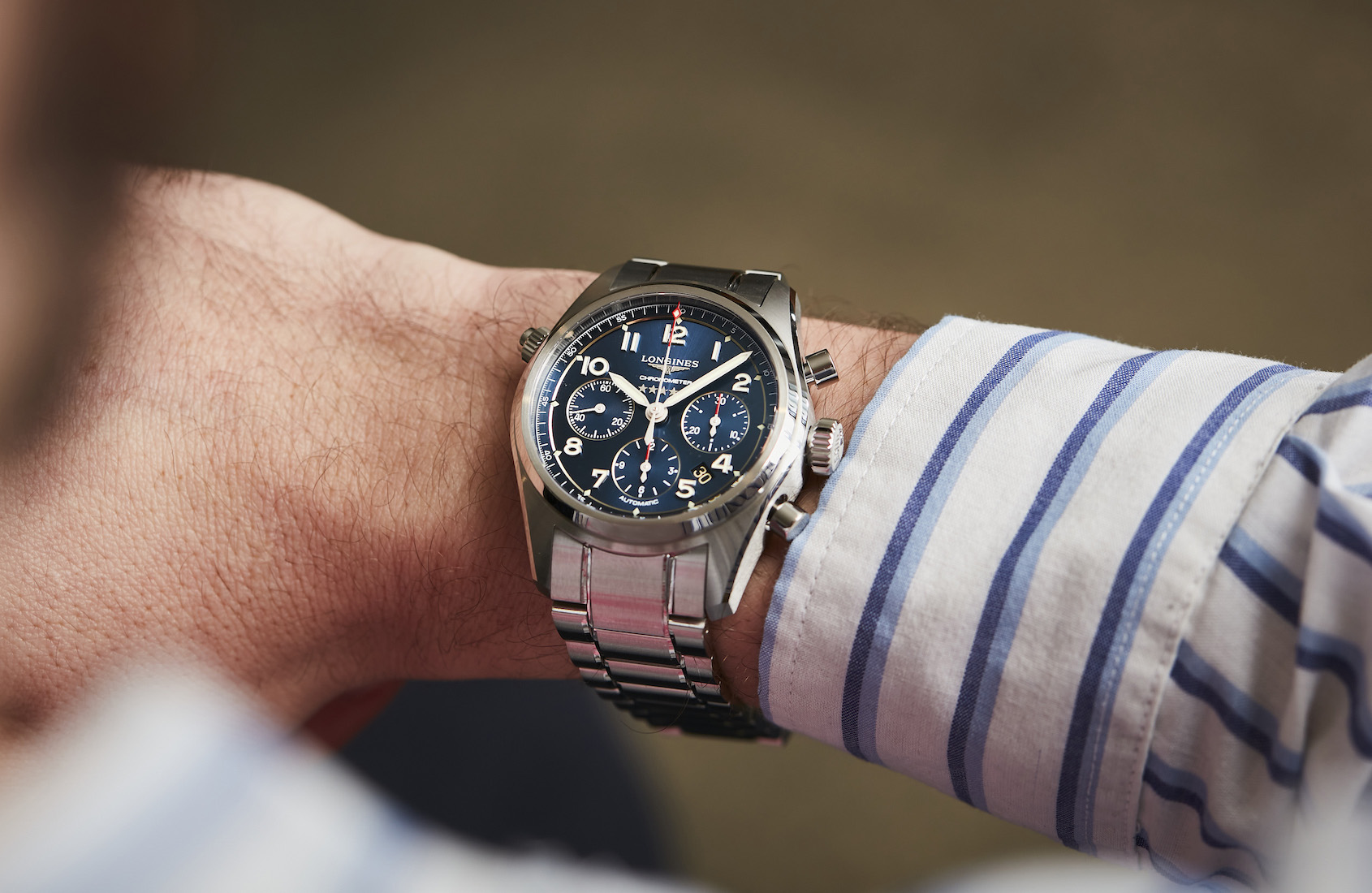 Only the Longines Spirit Chronograph 42mm variants of the steely sports watch still appeared resolutely like something you'd see strapped to the wrist of Pete "Maverick" Mitchell or Nick "Goose" Bradshaw. Why? That's a great question, and to get to the bottom of it, we took a much closer look.
The case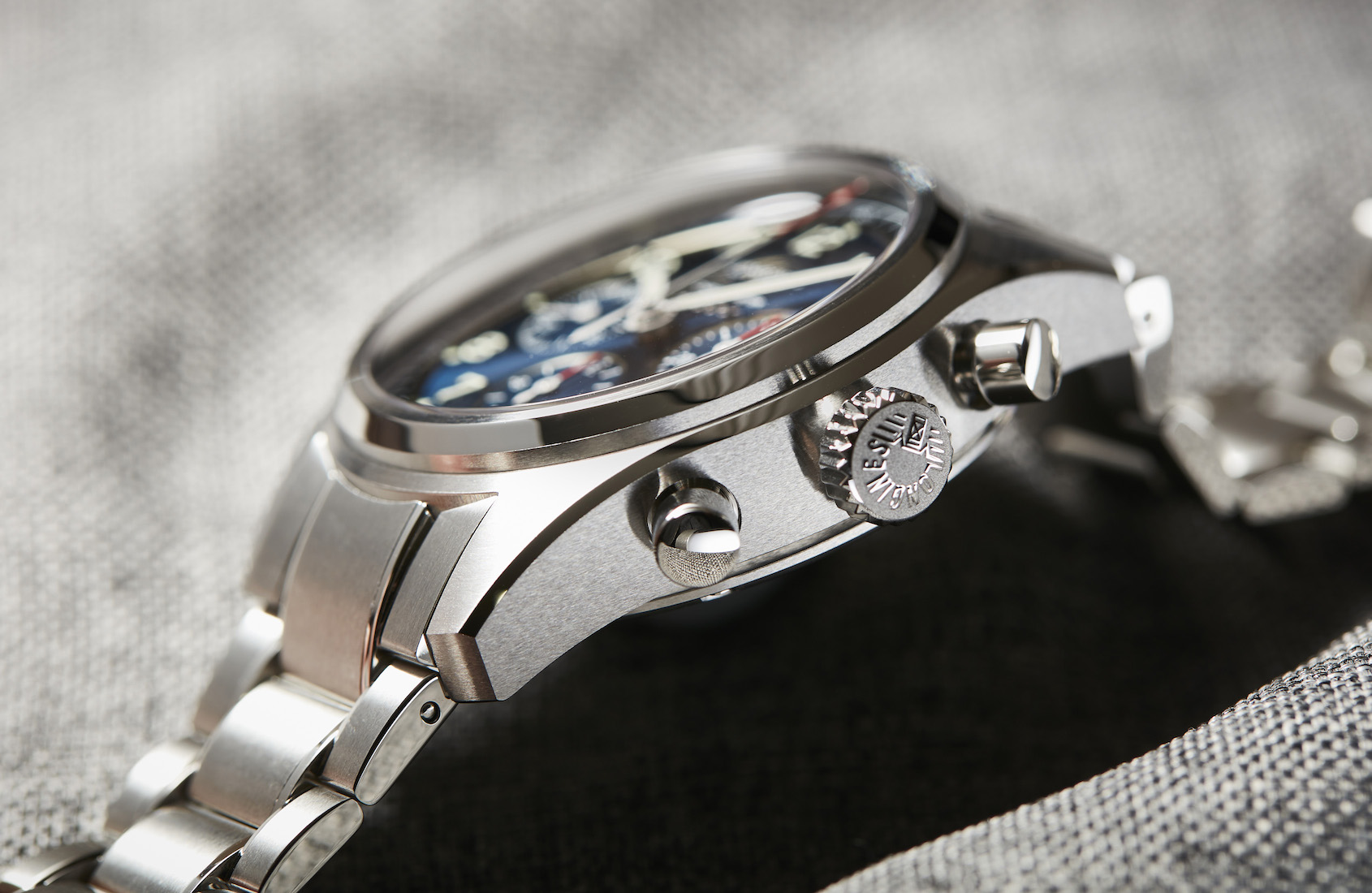 For the last decade, most pilot's watches have tended to err on the side of large … and thick. The Spirit Chronograph is no different. Measuring in at an aforementioned 42mm across and no less than 15mm thick, this watch wears bulkily, and always feels like it's sitting atop your wrist, rather than blending into it like smaller, thinner watches tend to do. It may well have been designed with aviation in mind, but it never flies under the radar. Good thing then that the stainless steel case itself is very handsome, featuring concentrically brushed lugs with gleamingly polished chamfered edges, which run the length of the case and provide an arresting juxtaposition of opulence and utility.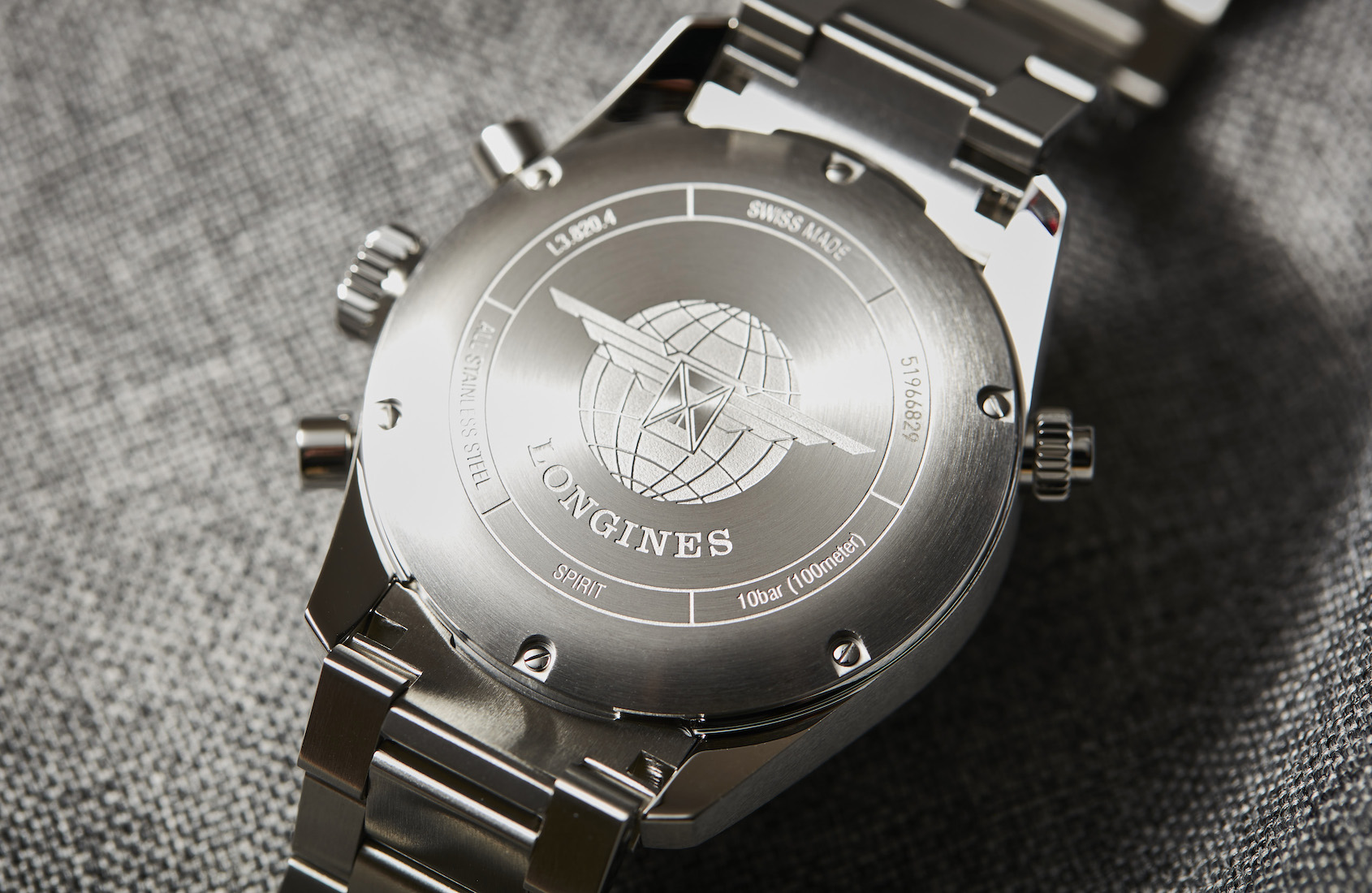 The diminutive steel bezel scores the same dual polished and brushed finishing, which provides great continuity and added visual cohesion. The polished oversized onion crown is a perfect facsimile of just about every pilot's watch, and the squat, pump-style pushers have been judged to perfection – not too tall, not too big, they're just right. The screw-down pusher located at the 10 o'clock position, is to jump days on the date complication, which is both novel and useful. It also provides an extra element of visual aura, lining up perfectly with the top pusher of the chronograph and offering excellent symmetry. Capping the substantial case is a faintly domed sapphire crystal with anti-reflective coating, which rises seamlessly from the razor-sharp bezel with zero lip.
The dials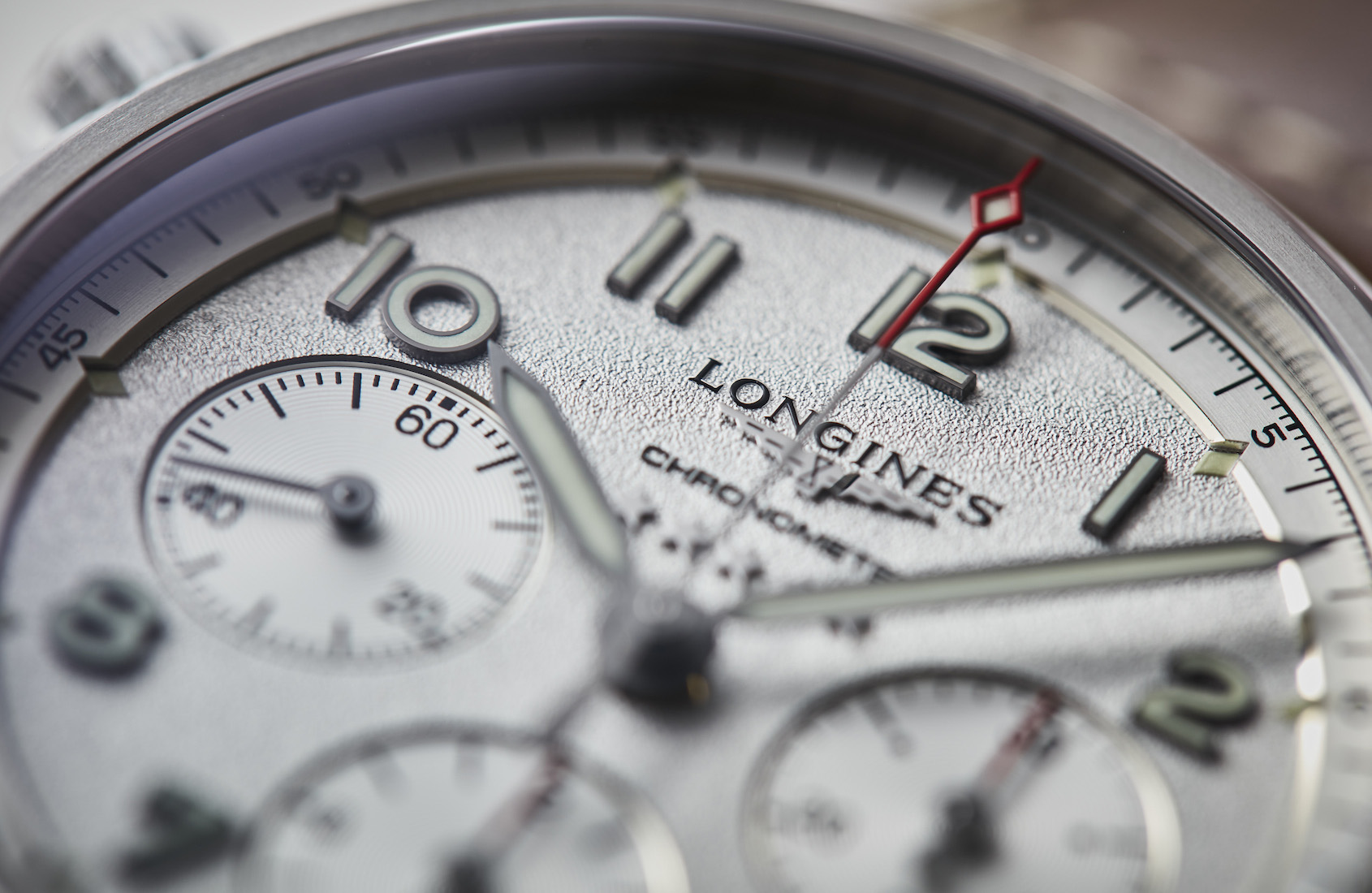 Like the rest of the Spirit collection, the chronographs are available in three distinct dial colours – radially brushed, sunburst navy blue, flat matt black, and a granular, silvery metallic number that looks like the surface of an alien planet. Two of these dials are great, but one is absolutely gorgeous. Any guesses as to which one? If your answer is of the silvery, planetary kind, then you are correct. The way that the light dances across and gets lost in the granulose base means that wearers are treated to an ever-changing dial that constantly feels fresh and new.
That being said, whichever dial colour you go for, the handsome design and layout ensures that all options are more than easy on the eyes. An ever-so-slightly concaved open white minute track is inwardly bordered by a lissom strip of gleamingly polished steel, which is broken up by diminutive diamond-shaped lumed hour indices that cut into the border, providing a dimensional aura that gives each and every dial real three-dimensional depth.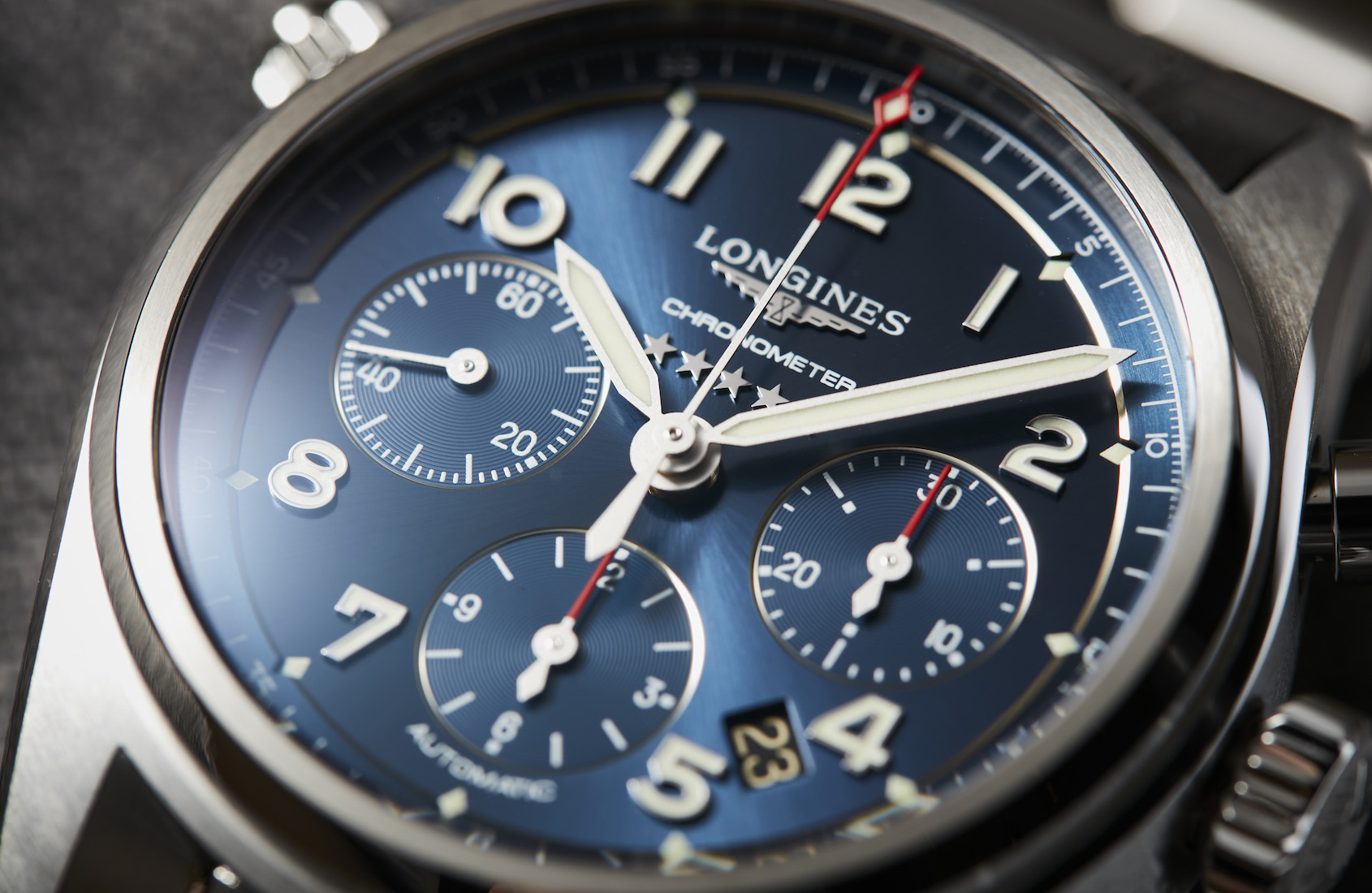 Black-bordered applied Arabic numerals filled with Super–LumiNova line the edge of the dials, and Longines' expertly judged choice of typography for the numerals ensures a timeless aesthetic that will never date, and one that certainly backs up the pilot's watch traits. The three registers of the chronographs are located at three, six and nine o'clock and display a 30-minute totaliser, 12-hour totaliser and running seconds, respectively. Each of the registers is embellished with a fetching concentrically patterned surface that breaks up the dial well, and ensures that the information they present is never lost or illegible.
A brushed steel sword-style handset filled with Super–LumiNova only further complements the functionality of the dials, and the second hand's painted red tip, complete with diamond-shaped lume marker, is like the cherry on a sweet cake. Perhaps the only mark against the Spirit's dial is the presence of a small date aperture located between four and five o'clock – it doesn't quite gel with the balance of the rest of the watch, and we would've preferred it if the watchmaker had just forgone the ultimately handy complication to preserve the aesthetic appeal of the dial.
The movement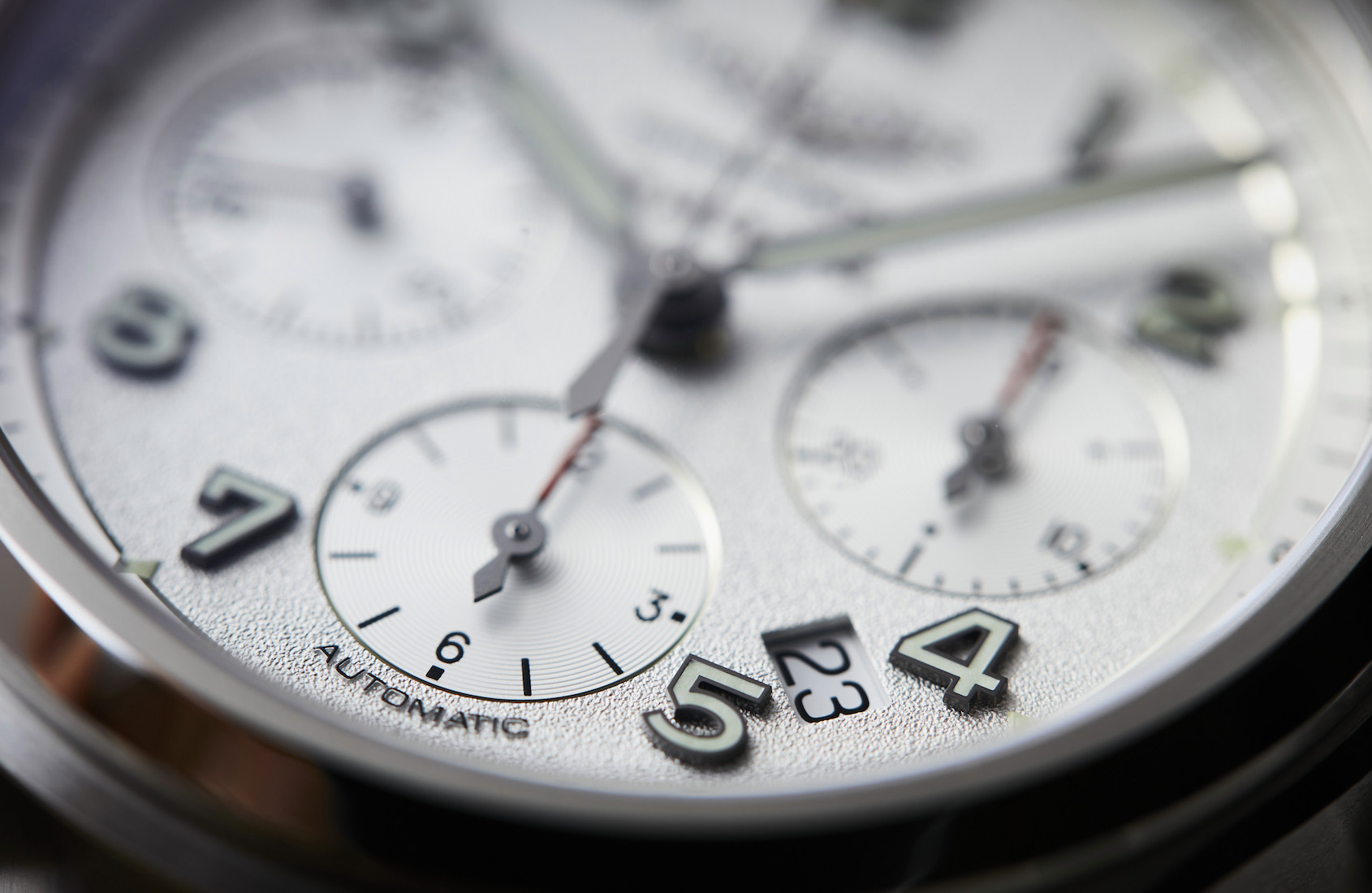 The keen-eyed among you may've noticed another feature of the dial – the presence of five petite applied stars sitting neatly below the word that signifies what they actually connote. Yes, all three of the chronographs are chronometer certified, just like the entire Spirit range and, considering their Aussie RRPs, this makes the chronos an almost peerless value proposition. The uber-accurate movement itself is Longines Calibre L688.4, which is based on the ETA Calibre A08.L01 movement. The excellent Swiss movement offers several benefits, including excellent accuracy (-4/+6 seconds a day), a silicon balance spring, self-winding, column wheel chronograph complication, 27 jewels, 28,800 vph and 60 hours of power reserve.
The bracelets/straps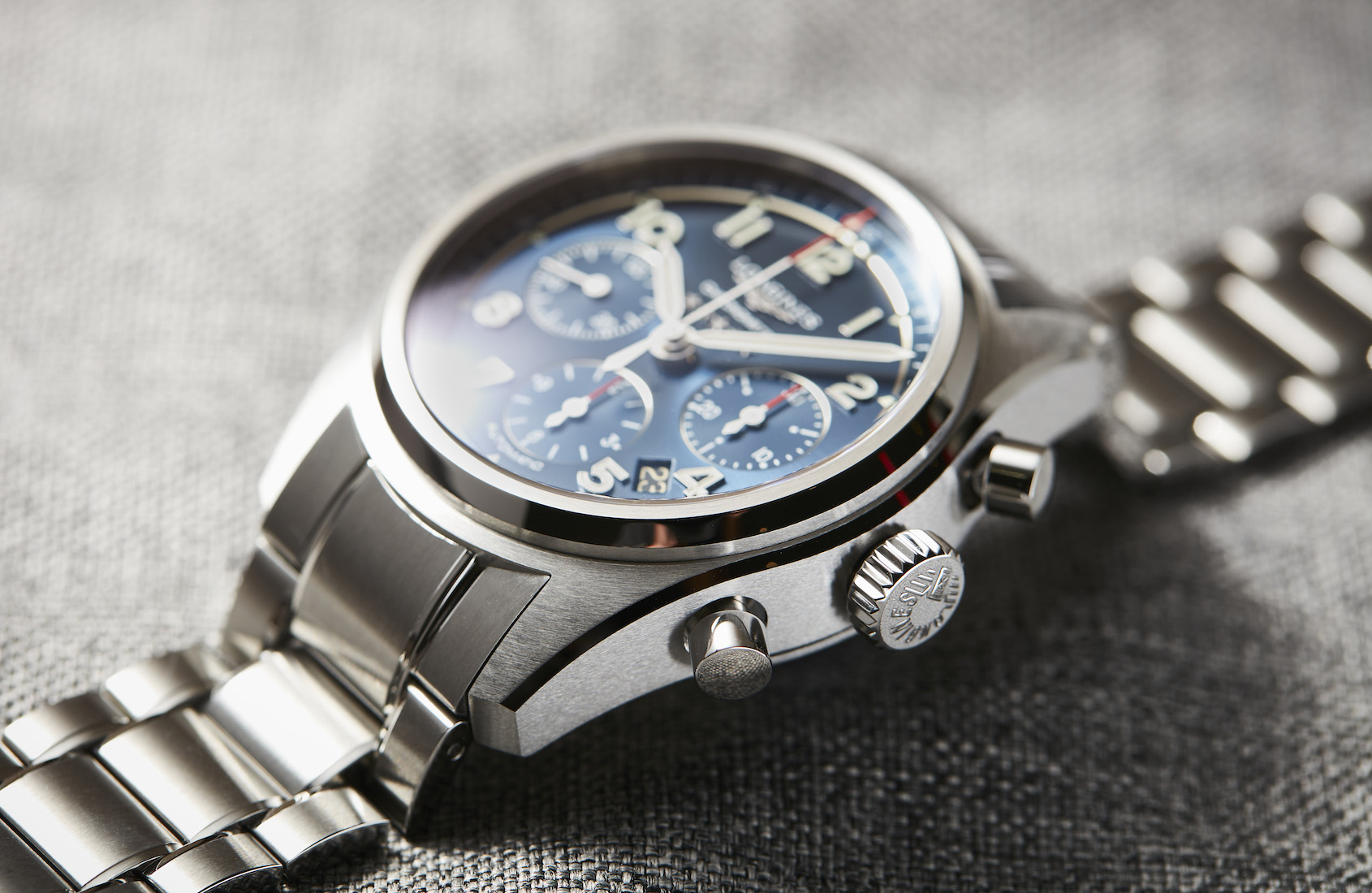 The Chronograph variants of the Spirit collection can be had on either a tri-linked stainless steel bracelet with both a polished and brushed finishing and a push-button deployant clasp, or a calfskin leather band in complementing colours such as navy, chocolate or tan brown, with contrasting stitching and a more traditional pin buckle. Both options are excellent; however, if it were our two cents, we'd go for the steel bracelet and then buy the leather straps separately.
On the wrist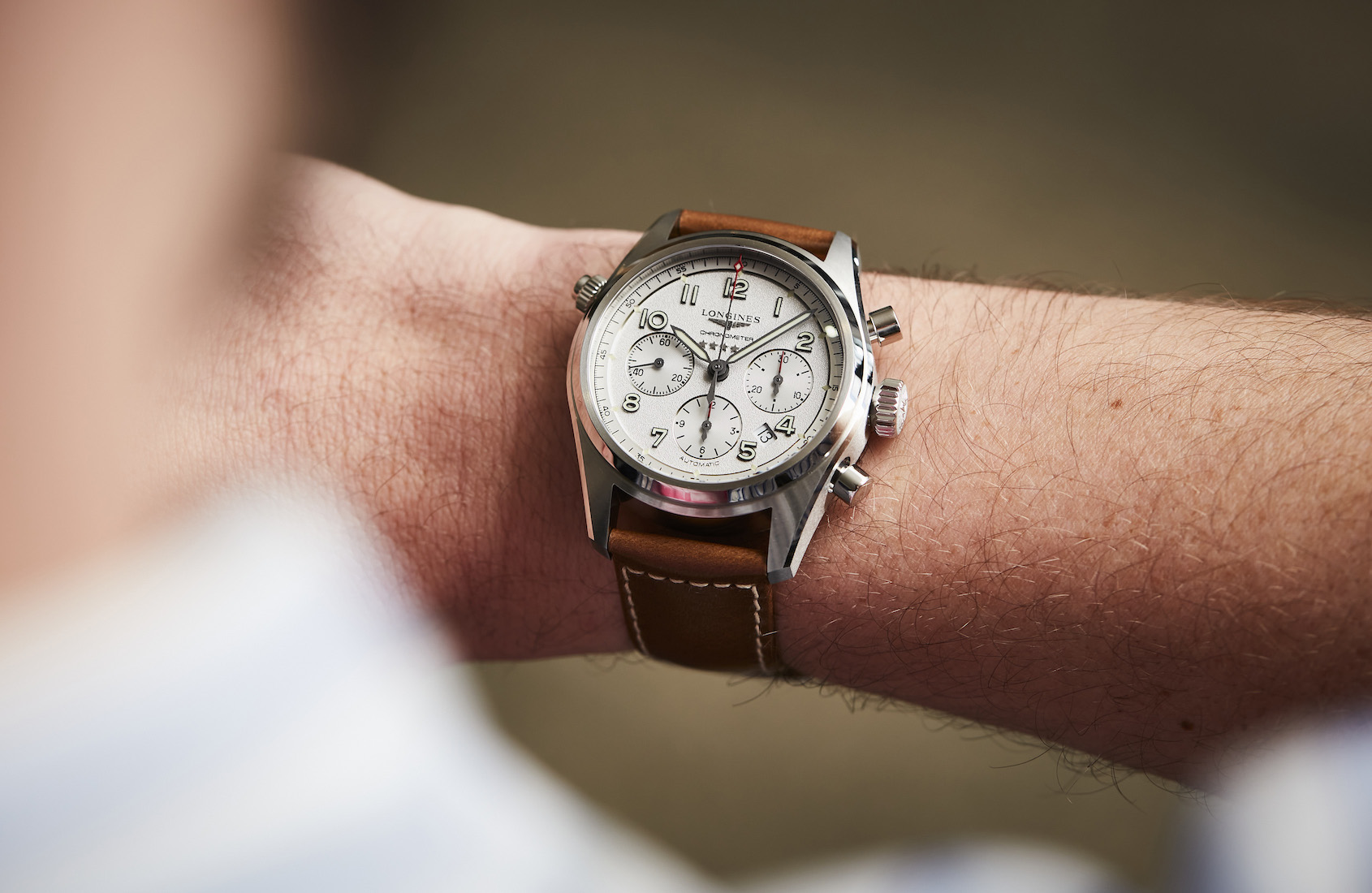 As far as weekend wristwatches go, the Spirit chronograph is an intoxicating proposition. Couple it with a suede leather and shearling jacket and a pair of aviators, and you'll genuinely feel like a Top Gun-qualified pilot just back from a clandestine mission abroad. In terms of comfort, it's decent, although its size and weight means that you're never unaware of its presence on your wrist. And neither is anyone else who sees it, because it stands out, looking every bit its $4500 RRP … and quite possibly even more than that.
Verdict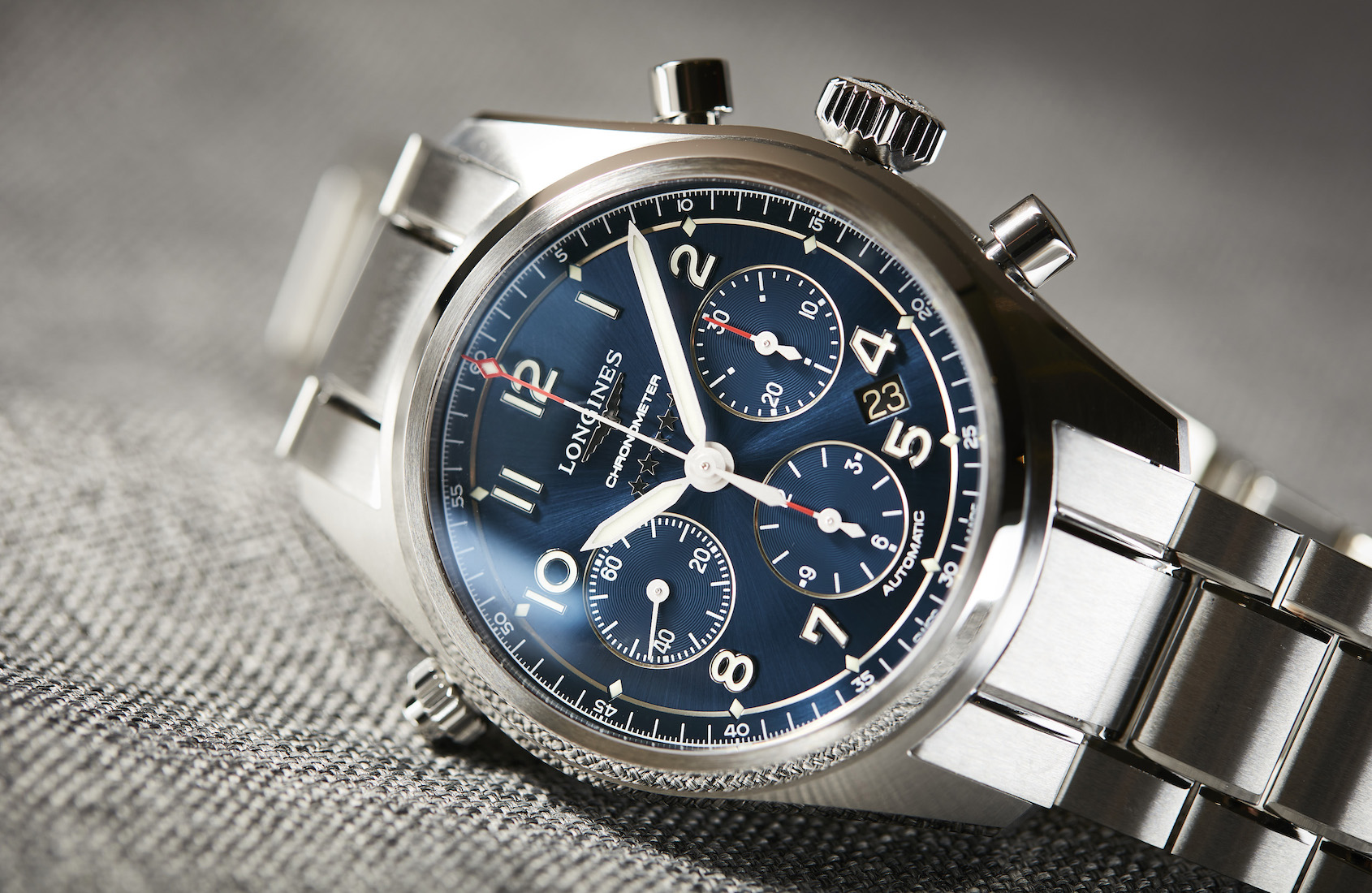 Speaking more broadly about the Spirit collection as a whole for a moment, it truly is an important, triumph for Longines. These watches offer more heritage, quality and robustness than just about any other watch I can think of for the money, regardless of iteration, and they further cement the Saint-Imier outfit's position as making the best value-for-money watches on the market. The Swatch effect is tangible in the Spirit collection, taking full advantage of the group's economy of scale. Having so many different watchmakers under the one roof – technology, manufacturing practices, R&D, the sharing of information – all of it leads to a better end product for everyone involved.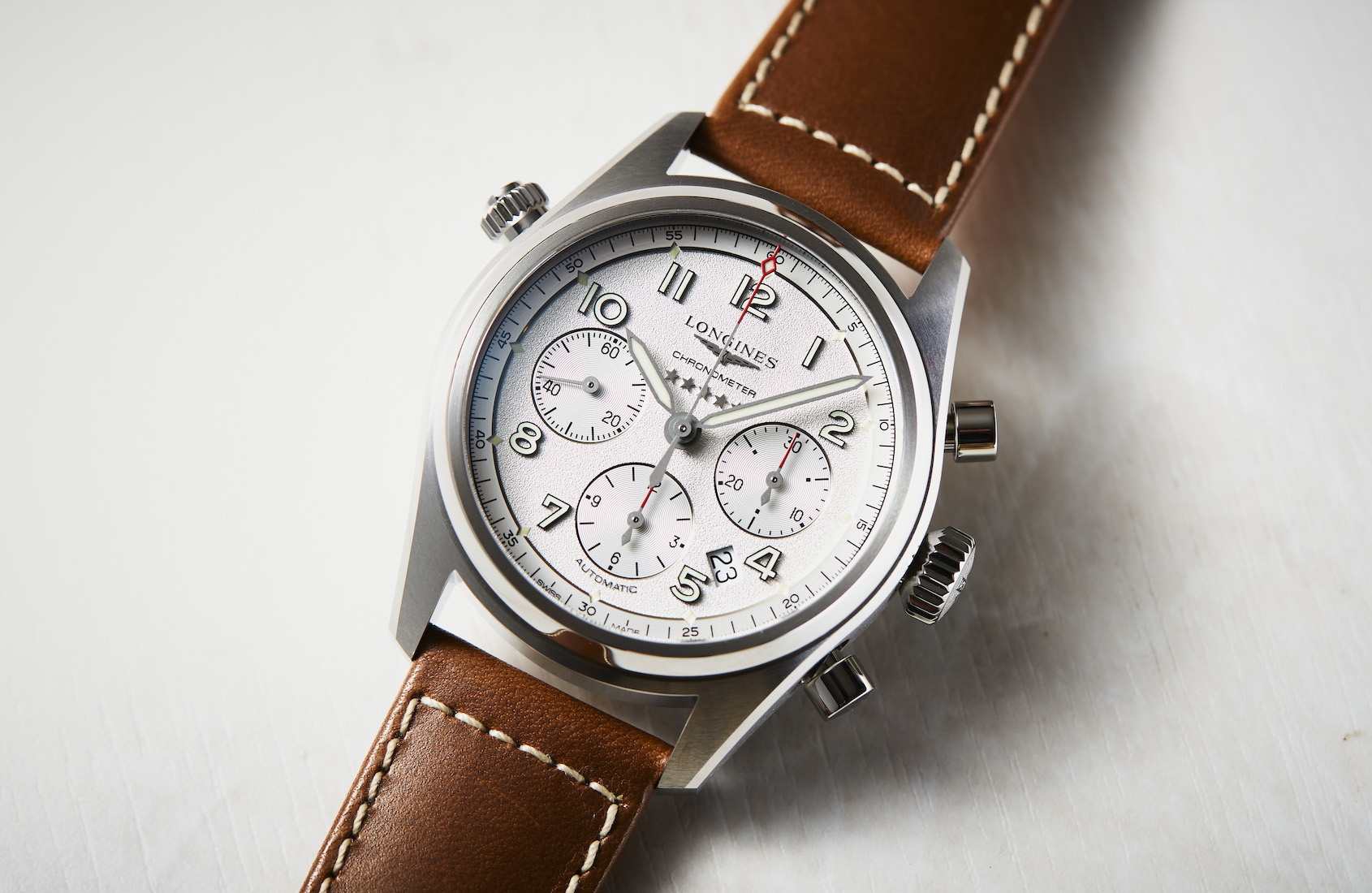 As for the Spirit Chronograph, I said it at the start of this review and I'll say it again – this watch feels more like a pilot's watch than any other in the collection. Its size, aesthetics, the way it wears and its functions all make it genuinely look like something that a pilot would wear. Lucky for us though, it's not reserved just for the aeronautically inclined. Anyone can buy it, and I highly recommend you do just that.
The Longines Spirit Chronograph 42mm price and availability:
The Longines Spirit chronograph 42mm is AUD$4500 on steel bracelet or leather strap.
For more details, visit Longines right here.
Made in partnership with Longines. However, the opinions expressed in this article are our own in accordance with our Editorial Policy.