Editor's note: Last night, Longines went live with their online shopping facility, and I've spent a bit of time browsing what's on offer. And it should come as no surprise that I'm pretty into the 'heritage' section of the site. And one watch, which I saw last year and was really taken by, is the Longines Skin Diver. So I thought the timing was right for another look …
Longines heritage reissues are — much like the designs they're inspired by — the stuff of legend. And speaking of legends, you might notice that the dial design of the Skin Diver resembles that of the Legend, with distinctive hand sets and long hour and minute markers. That's because both watches trace their origin back to the Nautilus Skin Diver, Longines' first dive watch.
But while the Legend has an internal bezel, the bezel here is very much your traditional bezel, and black to boot. This, combined with the creamy-toned printing and rich, almost pebbly dial texture (offered on either a tropic-style rubber or Milanese mesh) adds up to a watch that more than lives up to its heritage. Also, you'll be happy to note: no date window.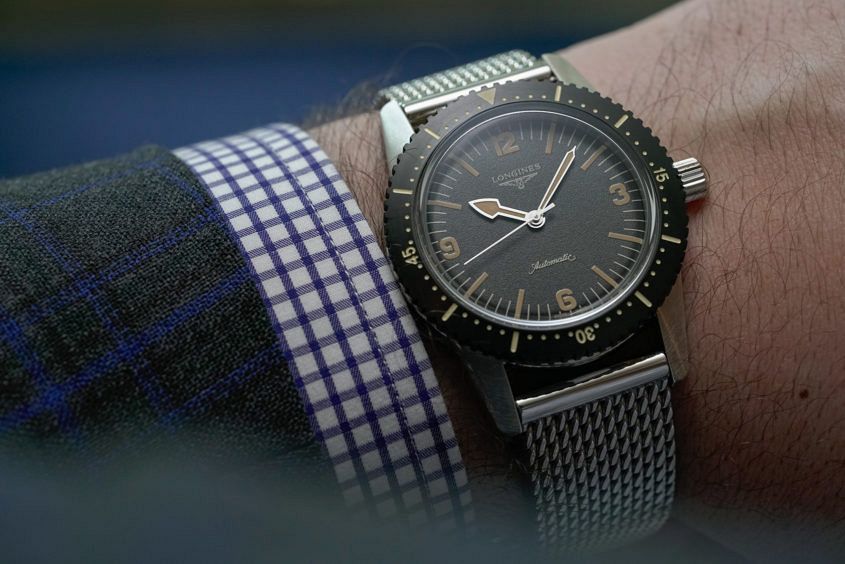 Longines Skin Diver Watch Australian pricing
Longines Skin Diver Watch, $3425