Looking for a great all-rounder that won't break the bank? How about the Longines Master Collection Annual Calendar?
Time+Tide
Editor's note: For whatever reason, I'm on a bit of a back-to-basics kick at the moment. I mean, high complications and high price tags are all well and good, but sometimes you crave the simpler things in life. And I guess for me, right now, the simpler things are watches. Only hang on — plot twist — turns out this watch here isn't quite so simple: there's an annual calendar in the mix, which has been realised in a refreshingly unfussy way. Read on for our review of the Longines Master Collection Annual Calendar. 
There are few things I love more than a watch that surprises me. It's something that doesn't happen near enough for my liking, but it happened with this Longines. It was in the Longines booth at Baselworld, the first day of the fair. Trays and trays of watches had just been laid out in front of us and we were working out what to photograph and focus on. The new Legend Divers, obviously; cool new V.H.P. variants, a really sexy blue and gold Record. Then, the brand representative thrust something from the Master Collection into my hand. Steel, 40mm case, day-date display. Sure, it was nice, but a novelty? Not so much. I made polite sounds of appreciation and handed it back. No, she said, look again. And I did. I noticed the dial text first — 'annual calendar' — and then realised that it wasn't a day-date, but rather a month and date. This seemingly innocuous watch had just jumped right to the top of the list.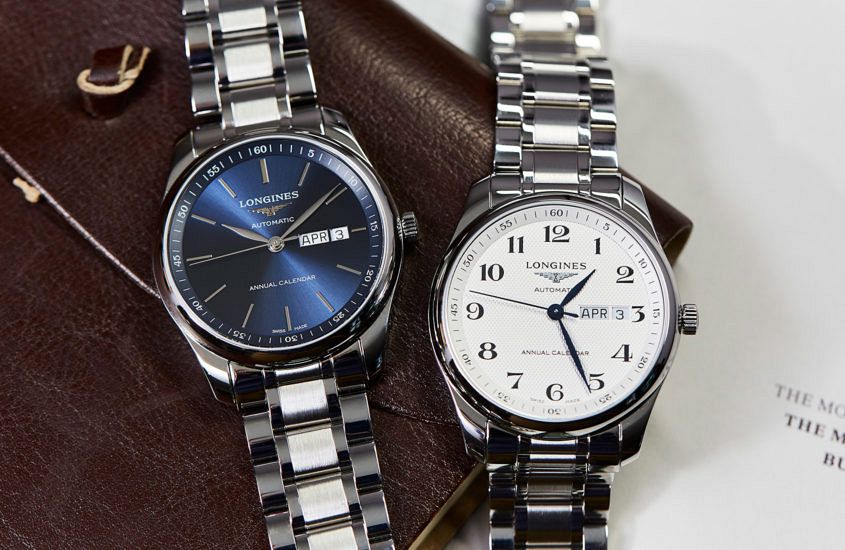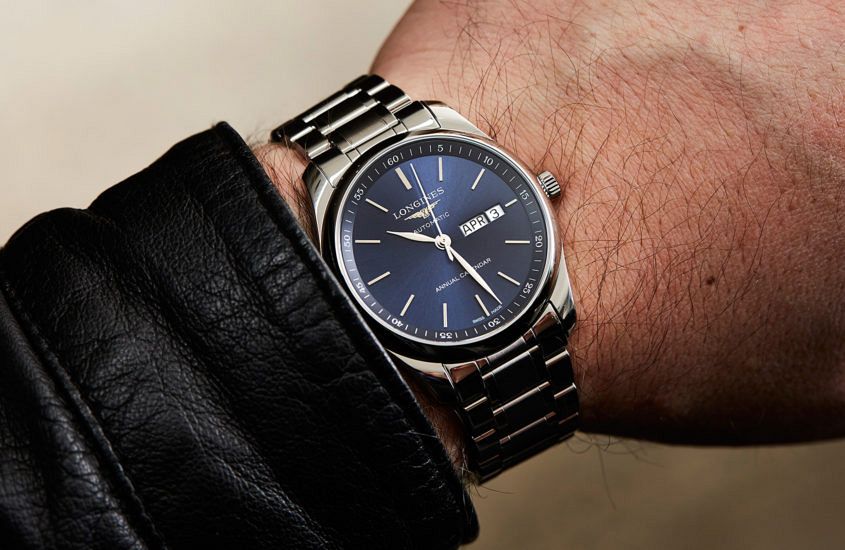 Before we talk more about the watch, let's talk calendars. There's a bunch of calendar complications, from the simple date, all the way up to the celestial stuff, but in my experience there are three that tend to get a little mixed up. There's the complete calendar, which displays day, date and month, but requires adjusting every month that has fewer than 31 days. At the top of the tree is the perpetual, which shows all these things, but is smart enough to factor in longer and shorter months — even February in leap years. And in the middle sits the annual calendar, which can work out that August is 31 days, and September only 30 — but still needs a bit of help in February. It's a happy medium, less complex (and expensive) than the perpetual, but far more set-and-forget than the complete calendar. It's also a lot less common. Partially, this is due to the fact that the complication itself is comparatively young — it was invented by Patek Philippe in 1996, and as you might expect it's traditionally been the domain of brands with comparatively high sticker prices: IWC, Rolex and Blancpain all have quite well-known annual calendars in their catalogues.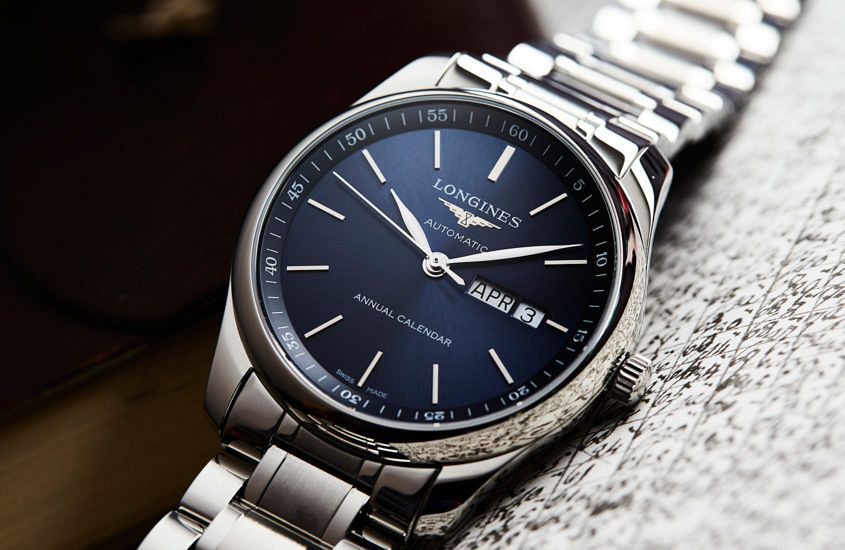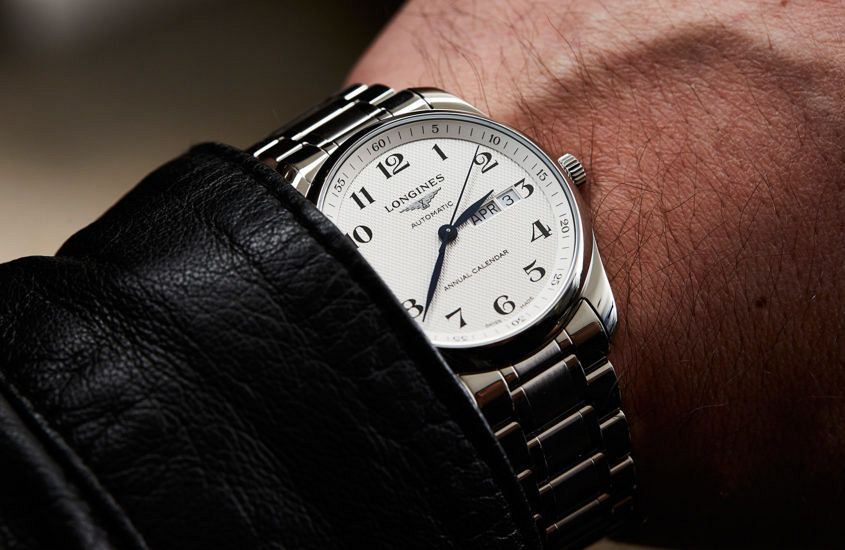 Which brings us back to the Longines Master Collection Annual Calendar. The watch possesses the same charms as other Master Collection pieces — those classical, ample lines and polished surfaces, delicate leaf hands and familiar dial options. Here we've got a creamy white option with a barleycorn finish and printed Arabic numerals with a decided Art Nouveau feel. An then there's the more modern blue starburst, with applied silver batons. Both feature a raised chapter ring, colour-matched and displaying the minutes. The dial text is clean, and the applied winged hourglass is always nice to see. But what I find most interesting here is the treatment of the calendar complication (powered by the ETA-supplied L897.2, with 64 hours of reserve). It's unassuming in the extreme. Longines has even gone so far as to only present the month and date, excluding the day. And while this decision could have been made on technical or aesthetic grounds, I think it's a smart call. Not only is it practical — if I ever need to know the date (signing a form for example), I need to know the date and the month, rarely the day. And besides, of those three bits of information, I find the day the easiest to instantly recall. Practicalities aside, it makes for good design. The Master Collection is all about traditional and timeless design, and the dual aperture at three ticks both those boxes nicely. And while some might say the styling is conservative (that's the point), or the 30m of water resistance is on the light side (I have to agree with that), there's no arguing with the pricing.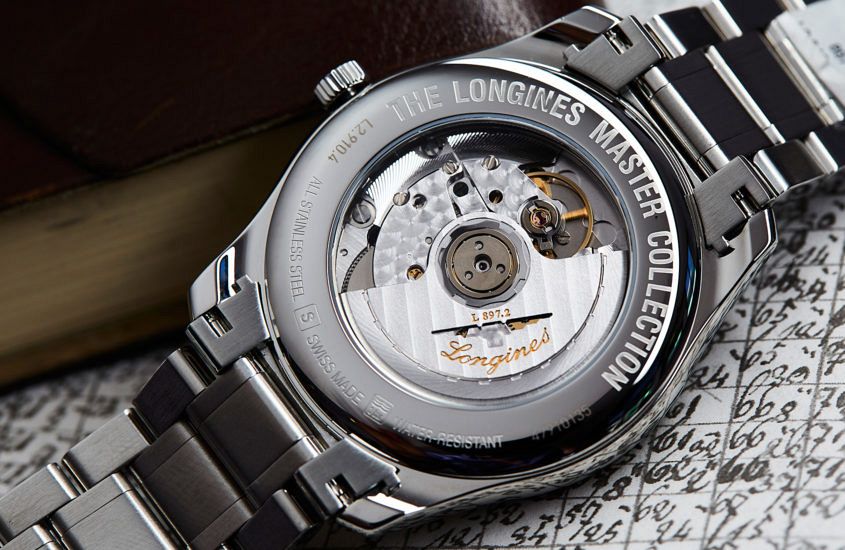 This watch, on bracelet, comes in at under $3000 Australian dollars, meaning that it represents a tremendous amount of watch for the money. It would be a fair price for an nicely made automatic Longines in and of itself, but throw in that annual calendar complication and you've got something quite special here. With watches like this, the Record and the V.H.P. Longines are really making a strong push for smart, user-friendly watchmaking at an accessible price point. This Annual Calendar proves that a winning watch doesn't have to be an attention-seeker.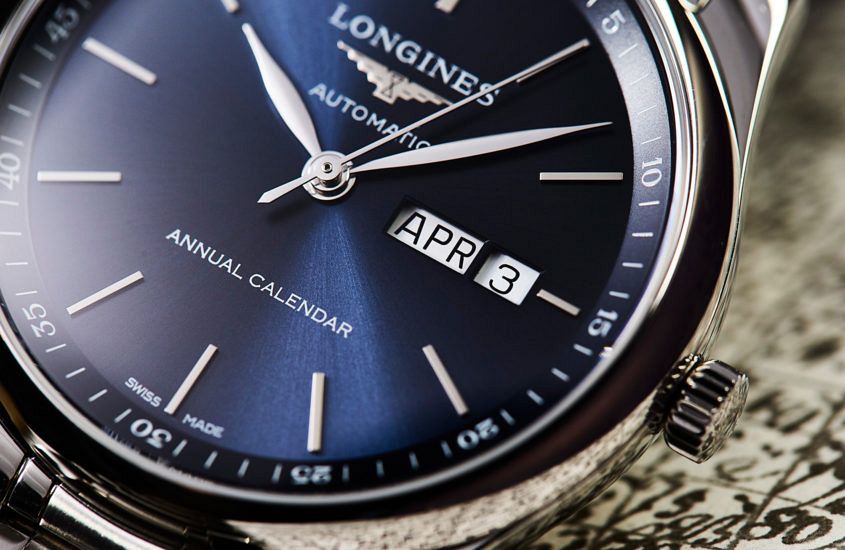 Longines Master Collection Annual Calendar Australian pricing
Longines Master Collection Annual Calendar, steel on bracelet, $2925