HANDS-ON: The Longines Heritage Military Marine Nationale is peak heritage watch perfection
James Robinson
As a person who writes about and reviews timepieces all day every day, and as an avid enthusiast of horology since my mid-teens, there really isn't too much that surprises me anymore in the watch world. Very few watches have the ability to stop me in my tracks, or, for lack of a better word, leave me feeling shook. This Longines Heritage Military Marine Nationale did exactly that.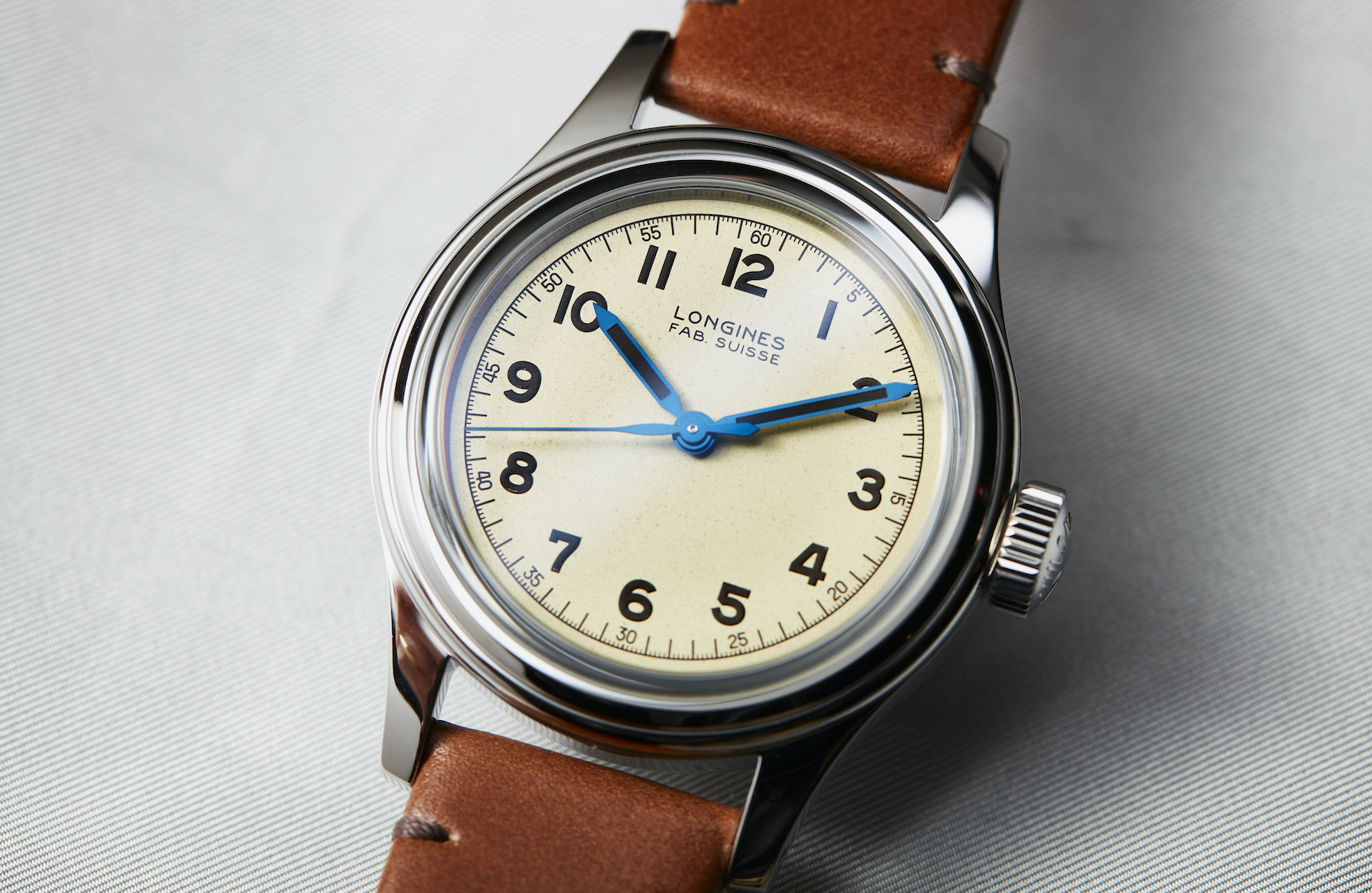 First impressions
Ask anyone in the office who was there at the time … I completely lost it when I pulled this watch out of a plain cardboard box filled with Longines' novelties for 2020. Sure, there were other nice watches in this box of horological goodies, but I just didn't care. My eyes locked onto the Marine Nationale, and everything else faded into the background. A faithful re-creation of a mil-spec timepiece made almost 80 years ago for the French Navy (hence the name), this latest release is yet another exemplar of just how good Longines was in the first half of the 20th century.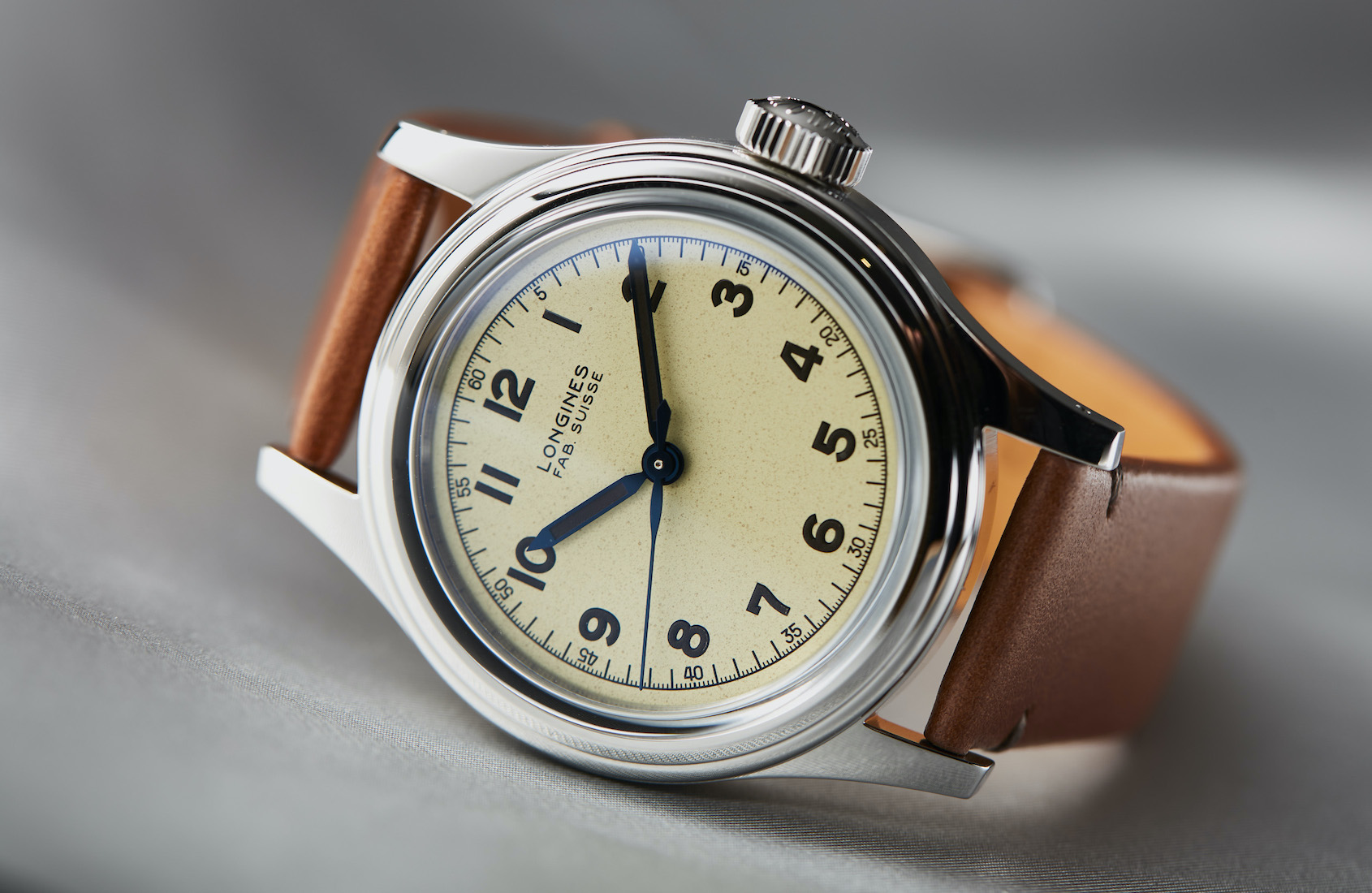 Now the watch I got Hands-On with was an early pre-production piece made specifically for the press, mainly for the purposes of taking very pretty photos … which I think we can all agree was achieved (well done, T+T photog Jason Reekie!). However, that means there was no working movement inside, so these first impressions will be based purely on how the watch looks and wears on the wrist. We'll have to wait for a proper production-spec example to give you the full review. Needless to say, though, an impression has been made.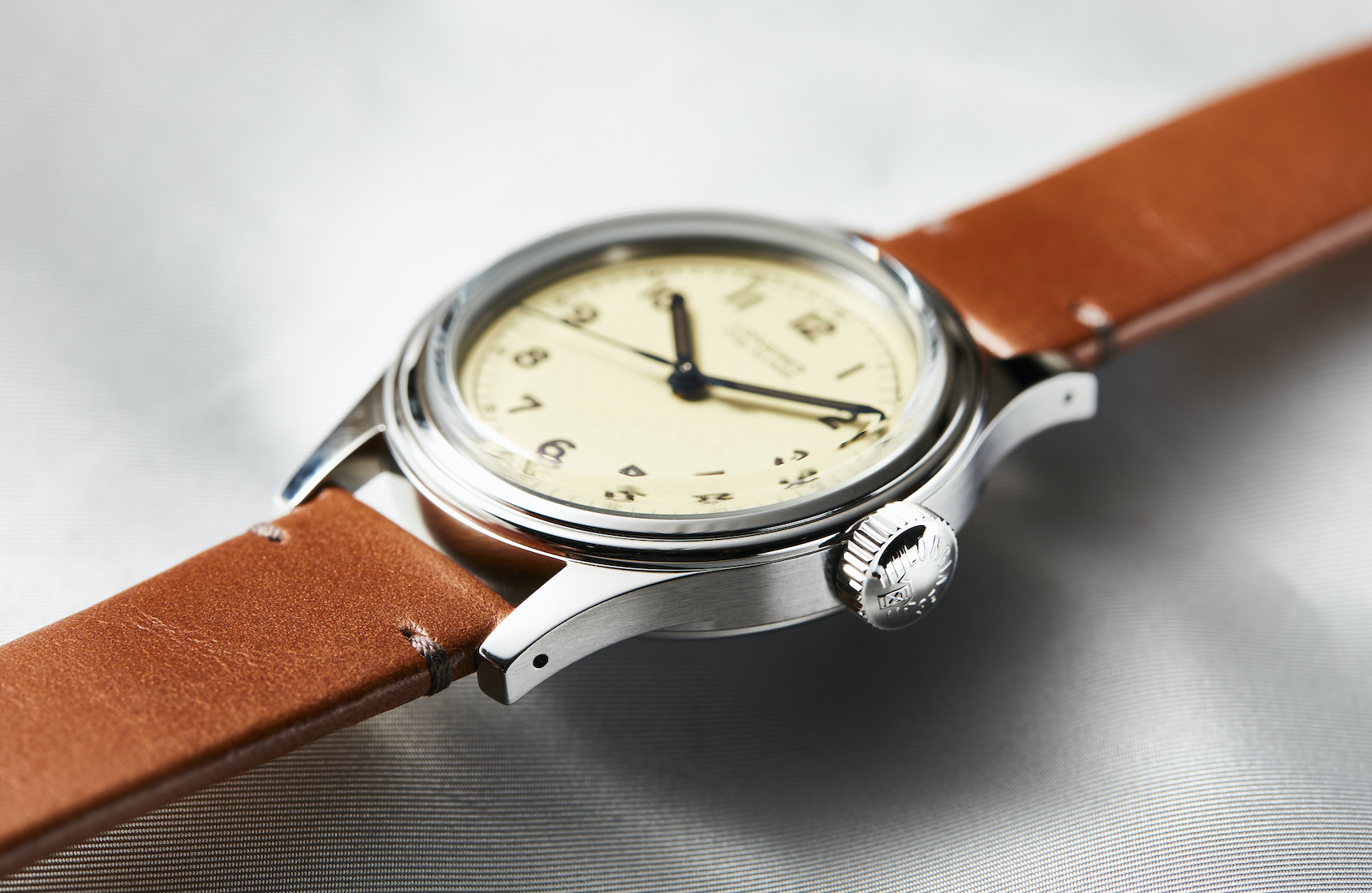 The case
The first thing that struck me was the stainless steel case. It just looked impeccable from the first moment I saw it. Polished on top and brushed down its flanks, it presents a dichotomy that's equal parts a proper tool watch and a bona fide piece of jewellery. Size-wise, Longines has crushed it – 38.5mm across and about 13mm thick. Need I say more? Actually, I'm going to, because although that may sound a touch small to some, thanks to slender, elongated and tapered lugs, the watch probably wears more like a 39-39.5mm timepiece. The stepped top portion of the case is beautiful, and the oversized, knurled crown makes the whole ensemble look like it could be a vintage from a different manufacturer, one that uses a crown as its logo. And Longines has had the foresight to bestow the Marine Nationale with drilled lugs, hallelujah.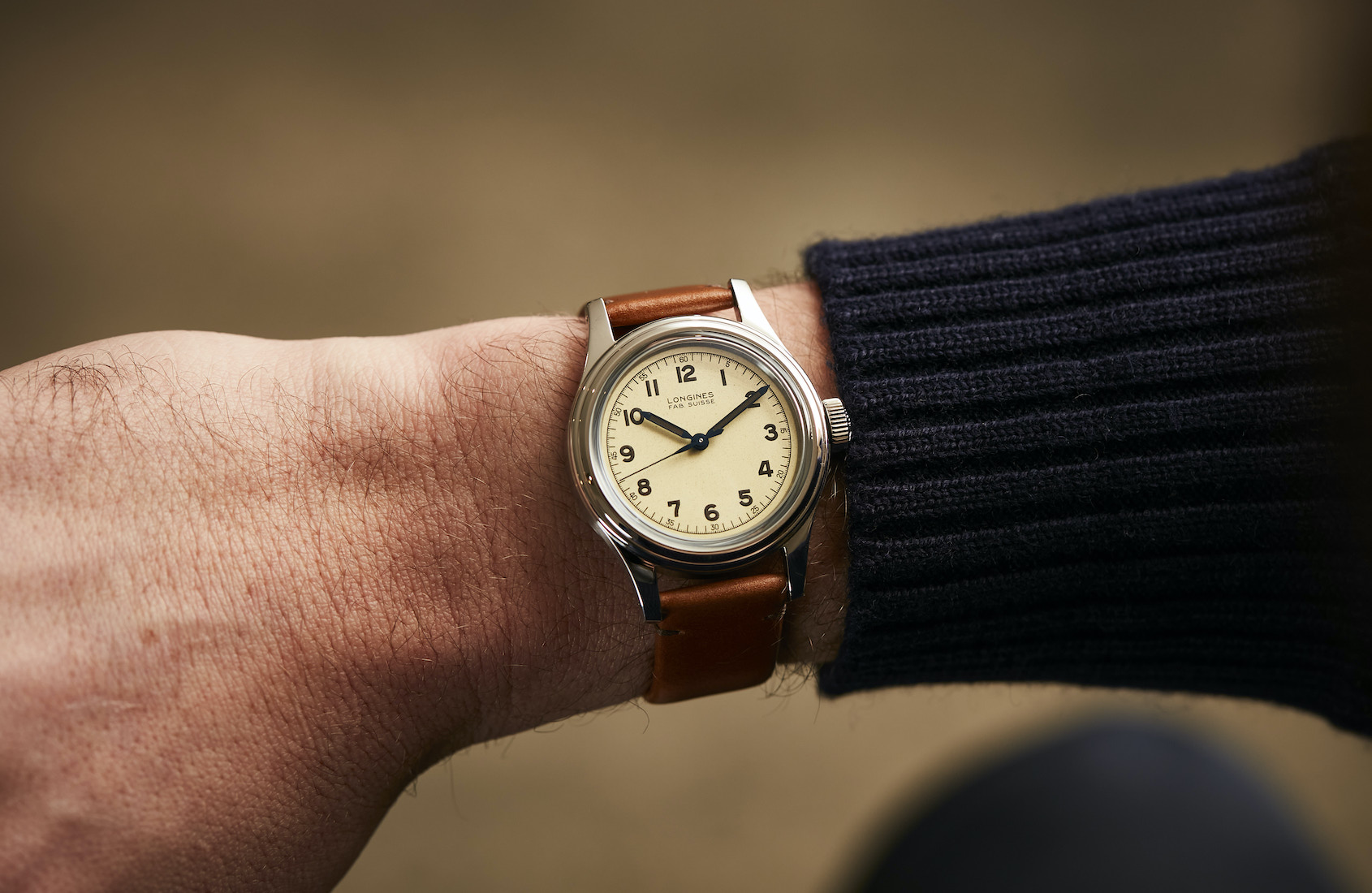 The dial
Once you get over the masterful case, the dial, if anything, only ups the tempo. Presented with an intricate faux patina base that looks quite a lot like a speckled egg, its off-white, yellowy, granular finish is so, so charismatic. The guileless black closed minute track has been finished in a period-correct font, and the accompanying Arabic numerals, raised and painted in a black Super-LumiNova, similarly feature an antiquated typestyle that perfectly mimics that of the original watch. The blued steel handset, also filled with black Super-LumiNova, is surreptitiously exquisite, appearing almost black unless they catch direct sunlight, in which case they turn electrifying dark blue metallic.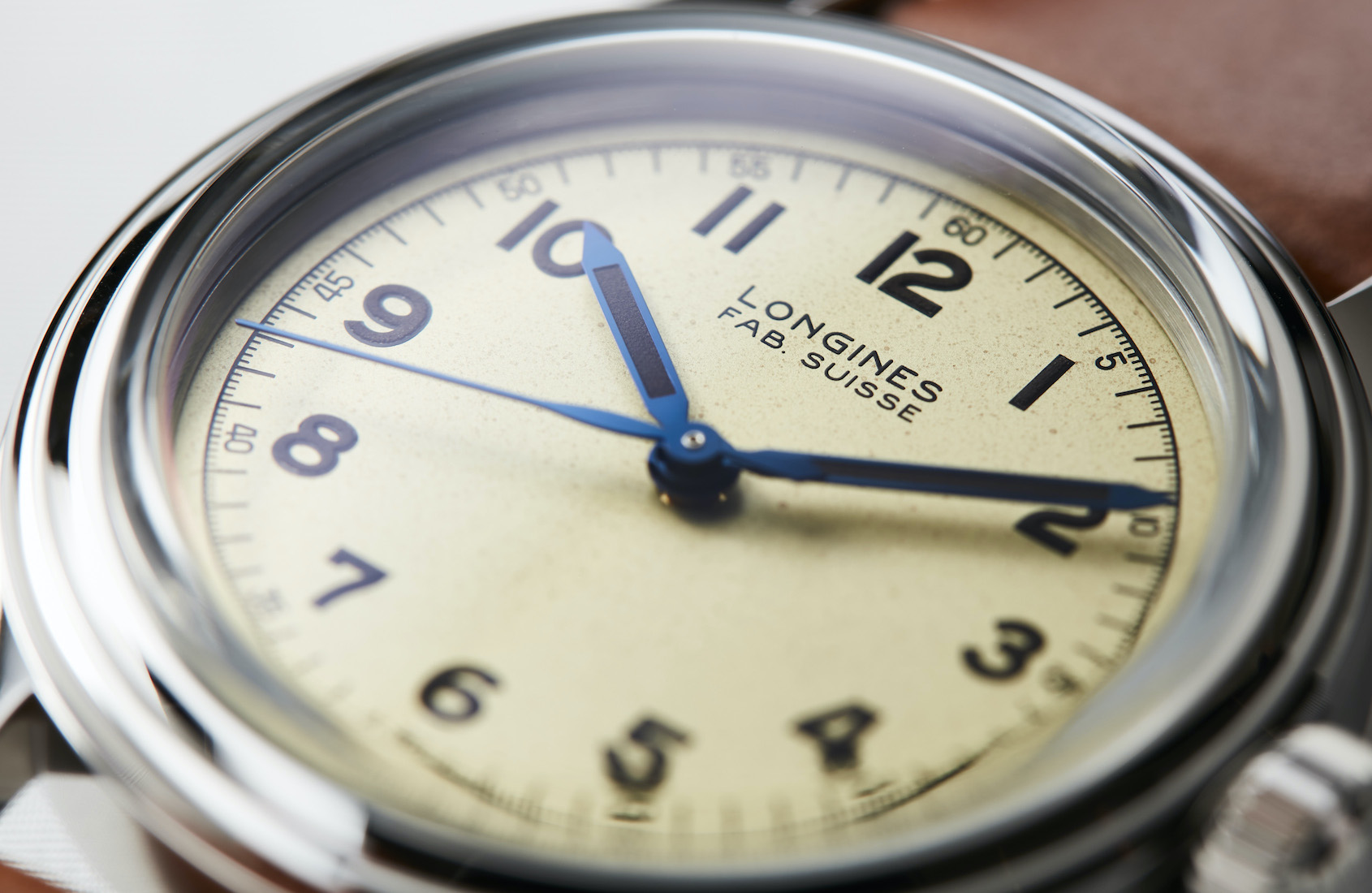 The strap
The Heritage Marine Nationale comes equipped with a saddle brown calfskin leather band that brilliantly complements the predominant aesthetic of the watch, and owners can easily fasten the steely timepiece to their wrists with a faithful, easy-to-use polished steel pin buckle.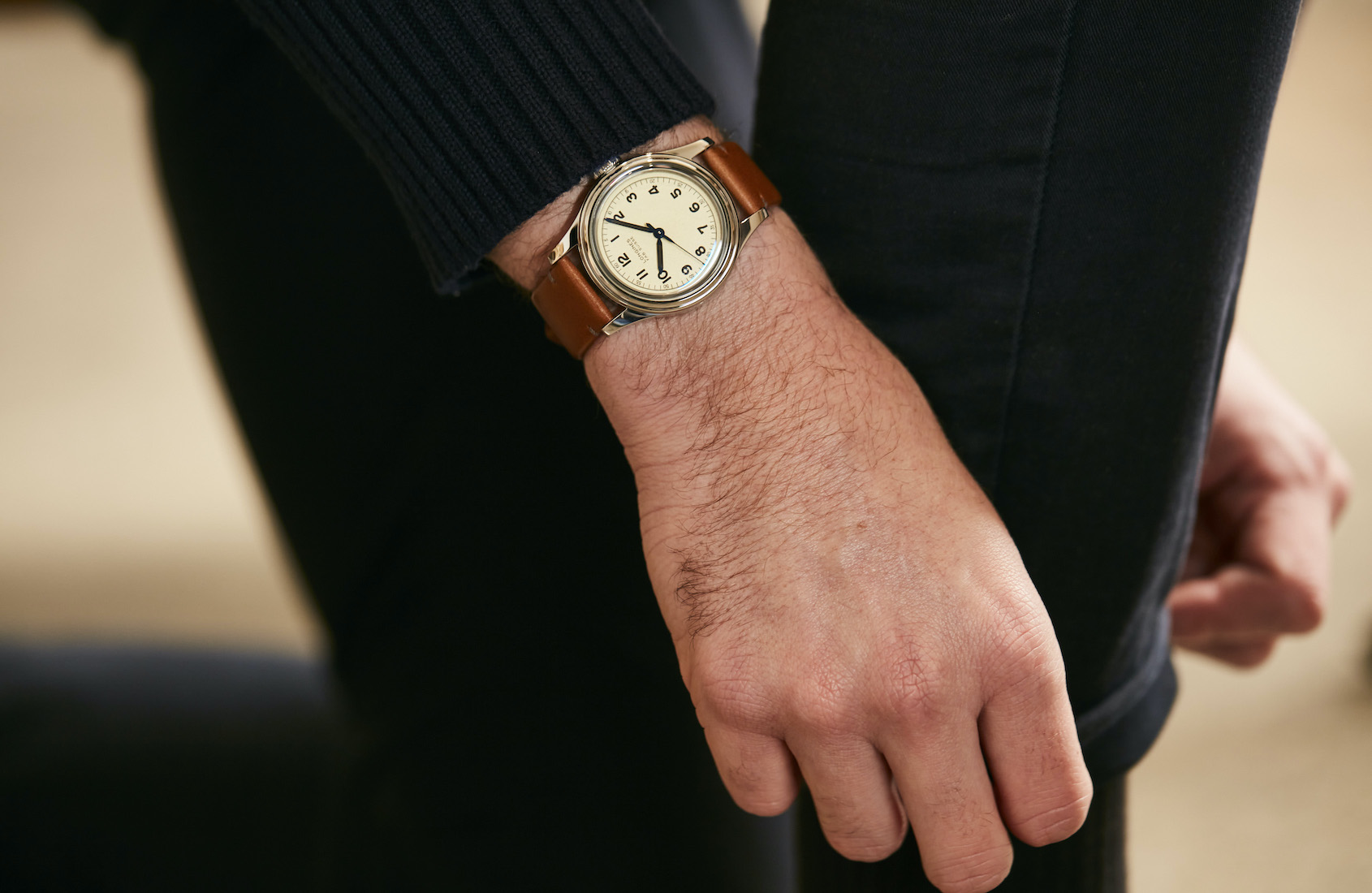 I'm sure there are watches that will look better with a pair of blue jeans and a white tee … I just can't think of any right now. OK, maybe a 1675 or a 5513, but to get your hands on one of those, you're talking a minimum of $20K AUD. Comparatively, this Longines, which will no doubt be as reliable as a wood-burning stove and robust enough to take whatever you can throw at it, will only set you back $2950. So, in other words, it's another value proposition par excellence.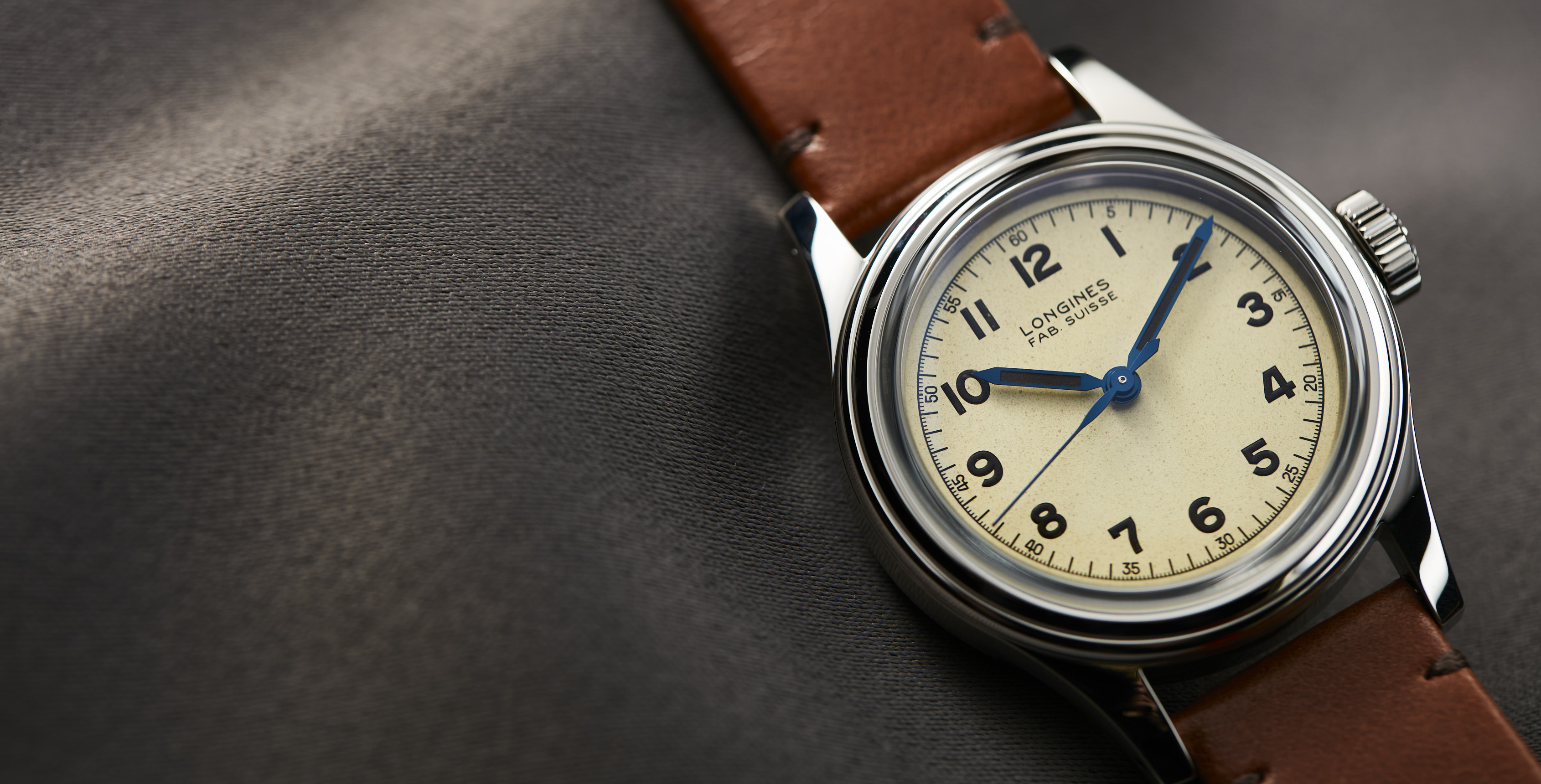 Last year, Deputy Editor Nick Kenyon said that the then new Longines Heritage Classic 'Sector Dial' was, and I quote, "one of the best watches of 2019, hands down." And even though we're only seven months into 2020, and there's still more to learn about the watch itself, I'm calling it – the Longines Heritage Military Marine Nationale is one of the best watches of 2020 … hands down!
To see more Heritage Longines goodness, including this model, check out Nick's video:
For more, visit Longines here.
Made in partnership with Longines. However, the opinions expressed in this article are our own in accordance with our Editorial Policy.