Editor's note: Typically watch snobs (us included) love to shun quartz-powered watches, but when it's as clever (but not smart in the smartwatch sense) as this Longines Conquest V.H.P. GMT review shows, it's hard not to love.
The story in a second: A rare case of quartz having legit enthusiast appeal, albeit in a clever, and very novel, fashion.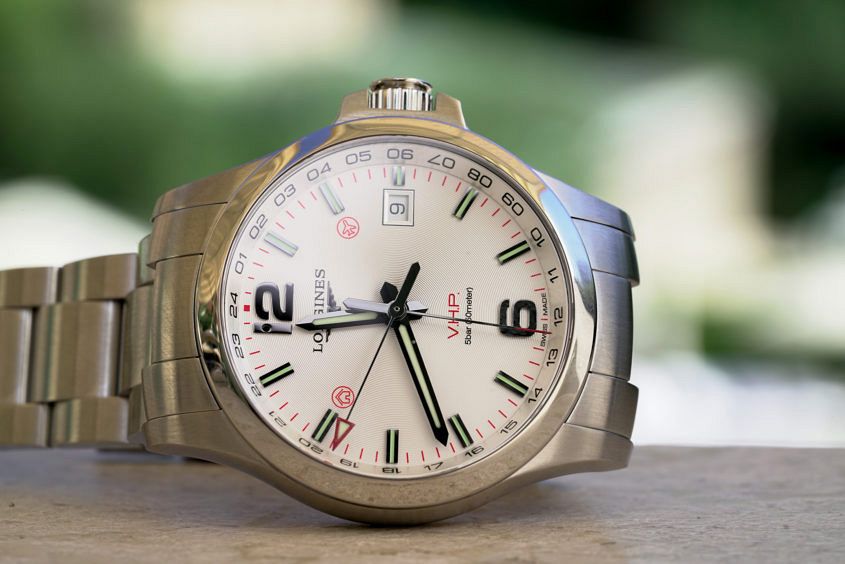 Say "it's quartz" and countless watch nerds cringe; however, there have been some exceptions to the rule over the years. Of course, Grand Seiko Spring Drive calibres get a pass on account of the brand's epic design and finishing, as well as the fact that they run a quartz oscillator in the place of the balance wheel, but everything else is done mechanically (to state things as simply as we can). And then there's the F.P. Journe Elegante 48, which is a completely different animal. Longines has also been toiling away in the battery-powered department, and their V.H.P. calibres, which were refreshed in 2017, carry with them some impressive specifications. Accurate to +/-5 seconds per year, Longines integrated a special functionality to these calibres that allows for internal correction for magnetism or shock via a "gear position sensor" that effectively can tell if things are out of whack and adjust the calibre as required. Weird, but clever for sure.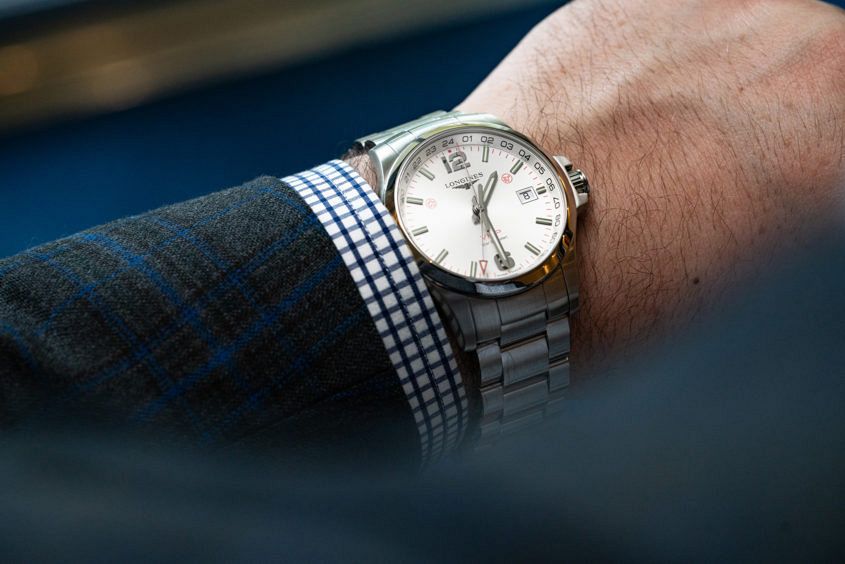 With the GMT Flash Setting model, the brand pushed a step further and have basically created the most idiot-proof and user-friendly GMT watch out there right now — without resorting to Bluetooth or other connected functionality, but more on that in a minute. The shorthand is simple though. You can swap time displays from home to travel time at the push of a button, and adjusting your travel time takes less than two minutes once you've gotten the hang of how it all works. It's not using Bluetooth or other smartwatch shenanigans, but instead they found a way to use (of all things) Morse code to transfer time information into the watch in surprisingly effective fashion.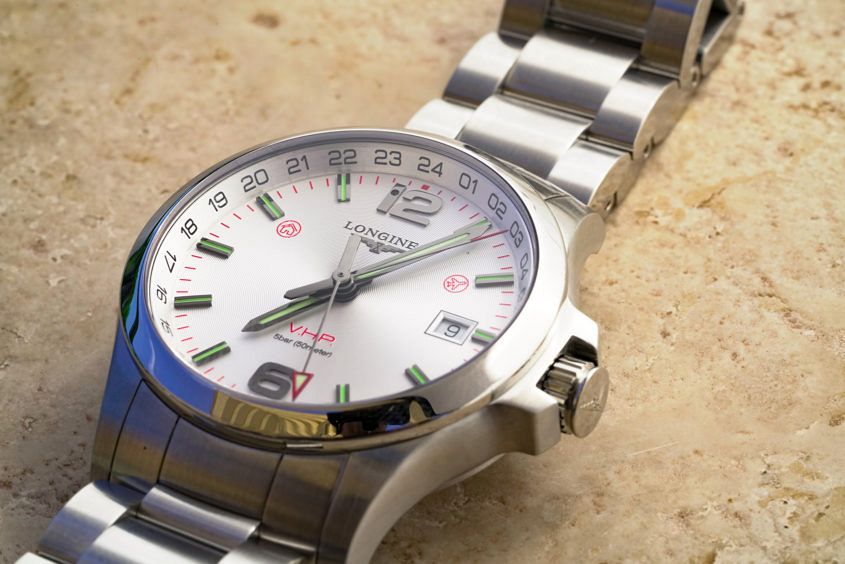 Before we get to that fun part, let's give the watch a quick "walk-around". Aside from its polished bezel, the case design of the V.H.P. Flash Setting definitely has airs of tool watch to it. Measuring 43mm across (though also available in 41 for those with smaller wrists), the pronounced curve to its lugs keeps it from being overbearing on the wrist. Its crown has a nicely designed lip to it, whereas the more I look at them the more I find the crown guards to be a bit too aggressive for my tastes. Given the aforementioned lug curves, and the slight paunch/belly of the caseband — another detail I rather like — the crown guards come across a little unfinished. Meanwhile, its stainless steel caseback is nicely finished with a relief cut of the brand's logo. The version tested came on a steel bracelet with a butterfly-style deployant clasp that seems reasonable for the price, though I did find it a bit noisy, and was disappointed by its lack of micro-adjustment, and use of hammer pins instead of screwed links. Overall, these are minor gripes given its price of entry, mind you.
The Longines Conquest V.H.P. GMT Flash Setting breakdown
The dial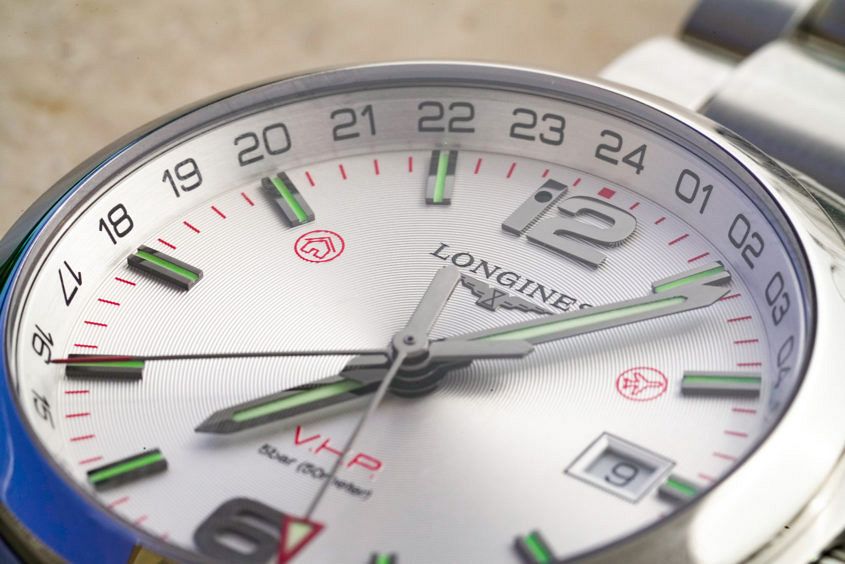 From a bird's-eye view this Longines dial is quite well executed, and it simply gets better the closer and more detailed the examination gets. Faint circular pattern — not quite guillochage, I suppose, but more like staring at an old record — is a nice change of pace from the countless brushed sunburst dials out there, all while catching the same levels of reflection in the sunlight. A clear and easy-to-read 24h scale on its rehaut makes spotting the second time zone painless. The next thing you'll note is the small house and plane near the 10 and 2 indices. Those tie into the fun functionality of its calibre that we'll get into in a second. Its applied indices (other than the 12 and 6) are nicely lumed, ensuring easy reading in low light as well. This is another slight shortcoming, as the Super-LumiNova used by Longines is average at best. Those of you with a keen eye for detail will also note the small opening in the top of the 1 in the 12 o'clock indice. This is where the "Flash Setting" magic happens.
The movement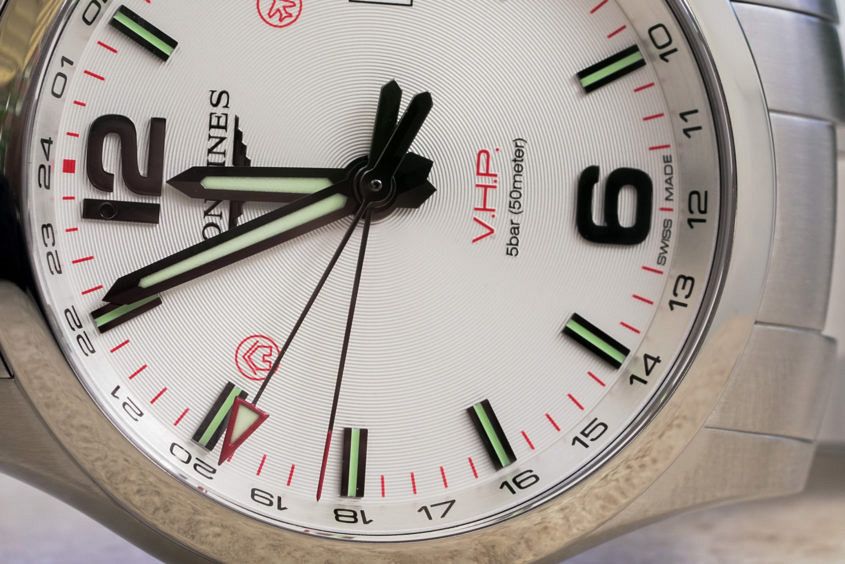 Alright, now we get into the good stuff. So you already know that the calibre is ultra precise, but how does it all work? Well, for starters, its crown acts as a pusher. Press it once and the second hand will either point to 10 or 2 (remember the plane and house on the dial). That tells you whether you're displaying home or travel time. Press it again, the second hand jumps to the other position, and the hours and minutes move to the other time setting. Hold it a few seconds, and the hour and second hand sync up to 12 o'clock and you're in setting mode — this is where the magic happens. On your phone, you've now downloaded the Longines "flash setting" app. Both home and travel time are displayed and can quickly be changed by searching for your home city. Using either the "Send Home" or "Send Away" buttons in the app, you can now transmit either time to the watch. Hit the button and the camera will come up, and once the dial of the watch is close enough (a ring will change from red to green), press "Send Time" and your flash will transmit said time to the watch in Morse code using your phone's flash. The hands will move slightly to acknowledge reception, and boom! That's all there is to it. Of course there's also a manual setting mode if your phone is dead or acting up, but where's the fun in (and what are the odds of) that?
Using the app repeatedly with my Huawei Mate 10 Pro, which comes up as "not fully compatible with the app", I only rarely had any issues with the setting, though at the time I was using it in dimly lit places, and a second try was pretty consistently successful. As someone who travels a fair bit and who works with offices in several different time zones, the ease of use of the V.H.P. Flash Setting was genuinely practical, and though at first glance it might come across a bit gimmicky or a bit of a novelty, in practice this is exactly the kind of practical integration of smartphones and watchmaking that I love to see. I can absolutely see the mass appeal of this Longines for anyone who travels for business or is in constant contact with multiple time zones.
On the wrist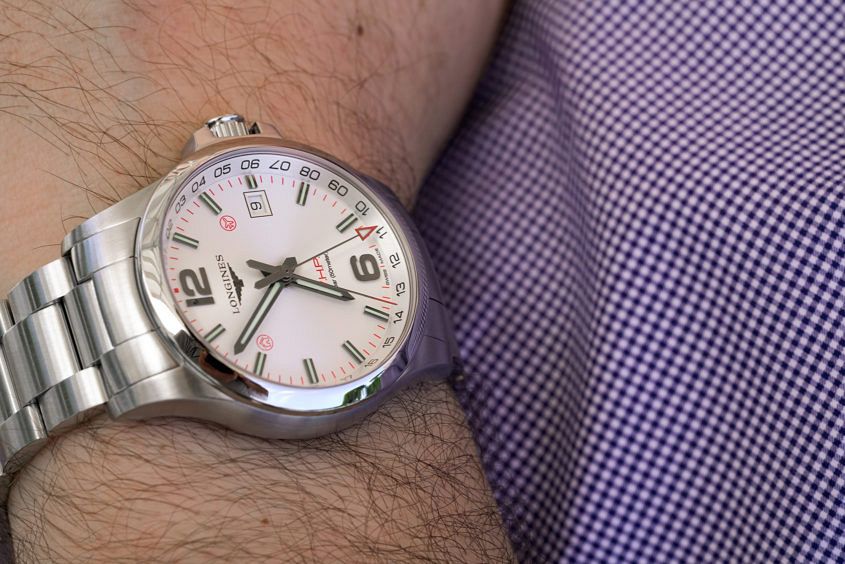 Wearing this guy around for a while, I found the size and heft to be reasonable, but at the end of the day I just couldn't quite get down with its bracelet, personally. The case size is nice and comfortable overall, and I'd be quick to lean towards the blue rubber strap variant for something a bit more casual-wearing. I'd probably also level down to the 41mm variant to better fit under a cuff on my 6¾-inch wrist, but depending on your preference in the wrist presence department, the 43 still wasn't an overbearing watch by any means. As you'd likely expect if you keep up with me on Instagram, I did try it out for a hot minute on a NATO strap, and it worked pretty darned well. It's only got 50m of water resistance, and plus being a non screw-down crown with pusher functionality, I'd save any swimming and diving for one of the Longines HydroConquest models out there. As I say that, I could totally get down with a HydroConquest GMT Flash Setting model with a dive bezel and single screw-down pusher for the setting functionality, maybe at 10 o'clock, like the HEV on the Seamaster?
The verdict
The simple answer? It's quartz, but I dig it. If I was on a relatively modest budget, wanted something travel-friendly, and didn't want to have to fuss with setting it if it lived on the dresser a few days, I'd be into it, without question. Ideal spec would be 41mm on rubber, though looking at the crisp silver dial on offer, I'd entertain the bracelet model for that particular dial variant as it doesn't seem to be on offer on a strap via the Longines website at the moment.
Longines Conquest V.H.P. GMT Flash Setting price
Prices for Longines Conquest V.H.P. GMT Flash Setting start at $1750