MY WEEK WITH: The Bremont U-2/51-JET, by Gold Logie nominee Rodger Corser
Andrew McUtchen
Rodger Corser looks familiar, right? That's because he's one of Australia's most enduring and endearing actors. You'll find him fighting zombies in Glitch, chasing gangsters in Underbelly and stitching up wounds in Doctor Doctor. In the new season of the popular show, you may note a certain black and stealthy companion on his wrist: The Bremont U-2/51-JET. It complements a (pleasingly intergenerational) collection that we've explored previously in part in these videos.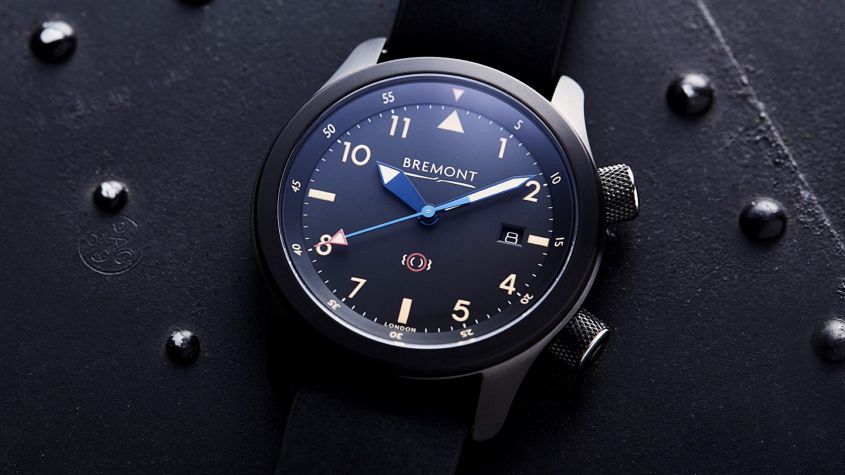 Rodger's new fascination is UK-based brand Bremont. The fit is obvious. The brand has acting pedigree, with Bremont gracing the wrist of Tom Hardy, Colin Firth, Matthew McConaughey and more. It has authenticity, with a quarter of sales going to the armed forces, who demand a superior level of reliability. And it has an honesty via a rugged build and masculine aesthetic that appeals to the Aussie sensibility. We asked Rodger to review the U-2/51-JET over an eventful week in his life — the one in which he was nominated for a Gold Logie, Australia's answer to the Emmys.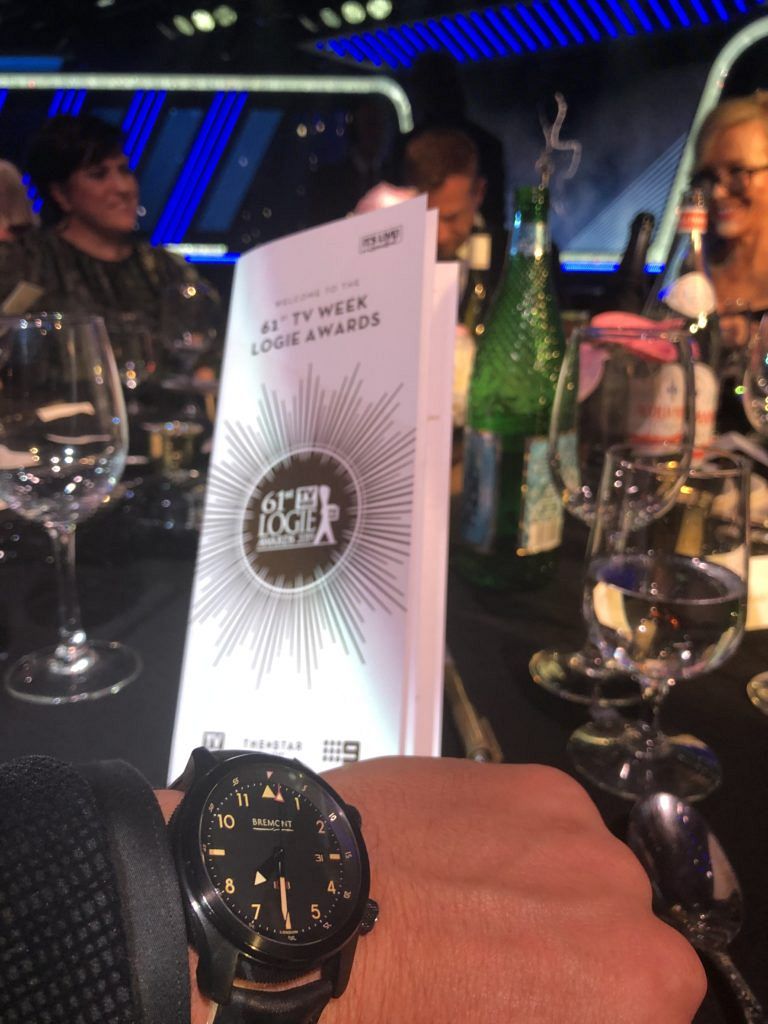 I first heard about Bremont when … I was spending far too many hours on sites like yours! I found their story interesting for a new watch brand. From what I can see, a lot of the time watch brands ride on their history to give them legitimacy. At the other end of the spectrum, you think about micro-watch brands and startups, and these guys seemed to fall somewhere in between. They obviously aren't huge, but they had this authenticity about them that comes from the special editions for the military, where you only get one if you are in that regiment, or if you eject from a fighter plane. That's pretty cool. So, in short, I started reading and researching, and then I started to seek them out and now I have a couple. The military connection is probably the main draw. It's super real. It's not just for people who like the pilot aesthetic, or someone who likes a GMT function and has a PAN-AM thing going on, but this is for people who will be using them in their actual jobs. It's great.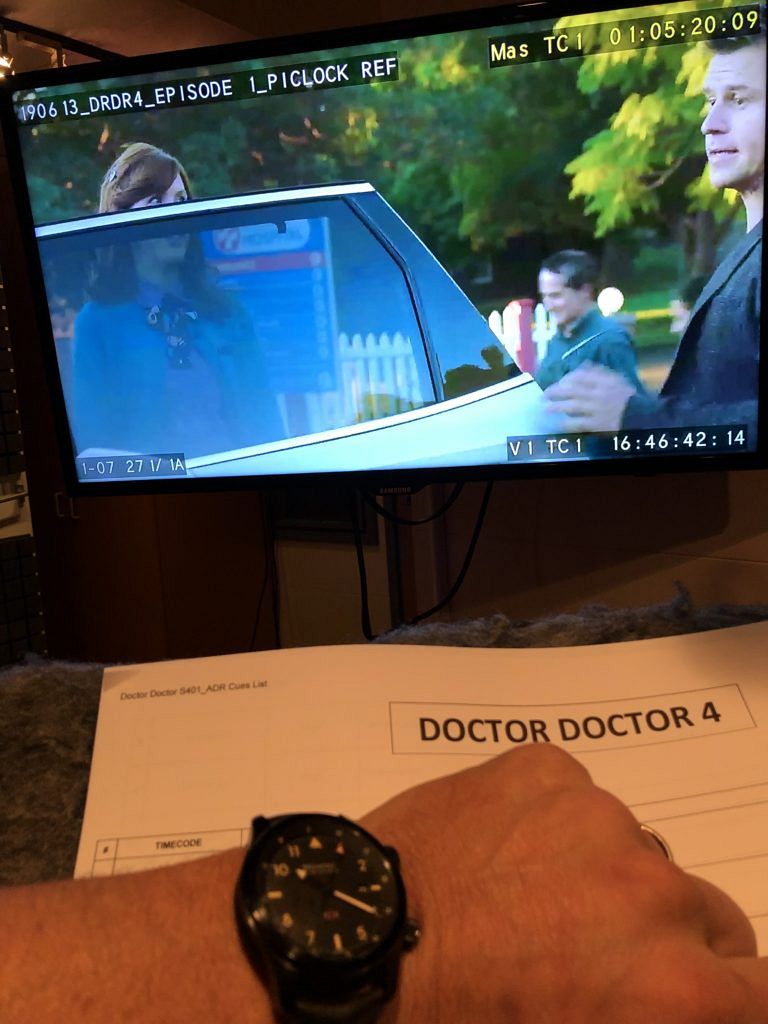 My first impressions of the U-2/51-JET were … that it's better in the metal than in pictures. I had seen it in pictures, and I liked it, but I really fell in love with it when I saw it in the metal. I'm finding more and more that I like pilot's watches because my eyesight isn't as good as it once was, which makes chronographs with little subdials impossible to read without my glasses. They are a bit less appealing because they aren't as clear, but I love a watch that is legible and I can read it in any conditions. I also like the blacked-out look; you get the feeling that you don't have to be too gentle with it, which suits my life having kids and being active and on the go.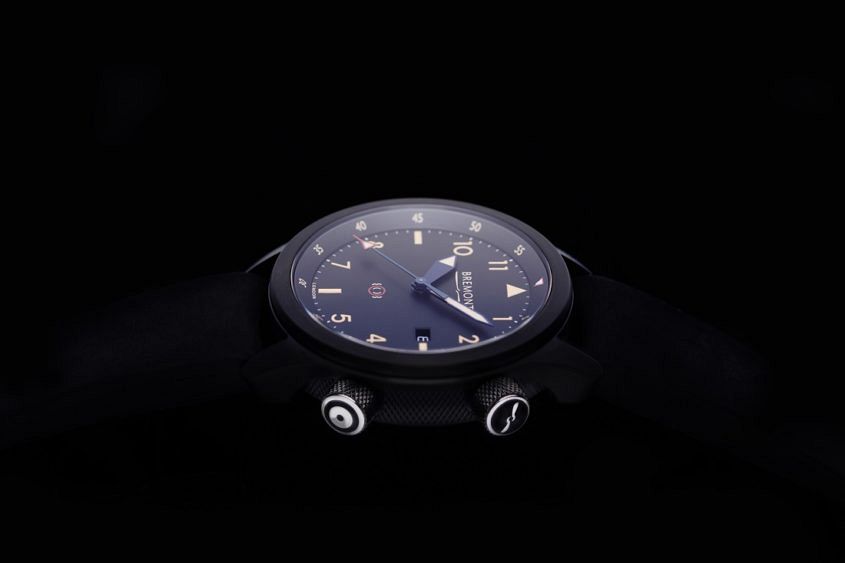 I decided to wear it on Doctor Doctor, because … the charm of the show is I might get called to an emergency in the bush all of a sudden, and then I really do need a watch that can handle a bit of a knock. I do have to leave it at the set in case I forget it at home and there are issues with continuity for the shooting, but other than that I wear it almost every day. On the show I might take it off if I'm in the operating theatre.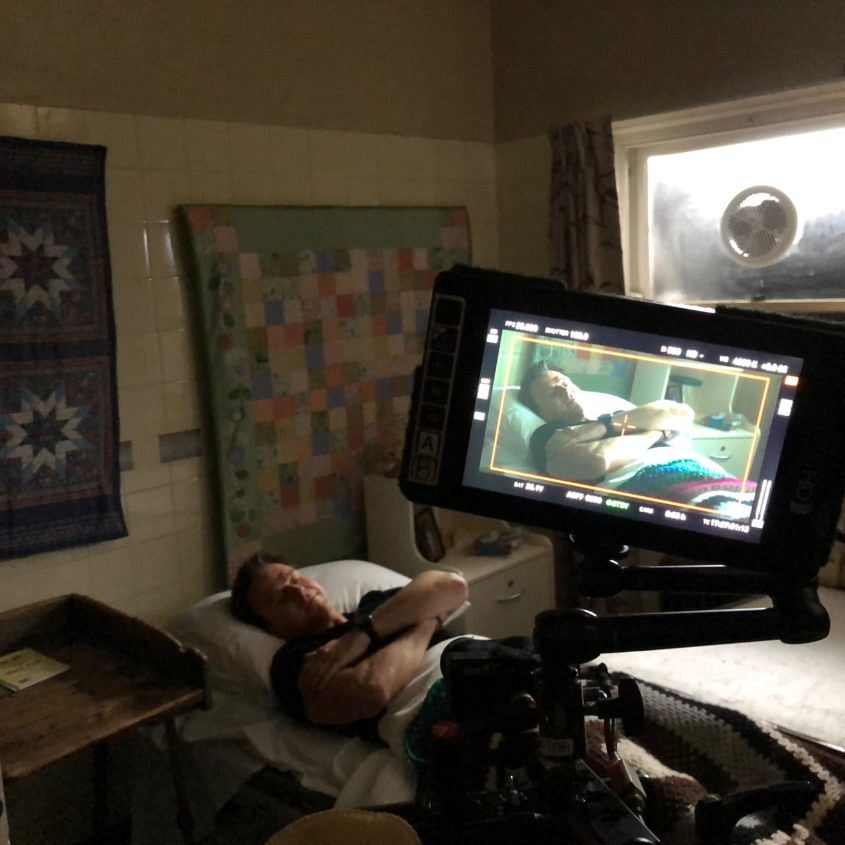 On the wrist it feels … like a big watch. But I think the short lugs on it mean it doesn't wear as big. When it's on, it doesn't feel huge on the wrist, but it still has a strong presence, and I like that it doesn't look too bright and shiny. Another thing I love about the design is the crowns at 2 o'clock and 4 o'clock, which dig into the back of my hand a lot less than other watches and makes it a lot more comfortable. The case is also cool, with the texture around the outside that adds to that robust feel that you can knock it about.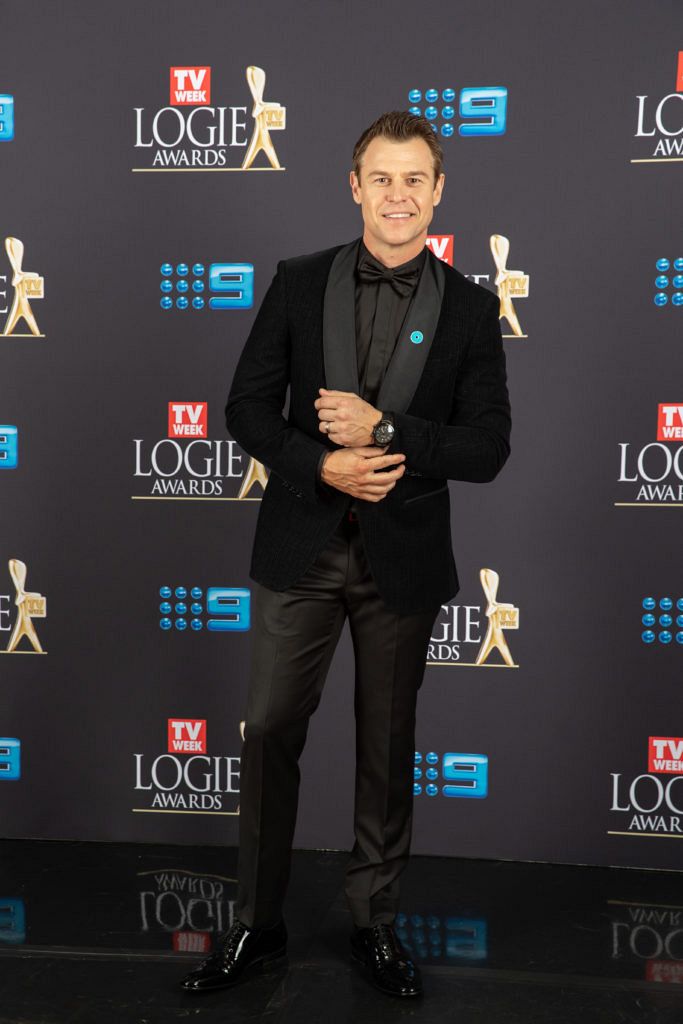 Looks wise … It doesn't draw too much attention, but the seconds hand has a red triangle on it, which makes it easy to spot, and the lume really pops, which is impressive. The markers aren't crisp white, so I was a bit surprised about how bright the lume was. I said earlier that I like simplicity, and the watch is very easy to read.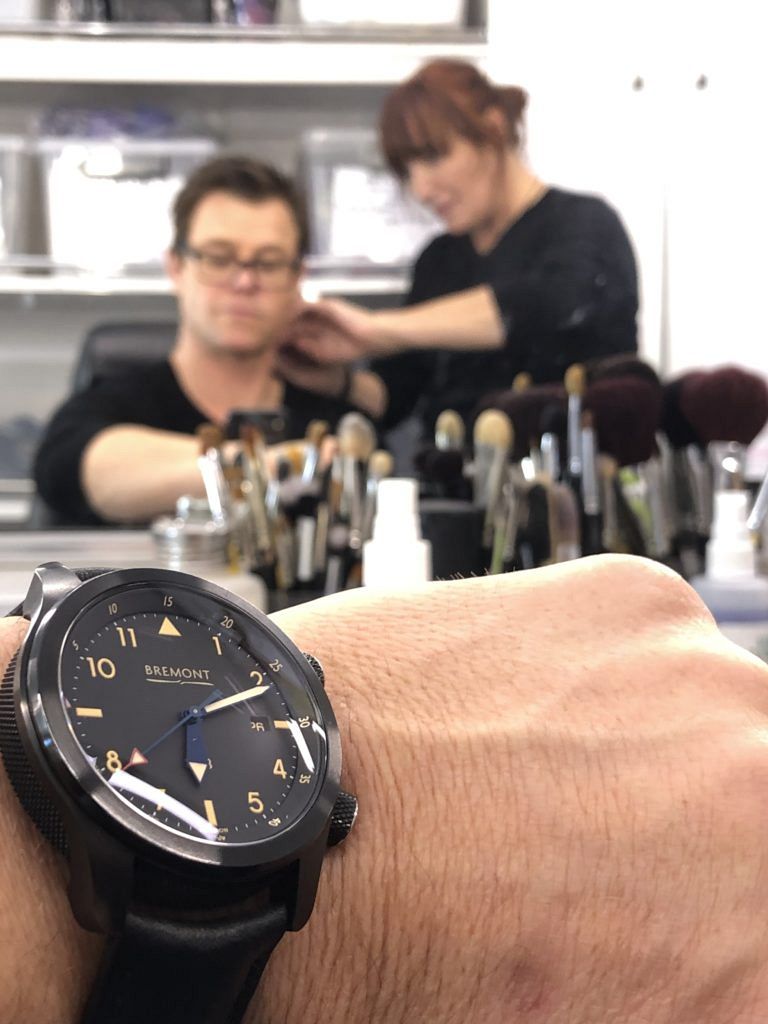 I would wear this with … just about anything to be honest. I'm going to dress up on the weekend (for the Logies), and see how it goes in a more formal environment. But at the moment I'm wearing blue jeans, brown boots and a black polo, and I think it looks great with that too. It's pretty versatile, so you could wear it with a sports jacket, or down to the pub too. I think the black leather strap dresses it up a bit more, but it can do both ways.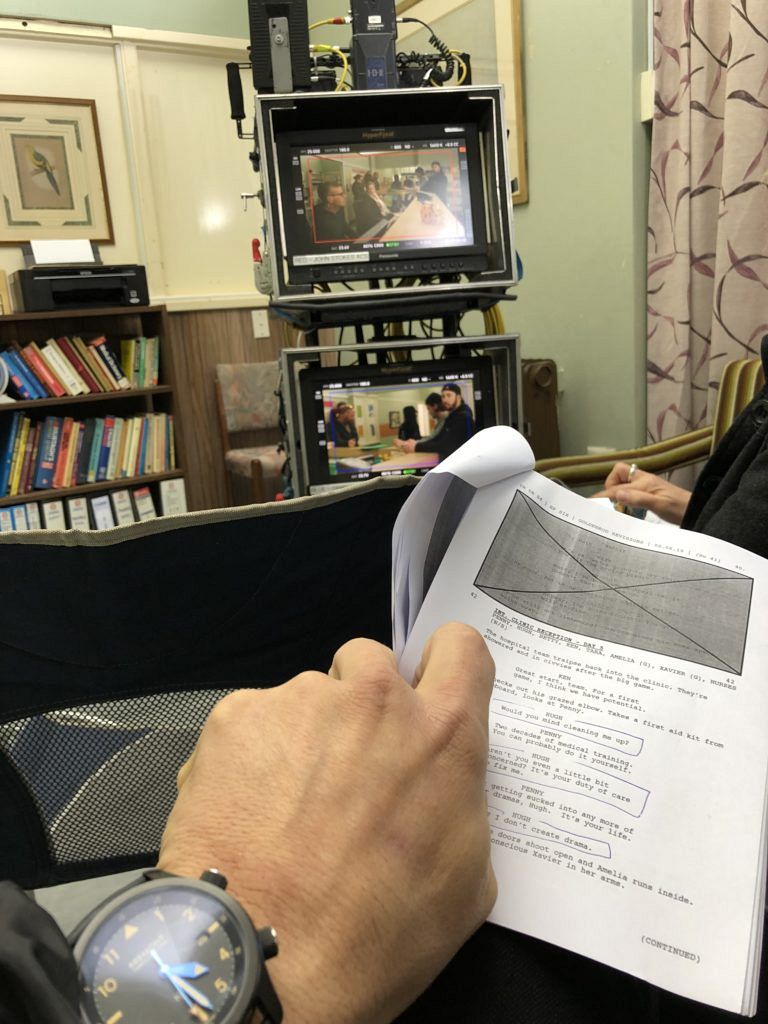 If I could change anything it would be … I wouldn't mind a no-date version of it, and I'd slightly enlarge the internal bezel number and the red triangle.
In summary … It's a definite contender for the 'one watch' category if you had it on the black bracelet. But for a small collection I would have this one, a real beater piece for every day: gardening, swimming, working on set, and maybe one flash dress watch that would round out the collection really well. The blacked-out look might turn off some people, but being a Melbourne boy myself, wearing dark clothing is something I'm pretty comfortable with. On the show it works well too, as most of my clothes are dark or navy, so that's great. It's kind of a no-brainer.