LIST: Tudor's teasers – Cam takes a few guesses
Cameron Wong
In case you were unaware (how is that rock you've been living under?), Baselworld 2019 is nearly upon us. So, while the rest of the team are currently en route to Basel, I've planted myself firmly behind each one of my digital detective devices and taken off in search of any and all clues as to what Tudor may soon have in store for us. Putting together this quick list of Tudor's teasers and making a few speculations as to what I think each one may mean.
Editor's note: When I say speculations, these are absolutely nothing more than my own theories. However, I have tried to make my guesses as educated as possible.
The triangle hour marker
This was the first teaser posted by Tudor this year, and it seems many (myself included) were quick to guess that Tudor will re-release its Submariner. While it's certainly a good guess, there isn't exactly a lot to go on, other than the fact that it's a triangle-shaped hour marker at what looks to be 9 o'clock. You see, in 1989 – exactly 30 years ago – Tudor revised its Submariner, replacing its Snowflake hands with Mercedes-style hands and switching out its familiar rectangle hour markers for triangles at 6 and 9 o'clock. Then again, there's always the possibility that Tudor have just rotated the image and it's actually a 12 o'clock marker "pointing" forwards to the future, which also makes sense, considering the image's caption.
The safe
A safe stands alone against a white wall, the caption reads: "Some might think it's a myth but we will soon show you it's not". Could Tudor be talking about the mythical Submariner prototype with red bezel that they say inspired the colour of the original, and now legendary, Black Bay? A Submariner is certainly looking more and more likely, isn't it? Especially when we zoom in on the dial of the safe and see that it has red markings and that it's set at 53, which also happens to be the year Tudor were developing the first ever Tudor Submariner before releasing it in 1954. However, maybe I'm clutching at straws. Perhaps the 53 is referencing an entirely different watch altogether, and another theory is that in 1953 the British North Greenland Expedition was well underway. Are Tudor going to re-release the famed Tudor Oyster Prince? Or perhaps we'll see an update to its modern-day interpretation, the Tudor North Flag.
Watching from the shadows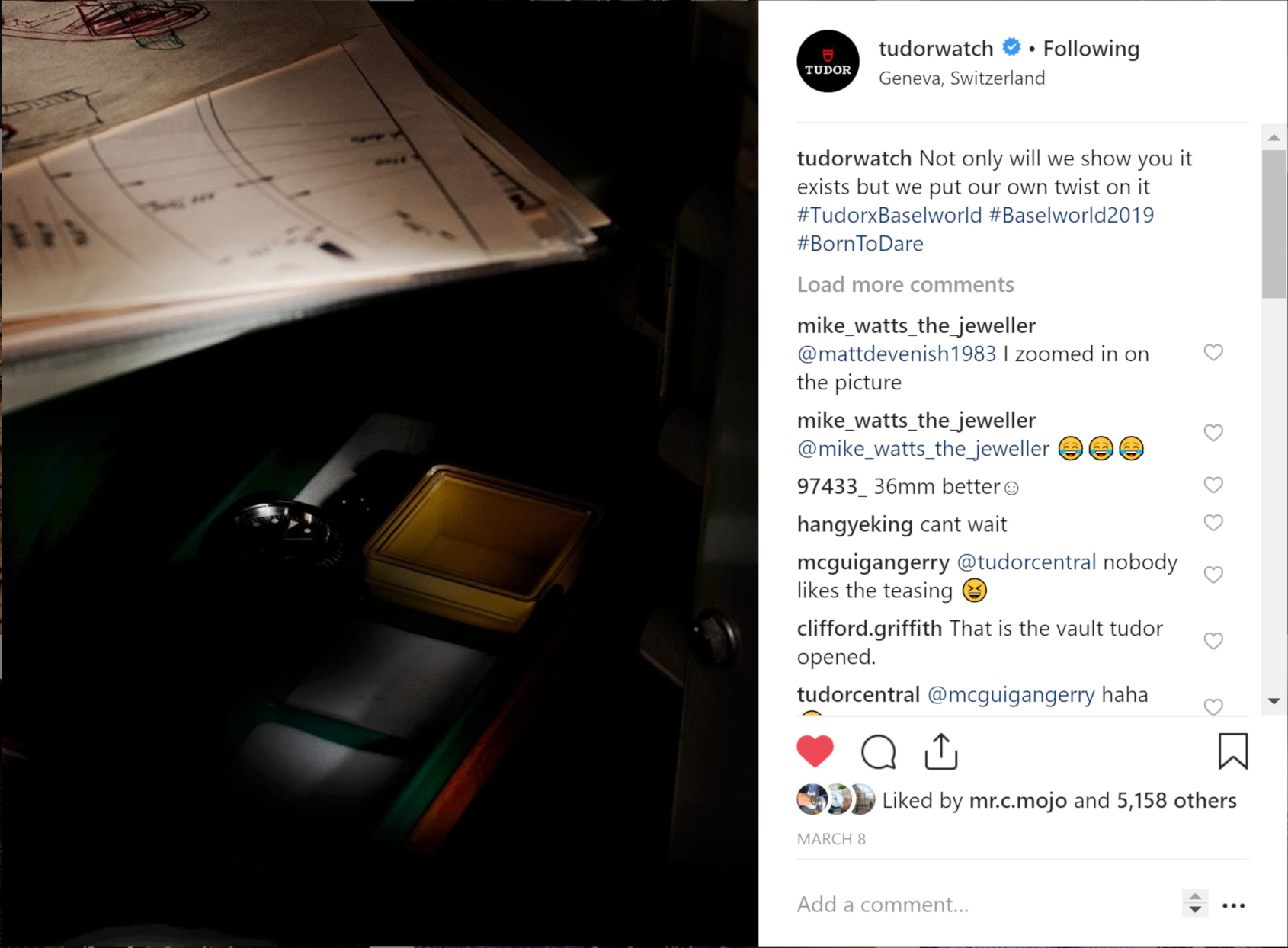 This one is probably the biggest clue that Tudor may just be releasing a re-edition of its Submariner. I'm not ready to outright say that we can absolutely expect one, but looking closely, lurking in the shadows is the unmistakable silhouette of a dive watch with scalloped bezel, just like the version celebrating its 30th birthday this year. Also, while most of the image is covered in black shadows, the bits of light we do see are highlighting colours of red – like another certain Submariner – and green. Could the green perhaps be referencing a new colourway for the Black Bay or, even better, the Tudor Pelagos? Or maybe even a bi-coloured green and red bezel for last year's epic release, the Black Bay GMT?
The sketch
Like the rest of its teasers, Tudor posted this one on its Instagram. And a few commenters have suggested that it's a new quick-release system for Tudor's straps. However, whether it's my own dreams influencing my final thoughts, to me the sketch looks to be of a rubber strap with a deployant clasp. For lack of a better term, Tudor's own version of the Rolex Oysterflex. I, for one, would be one incredibly happy chappy if Tudor was about to release a brand-new rubber strap using the exact same auto-adjustable spring-loaded steel clasp as seen on the Pelagos, the brand's quintessential modern-day diver.